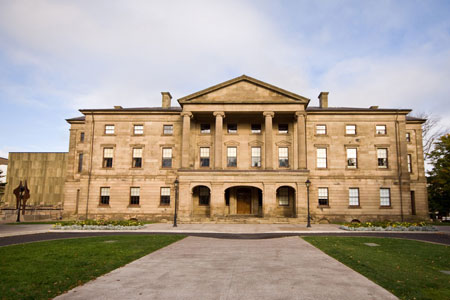 Home to Province House that hosted the Canadian Confederation Conference in 1864, Charlottetown is the birthplace of Canada.
The capital of Prince Edward Island, Charlottetown is a charming, historic city that represents the best that Canada has to offer. It combines 19th century buildings and monuments with various elements of modern life to create a unique blend of past and present culture – on most street corners, storyboards tell of the city's history. It celebrates many festivals across the seasons, and offers world-class local cuisine.
Many tourists in this perfectly-sized city visit The Guild and watch a musical based on Anne of Green Gables, take a boat tour to the historic waterfront or relax at the spa.
Destination Highlights
Green Gables
Green Gables is the name of a 19th century farm in Cavendish, Prince Edward Island, and is one of the most notable literary landmarks in Canada. The Green Gables farm and its surroundings are the setting for the popular Anne of Green Gables novels by Lucy Maud Montgomery. The site is also known as Green Gables Heritage Place. The house was designated a National Historic Site in 1985 and the complex is located within Prince Edward Island National Park. Anne of Green Gables (written in 1908) recounts the adventures of Anne Shirley, an 11-year-old orphan girl who is mistakenly sent to Matthew and Marilla Cuthbert, a middle-aged brother and sister who had intended to adopt a boy to help them on their farm in the fictional town of Avonlea on Prince Edward Island. Since its publication, Anne of Green Gables has sold more than 50 million copies
and has been translated into at least 36 languages.
Beaches
On Prince Edward Island, the sands take on a distinctive bloody hue of red from an abundance of iron. The soft red sandstone has eroded over time, producing about 500 miles of rosy red beaches. The oxidized red sands are not the only famous sands on the island: the white sands at Basin Head are known as 'singing sands' for the melodic sound they make as particles rub together.
Birthplace of Confederation
The city of Charlottetown is known as the 'Birthplace of Confederation'. It is where the first meeting of the 'Fathers of Confederation' was held in 1864. Named in honour of Queen Charlotte of England, the town was incorporated as a city in 1855. The four large squares included in Samuel Holland's original layout of Charlottetown still exist to this day. Today this small city has a population of approximately 35,000.