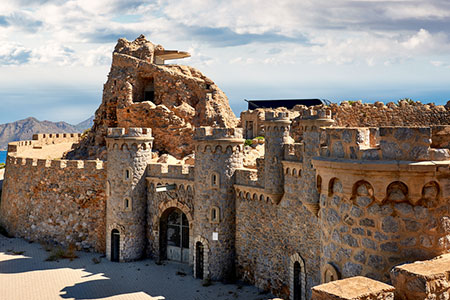 One of Spain's most important port cities for over 2000 years, Cartagena is bursting with history and culture. Originally built over five hills by the Romans, Cartagena is strategically placed on the Mediterranean and boasts some wonderful architecture and historic monuments. They include Casa de la Fortuna, a villa with murals and mosaics, and the medieval Castillo de la Conception, which served as a fortress for the Carthaginians, Romans, Visigoths, Arabs and Castilians, and overlooks the stunning natural harbour of the Murcia coast. [ReadMoreMob]
Many of the buildings from Roman Cartagena have disappeared, but some important sites remain, including the amphitheatre which dates from around 100BC.
Cartagena is also home to a number of Modernist buildings that were designed and built by the pupils of Antoni Gaudi, the world famous architect renowned for designing the stunning La Sagrada Familia in Barcelona. The city's tapas bars and vibrant bars on the marina offer some fabulous local wining and dining.
Destination Highlights
Roman Cartagena
The Roman Theatre museum exhibits items discovered in excavations in the area of the Roman Theatre, built between the 5th and 1st centuries BC. It has capacity for 6,000 people and played an important role at the time of Ancient Rome. It has characteristic raked seating excavated out of the rock, a wealth of decoration and a stage measuring more than 43 metres in length. The Casa de la Fortuna consists of the fascinating remains of an aristocratic Roman villa dating back to the 1st century BC, complete with some wellpreserved murals and mosaics, and part of an excavated road. Muralla Punica or Punic wall of Cartagena is an archaeological site from the 3rd century BC in which can be seen the first defensive wall of Cartagena.
Maritime History
One of the world's great natural harbours. Muralla del Mar ('Sea Wall'), built by Charles III (18th century), delimits the old quarter. Discover the prototype of the submarine by the inventor from Cartagena, Isaac Peral. The National Museum of Underwater Archaeology ARQUA houses the National Centre for Underwater Archaeological Research. The findings on display reveal aspects of naval construction, trade and navigation since ancient times.
Mining
The Sierra Minera is rich with an assortment of metals including silver, copper, zinc, lead, tin, manganese and iron. Two mining attractions are in the area: the La Unión Mining Park and the Las Matildes Mine. At La Unión the Agrupa Vicenta mine will blow you away; it plunges 80 metres beneath the surface and has huge, nave-like spaces and an underwater lake with reddish waters.
Licor 43
Spain's most exported liquor is distilled in Cartagena. Licor 43 is a 31% abv spirit, made with different citrus fruits and spices, and goes best with ice and milk.