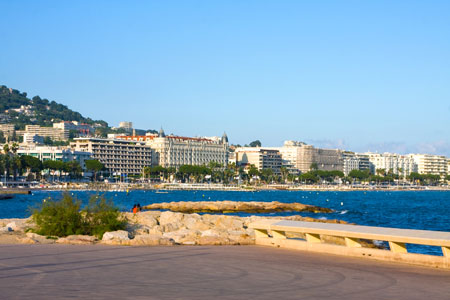 Given its association with the rich and famous, the city of Cannes is renowned for its film festival, glorious beaches and high-end shopping. Made famous by the Cannes Film Festival, this picturesque paradise located on the French Riviera is bathed in sunshine for most of the year. A stroll along the palm-lined Boulevard de la Croisette, which curves along the coast, has sandy beaches one side, and upmarket boutiques and palatial hotels on the other.
There is plenty to explore and discover in the city centre.[ReadMoreMob] Many boutiques selling top fashion and jewellery brands sit next to an array of restaurants serving the finest cuisine. Even having a coffee in Cannes is a glamourous, out-of-the-ordinary experience. Cannes of the 19th century can still be seen in its grand villas, and there are plenty of museums to enjoy – notably the Musée d'Art et d'Histoire de Provence. Of course, for those visitors feeling lucky, the luxury casinos are popular night-time spots.
Top Experiences
The Boulevard de la Croisette
Lined with elegant hotels, including the historic Intercontinental Carlton Cannes Hotel, the Boulevard de la Croisette is famous for its grand French Art Nouveau architecture, beautiful homes and boutiques. The palm-shaded boulevard is one of the most fashionable streets on the French Riviera and is where you can enjoy stunning views of the gulf and the Esterel Mountains.
Le Suquet (The Old Quarter)
Situated on the hills of Mont Chevalier, above the new town, lies Le Suquet district. Offering wonderful views over the bay, on a clear day it is possible to see as far as the Lerins Islands. The original, quaint fishing village is Cannes' oldest quarter. Stroll down the charming narrow streets, including one of the oldest streets in the town – Rue Meynadier, and you will find speciality shops, boutiques and quaint restaurants. You can also marvel at ancient buildings such as the 11th century Tour du Mont Chevalier watchtower, which dominates the skyline.
St Tropez
One of the most glamourous places in France is the world famous town of St Tropez. With its picturesque pastel-coloured houses, charming cobblestone streets and quaint squares, along with the back drop of the sparkling Mediterranean Sea and the lush green countryside, it is a fascinating place to explore.