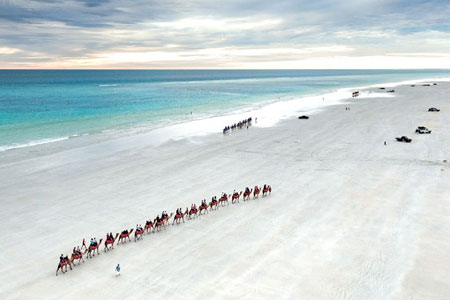 A tropical gem situated on the gorgeous Indian Ocean coast, beautiful Broome – often referred to as the 'Pearl of Western Australia' – is best known for its striking coastal landscapes and spectacular beaches. Cable Beach, considered one of the world's best beaches, is, for many, the main attraction. This 14-mile strip of glorious white sands, gently lapped by warm, flat waters and lined with a plethora of luxury resorts, is synonymous with soothing relaxation and sunset camel rides along the coast.
Away from the breathtaking beaches, a stroll into Broome Town reveals plenty of highlights, from an array of boutiques, pubs and cafés to the delights of the cultural Chinatown district, such as the jewellers of Dampier Terrace, where locally sourced South Sea Pearls are sold. For a taste of local flavours, Matso's Brewery – popular with locals and visitors alike – is a 'must-visit' to sample a selection of delicious, carefully crafted beers.
For those feeling adventurous, Broome is perfectly located for tours to the Dampier Peninsula, to explore stunning natural landscapes and delve into the rich culture and history of local indigenous people. The lush marshlands of Dampier Creek, best seen on boat tours, are within easy reach too.