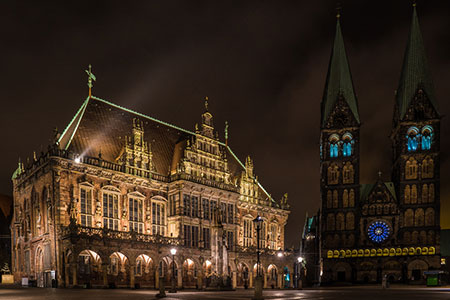 The key maritime role played by the city of Bremen, which straddles the Weser River in northwest Germany, is underlined by its impressive Hanseatic buildings. Bremen's Hanseatic Gothic architecture in the Marktplatz and narrow timber buildings in the Schnoor Quarter are the standout highlights in the oldest part of the city. The ornate Gothic Town Hall, originally built between 1405 and 1410, is a UNESCO World Heritage Site, features a restaurant with original Hanseatic era décor, as well as the Bremer Ratskeller, a public house in the basement.[ReadMoreMob]
The Town Hall is also home to a number of large model ships in its upper hall and 12 of the oldest wines in the world. Nearby is the Roland Statue, a giant stone figure that symbolises freedom of trade.
In contrast, Überseestadt – the former docklands – offers a completely different experience and is a fine example of modern Bremen. Here, a selection of trendy bars, stylish cafes and fine restaurants can be found, as well as a beautiful harbour and yacht-filled marina.
Top Experiences
Bremen Gothic Architecture
You cannot leave Bremen without a visit to the Marktplatz – a hive of activity and an absolute must-see. Bremen's historic Market Place is home to the Town Hall, a beautiful gothic structure originally built between 1405 and 1410; the Roland Statue; the cathedral; and many other impressive sights. In 2004, these features were recognised by UNESCO and the Marktplatz was awarded World Heritage status.
Bremen Schnoor
The Schnoor Quarter is Bremen's oldest district and features charming, narrow lanes lined with beautiful centuries-old timber houses. A wander through Schnoor allows you to delight in the picturesque scenes, and also learn about the the local arts and crafts. It's also the perfect place to buy gifts and souvenirs, such as handmade gold jewellery, to take home.
Cruises to Bremen
Departs: Dover, United Kingdom • Wed 03 Jun 2020
8 nights • Boudicca • D2013
Sorry, this cruise has been cancelled.
Departs: Dover • Thu 17 Sep 2020
7 nights • Balmoral • L2024
A classic cruise combining scenic cruising through gorgeous countryside and visits to attraction-packed destinations, this highly rewarding week away shows you Germany at its finest.
You'll bypass coastal Bremerhaven and sail by the pretty fields and valleys of the River Weser to Bremen, where the gothic-style Marktplatz and medieval Schnoor district are among many highlights.
Hamburg, rich in historical and contemporary delights, awaits after sailing the winding Elbe River too; while there's also a visit to Warnemünde and an unforgettable full-day transit of the Kiel Canal.
From £799pp
Fares Explained
|
What's Included
Departs: Dover • Sat 17 Apr 2021
7 nights • Boudicca • D2108
Cruising picturesque German waterways is always deeply rewarding, though you're in for an even more memorable experience with journeys through the countryside scenes of size-restricted routes.
Aboard Boudicca, you'll sail the narrow Kiel Canal and winding River Elbe en route to Hamburg, where an impressive mix of historical and contemporary attractions awaits your discovery.
There's also visits to the seaside resort of Warnemünde, gateway to the historic Hanseatic city of Rostock, and Bremen, a delight to explore with its diverse districts and architectural gems.
From £899pp
Fares Explained
|
What's Included