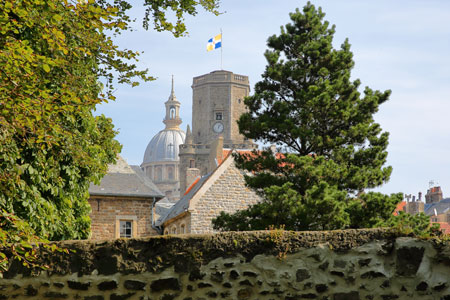 Boulogne-sur-Mer lies at the heart of the Côte d'Opale, and as one of France's key fishing ports, the town is full of historical, cultural and gastronomic delights. One particular highlight, is Boulogne's 12th century Belfry, which is a UNESCO-listed World Heritage Site, and currently home to a museum of Celtic remains from the Roman occupation. Boulogne also features a 19th century cathedral, which was built as a replacement to its predecessor, destroyed during the revolution. [ReadMoreMob]
Away from the architectural heritage, Boulogne is also home to the Nausicaa Marine Centre. Opened in 1991, this spectacular sea life facility is a science centre entirely dedicated to the relationship between mankind and the sea, and imparts valuable knowledge on pollution and over-fishing. The local cuisine is well regarded, and the local tourist office offers visits that include the fish auction and breakfast at the Châtillon, a brasserie and headquarters for sailors.
Destination Highlights
Franco-British Memorial, Boulogne-Sur-Mer
The Battle of the Somme has been described as one of the bloodiest battles ever fought.
La Coupole, Boulonge-Sur-Mer
La Couple is one of the one interesting remnants of the Second World War in Europe. Due to its overwhelming mass and the fascinating underground facilities, it is a symbolic place of the Nazi oppression.