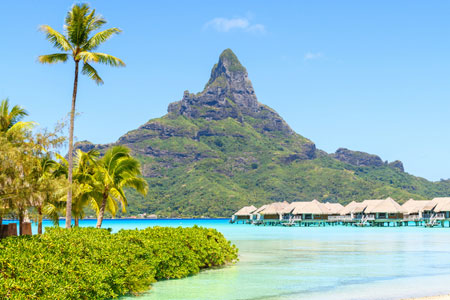 The small South Pacific island of Bora Bora to the northwest of Tahiti in French Polynesia, is a special kind of paradise. This popular resort destination is surrounded by sand-fringed motu (islets) and a warm lagoon protected by a coral reef. With incredible sandy beaches that stretch on forever, grand palm trees swaying gently in the breeze, and turquoise waters filled with turtles, sharks, rays and tropical fish, many visitors find it hard to describe the magic that emanates from this island. [ReadMoreMob]
A haven for scuba divers, one of Bora Bora's more unusual sites are the 'bungalows' perched over the water on stilts. Since water is a way of life here, popular lagoon excursions include snorkelling, diving, cruising, fishing, paddle boarding, kitesurfing and jet skiing.
At the island's centre the extinct volcanoes of Mount Pahia and Mount Otemanu tower over the whole island, the latter rising to a height of 727m.