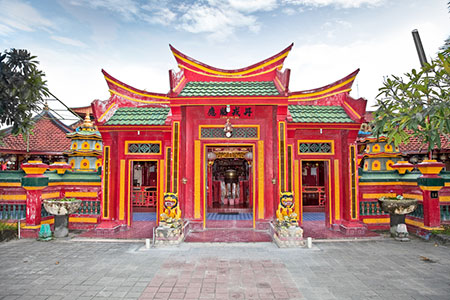 With its beautiful rice fields watered by shallow rivers and forests with many kinds of flora and fauna, Bali is one of Earth's most idyllic places. The friendly locals create a warm, inviting atmosphere, encouraging you to explore the many attractions that the island has to offer including incredible temples, rugged coasts and sandy beaches.
Top Experiences
Discover the spiritual town of Ubud
With its palace, art galleries and yoga studios, Ubud is steeped in Balinese culture. You can barter for handcrafted wares at the bustling market, or stroll the moss-coated pathways of Ubud Monkey Forest in search of ancient temples and long-tailed macaques.
Explore awe-inspiring rice terraces
The most distinctive features of Bali's landscape are the rice terraces. Part of a centuries-old heritage, these scenic, emerald-green fields blanket the island's steep hillsides and deep gorges. Those at Jatiluwih are a fine example and well worth a visit.
Visit Bali's iconic temples
No visit to Bali would be complete without visiting at least one of the island's beautiful temples. Among the most iconic are the cliff-top temple of Uluwatu, believed to be one of Bali's six spiritual pillars, and the ancient sea temple of Tanah Lot.