It's not hard to see how Belle-Île got its name – the beauty of this island is found in the magnificent coastline, which varies between unspoilt beaches and dramatic cliffs, with the occasional quaint townships in between.[ReadMoreMob] Brittany's largest island lies south of Quiberon, in the Morbihan department, and is divided into four communes: Le Palais, Sauzon, Bangor and Locmaria. Le Palais is the island's hub, with pastel-coloured buildings housing bakeries, cafes and shops, and an imposing citadel overlooking the harbour. Sauzon is a pretty fishing village at the top of Belle-Île close to the magnificent La Pointe des Poulains – a magnificent area of rocky coastline dominated by a lighthouse. Locmaria in the southeast has some excellent beaches, while Bangor is a great place to start for those looking to explore the island's wild coast in the south-west.
Despite its turbulent history, with numerous pirate attacks and a brief period of English occupation in the 1700s, Belle-Île today is a tourism hotspot, enticing visitors with its natural beauty.
Cruises to Belle Ile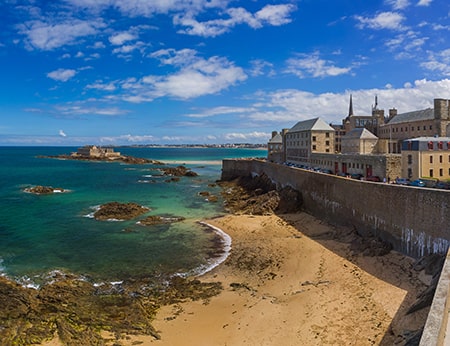 Departs: Dover • Fri 02 Jul 2021
9 nights • Bolette • T2117
Take in the scenic and city delights of gorgeous French region as Bolette guides you on a mesmerising journey of discovery.
Sail the picturesque Gironde and Garonne rivers to Bassens and visit Bordeaux, where you can immerse yourself in local arts, culture and world-famous wine heritage.
Visit the beautiful coast of Brittany for a rare call at Belle Ile and to discover the centuries-old treasure of St Malo or Mont St Michel; and, in Normandy, revel in the historic highlights of Cherbourg.
From £1,199pp
Fares Explained
|
What's Included
Departs: Liverpool • Mon 19 Jul 2021
10 nights • Borealis • S2116
Enjoy an authentic taste of France and Spain, visiting regions and destinations selected for links to famous food and drink.
Visit Bordeaux, famed for its Medoc, Merlot and Saint Emilion wines – an overnight stay allows for a tour to an enchanting family-run vineyard, and see the city's iconic sights too.
On Brittany's beautiful coast, you can tour to the famed oyster town of Cancale; while in Spain, Getxo and Avilés offer traditional Basque tapas, Rioja wines and sweet Asturian cider.
From £1,499pp
Fares Explained
|
What's Included