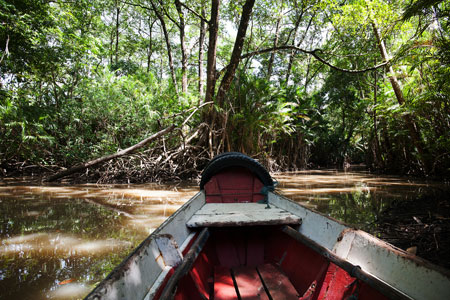 First established by Portuguese explorers in 1616, Belém is the capital of Brazil's Pará state and gateway to many of the Amazon's natural wonders. Belém was the Amazon's first European settlement, not becoming part of Brazil until 1775. A centre for the Amazon's slave trade, the port city was an important hub for sugar, rice, cotton and coffee exports in the 17th century.

Today the city is typically Brazilian: modern and vibrant, yet retaining its historic charm. Bustling commercial districts packed with tall skyscrapers blend with sprawling, busy markets, handsome squares, and centuries-old buildings. The Cidade Velha (Old Town) district by Guajará Bay is of particular interest. Other highlights include the modern art in the Goeldi Museum, the colourful Azulejo-tile houses, the 17th century fortification known as Forte do Castelo, and the recently refurbished Teatro da Paz theatre – originally built in 1874. [ReadMore]

Authentic Amazonian fauna and flora awaits at Mangal da Garças Eco Park and Zoo with species of native Bacurizeiro and Mangifera trees, as well as flamingos and herons all up close. Also accessible is the Ilha de Marajó, one of the world's largest river islands, situated where the Amazon estuary meets the Atlantic Ocean, The island is smothered with dense mangrove forest and is a stunning natural habitat for water buffalo, seabirds and even piranhas.