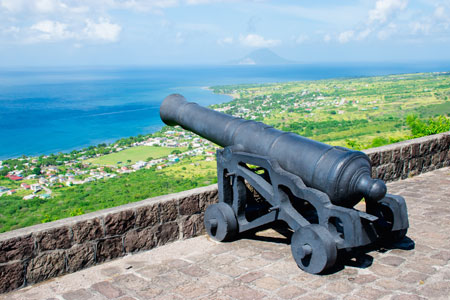 With some of the oldest colonial buildings in the Caribbean, the elegant St. Kitts & Nevis capital of Basseterre is a beautiful town bursting with history. [ReadMoreMob]
Established by the French in the 17th century, and claimed by the British following the Napoleonic War, much of Basseterre's original Georgian architecture still stands and begs to be explored. The domed Old Treasury Building on the waterfront – now the National Museum – is worth a visit, as is the Victorian Berkeley Memorial Clock, a four-face, cast-iron tower that sits on the Circus, an original 19th century traffic roundabout. St George's, an Anglican church originally built by the French, has been destroyed by fire several times, and was rebuilt to its present form in 1869.
Away from the town, visitors can take a tour to Brimstone Hill Fortress to admire magnificent views across the island, travel on the St. Kitts Scenic Railway – said to be one of the most attractive train journeys in the world.
Destination Highlights
St Kitts Scenic Railway
The St Kitts Scenic Railway was originally built between 1912 and 1926 to deliver sugar cane from the fields to the sugar mill in Basseterre. It's truly one of the island's top attractions. Today this narrow gauge railway – dubbed 'the last railway in the West Indies' – offers visitors the opportunity to admire unspoilt scenery during what is considered to be one of the world's most beautiful train rides.
Military History
Designed by the British and built by African slaves, the well-preserved Brimstone Hill Fortress is a UNESCO World Heritage Site of great historical, cultural and architectural importance. More battles have been fought here than at any other site in British or French naval history. Known as the 'Gibraltar of the Caribbean' during its heyday – due to its imposing height and proximity to the sea – the fortress is located upon a 40-acre hilltop, over 235 metres (770 feet) above sea level. It boasts simply spectacular views over the Kittitian coastline and countryside.
Life with Kittian Locals
Kittians are renowned for their friendliness and hospitality, and you can experience it first hand on very special visits to the private homes of two locals. At each you'll be afforded time to gain an insight into everyday life in St Kitts, and learn about the background of those who are kind enough to welcome you into their homes for this unique experience.
Seldom Seen St Kitts
Beyond Basseterre's historic centre, which boasts classic Georgian architecture and beautifully preserved churches and cathedrals, there are many highlights to uncover off St Kitts' beaten track. St Johnson village offers an authentic glimpse of local life, while a walk through the Fortlands area offers time to admire some of the island's oldest and most elegant homes, and enjoy seldom seen views of Basseterre's beautiful harbour from different perspective.