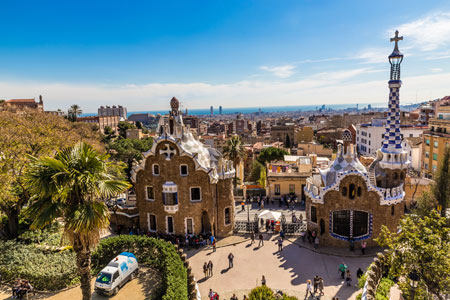 Spain's must-see cosmopolitan second city, Barcelona, is awash with heritage and its mood is infused with a vibrant Catalan spirit.There's something around every corner of the city: jewels of Catalan and contemporary architecture, relaxing parks and beaches, mouth-watering markets and treasures from its Roman and Medieval past. [ReadMoreMob]
Barcelona's 2000-year-old city walls, temple columns and subterranean stone corridors provide a glimpse back to the time of the Romans, while the shady plazas and lanes of the Gothic quarter, and Barcelona's Old Town district, the Ciutat Vella, reveal the origins of its medieval culture.
The city is famous for an incredible array of UNESCO-listed buildings from world-renowned architect Antoni Gaudi. His sculptural masterpieces of Modernisme are dotted across the city. La Sagrada Familia - Barcelona's Gaudi-designed Roman Catholic Church – is the most famous landmark. With its astonishing details and stunning facades, this unique work of art is one of Europe's most visited sites. [ReadMoreDesk]
Barcelona has inspired many artists, including Salvador Dalí and Pablo Picasso, whose works feature in numerous museums and galleries. Away from the city centre, sun-drenched, Iberian beaches are the perfect place to walk, bike ride, take a refreshing dip, or merely relax and enjoy the gorgeous Mediterranean coastline.
Destination Highlights
La Sagrada Familia & Park Güell Gaudi
Designed by Antoni Gaudí over 100 years ago, the temple of La Sagrada Familia (Church of the Holy Family) is known as the unfinished cathedral as it has been under construction ever since. The stunning church is Barcelona's most famous landmark, with over 2.8 million visitors coming to admire, and be captivated by its beauty each year. Within all aspects of the church are the elements of religious symbolism and the spectacular exterior and interior make La Sagrada Familia an unmissable visit. Originally planned to be a residential property development with Gaudí doing a lot of the planning, the park ended up with only two houses being built and Gaudí turned his hand to the rest of the area, creating the most unique of landscapes.
Las Ramblas
Las Ramblas is Barcelona's most famous street and is a bustling hive of activity. Situated just off Plaça Catalunya and leading down towards the port and the beach, you will
discover street performers, bars and restaurants and the fantastic Boquería Market – a true feast for your eyes.