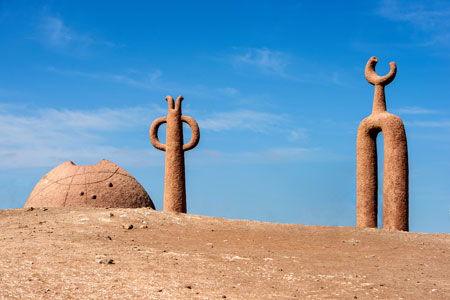 The port city of Arica is Chile's gateway to many other South American countries and in particular is a vital part of the trade links between Chile, Peru and neighbouring Bolivia. However, Arica is much more than just a commercial centre. Away from the busy docks, where you'll often spot ships from countries all over the globe, you'll discover mile-upon-mile of dark-brown beaches with swathes of sun-worshippers making the most of the city's renowned year-round warmth. Looking out across the Pacific Ocean, you're sure to see thrill-seeking surfers challenging themselves against the tide, even as the sun begins to set.
Venturing even further from the coast and into the city itself is just as rewarding, with an abundance of highlights and attractions to discover. The Museo de Sitio Colón 10 is a must-visit to see 32 incredibly well-preserved Chinchorro mummies in situ; while the Gothic-style Catedral de San Marcos is one of Arica's most iconic structures. Designed by Parisian engineer Alexandre Gustave Eiffel – before he designed the world-famous Eiffel Tower – and built in his Paris shop in the 1870's, the cathedral was shipped around the world and assembled where it stands today.
Don't miss the spectacular views on offer from El Morro, an imposing 110-metre-high rock which overlooks the city and the busy port. Here you'll also find the fascinating Museo Histórico y de Armas, which tells the story of a battle between the Chilean and Peruvian armies that took place atop El Morro in 1880.