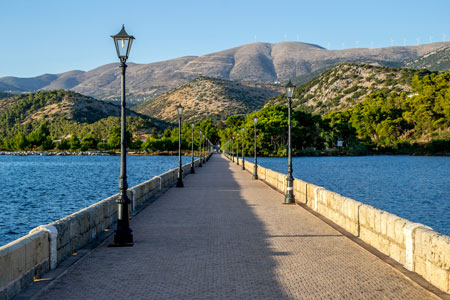 With its palm-lined cobbled promenade, stunning beaches and vibrant town centre, Argostoli is the perfect place to soak up the glorious Mediterranean sunshine while enjoying unique Greek culture. Surrounded by gorgeous azure waters and boasting a beautiful natural harbour, Kefalonia's is also the island's largest port town.
Despite being a modern, commercial town, Argostoli's tradition and heritage oozes from its charming architecture, vibrant squares and pretty landscapes.[ReadMoreMob] Lithostroto – the main street in the town centre – is the hub of the town and home to a number of shops, cafes, bars and restaurants. Kampanas Square – found in the middle of Lithostroto – offers superb views of the town and the beautiful Koutavos Lagoon.
Just a short distance from the town centre you will discover the impressive Agion Theodoron Lighthouse. Rebuilt in 1953 after an earthquake destroyed the original 19th century building, the lighthouse has a unique design that features 20 columns and a small tower.
Top Experiences
Mount Ainos National Park
Set in an area of more than 3,000 hectares, two thirds of this park is covered by an endemic species of black fir, which clings to the slopes of the mountain range. Amongst the dense woodland landscapes, an abundance of wildlife can be spotted too - explorers of the park should be on the lookout for beautiful semi-wild horses in particular.
Monastery of Agios Gerasimos
Saint Agios Gerasimos, Kefalonia's patron saint, spent his first five years in Kefalonia in a cave in Lassi before establishing a monastery to care for the poor. After his death, Agios' body never decomposed and is displayed in the monastery, with many people believing that he continues to watch over them today.
Robola Wine
Robola is indigenous to Kefalonia; these grapes range across 3,500 acres and The Cooperative Winery produces around 85% of the wine. On the 18th of August each year, there's a celebration of this wine which is enjoyed by proud locals and interested visitors alike.
Cruises to Argostoli
Greek Islands and Corinth Canal
• M2311
Southampton
Braemar
Wed 03 May 2023
25 nights
Sail the extremely narrow Corinth Canal
Discover the archaeological site of Olympia
Explore the Acropolis & Parthenon in Athens