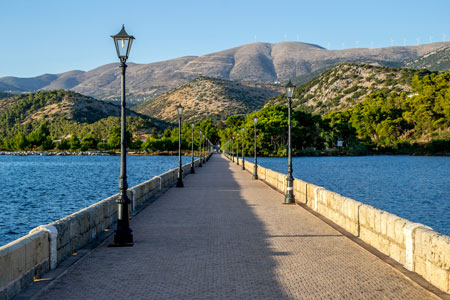 With its palm-lined cobbled promenade, stunning beaches and vibrant town centre, Argostoli is the perfect place to soak up the glorious Mediterranean sunshine while enjoying unique Greek culture. Surrounded by gorgeous azure waters and boasting a beautiful natural harbour, Kefalonia's is also the island's largest port town. [ReadMoreMob]
Despite being a modern, commercial town, Argostoli's tradition and heritage oozes from its charming architecture, vibrant squares and pretty landscapes. Lithostroto – the main street in the town centre – is the hub of the town and home to a number of shops, cafes, bars and restaurants. Kampanas Square – found in the middle of Lithostroto – offers superb views of the town and the beautiful Koutavos Lagoon.
Just a short distance from the town centre you will discover the impressive Agion Theodoron Lighthouse. Rebuilt in 1953 after an earthquake destroyed the original 19th century building, the lighthouse has a unique design that features 20 columns and a small tower.