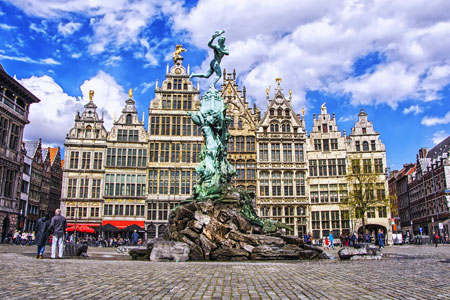 Belgium's charming, medieval city of Antwerp is the country's biggest port and often recognised as its capital of cool. It has proved an alluring city for centuries, attracting lovers of art, fashion and, of course, diamonds – over 80% of the world's rough diamonds pass through the city's famous diamond district at some point or other. Renowned for its charm and sparkle, Antwerp was one of Europe's principle cities in the mid-16th century and has maintained the essence of its medieval past, despite severe bombing during World War II.
A riverside fortress and numerous intriguing cobbled streets are overshadowed by the 123m high tower of the imposing Cathedral of Our Lady, the biggest church in Benelux.[ReadMoreMob] Its construction started in 1352 on the site of a 10th century chapel, but like many medieval religious buildings, it took several centuries to complete. The cathedral interior has four altarpieces by Peter Paul Rubens, a legendary artist from the Baroque era. The Royal Museum of Fine Arts is dedicated to Rubens and houses many of his finest works, along with those of other Flemish masters. [ReadMoreDesk]
There are more than 20 other museums in the city, while the abundant attractions of this cultural gem also include a vibrant fashion and entertainment scene, a robust café culture, excellent shops and delightful parks and gardens. Fine dining is also on the menu, and one of Antwerp's most popular restaurants, The Jane, brings it all together with a slice of rock and roll.
Top Experiences
Antwerp Diamonds
Better known as the 'Diamond Quarter' or the 'Square Mile', Antwerp's Diamond District is the world's largest, with around 84% of diamonds mined around the globe passing through each year.
Belgian Chocolates
Antwerp is home to an abundance of world-famous chocolatiers producing wonderfully indulgent chocolate creations. It is a chocolate-lovers paradise, with chocolate shops on almost every street corner, inviting you inside to sample and buy some of the most delicious pralines produced anywhere in the world.