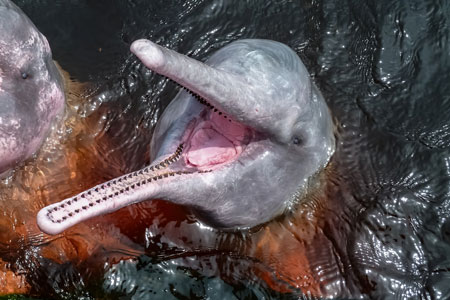 Anavilhanas, and the astonishing splendour of the surrounding National Park, lies in the heart of the Brazilian Amazon.

The Anavilhanas National Park is a natural paradise of dense Amazonian jungle and rainforest, stunning islands and beautiful lakes. Situated around 60 miles upstream along the Rio Negro from Manaus, Anavilhanas is the world's largest freshwater archipelago and home to various species of endemic wildlife. The incredible ecology and diversity of Anavilhanas is waiting to be discovered in the narrow channels that cut between some 400 islands covered with emerald walls of jungle.

It is a constantly changing landscape. During the rainy season – January to June – many islands are submerged by the Amazon's dark-coloured waters, and is a time when various species of birds, monkeys, reptiles and amphibians are most likely to be seen. When the waters subside in the drier season, white-sand beaches and even the roots of the trees are exposed, creating the perfect habitat for tapir, deer and big cats such as jaguars and pumas.

The abundance of protected aquatic wildlife includes giant otters, Amazonian manatee and enchanting Pink River dolphins. Anavilhanas is also the only part of the Amazonas where every species of Amazonian alligators can be seen in one place.