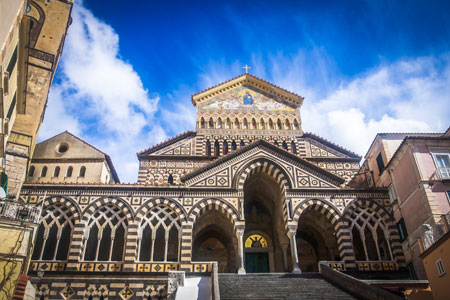 The stunning UNESCO-listed town of Amalfi, with its incredible scenery, charming narrow streets, medieval architecture and delightful marina is the heart of Italy's glorious Amalfi Coast. Situated within a deep ravine at the foot of the 4,314ft-high Monte Cerreto, Amalfi is on many people's must-see list. It's dearth of notable historical buildings is because most of the old city, and its populace, dropped into the Mediterranean during an earthquake in 1343. [ReadMoreMob]
However, the past can still be experienced through the Arab-Romanesque architecture of Amalfi's Sant'Andrea Cathedral, with its striking Byzantine facade, the Museo Arsenale, a medieval shipyard converted to an exhibition space and the magnificent Moorish-style Cloister of Paradise. The intriguing Paper Mill Museum is also visit worthy. The town's network of narrow streets are lined with an array of smart cafes and restaurants serving the finest local cuisine. The picturesque harbour is also perfect for exploring and strolling.
Destination Highlights
Amalfi Coast
One of Europe's most desirable and romantic locations, the Amalfi Coast has long been impressing visitors that flock to the region. Occupying the southern side of Sorrento's peninsula, it lays claim to being Europe's most beautiful stretch of coast.
Papermaking
Production of handmade paper in the early 12th century, according to the Arabic method, in the manufacture of iron and wool. Museum of Paper (Museo della Carta) and Amatruda paper mill
Villa Rufolo
Famous for its beautiful cascading gardens, the 13th century Villa Rufolo overlooks the Piazza Vescovado and is one of the largest and most expensive villas on the Amalfi Coast. Villa Rufolo was also the inspiration behind Wagner's Klingsor Garden in his opera Parsifal.