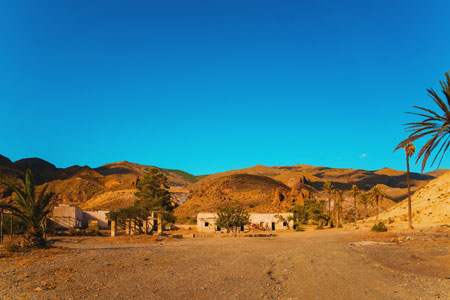 The Andalusian port of Almeria is a city with a great deal of charm, and one steeped in history. Once one of the Islamic Cordoba Caliphate's major ports, the cityscape is dominated by the ancient Moorish fortress of Alcazaba – from where breath-taking views of the port and city centre are enjoyed – and the 16th century, renaissance-style fortified Cathedral. [ReadMoreMob]
Heavily bombarded during the Spanish Civil War, Almeria is now a polished, friendly and energetic destination of cultural attractions, and boasts a tapas-bar scene of growing reputation. The revived old centre offers several museums that contain historic artefacts from Prehistoric, Iberic, Roman and Greek times.
Away from the centre, dark, sandy beaches and rocky coves are the perfect spots to soak up Almeria's warm, soothing climate while the surrounding deserts, where many spaghetti westerns were filmed (and Lawrence of Arabia), are a lure for film-lovers. The Tabernas Natural Area with its old film sets, complete with saloons and ranches, is a must see.
Destination Highlights
Cabo de Gata Natural Park
Home to some of Europe's original geological features, the Park of Cabo de Gata was declared a Natural Park in 1987 and then listed by UNESCO as a Biosphere Reserve in 1997. It offers over 12,000 hectares of amazing landscape due to seldom rainfall, its volcanic rock formations, rugged coastlines consisting of beautiful coves and hidden bays, and its general unspoilt feeling. Cabo de Gata National Park is a large semi-desert area.
Alcazaba Fortress
Overlooking the whole of Almería, the Alcazaba complex is a great place to admire the breathtaking views over the city and its rugged coastline. Dating back to the 10th century, the sandstone coloured fortress is divided up into three sections and houses some attractive gardens.