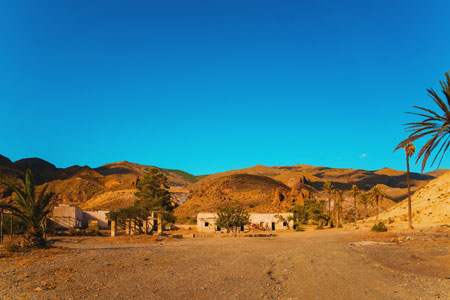 The Andalusian port of Almería is a city with a great deal of charm, and one steeped in history. Once one of the Islamic Cordoba Caliphate's major ports, the cityscape is dominated by the ancient Moorish fortress of Alcazaba – from where breath-taking views of the port and city centre are enjoyed – and the 16th century, renaissance-style fortified Cathedral.
Heavily bombarded during the Spanish Civil War, Almería is now a polished, friendly and energetic destination of cultural attractions, and boasts a tapas-bar scene of growing reputation.[ReadMoreMob] The revived old centre offers several museums that contain historic artefacts from Prehistoric, Iberic, Roman and Greek times.
Away from the centre, dark, sandy beaches and rocky coves are the perfect spots to soak up Almería's warm, soothing climate while the surrounding deserts, where many spaghetti westerns were filmed (and Lawrence of Arabia), are a lure for film-lovers. The Tabernas Natural Area with its old film sets, complete with saloons and ranches, is a must see.
Top Experiences
Alcazaba Fortress
Proudly overlooking and protecting the city below, the Alcazaba Fortress and its complex of ancient structures is a great place from which to admire breathtaking views of Almería and its rugged coastline. Dating back to the 10th century, the sandstone coloured fortress is divided into three sections of impressive historic architecture, and also features a collection of gorgeous gardens.
Tabernas & Mini Hollywood, Almeria
Considered the only true desert in mainland Europe, the semi-arid Tabernas unrolls over more than 280 km². This landscape provided the backdrop for countless films, especially classic Westerns.
Alhambra Palace
One of the most beautiful fortified palace complexes in the world, the Alhambra sprawls across its forested hilltop like – as Moorish poets described it – 'a pearl set in emeralds.' Complementing the showpiece palaces are a set of ravishing gardens.
Cruises to Almería
Departs: Southampton • Wed 19 Feb 2020
13 nights • Black Watch • W2005
This very special Andalusian adventure has been perfectly timed to include a call into Cádiz during the ancient city's spectacular annual carnival, a feast of colour, live music, comedy and much more that you won't want to miss.
With an overnight stay in Cádiz, you'll have plenty of time to experience all the excitement, fun and festivity in the company of fellow guests and friendly locals – be sure to sample traditional tapas and uncover the city's plethora of fascinating historical and architectural sites too.
Elsewhere, visits to stunning Malaga – birthplace of Pablo Picasso – and ancient Almeria pack in plenty of authentic Andalusian experiences too, while Black Watch will also take you the gorgeous Galician city of Vigo and Lisbon, Portugal's enchanting capital.
From £899pp
Fares Explained
|
What's Included