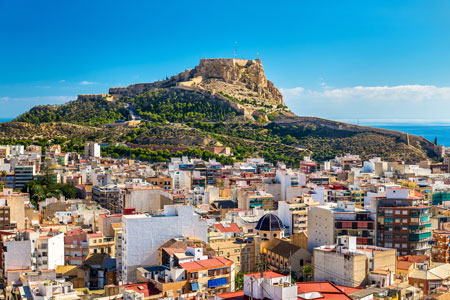 Located close to a host of beach resort towns, Alicante is considered by many – somewhat unfairly – as a mere gateway to Spain's better-known holiday destinations. A dynamic, pretty and interesting city in its own right, Alicante is well worth exploring and enjoying, with plenty to see, do and experience within the city centre and beyond.
With a stunning harbour, beautiful beaches and vast promenades to stroll along, Alicante is the perfect place to simply relax and soak up the Mediterranean sun. There are numerous cafes and restaurants to enjoy and a number of monuments and archaeological sites to discover in the Old Quarter and along the vast scenic walking trails that are dotted around the city. Be sure to visit Santa Barbara Castle - a 12th century fortress built 166 metres above the city at the top of Mount Benacantil - to admire stunning views and explore the battle hardened fortifications.
For a little local culture, head to the Archaeological Museum of Alicante – home to over 80,000 pieces and the Gravina Museum of Fine Arts or admire the work of Picasso, Salvador Dali and other famous artists at the Asegurada Museum of Modern Art.