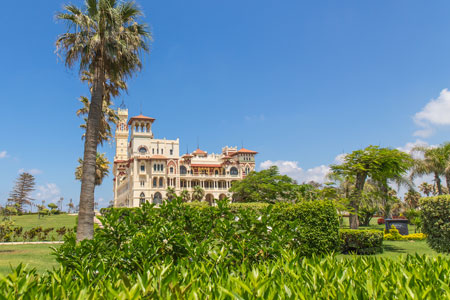 Egypt's magnificent port of Alexandria is home to the site of the great Pharos Lighthouse – one of the Seven Wonders of the Ancient World. Alexandria's Roman amphitheatre, ancient storied library and catacombs recall distant glories of this great Hellenic city, while the 19th century Montazah Palace Gardens and seafront boulevards reflect a more recent era. [ReadMoreMob]
Founded by Alexander the Great, Alexandria is a sparkling gem on the Mediterranean coastline. The birthplace of Cleopatra VII, the city is the cultural hub of the region, and gateway to the Giza pyramids and the River Nile. A short venture along the coast will uncover the fortress Citadel of Qaitbay teetering on the coast.
This sultry, bustling Egyptian port has both ancient and modern history intertwined in every street. French-style parks and the occasional French street sign have survived as part of Napoleon's legacy, and, as one of Alexandria's many conquerors, Greek restaurants and cafés still dominate the cultural scene.
Destination Highlights
Pyramids of Giza
The Pyramids of Giza are a spectacle not to be missed during your visit to Alexandria. The Great Pyramid of Cheops, which was once the tallest structure on Earth, is said to be constructed of over two million stone blocks, each one weighing two and a half tons.
Bibliotheca Alexandrina
Completed in 2002, the Bibliotheca Alexandrina (Library of Alexandria) was built to commemorate its namesake, which was one of the largest and most famous libraries in the ancient world until it was destroyed by fire in the 3rd century, resulting in the loss of many books and scrolls. The modern library is a magnificent replacement, containing collections from around the world spread over its 11 floors.
El Alamein
El Alamein came to the world's attention during the Second World War, when battles here in 1942 resulted in a decisive victory for the Allied forces. Located close to the battlefield, the El Alamein War Musuem tells the story of the battles and those involved – Great Britain, Germany, Egypt and WW – through a series of exhibitions showcasing weaponry, uniform and armed vehicles.