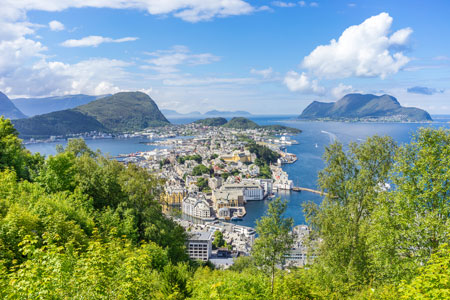 Ålesund is Norway's popular, art-nouveau epic of towers and turrets, ornaments and balconies, steeples and spires. The city's delightful pedestrianised streets, offer a diverse mix of art galleries, shops and lively cafés, and lead to the 418 steps that climb Mount Aksla. The Fjellstua restaurant and café at the summit is the perfect place to sit and soak up panoramic views of this attractive city, the archipelago, and the Sunnmore Alps.

Virtually destroyed by fire in 1904, Ålesund was rebuilt within three years and is regarded widely as one of Europe's true visual experiences. The port is home to the Jugendstilsenteret – The National Art Nouveau Centre –, which has a well-preserved art nouveau interior and regularly features exhibitions and displays.

Ålesund is the gateway to the iconic northwestern fjords and this seaport is the home base for Norway's largest cod-fishing fleet, which, unsurprisingly, provides the city's visitors with some superb seafood to try.
Destination Highlights
Art Nouveau architecture
In 1904, a catastrophic fire destroyed the centre of Ålesund. The town was rebuilt in Art Nouveau style, and features a variety of towers, turrets and detailed ornaments.
Giske and Godøy
The island of Giske is the birth place of the Viking King Gangerolv, or Rollo, who conquered Normandy in 911 AD, and was home to some of the most important Viking families. The neighbouring island of Godøy is home to a renowned lighthouse, dating back to 1876 and situated in the pretty fishing village of Alnes.
Ålesund Aquarium
Atlanterhavsparken is one of the largest saltwater aquariums in Northern Europe. Built into the coastal landscape, and facing the Atlantic Ocean, each tank is built to resemble the natural coastal environment of its inhabitants.