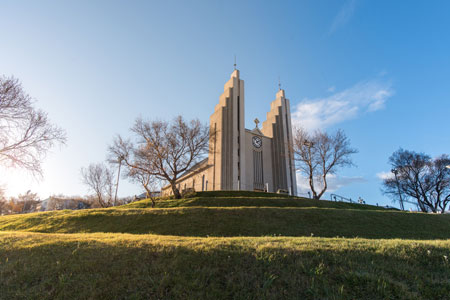 Located in Northern Iceland, Akureyri is a beautiful town best known for its spectacular landscapes, lush vegetation and its diverse wildlife. On your journey to Akureyri you'll sail through the longest fjord in Iceland, Eyjafjordur, a wonderful prelude to your time on shore.
The perfect destination for nature lovers, the waters surrounding the town are teaming with rare, native species such as humpback whales, minke whales, white-beaked dolphins and porpoises to go in search of. [ReadMoreMob]Within reach on tours are incredible natural wonders too, such as the Godafoss 'Waterfall of the Gods' and Lake Myvatn.
In the town centre, there are many museums, galleries and exhibitions to discover and enjoy, offering an insight into the diverse culture of Akureyri and Iceland as a whole. 'Arts Alley' – the main street that runs directly through the town – is Akureyri's cultural hub. Here you will find the very best galleries, exhibitions and restaurants that the town has to offer.
Top Experiences
Whale Watching
The northern part of Iceland is known as the whale watching capital of Northern Europe. When visiting Akureyri take the chance to go in search of these magnificent mammals. Look out for blue, fin, humpback, minke and sei whales, all native to this area. Brimming with wildlife, the fjord offers breathtaking mountain scenery, lush green valleys and a unique coastal landscape peppered with small farms and villages.
Godafoss Waterfall
12 metres high and 30 metres wide, the 'Waterfall of the Gods' is one of the most striking waterfalls in Iceland. It feeds into the river Skjalfandafljot, which is 180km long – the fourth largest in Iceland – and runs across a 7,000-year-old lava field.
Geology
From the Askja strato volcano and Dyngjujökull Glacier to the Kverkfjöll mountain range and Ásbyrgi canyon, one of Iceland's youngest lava fields at the Krafla volcano area, Akureyri is bursting with a number of geological wonders.