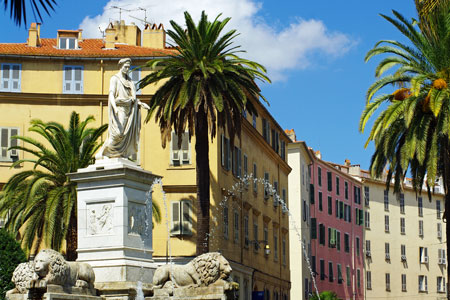 Corsica's seductive island capital, Ajaccio, commands a stunning sweep of the bay along this rugged stretch of Mediterranean coastline. Flawless beaches enclose a fragrant interior dotted with mellow old hill-towns. Fought over by Greeks, Romans, Vandals, Byzantines and Saracens, Corsica was finally sold by Genoa to France in 1768.
The town is the birthplace of French Emperor, Napoléon Bonaparte (1769), and his ancestral home, Maison Bonaparte, is now a museum displaying family heirlooms.[ReadMoreMob] The baroque 16th century Notre-Dame Cathedral, where Napoléon was baptized, contains paintings by Delacroix and Tintoretto.
This captivating, friendly port on the Isle of Beauty oozes class. Picturesque pastel-painted houses can be found along its narrow streets, next to a wide choice of upmarket cafes and shops. Place Foch, in the old town square, is an especially popular place to sit and watch the world go by.
Top Experiences
Napoléon Bonaparte
Born on the island of Corsica, Napoléon Bonaparte was a French military leader and emperor who conquered much of Europe in the early 19th century. From the names of streets, to the monuments and the National Bonaparte Museum, everything in Ajaccio evokes the memory of Napoléon Bonaparte. Perhaps the most impressive monument is the one in the Jardins de Casone. Napoleon's political and cultural legacy has ensured his status as one of the most celebrated and controversial leaders in human history.
Rugged scenery
To the west of Ajaccio, in the interior of Corsica, is the Prunelli River valley and its series of dramatic gorges featuring the dramatic flora and fauna of the island.
Cuisine
Corsican honey, brocciu cheese and charcuterie are all must-tries. Other culinary delights of the island include wild boar casserole and chestnut flour doughnuts.