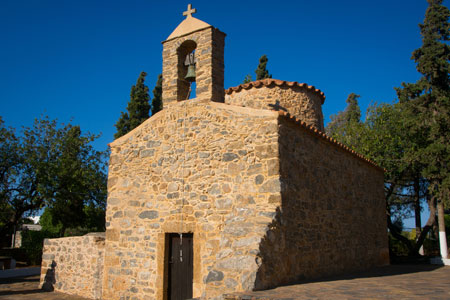 Built around a pretty lake against a backdrop of imposing red-rock cliffs and tall trees, Agios Nikolaos is one of Crete's most picturesque towns. A vibrant 'resort' throughout the holiday season, the town attracts thousands of visitors every year thanks to its blend of natural beauty, cultural attractions, interesting historic sites and fantastic beaches.
Although Agios Nikolaos appears imposing, with its typically Greek whitewashed buildings towering over Lake Voulisméni and Merabello Bay, it is in fact very easy to explore on foot. [ReadMoreMob]Taking a stroll along the town's tree-lined streets, alleys and boulevards in the Mediterranean sunshine is the best way to take in the attractions. Plenty of bars, shops and restaurants serving fine local cuisine, several charming Byzantine-era churches and interesting archaeological, folklore and national history museums all await discovery. The stunning marina and sandy beach of Ammus are well worth taking the short walk from the town centre to discover too.
Top Experiences
Minoan Civilisation
Crete was the seat of one of the earliest European civilizations, the thriving bronze age Minoan culture which left many impressive artefacts including the fascinating Palace of Knossos, one of the most iconic archaeological sites in the world.
Spinalonga
An abandoned rocky island of less than 10 hectares, Spinalonga was a leper colony between 1904 and 1907, and also provided the setting for Victoria Hislop's The Island. Amongst the rugged landscapes, visitors can find a charming Orthodox church and an imposing Venetian fortress.
Cruises to Agios Nikolaos
Departs: Southampton • Fri 16 Apr 2021
25 nights • Braemar • M2109
An outstanding voyage specially crafted to show you some of Greece's most unique and authentic sights and experiences, this cruise is packed with the diverse highlights of an array of stunning destinations.
The archaeological wonders of ancient towns, cultural and historical gems, beautiful beaches, postcard-perfect scenery and much more – your smaller-sized ship will bring you closer to it all with visits to gorgeous islands such as Crete, Rhodes and Kefallonia.
The pièce de résistance is a simply unforgettable scenic cruise of the narrow Corinth Canal aboard Braemar, the longest ship to pass between this incredible waterway's imposing, carefully carved cliffs.
From £4,599pp
Fares Explained
|
What's Included
Departs: Southampton • Fri 23 Sep 2022
25 nights • Braemar • M22CC
Make unforgettable memories on a seemingly impossible navigation through the narrowing cliffs of Greece's remarkable Corinth Canal, made possible thanks to record-breaking Braemar's smaller size.
Uncover the captivating sights and sites of Greek islands, including the ancient wonders, beautiful beaches and palm-lined promenades of Crete, Rhodes, sleepy Syros and Kefallonia too.
Immerse yourself in the Mediterranean magic of stunning islands and cities in Spain, Italy, Malta and Portugal, and revel in the spectacular sight of the mighty Stromboli Volcano.
From £4,399pp
Fares Explained
|
What's Included