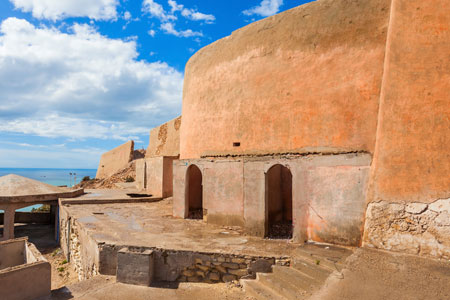 Agadir is a lively, beach resort destination situated along Morocco's southern Atlantic coast, in the foothills of the Atlas Mountains. Present-day Agadir was rebuilt next to the ruins of the 16th century town destroyed by an earthquake in 1960. All that remains of the ancient, hilltop Kasbah are its original fortified walls. The ruins offer views over the memorial park, created where the medina used to stand.
The resort's beachfront promenade and wide, modern boulevards are home to vibrant cafés and restaurants. And arching south of the gleaming marina, the sandy beach has the bluest, cleanest waters.[ReadMoreMob]
In contrast, a visit to the old port delivers the sights, sounds and smells of the authentic old town markets selling fish, fruit, vegetables and spices, while the Musée Municipal presents fascinating insights into the history of Agadir, and Morocco's original inhabitants, the Berbers.
Top Experiences
Taroudant
Located in the Souss Valley, the Berber market town of Taroudant is often referred to as 'Little Marrakech'. Considered more relaxed than its busier counterpart, Taroudant is surrounded by large terracotta walls, which are a main draw for its visitors along with its two main squares and souks. Taroudant is one of Morocco's oldest towns, and was briefly the capital of the Saadian Dynasty in the 16th century.
Kasbah
Agadir's most famous landmark is the 16th century Kasbah, once home to nearly 300 residents. The Kasbah, which was restored in the 18th century, was one of the rare survivors of the 1960 earthquake that devastated the city. Located on a hilltop, the Kasbah offers beautiful views over Agadir's impressive cityscape.
Moroccan Cuisine
Morocco is internationally renowned for its food, and offers some of world's greatest cuisine. Dishes here have several different influences – Arab, Berber, Middle Eastern, Iberian, French, Mediterranean and African – thanks to Morocco's important trading past and long history of colonisers. As a result, nuts, dried fruit and spices are important parts of most recipes, producing the delicious flavours that Moroccan cuisine is famous for.
Cruises to Agadir
Departs: Liverpool • Tue 02 Nov 2021
14 nights • Borealis • S2125
Experience an inspirational, immersive and authentic taste of Moroccan culture, discovering everything from magnificent mosques to iconic, medinas, souks and kasbahs.
A two-day stay in Casablanca affords ample time to uncover the city's iconic sites, such as the majestic Hassan II Mosque; and even tour to magical Marrakech to explore its famous Medina.
At Agadir, chances to sample traditional mint tea and learn about the origins of argan oil are not to be missed, while Tangier will delight with its soaring minarets and animated markets.
From £1,499pp
Fares Explained
|
What's Included
Departs: Southampton • Sat 20 Nov 2021
16 nights • Bolette • T2128
Enjoy an adventurous, enriching and immersive experience, as destinations in Cape Verde and Morocco provide chances to embrace authentic cultures, fascinating history and the local way of life.
Sample the lifestyle of Cape Verdeans in Praia, Mindelo and Porto Novo, with time to browse busy markets, learn of the native music, sample local produce and revel in the archipelago's beauty.
Behold the buzz of day-to-day Moroccan life amongst the souks, streets and squares of Agadir, Tangier and Casablanca, and seek-out iconic, world-famous landmarks too.
From £1,799pp
Fares Explained
|
What's Included