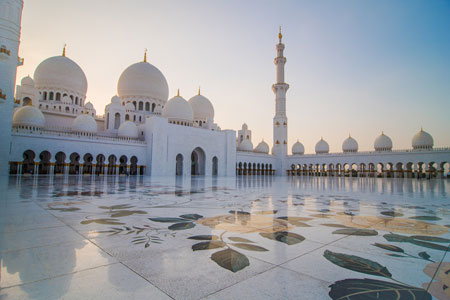 The capital of the United Arab Emirates, Abu Dhabi, has a stunning mix of modern skyscrapers, traditional souks and long white sandy beaches.

Located off the mainland on an island in the Persian (Arabian) Gulf, Abu Dhabi was an ancient trading port – a settlement dating back to the Bronze Age – before its transformation into a breath-taking modern city of oil. Engaging with Gulf culture, and understanding the history of this extraordinary region, can be done by strolling its museums, exhibitions, and sampling the local cuisine. Emirati heritage is not all in a glass box, however, and it can be experienced via the atmospheric shisha cafes, the traditional dhow harbour, the beauty of the photogenic Corniche beach, and the bold haggling in its markets.

Abu Dhabi is a city of extremes: the world's largest hand-loomed carpet, the fastest rollercoaster, the highest high tea [ReadMore] the tower with the greatest lean, the largest cluster of cultural buildings of the 21st century. As one of the wealthiest cities on the planet, Abu Dhabi is well-versed in showing off its magnificence. The essence of Arabia is writ large across this city: candy-cane minarets, the thrill of camel racing, and mysterious deserts burning red from the sunset.

In amongst all this opulence, there are many pointers to the city's past. The 200-year-old sandstone Al Maqtaa Fort, the Qasr Al Hosn Palace and the fabulous Grand Mosque – the third largest in the world, with over a 1,000 columns and 80 marble domes.