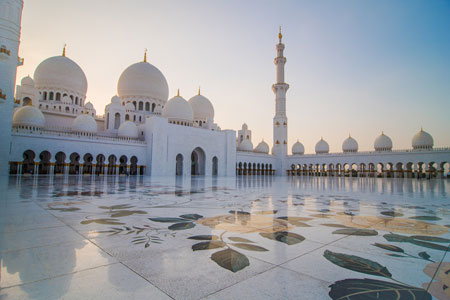 The capital of the United Arab Emirates, Abu Dhabi, has a stunning mix of modern skyscrapers, traditional souks and long white sandy beaches.
Located off the mainland on an island in the Persian (Arabian) Gulf, Abu Dhabi was an ancient trading port – a settlement dating back to the Bronze Age – before its transformation into a breathtaking modern city of oil. Engaging with Gulf culture, and understanding the history of this extraordinary region, can be done by strolling its museums, exhibitions, and sampling the local cuisine.[ReadMoreMob] Emirati heritage is not all in a glass box, however, and it can be experienced via the atmospheric shisha cafes, the traditional dhow harbour, the beauty of the photogenic Corniche beach, and the bold haggling in its markets.
Abu Dhabi is a city of extremes: the world's largest hand-loomed carpet, the fastest rollercoaster, the highest high tea, the tower with the greatest lean, the largest cluster of cultural buildings of the 21st century - the list goes on. As one of the wealthiest cities on the planet, Abu Dhabi is well-versed in showing off its magnificence. [ReadMoreDesk]
In amongst all this opulence, there are many pointers to the city's past. The 200-year-old sandstone Al Maqtaa Fort, the Qasr Al Hosn Palace and the fabulous Grand Mosque – the third largest in the world, with over a 1,000 columns and 80 marble domes.
Top Experiences
Sheikh Zayed Grand Mosque
The Sheikh Zayed Grand Mosque is a symbol of worship for the United Arab Emirates. The mosque is a vision that was first envisaged by one of the nation's former prominent leaders, and was later finished posthumously to honour his dedication to the country and his 'nothing is impossible' attitude. The impeccable architecture, with its delicate ornamentation and design, always leaves its visitors in awe of its incredible beauty.
Falcons
Falcons have a special place in Emirati culture and Abu Dhabi's specialist veterinary hospital has been a sanctuary for these elegant birds of prey since 1999, providing a home and vital care for over 75,000 patients within its first four years alone. The hospital opens its doors to guests, as well as majestic falcons, to teach visitors more about the species and the work they do to help birds in need.
Archipelago
Nearly 200 low-lying islands grace Abu Dhabi's extensive coastline. The surrounding coral reef, mangrove and seagrass provide sanctuaries for many fish species; the three declared marine protected areas provide habitats for the endangered dugong and the critically endangered hawksbill turtle. Abu Dhabi's islands are also home to rare plant species, terrestrial species such as desert hares, and a number of resident and migratory birds, including the Socotra cormorant, which breeds in the Al Yasat MPA.