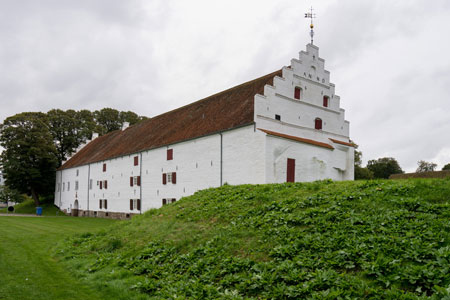 Aalborg's charming historic city, with its fabulously revitalized waterfront, sits serenely on the Limfjord, the impressive body of water that cuts through Jutland. [ReadMoreMob]
Often referred to as the Paris of the North, the city's well preserved medieval landmarks such as the 14th century cathedral and the half-timbered Aalborghus Castle – the castle that doesn't look like a castle – nestle alongside the vibrant bars and cafes of Jomfu Ane Gade, possibly Denmark's most famous street.
The Aalborg Historical Museum tells the port's 1,000-year history, while bathing at the Havnebad outdoor pool, exhibitions at the Utzon Centre and the futuristic House of Music, are all worth visiting. The city's friendly atmosphere is always a pleasure to explore. Away from the port, the nearby beaches of Bisnap, Møllestenen and Hou South offer a little rest and relaxation.
Destination Highlights
Lindholm Høje
Danish history tells of the Germanic Iron Age and the Viking Age; Lindholm Høje is home to several burial sites from these important eras. Drifting sand covered the area, preserving the stone circles for hundreds of years. Hundreds of graves and 150 stone ships have been found here. Many of the archaeologists' finds can be viewed in the museum, giving an insight into Viking life.
Jomfru Ane Gade
Known as Denmark's most famous street, Jomfru Ane Gade is the place to be in Aalborg. Situated in the centre of the city, it is the longest street in Aalborg and is flanked by restaurants, bars and cafés. In the summer, tables will be available outside so you can fully enjoy the spirit of the place. Most bars are open in the afternoon, making it definitely worth a visit to enjoy a local tipple.
Jens Bang's Stenhus
Boasting five highly decorated floors, the former home of Jens Bang, who was a wealthy merchant in the early 1600s, is one of the biggest and most photographed historical sights of the city.
Park of Music
A city park in the heart of Aalborg, Kildeparken is home to unique singing trees and is a place of curiosity. Since 1987, music artists have left their mark here by planting a commemorative tree when visiting Aalborg. Some of the trees are accompanied by the artists' music, which can be activated by visitors. Sir Cliff Richard, Kenny Rogers, Elaine Paige, Rod Stewart and Sir Elton John are just a few you may have heard of! Ideally located, you can explore the park at your leisure.