Bars & Lounges on Boudicca
Boudicca's bars and lounges feature comfortable seating, ample space and are open throughout the day, so you'll always find somewhere to unwind with a glass of your favourite tipple in hand; marvel at ever-changing scenery as you take the weight off your feet; and enjoy a range of fantastic entertainment provided by an diverse lineup of talented live performers.
Perhaps sip a cold beer or refreshing cocktail in the sunshine at the Marquee Bar; or enjoy a traditional Afternoon Tea accompanied by spectacular views at the Observatory. Stop-by the Morning Light Pub for pre-dinner drinks with friends; then head to the Neptune Lounge for the after-dinner show, and to the Lido Lounge to dance the night away. You can even indulge your cravings with luxurious coffees and chocolates at the Bookmark Café, sample an authentic taste of the Far East at The Oriental Room, serving teas and beers from the Japan, China and Taiwan, or simply enjoy a warming cuppa at the quiet Iceni Room.
Upgrade to All Inclusive
Fred. Olsen's All Inclusive Drinks Upgrade is another service offered to ensure your holiday is relaxing and enjoyable. By upgrading to All Inclusive, you can treat yourself to that extra glass or two of your favourite tipple, without having to worry about the bar bill at the end of your cruise – it's already covered.
More than half of Fred. Olsen's guests choose to take advantage of this fantastic upgrade, click below to find out more.
Neptune Lounge
When you've finished every last morsel of your sumptuous five-course meal or tempting buffet, settle in at Neptune Lounge and enjoy fantastic entertainment from a wide range of performers over a glass or two of your favourite tipple. There's ample space in the Neptune Lounge, and shows are performed after each dinner sitting every evening, so there's no reason to miss out on the feast of music, dance, comedy and costume.
As Boudicca's main entertainment venue, the Neptune Lounge also hosts insightful and immersive daily events and activities, such as lectures, port talks and presentations provided by our friendly crew and expert guest speakers.
Lido Lounge
A popular after-dinner venue, the Lido Lounge – located towards the stern of the ship on Lido Deck – is a great place to sit, relax and catch up with friends over a cold pint, an exotic cocktail, one of the fine premium gins on offer from our gin menu, or even something light, refreshing and non-alcoholic; or to dance the night away to fantastic live music performed by the resident band and singers.
Morning Light Pub
Decorated to resemble a British pub or inn but with a Scandinavian twist, the Morning Light Pub has a welcoming atmosphere and charming traditional style. Open throughout the day and the evening, it's the ideal place to relax and socialise with friends and fellow guests.
You could enjoy a quick pint or a glass of wine at lunch before spending the afternoon ashore; stop by for a pre-dinner drink; or stop-by in the late evening and relax with a few glasses of your favourite tipple before retiring to your room for a comfortable night's sleep.
Observatory
Located towards the bow of the ship on Marquee Deck and boasting spectacular panoramic views, the Observatory Lounge is a wonderful place to enjoy a pre-dinner drink. Sit around the bar in the centre of the lounge, or perhaps take a seat by one of the large windows and lose yourself in the stunning sights while listening to the twinkling sounds of a grand piano.
The Observatory Lounge is also the venue for our premium Traditional Afternoon Tea service, which offers guests a selection of delicious sandwiches, cakes, pastries and scones accompanied by premium teas and unforgettable views.
The Bookmark Café
Located on Lido Deck, the Bookmark Café is an indulgent delight that's not to be missed. You'll find an assortment of delectable chocolates to devour, alongside a tempting menu of specialty hot drinks – choose from Taylors of Harrogate's intense coffees and a selection of traditional teas such as earl grey and English breakfast. The popular Bookmark Bestseller, which includes seven quality beverages and a bag of luxurious truffles for £15.95 per person, can be booked before your cruise.
You could take a seat in the café's comfortable chairs and relax with your drink as the ship's picture windows provide fantastic views; or perhaps stop-by and grab a drink to takeaway. The friendly Barista will be happy to fill your reusable cup with the beverage of your choice, to enjoy on a stroll around deck or as you explore ashore.
Marquee Bar
The Marquee Bar – located towards the stern of the ship on Marquee Deck – is the ideal place to take a break from relaxing in the sunshine next to the nearby pool. Find shade under the awning at the bar, where you could chat to your hearts content with the friendly staff; or perhaps grab a table with friends and watch the world sail by over a glass of your favourite tipple.
Enjoy a cold beer, a fruity wine, exotic cocktail or treat yourself to premium gins such as The Botanist Islay or Bols Jonge, perfectly complemented by Fevertree tonic water.
Oriental Room
The Oriental Room brings a touch of style and opulence to the Lounge Deck on board Boudicca, with its exotic décor, elegant furnishings and menu of quality teas and herbal infusions providing an authentic taste of the Far East.
You can enjoy a selection of oolong, black, green and white teas from China, Japan and Taiwan, as well as a few favourite blends from back home, such as Earl Grey and English Chamomile. If you prefer something cold and refreshing, the choice of tea cocktails and delicious bottled beer, including Tiger and Tsingtao, are sure to tempt too.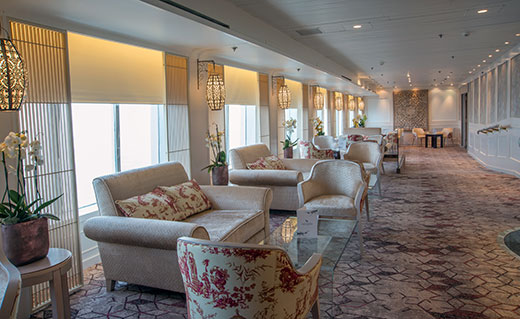 Iceni Room
Named after the tribe that Queen Boudicca led into battle, the intimate Iceni Room is a quiet public space perfect for relaxation throughout the day, and an ideal place for enjoying an aperitif before retiring to the nearby Neptune Lounge for an evening of fantastic entertainment.
Whenever you stop-by the Iceni Room, you'll feel right at home settling in to your comfortable seat amongst the elegant décor, with self-service tea and coffee making facilities available for you to use at your convenience too.