Bars & Lounges on Balmoral

Whether it's watching the evening show at the beautiful Neptune Lounge; taking in stunning views over a traditional Afternoon Tea in The Observatory; sampling premium gins at the Lido Bar; or having a refreshing pint at the Morning Light Pub, you'll find there are plenty of places to unwind on board Balmoral. [ReadMoreMob]
The ship features several stylish, spacious and comfortable bars and lounges, providing plenty of choice and variety. Each venue has ample room to relax and never feels overcrowded, an advantage of cruising on board a smaller cruise ship, so it's always a pleasure to enjoy the fantastic entertainment and share a drink or two with new-found friends.
Fred. Olsen's All Inclusive Drinks Upgrade is another service offered to ensure your holiday is relaxing and enjoyable. By upgrading to All Inclusive, you can treat yourself to that extra glass or two of your favourite tipple, without having to worry about the bar bill at the end of your cruise – it's already covered.
More than half of Fred. Olsen's guests choose to take advantage of this fantastic upgrade, click below to find out more.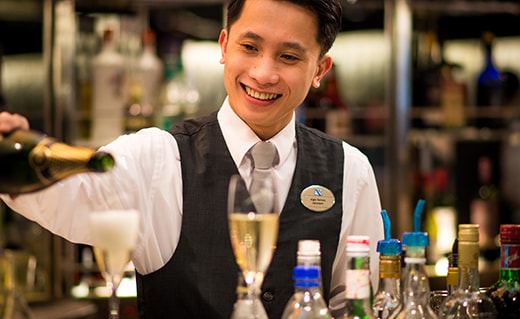 Neptune Bar & Lounge
Benefitting from stylish décor and plenty of comfortable seating, the Neptune Lounge offers guests a chance to enjoy a feast of music, dance, comedy and costume in ample space, comfort and style.
As the main entertainment venue on board Balmoral, the Neptune Lounge hosts the live after dinner shows every evening. Take a seat alongside your friends, loved ones and fellow guests and experience all the 'glitz and glam' as our friendly waiters bring you drinks straight from the bar.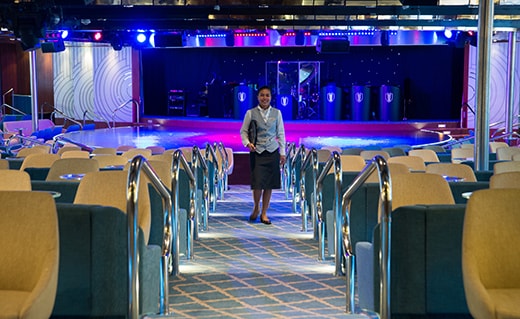 Lido Bar & Lounge
The Lido Lounge & Bar is the perfect place to unwind after a day of exploring ashore, or while away some time at sea. Take a seat at the bar and chat with the friendly staff and your fellow guests, or perhaps grab a table and appreciate the talent of the resident musicians with a glass of your favourite drink in hand. A newly installed, 75 inch widescreen TV - complete with immersive Bose surround sound system - shows various channels, keeping you up to date with news, sports and maybe a few of your favourite programmes, too.
Located on Lido Deck 8, the Lido Bar overlooks the aft pool on Lounge Deck 7 and offers superb, unspoilt views from the stern of the ship whether you're at sea or docked alongside in one of the world's most beautiful destinations.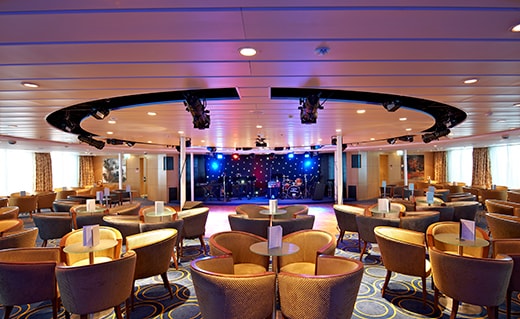 Morning Light Pub
Decorated to resemble a British pub or inn, the Morning Light Pub has a welcoming atmosphere and charming traditional style. Open throughout the day and the evening, it's the ideal place to relax and socialise with friends both old and new.
You could enjoy a quick pint or a glass of wine at lunch before spending the afternoon ashore; stop by for a pre-dinner drink; or settle into a comfortable seat and relax long into the night while enjoying performances from live bands and comedians.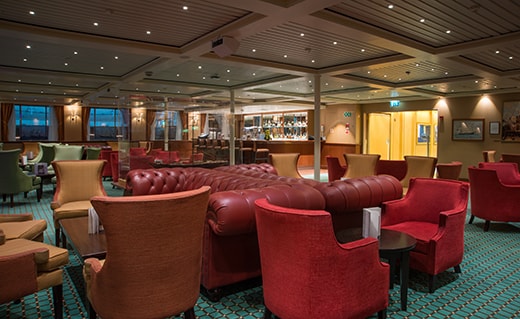 The Observatory
Located on Marquee Deck at the very top of Balmoral, The Observatory boasts the most spectacular panoramic views and is a wonderful place to enjoy a pre-dinner drink. Sit by the bar, or perhaps take a seat in one of the new, comfortable chairs by the lounge's large windows and lose yourself in the stunning sights while listening to the twinkling sounds of a grand piano.
The Observatory is also the venue for our premium Traditional Afternoon Tea service, which offers guests a selection of delicious sandwiches, cakes, pastries and scones accompanied by premium teas and unforgettable views.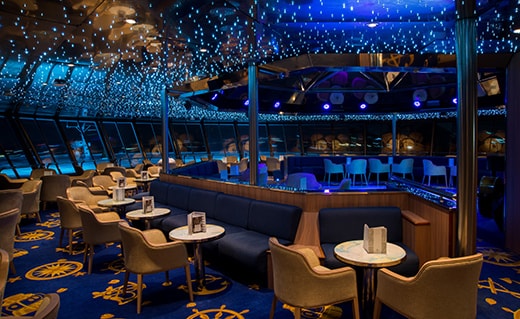 The Bookmark Café
Life on the ocean waves doesn't mean having to sacrifice the regular 'caffeine fix' at your favourite coffee shop. The Bookmark Café serves a selection of delicious speciality coffees – espresso, cappuccino, mocha, iced lattes and more – along with quality tea blends.
Enjoy a quiet moment with a book or share the experience with good conversation. You're sure to be tempted by our heavenly fresh chocolates too. From pralines to Champagne truffles, these melt-in-the-mouth treats are too good to miss. Alternatively, the friendly Barista will be happy to fill your reusable cup with the beverage of your choice, to enjoy on a stroll around deck or as you explore ashore.
The popular Bookmark Bestseller, which includes seven quality beverages and a bag of luxurious truffles for £15.95 per person, can be booked before you cruise.
Oriental Room
The Oriental Room brings a touch of style and opulence to the Main Deck on board Balmoral, with its exotic décor, elegant furnishings and menu of quality teas and herbal infusions providing an authentic taste of the Far East.
You can enjoy a selection of oolong, black, green and white teas from China, Japan and Taiwan, as well as a few favourite blends from back home, such as Earl Grey and English Chamomile. If you prefer something cold and refreshing, the choice of tea cocktails and delicious bottled beer, including Tiger and Tsingtao, are sure to tempt too.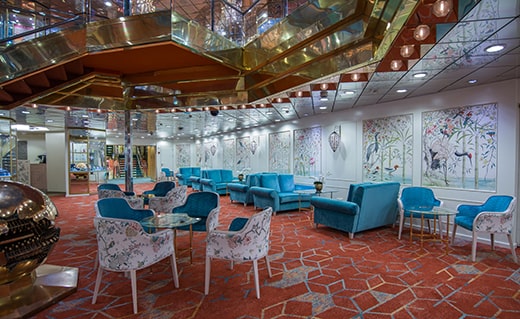 Marquee Bar
With it's large windows, spectacular glass roof and beautiful décor and furnishings, the resplendent Marquee Bar provides guests with the perfect place to take a break from sunbathing on Marquee Deck.
Grab a quick bite to eat, or perhaps a refreshing glass of your favourite drink. Along with a great selection of beers, wines and expertly-created exotic cocktails, the Marquee Bar also offers you a chance to enjoy tempting tipples from our premium gin menu.