Activities & Entertainment on Balmoral
While you won't find gimmicks such as climbing walls and wave machines on board Balmoral, the largest ship in the Fred. Olsen fleet offers plenty to keep guests entertained as they discover the world in style. Insightful talks and lectures, as well as interactive hobby classes take place during the day, and fantastic live performances – including cabaret, stand-up comedy and intimate shows from resident bands and singers – bring the ship to life in the evenings.
With spacious open areas on Marquee Deck and Lounge Deck featuring pools, jacuzzis and plenty of sunloungers, you might prefer to spend your sea days outdoors, relaxing and enjoying views of the ever-changing scenery. Alternatively, you could opt to take a seat at the welcoming Morning Light Pub and socialise with fellow guests and new-found friends; or even stop-by the large Card Room for a challenging game of Bridge. Balmoral offers something for everyone; what you choose to do during your time on board is completely up to you.
Daytime activities
Whilst on board Balmoral you'll be treated to guest speakers and performers, art and craft lessons and fun quizzes, along with yoga, Pilates and other fitness activities to suit your needs and interests. Most daytime activities will be held either out on deck in the sea air, or within our large Neptune Bar & Lounge, sociable Lido Lounge or comfortable Morning Light Pub. Where possible, we also offer you the chance to really immerse yourself in the destinations on your itinerary with our exciting on board RIBs, which can take you even closer to unmissable sights and highlights found off the regular tourist trail.
On sea days, it's our pleasure to inspire you with the chance to learn new hobbies or skills. You could choose from photography talks, ballroom dancing lessons, singing and language classes, theatre workshops, watercolour tutorials or even join in with our Book Club. Activities vary from cruise to cruise and are highlighted each day in your copy of the Daily Times.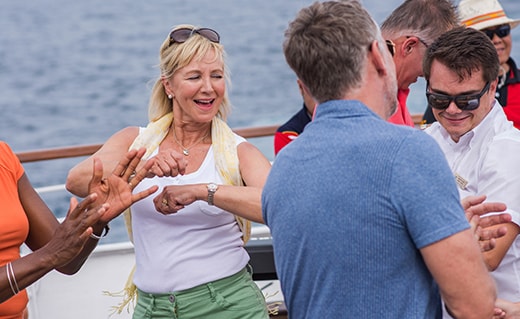 Guest Speakers
Our range of fascinating lectures from leading experts are always popular on board. Previous subjects have included wine tasting, the sky at night, maritime history and piloting Concorde.
Equally, guests value an insight into the destination they're heading to our knowledgeable port lecturers share all the information you'll need for venturing ashore, so you can be confident of making the most of your time in each port of call.
On board Balmoral, comfortable and spacious Neptune Lounge and Lido Lounge are ideal venues for these talks, with plenty of seating available and friendly staff on hand to serve you with your favourite tipple as you enrich your cruise experience.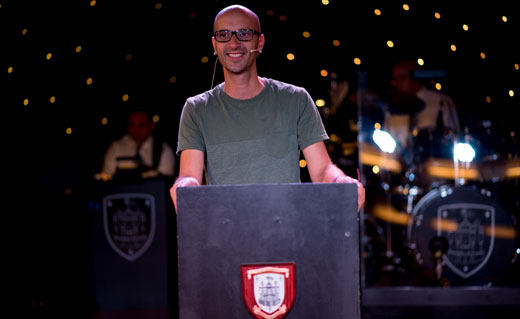 Evening entertainment
When the lights go down on board Balmoral, we'll treat you to a selection of live shows ranging from music and cabaret to quick-fire stand-up comedy. Just relax, sit back and enjoy the fabulous performances with your favourite tipple or cocktail in our grand Neptune Bar & Lounge. After the main show, there's usually a chance to catch a set from our Ship's Orchestra and show-off your dance moves. With our talented Dance Hosts on hand, no-one goes too long without a dance partner.
As well as enjoying the evening show, you can join new-found friends in the welcoming Morning Light Pub for a sociable drink; dance the night away to tunes performed by your ship's resident band in the Lido Lounge; or even take a moonlight stroll out on the open decks. For a magical end to your evening, head to the Observatory to enjoy a late-night drink accompanied by the sounds of a twinkling grand piano.