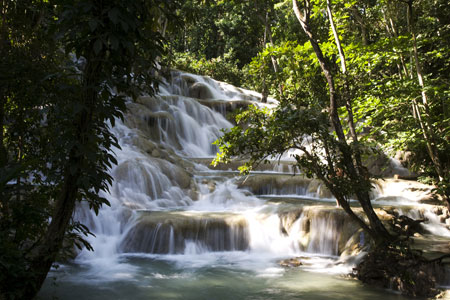 Just saying the word 'Jamaica' makes you relax and imagine lying on a tropical beach listening to waves gently lapping the white-sand beach as your skin tingles in the warmth of the sun. [ReadMoreMob]
The third largest of the Caribbean islands, a cruise holiday to Jamaica is everything you ever dreamt it would be: a colourful, tropical paradise. Picture-perfect white-sand beaches, palm trees, colourful tropical plants and majestic mountains await cruise guests.
Montego Bay is the bustling hub of the island, with shops, restaurants, cafés and bars to explore. As the birthplace of Bob Marley, Jamaica moves to his laid-back reggae rhythms with music, rice-and-peas, rum, coffee and cricket being the main ingredients that make this island so captivating; that and the warmth of the Jamaican welcome.
If you're looking for adventure, you can dive the reefs at Runaway Bay and Ocho Rios, go hiking in the Blue Mountains or explore the countries unique history in the countryside and main city of Kingston.Whatever your reasons for visiting Jamaica – exploration or relaxation – your cruise will leave you wanting to return.
Cruises to Jamaica
Iconic Caribbean with the Trinidad Carnival
• M2304
Save to favourites
Bridgetown
Braemar
Thu 16 Feb 2023
14 nights
Experience the sounds of the Trinidad Carnival
Tour to Kingston, former home of Bob Marley
Enjoy an evening at the Tropicana in Havana