Scottish Highlands & Islands
29th Jul 2018
7 nights
Sails from Newcastle
Balmoral
L1822
Appreciate the unspoilt landscapes of the breathtaking Highlands and discover the highlights of three beautiful islands as Balmoral guides you to some of Scotland's hardest-to-reach, yet most rewarding destinations.
Nestled within gorgeous Highland countryside and fronted by the calm waters of Cromarth Firth, Invergordon will offer you your first glimpse of Scotland's renowned beauty. After enjoying the views from deck as you sail into port, go ashore for the chance to tour to the centuries-old castles of Dunrobin or Cawdor; or perhaps go in search of the legendary Loch Ness Monster. The first of three remote islands on your itinerary will then await your exploration. Kirkwall – the capital of the Orkneys – is your gateway to taking in the remarkably well-preserved, 5,000-year-old Neolithic structures of Skara Brae and the ancient stone circles of Stenness and Brodgar. Alternatively you could embark on a scenic exploration of the Orkneys' most spectacular coastal trails and encounter wonderful wildlife such as razorbills and puffins, stunning vistas and a host of historic sites. [ReadMore]
A mesmerising days of scenic cruising follows your call into Kirkwall, an undoubted highlight of this captivating seven night sailing. Discover the beauty of Tobermory Bay, sheltered by steep cliffs and hills; see the historic 13th century Duart Castle as you sail the still waters of the Sound of Mull; and take in the picturesque scenery of the Firth of Lorn. Cruising close to the fascinating basalt columns of Fingal's Cave will be an unforgettable experience too. Balmoral will then stop at Stornoway, from where you can tour to the very north of the Isle of Lewis to admire the incredible scenery and spot a few of the island's most historic landmarks such as the Church of St Moluag and the Butt of Lewis Lighthouse. Finally it's on to the enchanting Shetlands, where some of Scotland's most spectacular coastal scenery can be seen on a tour to Northmavine from Lerwick.
Itinerary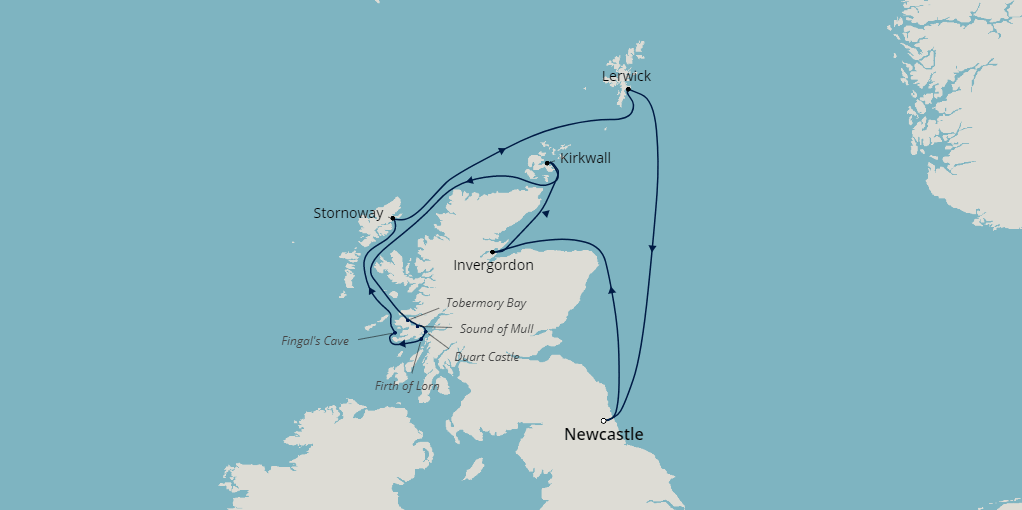 Date
Arrive
Depart
Destination
Sun 29 Jul
Late PM
Newcastle, United Kingdom
Not only is Newcastle one of Britain's greatest and most vibrant cities, it is also a fantastic starting point for a Fred. Olsen cruise. With its excellent road and rail connections to the rest of northern England, Scotland and beyond, and its large, comfortable passenger lounge, the Port of T...
Read more
Mon 30 Jul
Early PM
Late Night
Invergordon, United Kingdom
Invergordon, located at the head of Cromarty Firth in the stunning Scottish Highlands, has a homespun charm and serves as a gateway to the legendary waters of Loch Ness, Culloden Battlefield, the town of Inverness, and the Whyte & Mackay whisky distillery. A short walk into the centre reveals t...
Read more
Tue 31 Jul
Early AM
Late PM
Kirkwall, United Kingdom
Kirkwall, the capital of the Orkney Islands, resonates with ancient echoes of Christian, Nordic and Celtic history. It's a town that feels more Scandinavian than Scottish; in fact, the name Kirkwall comes from the Norse for 'Church Bay', relating to the town's 11th century Church of St Olaf of...
Read more
Wed 01 Aug
Late AM
Early PM
Cruising Tobermory Bay, United Kingdom
Situated in the north east corner of the picturesque Isle of Mull, Tobermory Bay is a beautiful stretch of water sheltered by steep cliffs and tall hills. From the ship you'll enjoy views of Tobermory harbour's famous colourful watefront, which you may recognise from the popular children's tele...
Read more
Wed 01 Aug
Early PM
Early PM
Cruising Sound of Mull, United Kingdom
Flowing between the Isle of Mull and the shores of Scotland, the Sound of Mull is a beautiful stretch of water that forms part of the Atlantic Ocean. As you sail through the sound on your Fred. Olsen cruise ship you'll see some stunning natural landscapes and will truly appreciate the beauty of the...
Read more
Wed 01 Aug
Early PM
Early PM
Cruising past Duart Castle, United Kingdom
Duart Castle dates back to the 13th century and is one of the most historic, important and prettiest castles in the Highlands. Set amongst a back drop of beautiful valleys, the castle looks impressive from any angle, especially from the water - a sight you'll get to see during your scenic cruise her...
Read more
Wed 01 Aug
Early PM
Late PM
Cruising Firth of Lorn, United Kingdom
The Firth of Lorn is a beautiful 16 mile stretch of water that flows between the Isle of Mull and the Slate Islands. As you cruise along the calm water you'll be surrounded by breathtaking natural landscapes and protected rocky reefs.
Read more
Wed 01 Aug
Late Night
Late Night
Cruising Fingal's Cave, United Kingdom
Similar to the famous, UNESCO-listed Giant's Causeway in Northern Ireland, Fingal's Cave is a beautiful basalt sea-cave with distinctive 'columns' and a remarkable symmetry that looks incredible as you cruise past. Often, the cliffs, ledges and grassy slopes are smothered wi...
Read more
Thu 02 Aug
Early AM
Late PM
Stornoway, United Kingdom
Thanks to its sheltered location, Stornoway, on the island of Lewis and Harris, is the largest town of the Outer Hebrides islands of Scotland. The port offers a warm welcome to those visiting Lewis as part of their exploration of one of the UK's remotest locations. A stroll along th...
Read more
Fri 03 Aug
Early AM
Late Night
Lerwick, United Kingdom
Sturdy Lerwick is the friendly capital of the 100 islands and islets of the Shetland Islands. The bustling, cosmopolitan seaport is the islands' only town, and its wonderful natural harbour is a joy to explore. Until the 1600s, Leir Vik – Norse for a muddy bay – was little more t...
Read more
Sun 05 Aug
Early AM
Newcastle, United Kingdom
Not only is Newcastle one of Britain's greatest and most vibrant cities, it is also a fantastic starting point for a Fred. Olsen cruise. With its excellent road and rail connections to the rest of northern England, Scotland and beyond, and its large, comfortable passenger lounge, the Port of T...
Read more
Indicated an anchor port. A small boat known as a 'tender' is used to transport the guests from ship to shore.
Check availability
Pricing & rooms
Prices are updated daily, based on the lowest fare available for each grade. | Updated: Prices correct as of 23:00 18/03/2018.
Please call on 01473 746175 for live availability & prices.
About Your Ship
Balmoral is the largest of Fred. Olsen's smaller, friendly ocean-going cruise ships – with capacity for up to 1350 guests – yet is still small enough to navigate narrow waterways such as Kiel Canal and bring inspirational sights and experiences closer to you. Like the rest of the fleet, Balmoral retains a warm, welcoming atmosphere and features comfortable accommodation and lounges, stylish restaurants and plenty of open-deck space.
What's Included?
Rest assured, all of the following comes as standard on every Fred. Olsen cruise:
Comfortable rooms and suites with TV, hairdryer, tea and coffee making facilities and individually controlled air conditioning
Tempting cuisine every day throughout your cruise - with five-course à la carte dinners, casual breakfast and lunch buffets and late-night snacks
Unlimited, self-service tea and coffee at selected venues, afternoon tea* with sandwiches and cakes, and in-room sandwiches and snacks
All evening entertainment, including cabaret shows, dancing and live music
Captain's Drinks Party and Gala Buffet (on cruises of 5 nights or more)
On board leisure facilities, including swimming pools, Jacuzzis and gym
A wide choice of on board activities and lectures throughout the day
All UK port taxes (where collectable in advance)
Luggage porterage between your room and the drop-off/pick-up point
Flights, as confirmed as part of a fly-cruise holiday
​Cruise descriptions include optional, chargeable experiences that may be enjoyed independently and/or with optional Fred. Olsen Shore Tours. *Premium Traditional Afternoon Tea not included.
The Fred. Olsen Difference
Real ships
We're not interested in gimmicks like zip wires, climbing walls or celebrity chefs. We don't have boastful megaships. We take immense pride in our fleet of smaller-scaled vessels that retain the style, ambience and understated quality of a country house hotel. We ensure they remain contemporary too: from winter 2016 to spring 2018 the whole fleet underwent dry dock refits to further enhance the facilities for guests. With the fifth generation Fred. Olsen as Chairman and 170 years of seafaring heritage behind us, we believe we've found the perfect formula for you to get the best out of your holiday with us.

Smaller but spacious
A smaller ship doesn't mean less space; far from it. Each room is comfortably sized, with all that you'll need to enjoy your holiday. In fact, our rooms are comparable to those on some of the mammoth cruise ships. While our vessels are on a more accessible scale, you can have just as much private space. With fewer people on board it's easy to find a quiet spot to relax in peace with a drink or a good book. There's room to stretch out by the pool and you can get ashore more quickly too. And when you're ashore, you're seeing the best of each port of call with hundreds – not thousands – of others, giving you a much more authentic experience.

Service with a smile
Each member of the Fred. Olsen team has been carefully selected for their warm and welcoming personalities. The quality of our people, supported by training and development, ensures they will give you a great holiday: in guest feedback our staff are always the most highly-rated aspect of the whole experience.