Polynesian Paradise with Iconic Sydney
Departed 29th Jan 2021
35 nights
Sails from Havana
Black Watch
W2104
This cruise has now set sail.
Sailing between two iconic cities, Black Watch will show you the stuff dreams are made of among the faraway idylls of the South Pacific. As you journey towards Australia, you'll island-hop in Polynesia and Melanesia to immerse yourself in a world of pristine white-sand beaches, sparking lagoons, coral reefs, exotic flora and fauna, and more – a simply unforgettable experience.
You begin your epic voyage in the Americas, where diverse, culture-rich cities will be the perfect appetisers before stunning South Pacific islands appear on your horizon. [ReadMoreMob]After embarking your smaller ship in legendary Havana, you'll sail first to the Panamanian port city of Colón – starting point for tours to the Panama Canal and Gatun Lake. You can learn about the construction of the canal's impressive locks and dams, and then see them in action from on board Black Watch as you navigate one of the world's great feats of engineering. Before heading across the Pacific, there's a visit to Costa Rica too, where Puerto Caldera will serve as your gateway to lush nature reserves and rainforests. The nearby Carara National Park is a haven of dry and wet forests, thick with various species of trees, and is famous for providing a beautiful natural habitat for over 400 types of birds, as well as crocodiles that live in and around the Tárcoles River. [ReadMoreDesk]
You will then head for the 'Land Down Under', stopping at a string of spectacular South Pacific islands en route. The long list of astonishing destinations includes Nuku Hiva, where you'll be beckoned ashore to explore by unspoilt volcanic landscapes; and Fakarava, a UNESCO-listed Biosphere Reserve and breathtaking natural habitat for rare species of land and water-based fauna. Paradise awaits on the idyllic islands of Tahiti, Raiatea and Bora-Bora, renowned for their postcard-perfect beaches, soaring mountains and tumbling waterfalls, while you'll also visit the 'island where time begins', Tonga. An intoxicating mix of uncanny tranquillity and unmolested beauty is yours to experience at uninhabited Mystery Island and Savusavu, Fiji's 'best kept secret', found well off the beaten track. Finally, after a visit to Noumea – the picturesque capital of the South Pacific archipelago – you once-in-a-lifetime holiday concludes in Sydney. You'll be afforded time to take in Sydney's world-famous attractions, including the instantly recognisable Opera House, the Harbour Bridge and the revered Royal Botanic Garden; and even tour to Bondi Beach, to capture one of Australia's most photographed scenes.
Your Itinerary
Bring dreams of the South Pacific's faraway idylls to life and immerse yourself in a world of pristine white-sand beaches, sparking lagoons, coral reefs, exotic flora and fauna, and more.
You can marvel at the breathtaking, unspoilt landscapes of Nuku Hiva and Fakarava; indulge in paradise at Tahiti, Raiatea and Bora-Bora; and explore the 'island where time begins', Tonga.
There's memorable calls at remote, uninhabited Mystery Island and the Fijian gem of Savusavu too, while unforgettable experiences to enjoy either side of your Polynesian exploration include a navigation of the Panama Canal and time to explore iconic Sydney.
View Itinerary
Close Itinerary
×
Havana, Cuba
Jan 29 | Depart - late night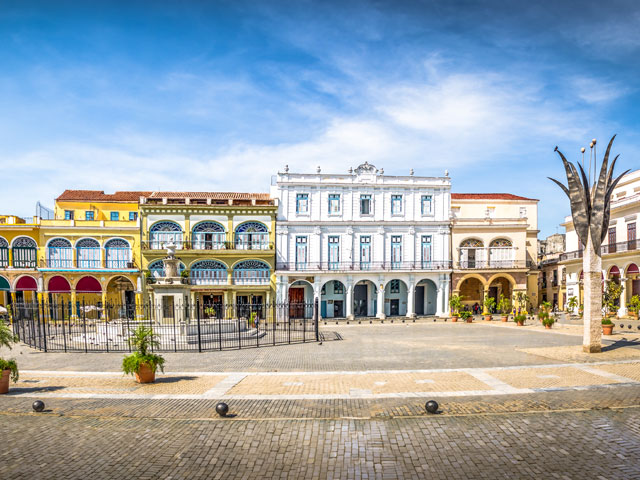 Havana, the capital city, major port, and leading commercial centre of Cuba, is famed for its colonial history and vibrant culture.The city is home to exquisite Spanish colonial architecture, classic American cars, irresistible rhythms of mambo and a confusing jigsaw of grand avenues and cobbled streets.
A stroll around Habana Vieja, Old Havana, quickly reveals the audacious Latin atmosphere within the imposing coastal fortifications and intimate, traffic-free squares. At its centre, the buildings reflect the city's vivacious architectural mix: the Castillo de la Real Fuerza, the iconic National Capitol Building, the Baroque Catedral de San Cristóbal, and the Plaza Vieja are all worth the effort to uncover.
The art culture is one of the city's biggest revelations, and Cuban creativity is accessible through the Museo Nacional de Bellas Artes, the Fusterlandia public art project and the Fábrica de Arte Cubano, which champions the movement of Havana's more contemporary art scene. The city is awash with experimentation, exemplified by the explosion of uber cool cafes and Bohemian bars.

Columbus believed this was the most beautiful land he'd ever seen, and it's hard not to agree given Cuba's 2,000 miles of tropical coastline, lush mountains and some 300 beaches that melt into azure seas.
Share Itinerary
Colon, Panama
Feb 01 | Arrive - early afternoon | Depart - late night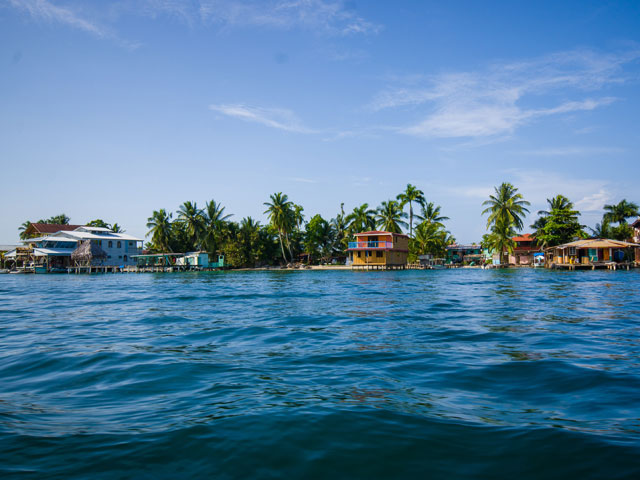 At the Atlantic end of the Panama Canal on the Caribbean Sea, lies the country's second city, Colón. Initially established as the terminus of the Panama Railroad, the town was originally called Aspinwall, after Railroad's promoter, William Aspinwall. It was built to provide a fast overland route to California and the gold rush, but the local Hispanic population soon renamed it in honour of Christopher Columbus.
Outside the city port are several reminders of Panama's rich history, including the Canal's impressive Gatún Locks and Gatún Dam. Fort San Lorenzo, built by the Spanish to guard the strategically important Chagres River, is a well-preserved colonial military structure.The vast Colón Free Trade Zone offers tax-free shopping.
Share Itinerary
Cruising the Panama Canal, Panama
Feb 02 | Arrive - early morning | Depart - early afternoon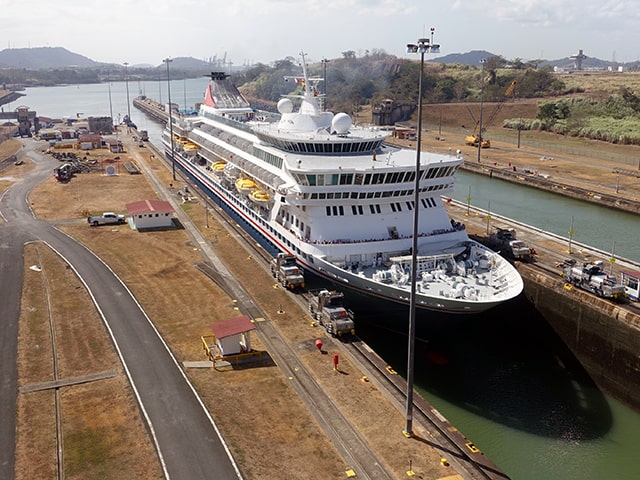 The Panama Canal is one of the world's greatest feats of engineering, stretching 48 miles across the continental divide, from Panama City on the Pacific side to Colón on the Atlantic side.
The canal transit takes approximately 8 hours which will give you time to relax on deck and witness the amazing mix of manmade construction and beautiful unspoilt scenery. Referred to by many as the 'eighth wonder of the world', your ship will pass through three locks, being lifted and lowered in excess of 170 feet in the process.
Between these locks is a 21-mile transit through Gatun Lake, which was once the largest artificial lake in the world, and is still surrounded by untouched, dense rainforest which plays host to a vast array of Central American animal and plant species. The lake forms a major part of the Panama Canal transit across the Isthmus of Panama.
Share Itinerary
Puerto Caldera, Costa Rica
Feb 04 | Arrive - early morning | Depart - late night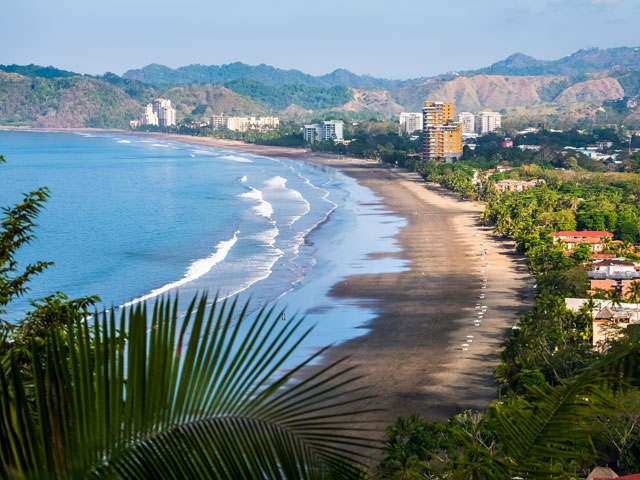 The Pacific port and tiny town of Puerto Caldera is well-situated for many of Costa Rica's top attractions and most popular cities, including San Jose, Jaco and Puntarenas. This tropical city is located off of the Gulf of Nicoya and its unspoilt, natural beauty is a true spectacle.

The vast rainforest around Puerto Caldera spreads from the coastline up into breath-taking mountain ranges where rivers, waterfalls, parks and wildlife preserves are all waiting to be discovered.
Share Itinerary
Nuku Hiva, French Polynesia
Feb 14 | Arrive - early morning | Depart - early evening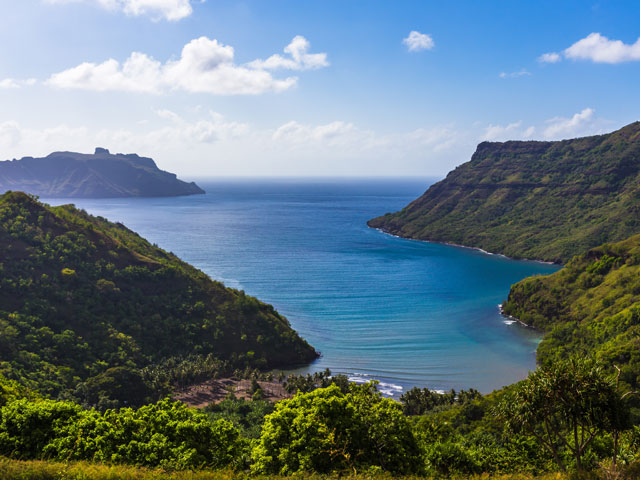 The beautiful French Polynesian Island of Nuku Hiva is the largest of the Marquesas Islands, and is dominated by two dormant volcanoes which have eroded to leave a 1,200m peak, surrounded by lush, green fertile valleys.
The hidden Taipivai valley is where Herman Melville, author of Moby Dick, set his other great novel, Typee. The island is resolutely unspoilt. In its farms, pastureland and fishing villages, life carries on pretty much as it has for generations. The islanders are very welcoming of visitors, although there's little concession to the tourist trade apart from a couple of souvenir shops.
Share Itinerary
Fakarava, French Polynesia
Feb 16 | Arrive - early morning | Depart - late afternoon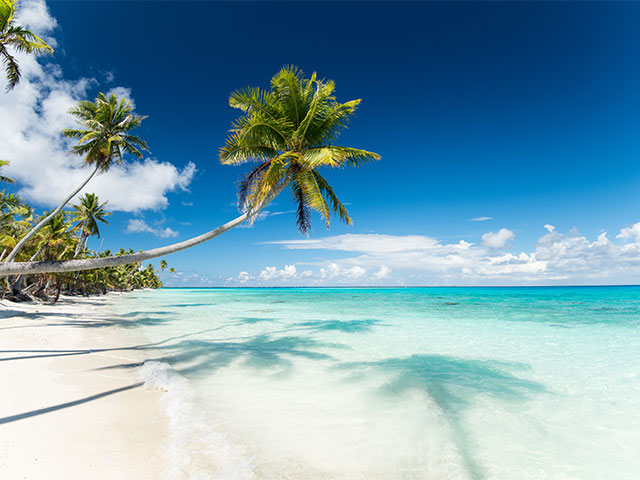 Part of a National Wildlife Reserve, with especially rare flora and fauna, it has a dream-like mood that will bring out Robinson Crusoe yearnings in most visitors! Fakarava's immense lagoon offers superb snorkelling and diving as well as a chance to visit a black pearl farm.
Share Itinerary
Papeete, French Polynesia
Feb 17 | Arrive - late morning | Depart - late evening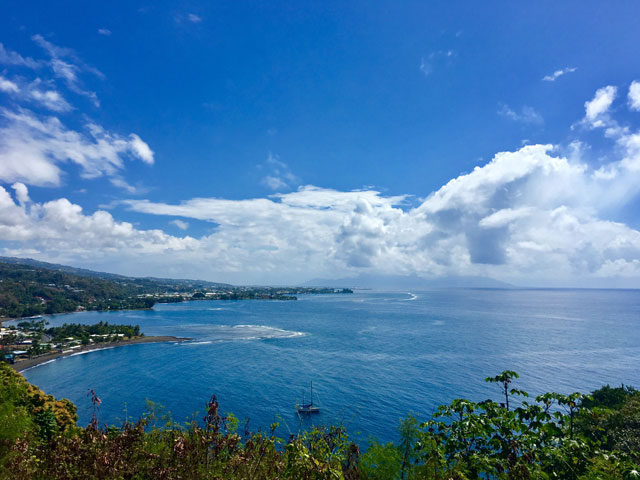 Papeete, on Tahiti, is the capital of French Polynesia, a group of islands in the South Pacific. Its very name conjures up images of Gauguin paintings, palm trees, golden beaches and blue seas, and this near-perfect Polynesian island does not disappoint.
The bustling city of Papeete is home to the world's only Pearl Museum, which traces the history and mythology of pearls, and has many examples of black, white and pink pearls on view. The town's fine buildings include a number of interesting religious buildings: the red spire-topped, 19th century Notre Dame Cathedral plays an important part in Tahitian society.
Beside the port, the busy Place Vai'ete fills with food carts (roulottes) in the evenings, while the large Le Marché de Papeete is a favourite daily market. Le Marché, at the heart of the city, is packed with stalls selling fruit and vegetables, oils and scented soaps, jams and pickles, clothing, hats, bags and shell necklaces. Spread out over two floors, the sumptuous displays of flowers – Tahitian homes are considered incomplete without flowers everywhere – simply have to be seen to be believed.
French Polynesia is comprised of over 100 islands and atolls, with Tahiti possibly being the most famous thanks to its soaring peaks, lush valleys, cascading waterfalls and stunning vistas. The array of natural treasures includes the Faarumai Waterfalls and spring garden of Vaipahi.
Share Itinerary
Raiatea, French Polynesia
Feb 18 | Arrive - early morning | Depart - late night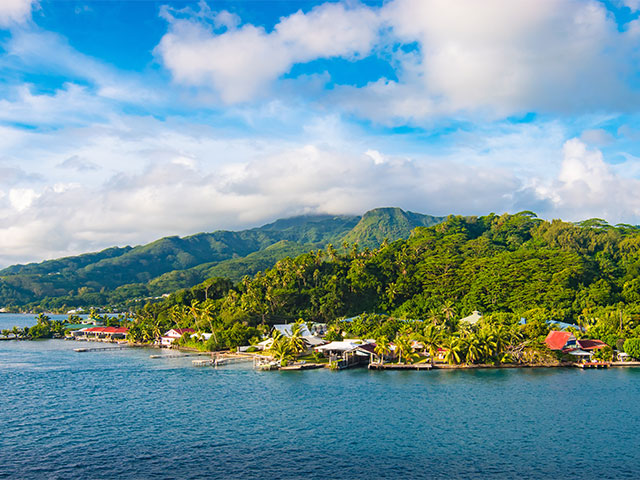 Raiatea, which translates to 'faraway heaven', certainly lives up to its name. The island boasts breathtaking scenes of lush jungle interiors, volcanic peaks – including 3337ft-high Mount Tafatua and Mount Olympus, where rare and scared Tiare Apetati flowers grow – and extensive coastal lagoons offering stunning seascapes of azure blue waters and coral reefs teeming with colourful flora and fauna.
Beyond the island's abundant beauty, Raiatea is also rich with cultural and historical importance. It's believed to be the original birthplace of Polynesia, and where the great Polynesian migration to Hawaii and New Zealand began many centuries ago. Today the island is a pilgrimage for those who wish to retrace the historic steps of their ancestors.
Amongst the awe-inspiring landscapes, many fascinating historical and archaeological treasures await discovery, including Marae Taputapuatea – the largest outdoor temple in French Polynesia – and Hauviri Marae, home of the famous Te-papa-tea-ia-ruea sacred stone.
Share Itinerary
Bora-Bora, French Polynesia
Feb 19 | Arrive - early morning | Depart - late afternoon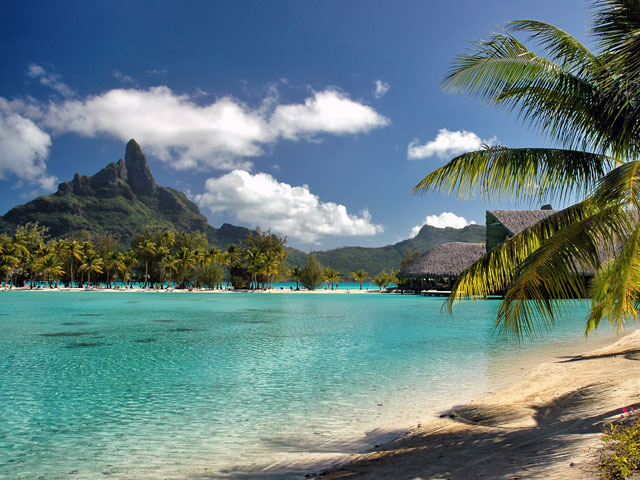 The small South Pacific island of Bora Bora to the northwest of Tahiti in French Polynesia, is a special kind of paradise. This popular resort destination is surrounded by sand-fringed motu (islets) and a warm lagoon protected by a coral reef. With incredible sandy beaches that stretch on forever, grand palm trees swaying gently in the breeze, and turquoise waters filled with turtles, sharks, rays and tropical fish, many visitors find it hard to describe the magic that emanates from this island.
A haven for scuba divers, one of Bora Bora's more unusual sites are the 'bungalows' perched over the water on stilts. Since water is a way of life here, popular lagoon excursions include snorkelling, diving, cruising, fishing, paddle boarding, kitesurfing and jet skiing.
At the island's centre the extinct volcanoes of Mount Pahia and Mount Otemanu tower over the whole island, the latter rising to a height of 727m.
Share Itinerary
Crossing International Date Line, Samoa
Feb 23 | Arrive - late night | Depart - late night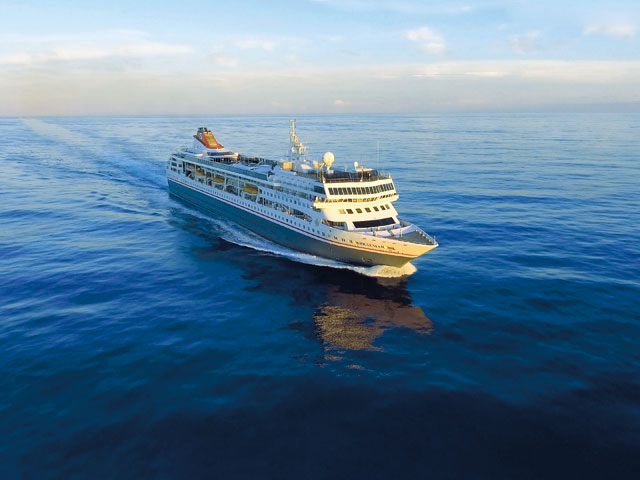 The International Date Line runs from the North Pole to the South Pole and distinguishes the change of one calendar day to the next, passing through the middle of the Pacific Ocean, roughly following the 180° line of longitude, and is exactly halfway round the planet from Greenwich, London.
So, for guests sailing West on their World Cruise, it will result in a 'Lost Day', due to location of this imaginary line, and so it follows that for guests sailing East, it results in a day gained.
Share Itinerary
Nuku' Alofa, Tonga
Feb 24 | Arrive - early morning | Depart - early evening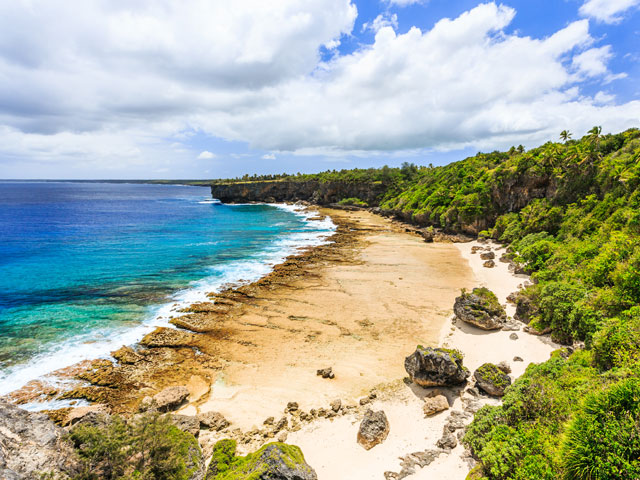 Located on the north coast of the island of Tongatapu, Nukuʻalofa, the capital of Tonga, lies just west of the International Date Line. Nukuʻalofa has a hidden charm that includes a vibrant main street, a broad waterfront, and impressive views across the bay to neighbouring coral islands.
Tonga is a collection of 171 islands that are truly unique given they're the first place on earth to greet each new day. Nuku'alofa - one of only 45 inhabited Tongan islands - is the capital of Tonga and home to the Talamahu Market and the Royal Palace - the historical residence of the King.
Talamahu Market is a buzzing, fresh-produce hub where bananas and other coloured fruits are piled into handmade woven-frond baskets. It has a few cooked-food stalls, plus some excellent (and affordable) Tongan arts and crafts on sale.
Share Itinerary
Savusavu, Fiji
Feb 26 | Arrive - early morning | Depart - late afternoon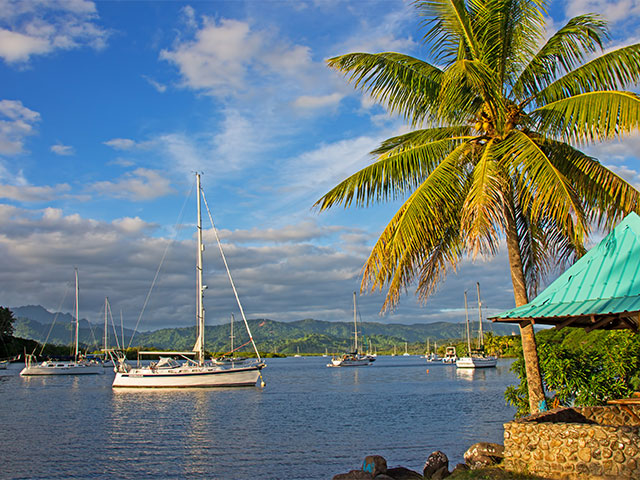 Although situated on the beautiful south coast of Vanua Levu, the second largest of Fiji's 333 magnificent islands, Savusavu is a remote, hidden away paradise. Unlike some well-trodden Fijian destinations, this wonderfully picturesque town isn't on the regular tourist trail, so its natural treasures and forested, mountainous landscapes remain largely untouched, and its sleepy streets retain their authentic charms.
Most visitors to Savusavu come to escape the crowds and the bustle of Fiji's busier holiday resorts. Time here affords opportunities to relax and enjoy the glorious sunshine at the breathtaking beach; experience some of the world's best snorkelling and scuba diving in warm, teal waters teeming with exotic fish and coral reefs; while away a few hours at the volcanic hot springs; explore tropical gardens overlooking the spectacular bay; and much more.
A wander into town is rewarding too however, with a collection of cosmopolitan restaurants serving an eclectic mix of Fijian and Asian-influenced cuisine, welcoming bars, shops run by friendly locals, and a busy market – each offering an authentic taste of life here – to discover too.
Share Itinerary
Mystery Island, Vanuatu
Feb 28 | Arrive - early morning | Depart - late afternoon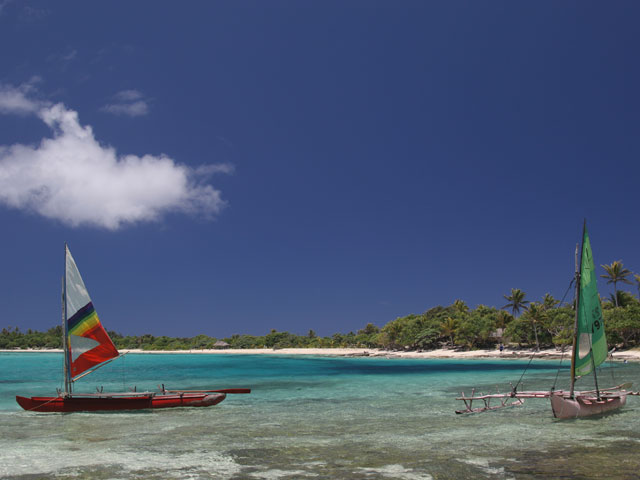 Barely a kilometre long, only 200 metres wide, and sitting within the Vanuatu archipelago of over 80 Islands, Mystery Island is a untouched tropical paradise in the South Pacific. A naturally-crafted marine sanctuary, the island is surrounded by deep blue, calm seas and coral reefs alive with colourful flora and tropical fish. Throw golden, palm-lined beaches into the mix too, and this is a wondrous place to experience.
Formerly used by the Allied forces as a landing strip during World War II, the island still receives a few commercial flights too. However, no one actually lives on this fascinating deserted land, due in part to the belief that it is haunted by ghosts after dark.
Share Itinerary
Noumea, New Caledonia
Mar 01 | Arrive - early morning | Depart - late afternoon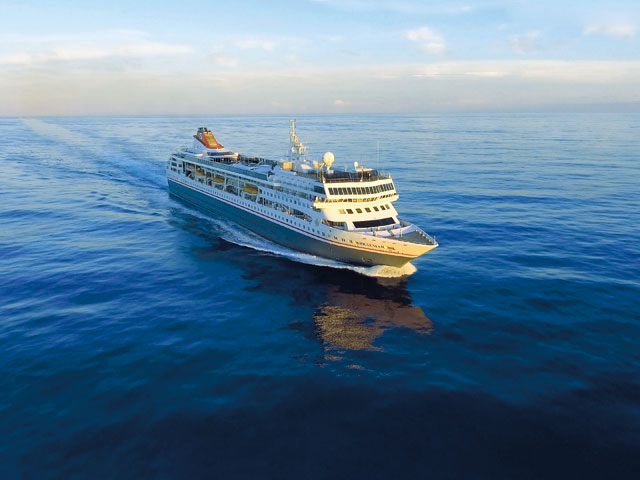 Often described as the 'St Tropez of the Pacific', the French controlled territory of New Caledonia combines a wonderful Pacific climate with European inspired culture and heritage.
An easy-going city spread out over a large peninsula, Noumea – New Caledonia's capital – is surrounded by pretty bays and lagoons, and offers something to please every visitor. There are some excellent museums, including the City Museum, the National Museum of New Caledonia – which has a fine collection of Melanesian and Kanak artefacts – the Geological Museum and the Maritime History Museum. The latter celebrates three millennia of seafaring, and includes displays of finds from ships wrecked on the coral reefs. Also of interest is the National Aquarium, with stunning displays of tropical fish, as well as live coral.
Share Itinerary
Sydney, Australia
Mar 04 - 05 | Arrive - late afternoon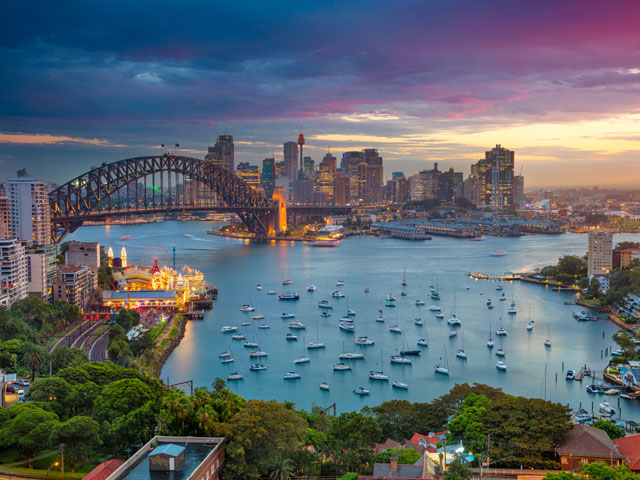 Sydney, Australia is one of the world's most exciting, must-see modern cities. Home to the famous Harbour Bridge and Opera House – two of the most iconic cityscapes on Earth – the capital of New South Wales has a visual wow factor that most other cities can only dream of.
Defined by the rugged Pacific coastline that surrounds it, Sydney is a timeless, cosmopolitan metropolis that is easy to fall in love with. The imposing Darling Harbour, plus the smaller Circular Quay Port are the hubs of waterside life, with the revered Royal Botanic Garden nearby. For the more adventurous, Sydney Tower's outdoor platform, the Skywalk, offers 360-degree views of the city and suburbs.
Compared with its Australian counterparts, Sydney is loud and brash. It has glamour and casualness in equal measure: there is a balance between the beach culture found on Bondi Beach and the fine dining and vibrant nightlife found in Kings Cross and Oxford Street.
Museums and memorials abound and include The Australian Museum, which opened in 1857 with the purpose of displaying the natural wealth of the colony, and the modern Museum of Sydney, which details the city's development. The Anzac War Memorial in Hyde Park is a public memorial dedicated to the achievement of Australia's armed forces in World War I.
The neoclassical Greek frontage of the NSW Art Gallery underlines the prominent and gregarious role art has in Sydney society. Major international exhibitions regularly arrive here and there's an outstanding permanent collection of indigenous art. And everything that's best in contemporary Australian cuisine can be found at Circular Quay and The Rocks.
For those wanting to escape the city and go off the beaten path, the spectacular Blue Mountain or the Australian Bush offer spectacular sights and experiences. Sydney Harbour National Park protects large swathes of bushland, while Botany Bay's history and connection to Britain is a big draw.
Share Itinerary