Patagonian Adventure with the Falklands
Departed 29th Jan 2020
20 nights
Sails from Buenos Aires
Balmoral
L2001B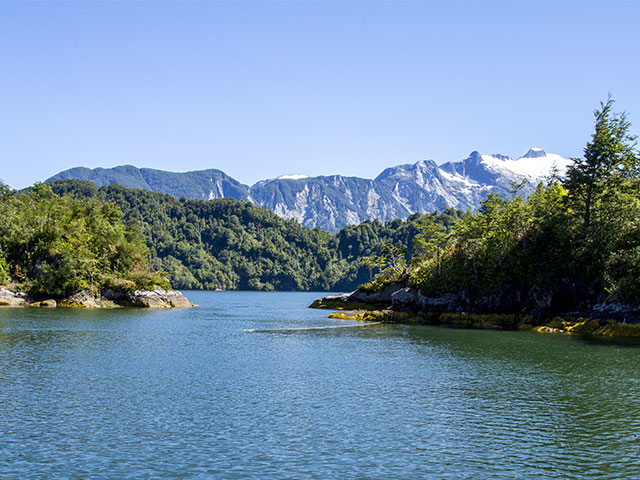 This cruise has now set sail.
A plethora of sights and experiences to treasure awaits on this Patagonian exploration of epic proportions, which sees smaller-sized Balmoral take you on a magical journey along breathtaking waterways, through awe-inspiring ice fields, and stop at unforgettable destinations to unearth fascinating history, unique cultures and spellbinding natural wonders.
Beginning this amazing adventure in Argentina, you'll embark your ship in Buenos Aires – the cosmopolitan Argentine capital and home of the sultry Tango – before sailing to Uruguay. [ReadMoreMob]A visit to Punta del Este offers a taste of the 'high-life', with time to relax at sensational beaches popular with the rich and famous, and look-out for celebrities among the high-end stores, restaurants and bars of La Gorlero avenue. [ReadMoreDesk] Two rare calls in the Falkland Islands – at West Point Island and Port Stanley – follow, for you to immerse yourself in the history of this famously disputed archipelago. Interesting museums and exhibits, such as Port Stanley's Falkland Islands Museum, tell tales of the archipelago's origins, and the impact of the Falklands War. Alternatively, you could opt to explore the Falkland's unspoilt landscapes, going in search of endemic wildlife such as seals, sea lions, penguins and various species of sea birds.
The Chilean leg of your voyage includes visits to the charming city of Punta Arenas, where highlights include the Austral Brewery, Braun-Menéndez Museum and La Cruz Hill Viewpoint; Puerto Chacabuco, starting point for seeking out the native fauna and spectacular mountain scenes of Lower Patagonia and the Andes; vivacious Valparaiso; and Arica, for inviting sun-kissed beaches. On top of all that, sailing between the magnificent glaciers and snow-capped peaks of the astonishing Chilean fjords will be an experience you'll never forget. Finally, during three days in Peru, you could embark on an epic overland tour from Paracas to Machu Picchu – one of the New Seven Wonders of the World – and explore the ancient ruins of the awe-inspiring 'lost city', before returning to your ship in Callao to conclude this inspirational journey.
Your Itinerary
Experience a Patagonian exploration of epic proportions on board Balmoral, taking in breathtaking waterways, awe-inspiring ice fields and a string of unforgettable destinations along the way.
After a visit to glamourous Punta del Este, enjoy two rare calls to the Falkland Islands to unearth the fascinating history, picturesque scenery and endemic wildlife of this famously disputed archipelago.
A Chilean adventure includes visits to four diverse ports, including Puerto Chacabuco, gateway to the mountains of Lower Patagonia and the Andres; and scenic cruising of spectacular snow-capped Chilean fjords.
View Itinerary
Close Itinerary
×
Buenos Aires, Argentina
Jan 29 - 30 | Depart - early evening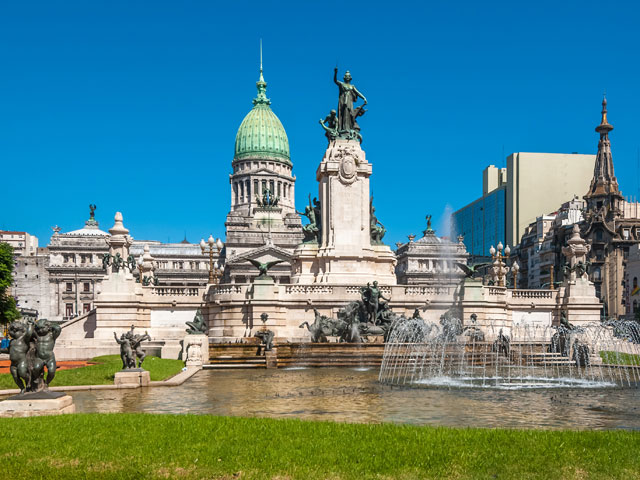 Stretched out along the Rio de la Plata, the nation's capital, Buenos Aires, is a rich mix of European splendour and Latino passion. Its centre, Plaza de Mayo, is lined with impressive 19th century buildings including Casa Rosada, the iconic, balconied presidential palace. It's also the location of the Pirámide de Mayo, built to celebrate Argentina's independence in 1810.
French and Italian-style palaces grace the Avenida de Mayo, while other attractions include the Teatro Colón opera house, and the modern MALBA museum, which exhibits Latin American art. The city's complexity is exemplified by the diverse architecture, unique urban landscape and boulevards lined with cafes, shops and galleries.
The food scene is increasingly dynamic, and satisfying the craving for one of the region's famously-juicy steaks is easy given Parrillas (steakhouses) sit on virtually every corner. A late-night cone of the local caramel ice-cream is a popular favourite, and an evening in this energetic city can be finished off with music and dancing in one of the many jazz clubs and tango bars.
Share Itinerary
Punta del Este, Uruguay
Jan 31 | Arrive - early morning | Depart - late afternoon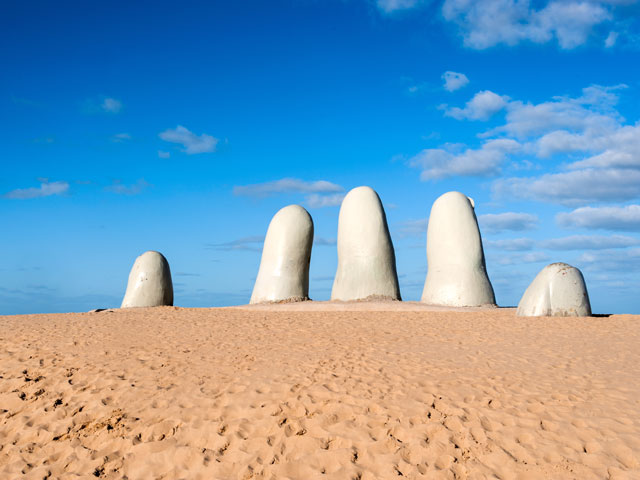 Sweetly positioned on a narrow peninsula in southeast Uruguay, Punta del Este is a glamorous resort city with sensational beaches, elegant seaside homes, an extravagant yacht harbour, and a luxury brand culture.
There are two very different, yet equally enjoyable beaches that most visitors gravitate to. Popular Brava Beach is known for a strong surf that is ideal for surfing and other water sports, and is also home to 'The Hand', a giant sculpture of 5 fingers. On the west coast, Mansa Beach is an idyllic haven of relaxation with calm, shallow waters.
Away from the beaches, the city's best known avenue, La Gorlero, is popular with both locals and visitors alike. This glitzy palm-lined hub of culture, cuisine and nightlife is well known for its restaurants, high-end stores, busy bars and casinos. Celebrity spotters can fill their days chasing stars as La Gorlero is the city's best known avenue for a spot of people-watching and a gentle stroll.
Local handicrafts are sold at Plaza Artigas, and the 19th century lighthouse at the peninsula's southern tip has a viewing platform for wonderful views over the peninsula.
Share Itinerary
West Point Island, Falkland Islands
Feb 03 | Arrive - early morning | Depart - early evening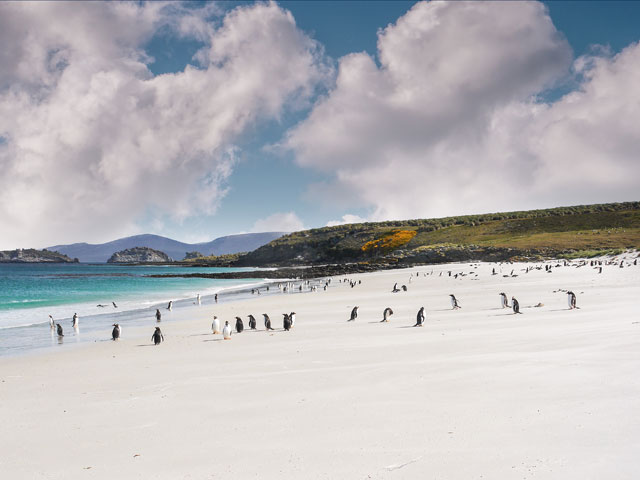 Privately-owned West Point is one of the Falkland Islands, and this rocky outcrop to the north west of the archipelago is home to the Napier family – and to countless seabirds.

The island boasts around 70 per cent of the world's breeding black-browed albatrosses, and is a popular spot for Rockhopper penguins and Southern giant petrels.

The tiny island is no more than 6km long and has ruggedly-impressive scenery, particularly to the south where 350m-high cliffs face out over the South Atlantic. This contrasts with the bay on the east coast, where the Napier farmhouse is sheltered from the prevailing westerly winds by surrounding hills. The climb up the hill from the bay to the main promontory on the island, Devil's Nose, reveals the vast bird colonies.
Share Itinerary
Port Stanley, Falkland Island
Feb 04 | Arrive - early morning | Depart - late afternoon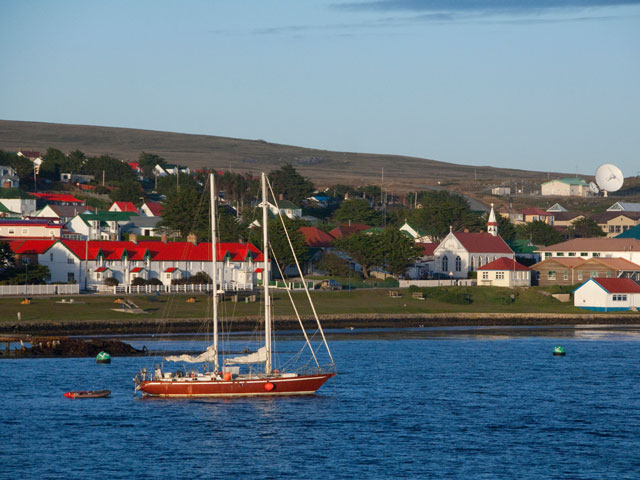 Named after Edward Stanley, Secretary of State for War and the Colonies when the settlement began in 1843, it became the capital in 1845. Port Stanley is home to the world's most southerly Cathedral – Christ Church. The arch in front is said to be the most photographed sight in the islands: it is made from the jawbones of two blue whales. The Islands Museum has extensive displays on the 1982 conflict with Argentina, as well as exhibits about the islands' history, flora and fauna.
A stroll outside the town gives the chance to experience the stunning scenery and wildlife. The unpolluted air makes it possible to see even distant mountains clearly and the wildlife – penguins may come to inspect you – is astonishing in its variety. And after the walk there should be time for a drink in one of the two pubs in town.

Share Itinerary
Punta Arenas, Chile
Feb 06 | Arrive - early morning | Depart - early evening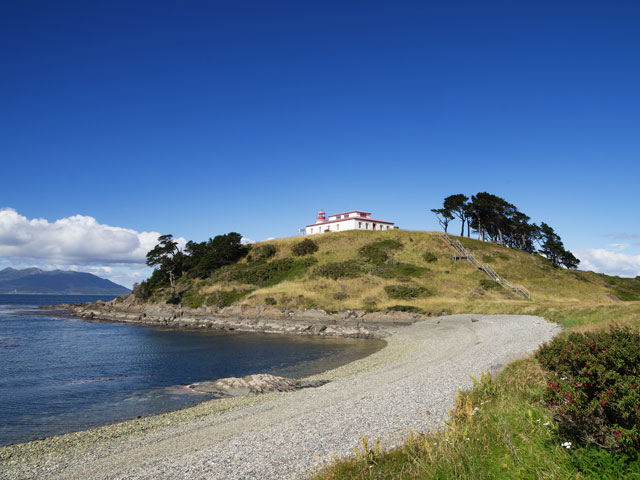 Just below Punta Arenas is a small monument that marks the "end of the Americas" although Chile lays claim to a small part of Antarctica as well.
However, for all its claim to be a frontier outpost, the town is remarkably cosmopolitan. There are fishermen mixing with pilots from the Chilean air force base, sharp-suited businessmen sipping wine in hotels and travellers hitching a ride out to Tierra del Fuego. The nearby penguin colonies are fascinating, while in the town itself there are several interesting museums.
The Museo del Recuerdo has collections of antique agricultural and industrial machinery, including a reconstructed sheep-shearing hut. In the library is a display of historic maps. The Naval and Maritime Museum has exhibits on naval history, as well as a replica ship, complete with bridge, maps, charts and radio room.
Palacio Mauricio Braun is a fabulous mansion built by a wealthy pioneer sheep farmer at the end of the 19th century. It was given to the Chilean state by one of Mauricio Braun's sons. It displays Braun's original furnishings, including French chairs and tables, inlayed wooden floors and Chinese vases.
Share Itinerary
Cruising Chilean Fjords, South America
Feb 07 - 08 | Arrive - late night | Depart - late night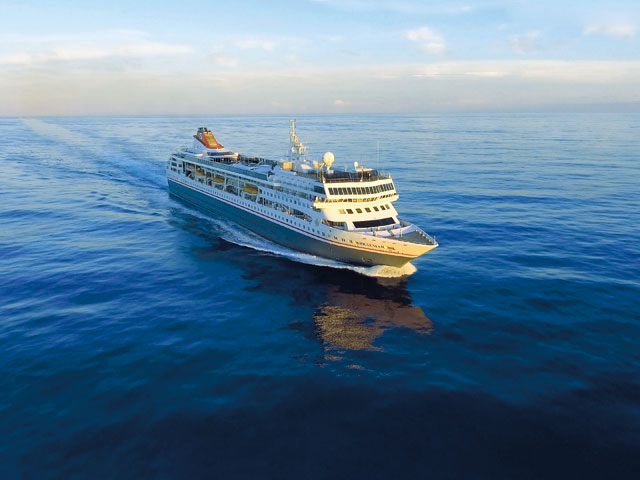 Made for cruising, these fjords are stunning and photogenic from the ship's deck, but rugged with deep crevices and boulders hiding under the towering ice when in closer proximity.
Surrounded by majestic glaciers and snow-capped peaks, the fjords of the Chilean coast are full of hidden lakes and waterfalls, and are home to the Magellan penguins, dolphins, whales and stunning birdlife.
Share Itinerary
Puerto Chacabuco, Chile
Feb 09 | Arrive - early morning | Depart - early evening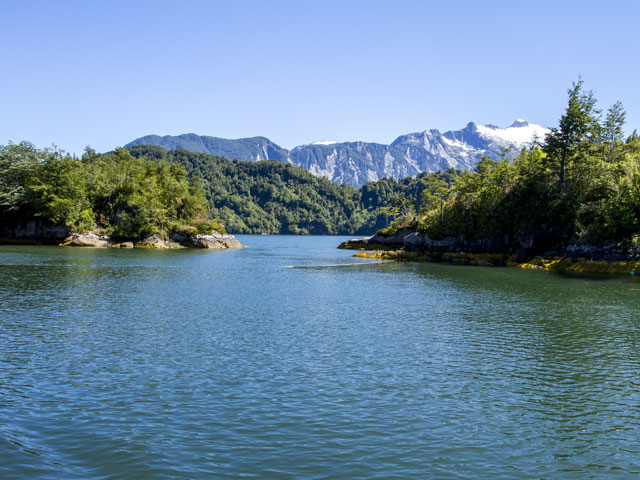 Surrounded by ice-clad mountains, Puerto Chacabuco is a busy port, but it was only built in the 1990s when the natural harbour at Puerto Aisen, further up the coast, became unusable. There are local tours available of lower Patagonia and the Andes Mountains, as well as through the Rio Simpson National Reserve. The Aikén del Sur Park is privately owned but can be visited: it is a haven for wildlife, especially of wetland birds.
Share Itinerary
Valparaiso, Chile
Feb 12 | Arrive - early morning | Depart - early evening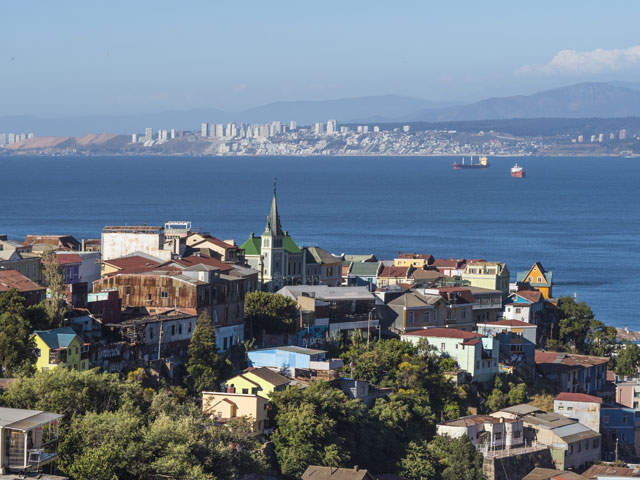 Valparaiso boasts many staircases and lifts which are now considered historic features of this wonderful port. The funicular railways carry visitors high up into the hills to enjoy the astonishing views over the historic streets and narrow winding lanes below. This fantastic experience has been considered a historic feature of the city and is a real 'must-do' on a visit to the city.
Alongside historic buildings and charming alleyway-shops, It's not unusual to stumble across splashes of artwork when exploring the centre of Valparaiso, making this port a very colourful and visually stunning place to be. You will also notice the style of architecture isn't always consistent; there are many varied styles, modern and traditional Chilean.
Share Itinerary
Arica, Chile
Feb 15 | Arrive - early morning | Depart - early evening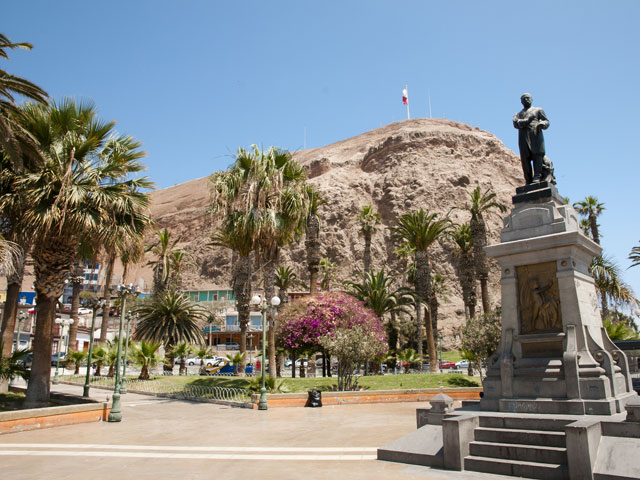 Arica serves as a vital trade link between Chile, Peru and neighbouring Bolivia. However, this pretty city is much more than just a commercial centre. Away from the busy docks you'll discover mile-upon-mile of dark-brown beaches ideal for making the most of the year-round warmth. Looking out across the Pacific Ocean, you're sure to see thrill-seeking surfers challenging themselves against the tide, even as the sun begins to set.
Venturing even further from the coast and into the city itself is just as rewarding, with an abundance of highlights and attractions to discover. The Museo de Sitio Colón 10 is a must-visit to see 32 incredibly well-preserved Chinchorro mummies in situ; while the Gothic-style Catedral de San Marcos is one of Arica's most iconic structures. Designed by Parisian engineer Alexandre Gustave Eiffel – before he designed the world-famous Eiffel Tower – and built in his Paris shop in the 1870's, the cathedral was shipped around the world and assembled where it stands today.
Don't miss the spectacular views on offer from El Morro, an imposing 110-metre-high rock which overlooks the city and the busy port, too. Here you'll also find the fascinating Museo Histórico y de Armas, which tells the story of a battle between the Chilean and Peruvian armies that took place atop El Morro in 1880.
Share Itinerary
Paracas, Peru
Feb 17 | Arrive - early morning | Depart - early evening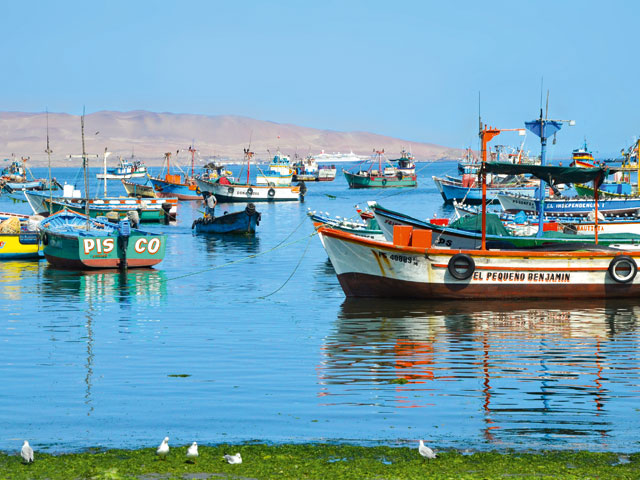 The small port town of Paracas on Peru's west coast, has a reputation for wonderful beaches, and is a destination point for the uninhabited Ballestas Islands, home to sea lions, pelicans and Humboldt penguins.
Much more than a thriving deep water port, Paracas is perfectly placed for tours to many of Peru's most spectacular natural wonders. Close by is the rugged, wildlife-rich Paracas National Reserve that spans desert, ocean, islands and the Paracas Peninsula. This designated UNESCO World Heritage Site is a sanctuary for seals, penguins, flamingos and dozens of seabird species – and home to the glorious Athens Beach.
The Islas Ballestas – affectionately known as the Peruvian Galapagos, are volcanic islands that boast spectacular scenery and are home to countless cormorants and Inca terns, as well as breeding sea lions. The Paracas Candelabra, also called the Candelabra of the Andes, is a well-known prehistoric geoglyph found on the northern face of the peninsula, and is a must to witness and capture on camera.
Share Itinerary
Callao, Peru
Feb 18 | Arrive - early morning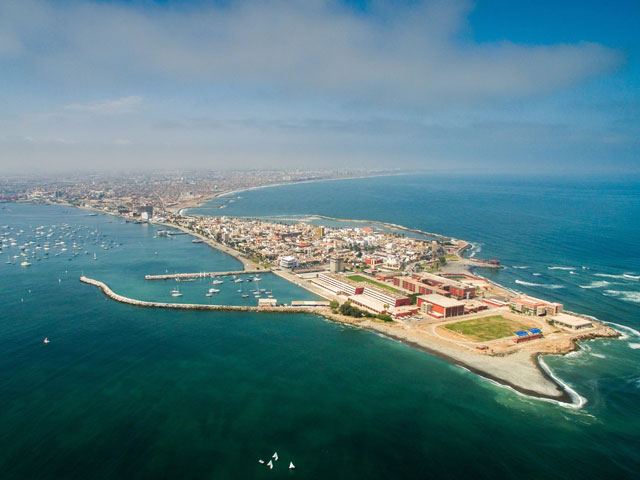 Callao is the Peruvian capital's once-grand port area, which has been brought back to life with culture, cuisine and rich history. An important commercial centre since the colonial era, the city retains many fine colonial mansions and elaborate examples of architecture. The Real Felipe fortress is an impressive building built to defend the city from pirates and was central to Peru's war of independence.
La Punta, the area around the port, was once home to Lima's aristocracy. It has many stately houses and a wonderful seafront promenade lined with delightful cafés. The Military Museum has many fascinating artefacts, including old weaponry, while the Navy Museum is devoted to the country's naval heritage.
Visitors can take easy transport links from Callao to explore the Peruvian capital, Lima, and learn about the country's dramatic history, from the Inca Empire to the Spanish conquistadors.
Share Itinerary