The cruise at a glance
The Olsen Way Highlights
In just under a week, this sailing visits three regions in northern Spain. An extended stay in Getxo is ideal for savouring an authentic slice of the Basque Country. Perhaps head to Bilbao, home to the iconic Guggenheim, a contemporary museum and architectural masterpiece. You will also call into Santander, capital of the Cantabria region, nestled on the picturesque Spanish coastline; and Gijon, the perfect place to sample traditional Asturian cider (sidra). Bolette will take you on a scenic cruise past the Magdalena Peninsula, where you will be able to capture views of the Royal Palace of La Magdalena.
Explore the Itinerary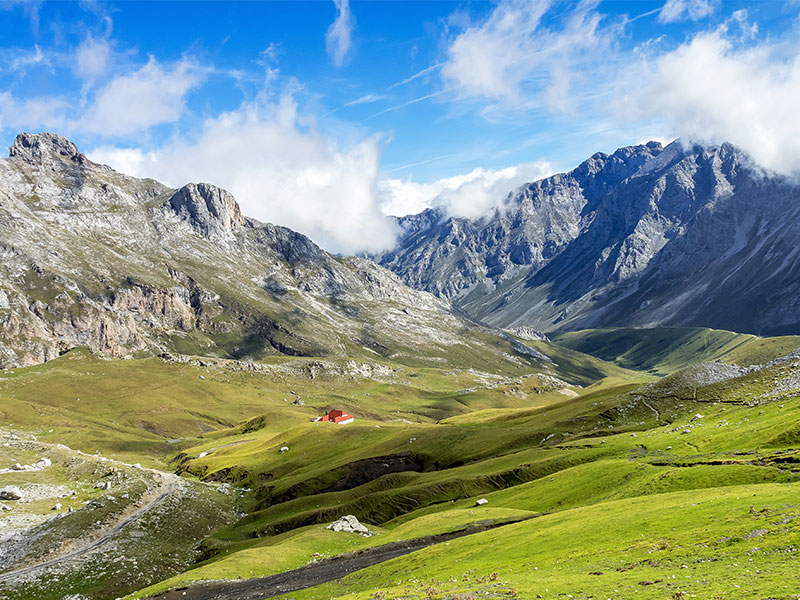 Dramatic Landscapes of Green Spain
Spain's northern region is known as Green Spain – or Espana Verde locally, due to its exposure to the Atlantic Ocean and its moist climate. Boasting picturesque views of coastal landscapes and rugged mountains, this is particularly evident at the Picos de Europa National Park, which is also home to a variety of wildlife and birds. You will be perfectly placed to join us for a tour to Covadonga, most famous for its battle of the same name, where a Christian military force achieved its first significant victory in Iberia in the 8th century. The coastal fishing villages of the Asturian region have been indelibly marked by the ocean, where livelihoods have been built around sailing, fishing and lighthouses. Luarca is an important oceanic area where research has been held extensively on the large number of cephalopods found there.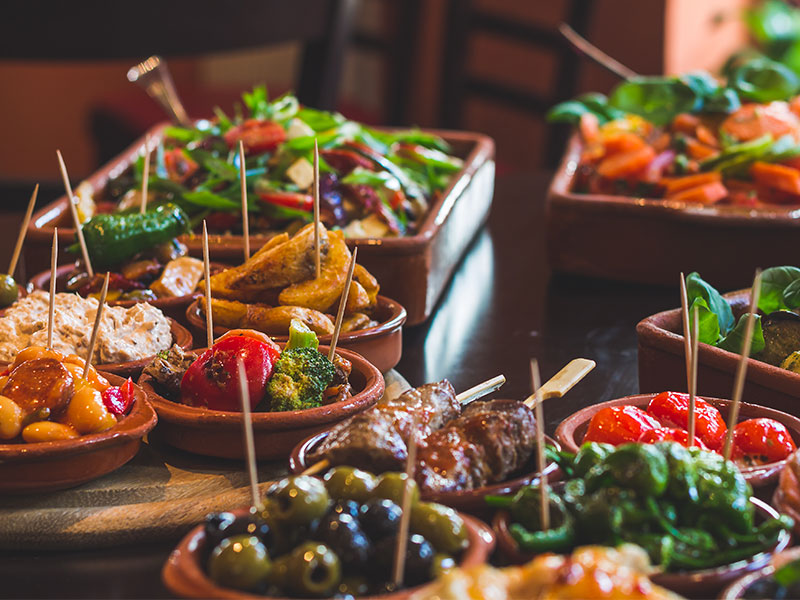 Cuisine of Northern Spain

Northern Spain is a melting pot of delicious food and drink; Asturian cider is produced in traditional cider mills – join us as we visit one and see how the cider is produced and enjoy a taste of this natural drink, ideally served by the art of pouring at height. Cantabria is renowned for its artisan cheeses, made using raw materials from local farms with no preservatives or artificial colourings, tasting of fresh creamy and buttery flavours; while Getxo offers pintxos – small snacks offered on skewers, consisting of meats, seafood, olives and peppers, a traditional speciality in the Basque and Navarre regions, based on the Spanish custom of tapas. You'll be joined on this cruise by Mary-Ann Cameron, who has a background in education, having taught at secondary schools and universities, who will hold talks on the region's food and drink, and the importance of it to their culture.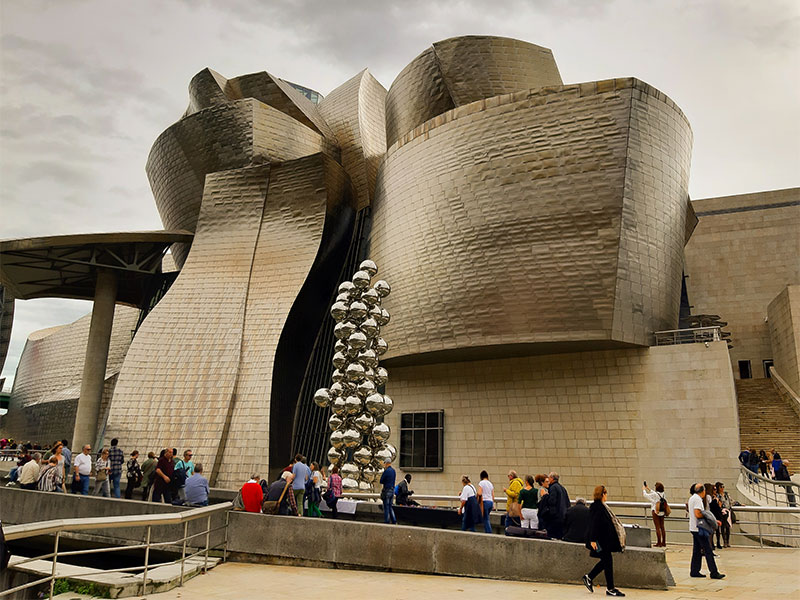 Art & Architecture
Many of the destinations on this Bolette cruise are well known for their distinctive architecture. From Getxo, take a tour to the Guggenheim Museum in Bilbao – opened in 1997 - designed by Frank Gehry, famous for its unique appearance and ground-breaking architecture. Inside, the building is home to a number of modern and contemporary pieces of art, and in particular, large sculptures; both inside and out. Mary-Ann Cameron will hold talks on board about the history and purpose of this iconic building. In Gijon, the architecture is vastly different to that of Bilbao, having been influenced by maritime activities, and the Art Nouveau movement. The town's main square, Plaza Mayor, is seen as the heart of the Old Town and was constructed in the 19th century; while just outside Gijon is the Elogio del Horizonte sculpture – a daringly designed, curved symbol of the city, looking out towards the horizon and which, when you're stood in the centre of it, the sounds of the sea are amplified.
Life On Board
Introducing Bolette
With just 690 cabins Bolette fits perfectly in our fleet of smaller ships. With her warm, welcoming atmosphere, timeless style, and classic open deck spaces providing a place to fully immerse yourself in the magic of ocean cruising.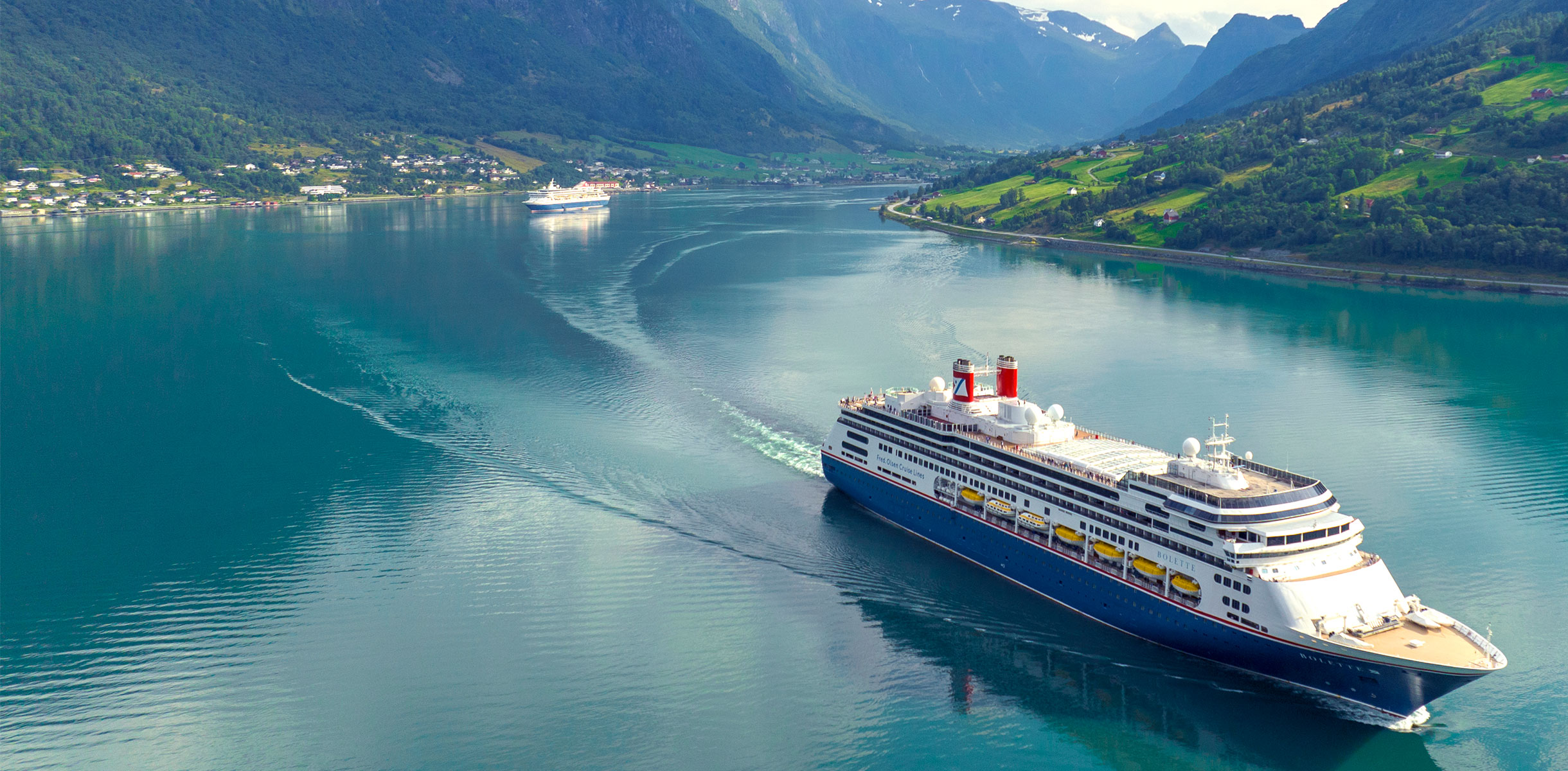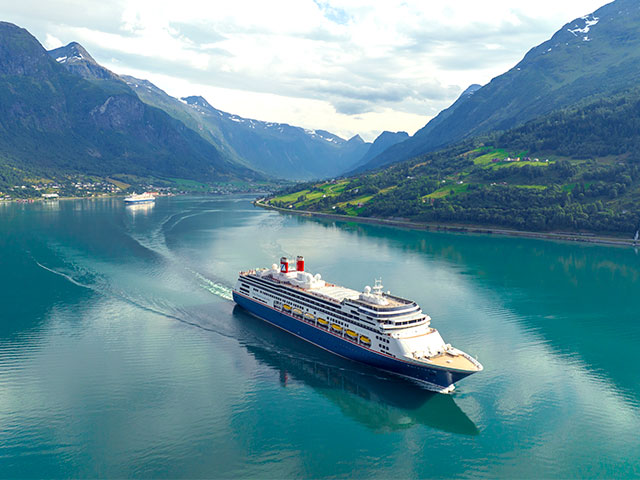 Bolette
Bolette is one of the largest ships, by overall size, in our fleet. With its warm, welcoming atmosphere and timeless style, and classic open deck spaces providing a place to fully immerse yourself in the magic of ocean cruising, Bolette is very much in keeping with what our guests have come to expect from a Fred. Olsen ship.
Explore Bolette
Our Signature Experiences
To make your experience even more special, our Journey Planners have designed a unique programme of Signature Experiences which will allow you to discover real insights about the culture and nature of the places we are visiting, so you can arrive in each destination fully prepared to get the most out of your visit.
Itinerary Insights
We have carefully curated a programme of events to give you a deeper understanding of each of the destinations you will be visiting
Scenic Discoveries
Our Scenic Discoveries are designed to allow you to enjoy seeing the world from the unique perspective of our ships
The Ship and the Sea
Maritime is in our DNA - our history in shipping goes back almost 200 years
The Sky at Sea
There's very little in the natural world more beautiful than a clear night sky, sunrise or sunset seen at sea
Treats of the Region
We love to bring a taste of the region's food, drink, local tastes and culinary traditions to life on board
Cabins, Prices & Offers
Cabin Options On Your Cruise
* Prices correct as of 19:00 22/09/2023, based on the lowest available Cruise Only fare, and on two people sharing a twin cabin. Please call +441473746175 for live availability & prices.
* Prices correct as of 19:00 22/09/2023, based on the lowest available Cruise Only fare, and on sole occupancy. Please call +441473746175 for live availability & prices.
Cruise Offers
Enjoy FREE drinks Saver Fare
Freedom Fare
What's Included
SO MUCH ALREADY INCLUDED
As well as our Signature Experiences, there is a host of other treats to enjoy on board our ships.
À la carte breakfast, lunch & dinner

Daily buffet dining options

Late night Supper Club

Afternoon tea

Self-service tea & coffee

In-cabin dining & snacks
Evening shows

Live music & dancing

Dance classes

Lectures & talks

Cookery demonstrations

Traditional deck games

Daily games & quizzes
Swimming Pools

Jacuzzis

Fitness Centre

Fitness Classes
Treats & Pastimes
In addition to our Signature Experiences, we have a selection of lovely Treats & Pastimes for you to enjoy when on board. Just check your Daily Times each day for full details.
Discover our Treats & Pastimes
Enhance your cruise
Each of our cruises has been carefully designed for you to get the very best out of your time on board; and now you can enhance your cruise to make it even more special.
Explore all extras