Your cruise at a glance
The Olsen Way Highlights
In just nine nights, you will have the chance to spot the natural phenomenon of the Northern Lights from the comfort of your ship. There are plenty of immersive winter activities to give you a taste of life in the Arctic wilderness, from dog sledding (during which you can even mush your own team of huskies through the snowy landscapes) to ice fishing with a Tromsø local. Our itinerary planners have also included several scenic cruising highlights, with Balmoral passing sights such the Seven Sisters mountain range and Torghatten – the mountain with a hole through its centre. Your ship is also small enough to take a scenic shortcut through the Tjeldsundet Strait; and with many opportunities to see planets and other deep-sky objects during this cruise, astronomers from Go Stargazing will be on hand to help you spot them using binoculars.
Explore the Itinerary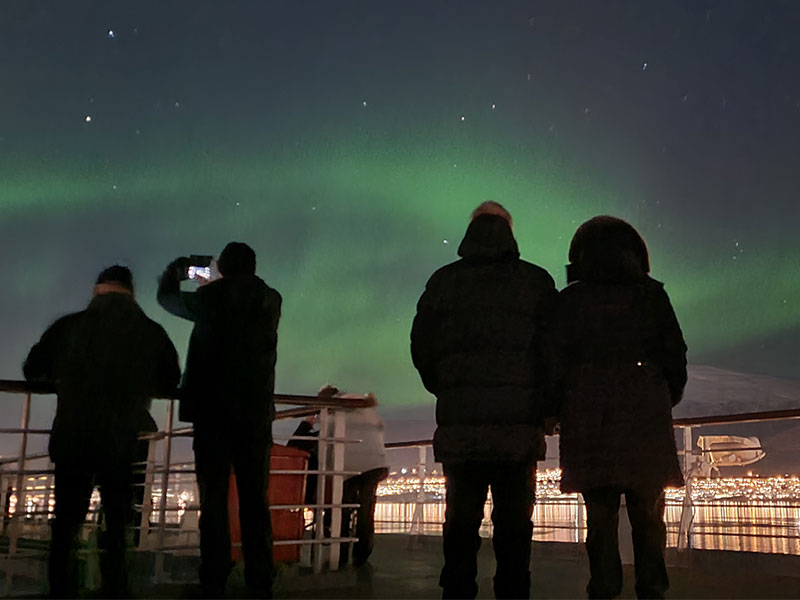 Witness the Northern Lights
The extraordinary Aurora Borealis is one of Mother Nature's most awe-inspiring phenomena, an enchanting multi-coloured light show that streaks across the starry skies above your ship. Balmoral will sail across the Arctic Circle to a selection of destinations in Northern Norway, where you will be perfectly placed to have the best chance of seeing the Northern Lights. Wrap up warm and join us on deck to learn more from our Go Stargazing experts about the science behind the natural phenomenon, and turn your eyes to the night skies above.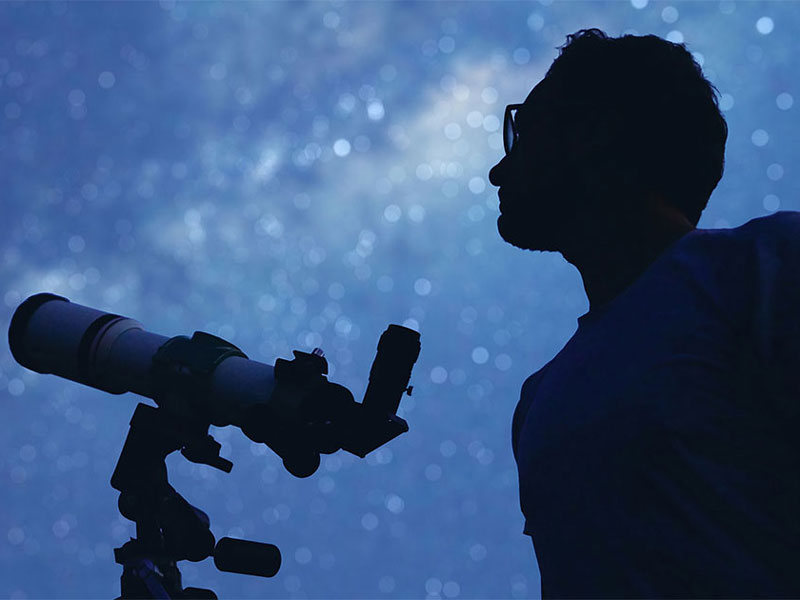 Go Stargazing
Join us out on the decks of Balmoral as we learn more about our universe with experts and astronomers from Go Stargazing, who will take you on laser-guided tours of the night sky, help you identify planets and tell you tales of maritime folklore, giving you a unique persperctive of the skies around us. On this cruise there may be increased activity of the Sun, meaning a good chance of seeing the Northern Lights if the skies are clear. You will, however, witness impressive night-time views and hear incredible facts and figures from astronomical distances to the sizes of stars from our knowledgeable and friendly astronomers.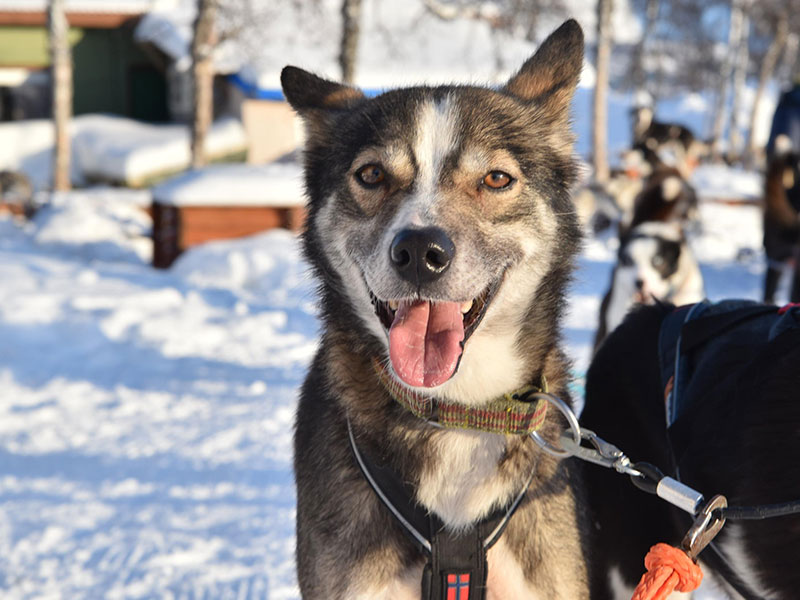 Experience Life in the Arctic
Living in the Arctic presents a unique ecosystem and a diversity of cultures, coupled with many challenges for local residents during the winter months where the extreme cold shapes how they go about daily life. The indigenous Sami people have a culture which is deeply connected to the natural world, with reindeer and huskies forming a vital part of their identity, and which you can discover more about on local tours. You will be joined on board Balmoral by Mark Maslin, professor and leading scientist at UCL and Denmark's Natural History Museum, who will hold sessions on how human civilisations – including Sami culture – has changed over the past 10, 000 years; and David Nikel, a British ex-pat living in Norway who has travelled extensively around the country and will hold 'An Audience With' session.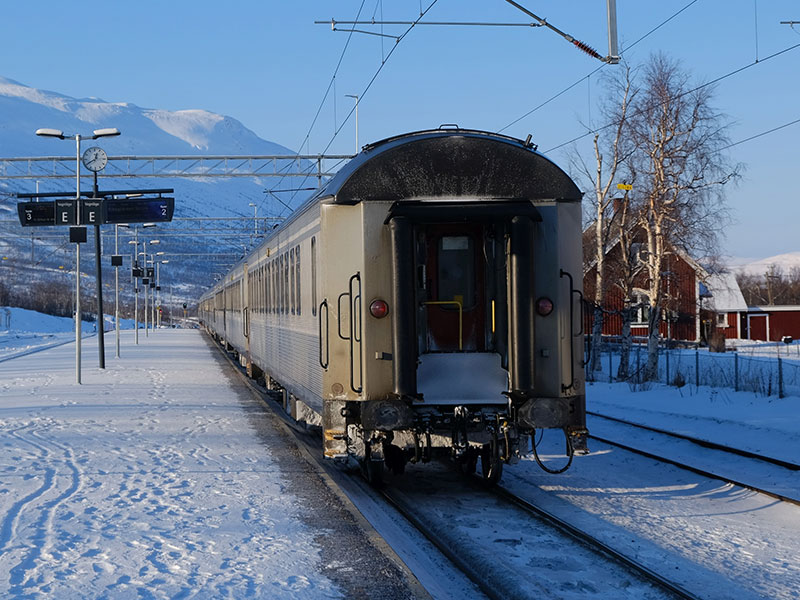 Uncover World War II History
Bodo and Narvik featured heavily in World War Two, as both were strategic battlegrounds during the conflict. In 1940, Bodo suffered significant destruction by the Luftwaffe; and Narvik, with its ice-free port, was a key target for German forces, resulting in intense battles throughout the region. The Ofoten Railway was particularly relevant during the war as Germany had a distinct interest in securing the iron ore that was transported from Sweden to Narvik, vital for their war effort. However, the Allied Forces launched multiple offences to recapture the town and this crucial transportation link, achieving success in June of 1940.
Life On Board
Introducing Balmoral
Beautiful Balmoral is small enough to navigate some of Europe's most picturesque waterways so guests can enjoy hours of scenic cruising. Balmoral retains a warm, civilised atmosphere and features comfortable accommodation, stylish restaurants and plenty of open deck space.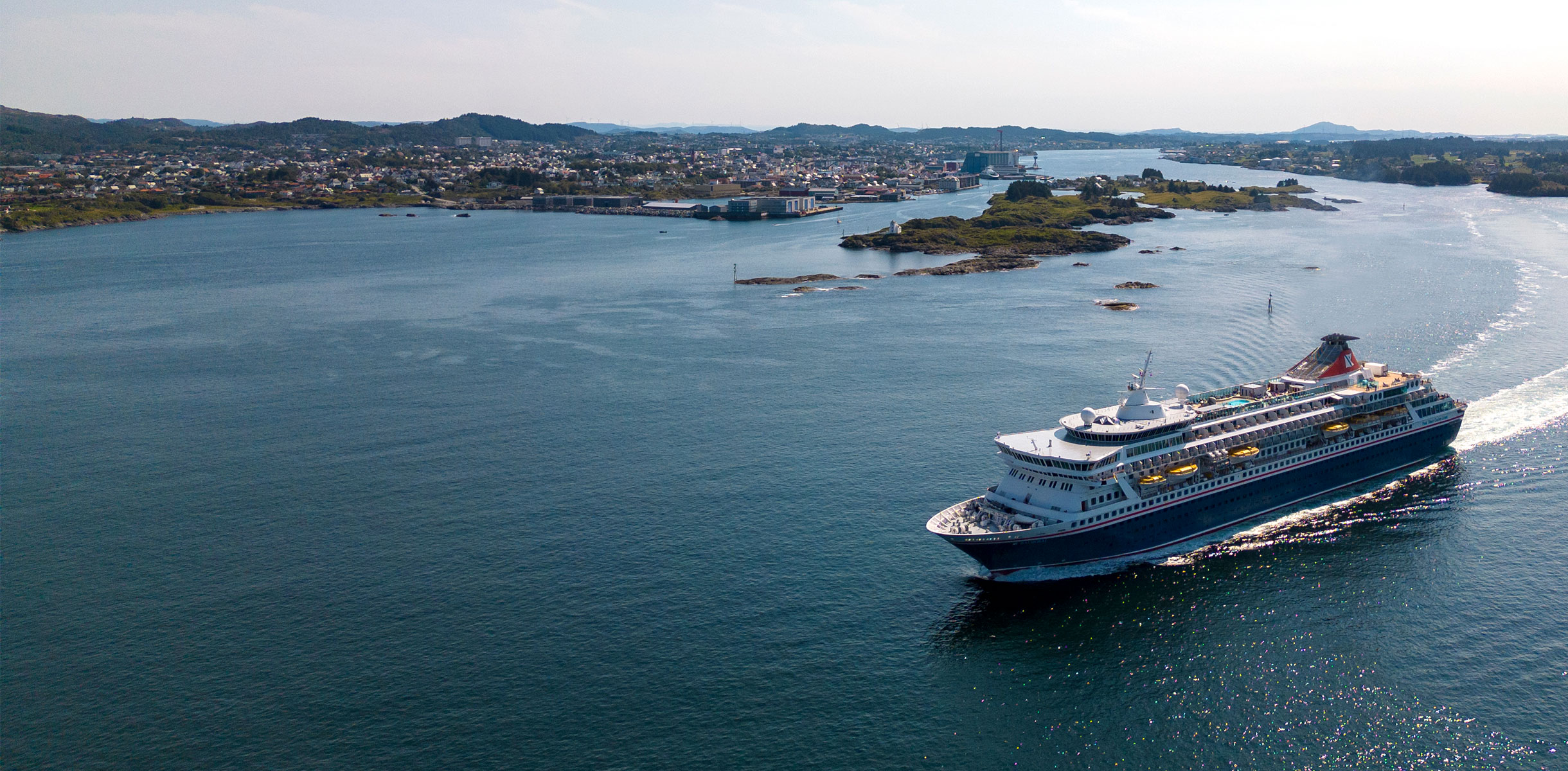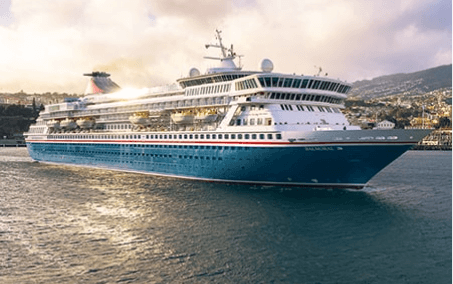 Balmoral
Beautiful Balmoral is small enough to navigate Europe's most picturesque waterways so guests can enjoy hours of scenic cruising. Balmoral offers a warm, civilised atmosphere and features comfortable accommodation, stylish restaurants and plenty of open-deck space.
Explore Balmoral
Our Signature Experiences
To make your experience even more special, our Journey Planners have designed a unique programme of Signature Experiences which will allow you to discover real insights about the culture and nature of the places we are visiting, so you can arrive in each destination fully prepared to get the most out of your visit.
Itinerary Insights
We have carefully curated a programme of events to give you a deeper understanding of each of the destinations you will be visiting
Scenic Discoveries
Our Scenic Discoveries are designed to allow you to enjoy seeing the world from the unique perspective of our ships
The Ship and the Sea
Maritime is in our DNA - our history in shipping goes back almost 200 years
The Sky at Sea
There's very little in the natural world more beautiful than a clear night sky, sunrise or sunset seen at sea
Treats of the Region
We love to bring a taste of the region's food, drink, local tastes and culinary traditions to life on board
Our Signature Tours
At each port of call, we have carefully researched and hand-selected some wonderful tour options for you, designed to help you see the real destination and not just the tourist hotspots.
Below, you will find some examples of the kind of tours which could be available on your itinerary. Your Shore Tours will be available to book around 8-13 weeks prior to departure via your My Cruises account.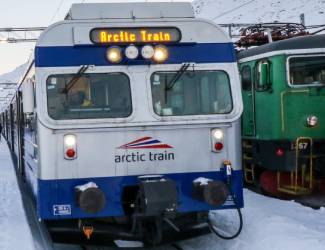 Arctic Train - Ofoten Railway
Experience one of the world's most beautiful journeys along the Ofoten Railway. Carved out of the mountainside, the line leaves Narvik, reaches the southern shores of Rombaksfjord, and runs alongside vertical cliffs with magnificent views.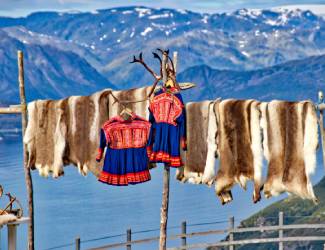 Isogaisa Sámi Experience
Visit Kvernmoen for a unique opportunity to participate in an ancient Sámi Shaman ceremony. Be welcomed into the lavvu, a traditional Sámi tent, by the Shaman, and discover the history of the Sámi people and their way of life before enjoying a traditional drumming ceremony.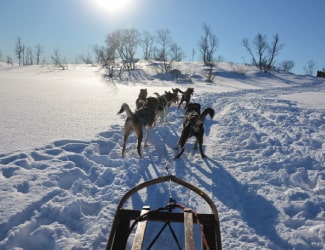 Tromsø Dog Sledding
Head to the Aurora Alps where you will embark on a relaxing sled ride while one of the experienced mushers drives you through the spectacular Arctic landscape.
Your Guest Speakers
We've arranged for some wonderful guest speakers to join us for this cruise. They will be delivering a programme of insightful talks and activities to deepen your cultural, artistic and historical understanding of the destinations we will be exploring, well as helping you to enjoy the natural beauty of the places we visit.
Treats & Pastimes
In addition to our Signature Experiences, we have a selection of lovely Treats & Pastimes for you to enjoy when on board. Just check your Daily Times each day for full details.
Discover our Treats & Pastimes
Cabins, Prices & Offers
Cabin Options On Your Cruise
* Prices correct as of 00:00 02/12/2023, based on the lowest available Cruise Only fare, and on two people sharing a twin cabin. Please call +441473746175 for live availability & prices.
* Prices correct as of 00:00 02/12/2023, based on the lowest available Cruise Only fare, and on sole occupancy. Please call +441473746175 for live availability & prices.
Cruise Offers
FREE drinks or FREE on board spend
Freedom Fare
What's Included
SO MUCH ALREADY INCLUDED
As well as our Signature Experiences, there is a host of other treats to enjoy on board our ships.
À la carte breakfast, lunch & dinner

Daily buffet dining options

Late night Supper Club

Afternoon tea

Self-service tea & coffee

In-cabin dining & snacks
Evening shows

Live music & dancing

Dance classes

Lectures & talks

Cookery demonstrations

Traditional deck games

Daily games & quizzes
Swimming Pools

Jacuzzis

Fitness Centre

Fitness Classes
Enhance your cruise
Each of our cruises has been carefully designed for you to get the very best out of your time on board; and now you can enhance your cruise to make it even more special.
Explore all extras