Landscapes of the Canaries & Morocco
24th Nov 2018
14 nights
Sails from Southampton
Balmoral
L1836
Feel a world away from the colder, wetter weather of autumn at home as you hop between gorgeous destinations in the Macaronesia archipelago, where wonderfully diverse landscapes, incredible natural wonders and of course, sun-kissed beaches await you.
On the Portuguese 'garden island' of Madeira – the first of four islands on your itinerary – you can immerse yourself in floral sights and scents of the Monte Palace Tropical Garden; explore the lush landscapes via the unique levada trails; or take in astonishing ocean vistas from the Cabo Girão cliff. Funchal is your gateway to it all. In the Canaries, Gran Canaria's year-round warmth can be enjoyed at the oasis-like sands of Maspalomas – the ideal place to simply relax and unwind – on a tour from Las Palmas; or wandering the pretty streets of Teror and Arucas, before Balmoral sails on to Tenerife. A full-day call into Santa Cruz will afford time to uncover many of Tenerife's very best attractions, such as the mysterious Pyramids of Güímar, countless golden beaches and mighty Mount Teide. Riding a cable car up Teide – the world's third largest volcano – is an unmissable experience. There's also a chance to sample an authentic taste of Canarian life in Fuerteventura's largest town, Gran Tarajal, boasting palm-lined beaches, a busy fishing marina and a delightful promenade perfect for a relaxing stroll in the sunshine. [ReadMore]
After experiencing the unspoilt beauty and enchanting charm of the Canaries and Madeira to the full, a visit to Agadir will add an exciting Moroccan twist your cruise. Morocco's main beach resort benefits from around 300 days of warm, invigorating sunshine annually, so you might want to take your time here to relax and soak up the rays. Alternatively you could opt to sample the engrossing local culture in the city, taking in the bustling souks and even a fantastic cookery class; or tour to the ancient city of Taroudant. For a simply unforgettable experience, escape to the Atlas foothills and marvel at the arid mountains and ochre-red rocks softened by lush palm and banana groves. On this fantastic fortnight away from it all Balmoral will also sail to the shores of Spain and Portugal and visit two of Europe's prettiest and most interesting cities. A call into La Coruña will kick off your autumn break in style, with opportunities to discover an array of museums, galleries and architectural wonders; or tour to the spectacular Santiago de Compostela Cathedral, while a day in Lisbon – the picturesque Portuguese capital – rounds off your holiday perfectly.
Itinerary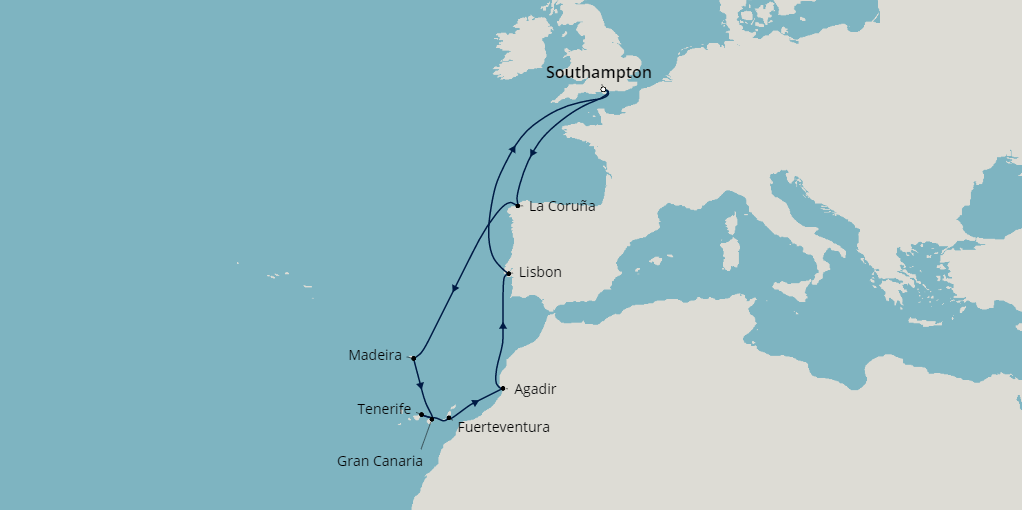 Date
Arrive
Depart
Destination
Sat 24 Nov
Late PM
Southampton, United Kingdom
Mon 26 Nov
Early PM
Late Night
La Coruña, Spain
The city of La Coruña is the capital of the province and a busy seaport situated in the Galicia region of northwest Spain. Most famous for its Roman lighthouse, the diverse architectural styles of La Coruña make the city an absolute delight for sightseeing. La Coruña boasts an...
Read more
Thu 29 Nov
Early AM
Late PM
Funchal, Madeira, Portugal
Funchal, the capital of Portugal's Madeiran archipelago, has a timeless old-world charm. Enhanced by a subtropical climate that fills this 'floating garden' with the year-round colours and perfumes of flowers and fruit, Funchal was a favourite of Sir Winston Churchill. His praise of the ci...
Read more
Fri 30 Nov
Early PM
Late Night
Las Palmas, Gran Canaria, Spain
With its feel of mainland-Spain, spiced up with an eclectic mix of Asian and African cultures, Las Palmas is one of the Canary Island's most popular destinations, attracting sun-seekers who come to relax on its golden-sand beaches and soak up the gorgeous, year-round climate of Gran Canaria. F...
Read more
Sat 01 Dec
Early AM
Late Night
Santa Cruz de Tenerife, Spain
Sophisticated Santa Cruz - Tenerife's capital - is built around boulevards and wide avenues that link elegant squares and parks. Well-preserved buildings feature in the old town, including the colonial Church of the Immaculate Conception and the 18th century Palacio de Carta, which has impressive Ba...
Read more
Sun 02 Dec
Early AM
Early PM
Gran Tarajal, Spain
Gran Tarajal is one of the largest towns on the island of Fuerteventura and basks in the stunning climate of the Canaries. Once renowned as a busy shipping town from where the island's tomato export was shipped, Gran Tarajal now offers an authentic taste of Canaries culture with a relaxed fe...
Read more
Mon 03 Dec
Early AM
Late PM
Agadir, Morocco
Agadir is a lively, beach resort destination situated along Morocco's southern Atlantic coast, in the foothills of the Atlas Mountains. Present-day Agadir was rebuilt next to the ruins of the 16th century town destroyed by an earthquake in 1960. All that remains of the ancient, hilltop Kasbah...
Read more
Wed 05 Dec
Early AM
Early PM
Lisbon, Portugal
Stretched across its seven trademark hills overlooking the River Tagus estuary, Portugal's hilly, coastal capital city of Lisbon, is a cinematic collection of cobbled alleyways, pastel-coloured buildings, ancient ruins and white-domed cathedrals. Decimated by an earthquake in 1755, modern...
Read more
Sat 08 Dec
Early AM
Southampton, United Kingdom
Pricing & rooms
* Prices are updated daily, based on the lowest Cruise Only fare available for each grade based on two people sharing. | Updated: Prices correct as of 04:00 18/10/2018. Please call on 0800 035 5130 for live availability & prices.
About Your Ship
Refurbished in 2017, Balmoral is the largest of Fred. Olsen's smaller, friendly ocean-going cruise ships – with capacity for up to 1,350 guests – yet is still small enough to navigate narrow waterways such as Kiel Canal and bring inspirational sights and experiences closer to you. Like the rest of the fleet, Balmoral retains a warm, welcoming atmosphere and features comfortable accommodation and lounges, stylish restaurants and plenty of open-deck space.
The Fred. Olsen Difference
Real ships
We're not interested in gimmicks like zip wires, climbing walls or celebrity chefs. We don't have boastful megaships. We take immense pride in our fleet of smaller-scaled vessels that retain the style, ambience and understated quality of a country house hotel. We ensure they remain contemporary too: from winter 2016 to spring 2018 the whole fleet underwent dry dock refits to further enhance the facilities for guests. With the fifth generation Fred. Olsen as Chairman and 170 years of seafaring heritage behind us, we believe we've found the perfect formula for you to get the best out of your holiday with us.

Smaller but spacious
A smaller ship doesn't mean less space; far from it. Each room is comfortably sized, with all that you'll need to enjoy your holiday. In fact, our rooms are comparable to those on some of the mammoth cruise ships. While our vessels are on a more accessible scale, you can have just as much private space. With fewer people on board it's easy to find a quiet spot to relax in peace with a drink or a good book. There's room to stretch out by the pool and you can get ashore more quickly too. And when you're ashore, you're seeing the best of each port of call with hundreds – not thousands – of others, giving you a much more authentic experience.

Service with a smile
Each member of the Fred. Olsen team has been carefully selected for their warm and welcoming personalities. The quality of our people, supported by training and development, ensures they will give you a great holiday: in guest feedback our staff are always the most highly-rated aspect of the whole experience.
What's Included?
Included in your cruise
Comfortable, stylish rooms and suites equipped with a Smart TV, hairdryer, tea and coffee making facilities, a fridge and individually controlled air conditioning
A tempting choice of cuisine every day throughout your cruise – with five-course à la carte dinners, casual breakfast and lunch buffets, late-night snacks and much more
Unlimited, self-service tea and coffee available 24hrs at selected venues, complementary afternoon tea* with sandwiches and cakes, and in-room sandwiches and snacks
A full programme of evening entertainment, including cabaret shows, comedy, dancing and live music
Full use of on board leisure facilities, including swimming pools, Jacuzzis and gym
A wide choice of engaging on board activities and lectures throughout the day
All UK port taxes (where collectable in advance)
Luggage porterage between your room and the drop-off/pick-up point
Formal welcome and/or Captain's Drinks Party and Gala Buffet
Chargeable extras
Cruise descriptions include optional, chargeable experiences that may be enjoyed independently and/or with optional Fred. Olsen Shore Tours. *Premium Traditional Afternoon Tea not included.
Upgrade to All Inclusive Drinks Package is available as a chargeable optional extra. All Inclusive upgrade can be added to your booking up to six days prior to your cruise departing.
Great value offers
Great value offers on selected fares and room grades available on this cruise. Prices shown may vary – please contact our Reservations Team for further details.