Islands of the Caribbean with Colombia
Departed 18th Feb 2021
14 nights
Sails from Santo Domingo
Braemar
M2104
This cruise has now set sail.
×
Santo Domingo, Dominican Republic
Feb 18 - 19 | Depart - early afternoon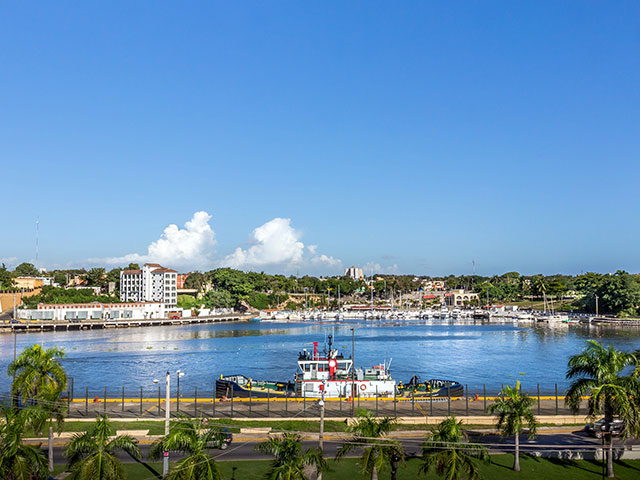 Discovered by Columbus in 1496, Santo Domingo is the New World's oldest colonial city. A beautiful place to simply walk around, the cobbled streets of Santo Domingo are lined with 15th & 16th century buildings that remind you of the city's unique history.
Among the historic buildings you will also find modern creature comforts such as shopping malls, restaurants, bars and cafes. Events and festivals often take place and visitors are encouraged to get involved and experience the Dominican's exciting, vibrant atmosphere. Be sure to explore the Colonial Zone and the Malecon. These are the most pedestrian friendly areas in the city and are home to the finest architecture, the best places to visit and finest cuisine.
For those who wish to simply lie back, relax and soak up incredible weather, there are several beautiful beaches within easy reach.
Share Itinerary
Cartagena de Indias, Colombia
Feb 21 | Arrive - early morning | Depart - early evening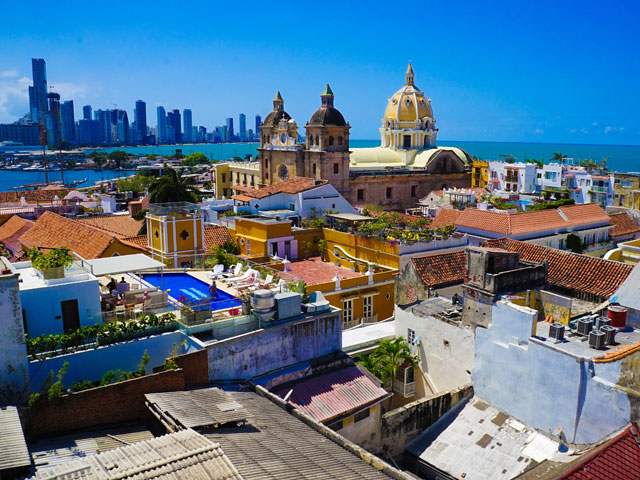 An enthralling and staggeringly beautiful city, Cartagena is one of Colombia's true gems bursting with Spanish heritage. Dominated by the Castillo de San Felipe de Barajas, the captivating city of Cartagena is also home to the wonderful Santo Domingo Plaza, Palacio de la Inquisicion and its 16th century cathedral.
Taking time out to relax at one of Cartagena's many open-air cafés is a popular pastime; perfect for watching the parade of horse-drawn carriages, fashionable locals and romantic street life. From one of its many beaches, many take the opportunity to mingle with the sea life on a Cartegena snorkelling trip, passing San Jose and San Ferna en route.
Share Itinerary
Willemstad, Curaçao, Netherlands Antilles
Feb 23 | Arrive - early morning | Depart - early evening
UNESCO-protected Willemstad on Curaçao has narrow-gabled, 18th century houses in cool pastel shades, juxtaposed with intense yellows and royal blues. It's akin to a carbon copy of Amsterdam, but with the gorgeous Caribbean climate thrown in.

The town has a number of intriguing museums worth visiting: the Curaçao Museum, the Maritime Museum and Kura Hulanda, which tells the history of the local slave trade. At Scharlooweg 77 is the house known as the 'Wedding Cake', a near perfect example of Dutch colonial architecture.

Willemstad is actually divided into two sections, Otrobanda and Punda, and both boast a rich, cultural heritage. They are connected by the Queen Emma Bridge, also known as the Swinging Old Lady, a floating, pontoon bridge powered by diesel, which swings open daily to allow ships in and out of the harbour.

Situated not far from the waterfront, the crowded streets of Punda are packed with smart galleries and shops, while nearby Pietermaai is alive with cool restaurants, bars and clubs. The island's fantastic beaches are a true delight, with Santa Barbara Beach probably the pick of them all.
Share Itinerary
Kralendijk, Bonaire
Feb 24 | Arrive - early morning | Depart - early evening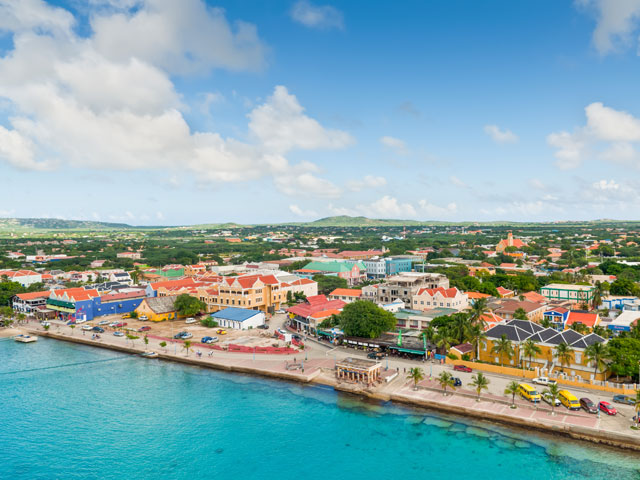 Kralendijk, the lively, Dutch-controlled capital of Bonaire, is renowned for its stunning natural beauty and fantastic Caribbean climate. This colourful town is characterised by its many beaches dotted with quaint stucco houses in pastel shades of pink, green and blue.

Surrounded by the protected Marine Park, the island's waters are home to large numbers of tropical fauna, rare seabirds and sea life, including turtles, tuna, Blue Marlin and sailfish. Washington Slagbaai National Park is a great place to spot flamingos, iguanas and giant cacti, while sun-worshippers intent on pure relaxation can enjoy the gorgeous white-sand beach on the nearby uninhabited island of Klein Bonaire.

In Kralendijk itself, interesting shops sell jewellery, wood and leather products hand-crafted by the locals. There are plenty of restaurants selling an enticing mixture of cuisine, from Creole dishes, such as grilled spicy fish, goat stew and cactus soup to local versions of Dutch foods, such as smoked meat and excellent cheese. The locally brewed beer is also worth trying, as is the creamy hot chocolate.
Share Itinerary
Philipsburg, St Maarten, Netherlands Antilles
Feb 26 | Arrive - early morning | Depart - early evening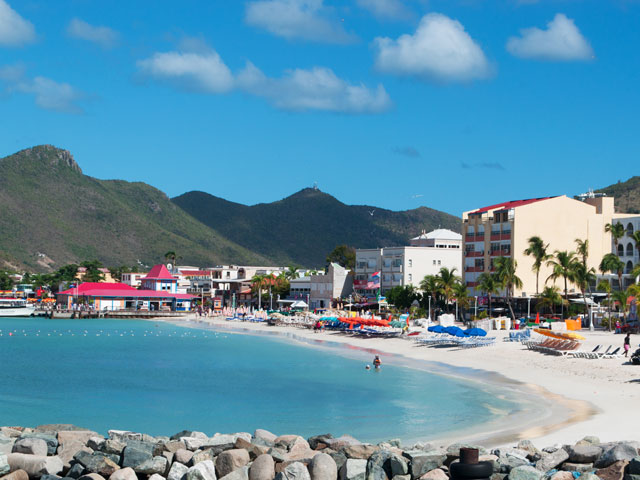 Philipsburg is the capital of the Dutch half of St. Maarten, a Caribbean island amicably shared between Holland and France for centuries. The town is known as a shopper's paradise, while its charming sandy beach, studded with colourful clapboard restaurants and outdoor cafés, is accessible via water taxi.
Front Street, Philipsburg's long main street, is festooned with shops, but the alleys and courtyards down to Back Street are also worth exploring. There are some stylish restaurants, but the Lo-Lo huts, which sell grilled chicken, fish and cakes from home-made barbecues, are great for a cheap snack of authentic Caribbean food.
This tiny island was divided between the Dutch and French in the 1600s, as a bastion against the Spanish. This melting pot of rich cultures and old-world charm was supposedly divided up by someone from each country walking round the coastline in opposite directions until they met up again.
Two historic forts reflect the island's colonial past: Fort Amsterdam, built in 1631 and soon after captured by the Spanish, offers fine views over Philipsburg from the original walls, and Fort Willem, built by the British during the Napoleonic War.
Share Itinerary
Basseterre, St Kitts
Feb 27 | Arrive - early morning | Depart - early evening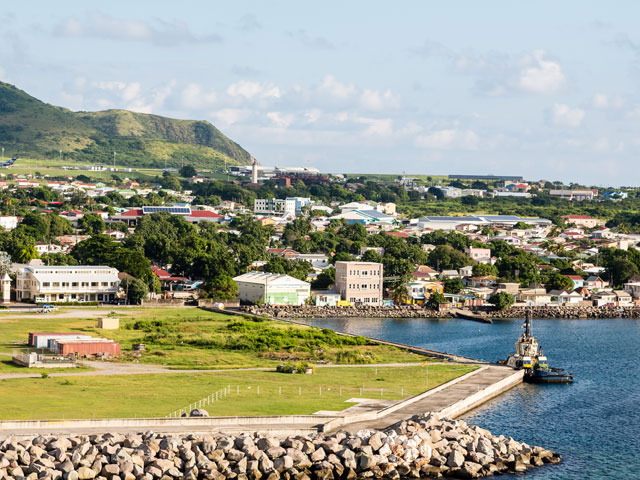 With some of the oldest colonial buildings in the Caribbean, the elegant St. Kitts & Nevis capital of Basseterre is a beautiful town bursting with history.
Established by the French in the 17th century, and claimed by the British following the Napoleonic War, much of Basseterre's original Georgian architecture still stands and begs to be explored. The domed Old Treasury Building on the waterfront – now the National Museum – is worth a visit, as is the Victorian Berkeley Memorial Clock, a four-face, cast-iron tower that sits on the Circus, an original 19th century traffic roundabout. St George's, an Anglican church originally built by the French, has been destroyed by fire several times, and was rebuilt to its present form in 1869.
Away from the town, visitors can take a tour to Brimstone Hill Fortress to admire magnificent views across the island, travel on the St. Kitts Scenic Railway – said to be one of the most attractive train journeys in the world.
Share Itinerary
St John's, Antigua and Barbuda
Feb 28 | Arrive - early morning | Depart - early afternoon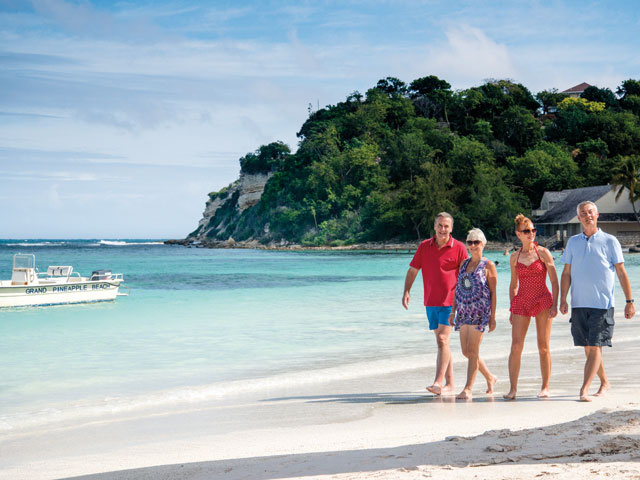 A sunbather's haven, St John's is the capital city of Antigua and Barbuda, an island often referred to as the crown jewels of the Caribbean. With its large selection of beaches, typically hot climate and an array of cool seaside bars, the city of St John's is a sun worshipper's paradise.
In the city itself, the Museum of Antigua and Barbuda has exhibits on island history and St. John's Cathedral, a 19th-century Anglican Church, sits sweetly on a hill near the 17th century Government House. The city's vibrant red and yellow colonial buildings reflect the personality and warm welcome from locals, while a monument to the nation's founder, V.C. Bird, is next to the colourful street market which sells flowers, fruit and handicrafts.
St. George's fascinating history is brought to life on the stunning English Harbour and celebrated Nelson's Dockyard. Also known as Britain's West Indies naval base, it has now been restored to its 18th century glory.
There is shopping and speciality restaurants to be found in Heritage Quay and, of course, no visit would be complete without a spell on one of the island's 365 stunning beaches – one for each day of the year say the Antiguans.
Share Itinerary
Cruising by Montserrat, Antigua
Feb 28 | Arrive - late afternoon | Depart - early evening
Previously considered dormant, the volcanic island of Montserrat was devastated by huge eruptions in 1995 and volcanic activity has occurred here ever since. Sadly large portions of the island's lush vegetation and a number of settlements - including Plymouth, the capital - have been destroyed, but what remains is simply stunning.
Cruising by the island is the best way to admire the incredible scenery here, which combines pockets of tropical beauty and breathtaking volcanic ruins. Your glide by the island will be even more special however, with the rising or setting sun providing a glorious backdrop.
Share Itinerary
Castries, St. Lucia
Mar 01 | Arrive - early morning | Depart - early evening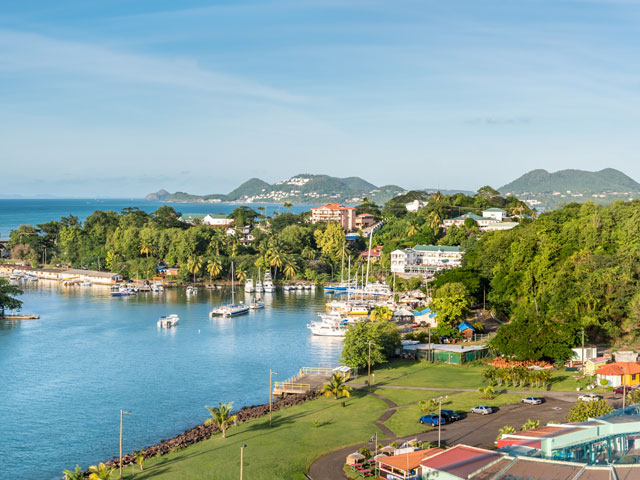 Castries, the capital of the island nation of St. Lucia, is known for its palm-lined, soft, white Vigie Beach. Like St. Lucia itself, the city combines heritage and culture with peace, relaxation and tranquillity, and Castries is a gateway to St. Lucia's wealth of national parks with vast forests, native plants and wildlife.
The city's streets are easy to navigate. Leafy Derek Walcott Square – named after a native noble laureate – is home to a 400-year-old Samaan tree and the Cathedral Basilica of the Immaculate Conception built in 1897. The nearby market in Jeremie Street, sells a wide range of items including fresh local fruit.
Overlooking the town is Morne Fortune, which provides some splendid views alongside Royal Navy history. Here the original French colonists built La Toc Battery, but was taken by the British in 1796, replacing it with a new fort built in 1888 to protect the harbour.
Share Itinerary
St George's, Grenada
Mar 02 | Arrive - early morning | Depart - early evening

The popular destination of St. George's is the capital of Grenada, a tiny Caribbean island with a long history of British and French rule. The town is a gateway to a volcanic island, with a jaw-dropping landscape of crater lakes, rainforests, coral reefs and white-sand beaches.
Granted independence in 1974, it is famous for its cinnamon, mace, nutmeg and vanilla plantations, and Grenada is affectionately known as the 'Spice Island'. The aromas literally fill the air and make for a most remarkable experience when visiting the island.
The town is located on a stunning horseshoe-shaped harbour. At its centre, the 18th century Fort George offers panoramic views of the island and nearby Fort Matthew, formerly a battleground and an asylum, boasts a network of underground tunnels. The Grenada National Museum hosts exhibits about the region's history, including the plantation economy and the whaling industry.
Mount Qua Qua – one of Grenada's central mountains – provides impressive views from its 2370ft peak. Its hiking trails pass Grand Etang Lake and the cooling temperatures at altitude provide a soothing respite from the island's heat.
Share Itinerary
Bridgetown, Barbados
Mar 03 - 04 | Arrive - early morning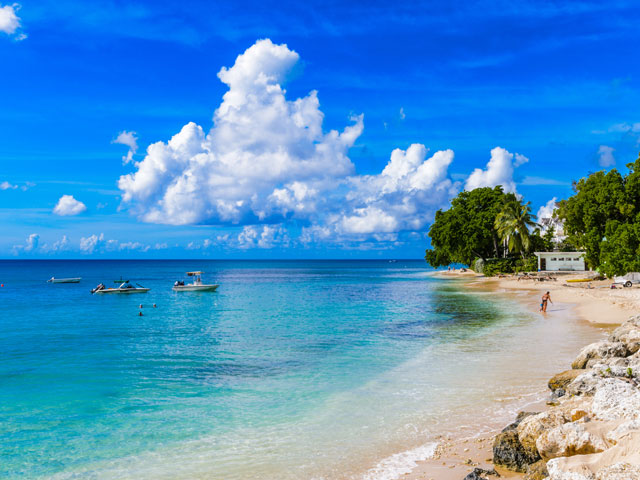 With its balmy climate, buzzing atmosphere, glorious azure waters and incredible beaches, Bridgetown is a tropical city that epitomises paradise. There is rarely a dull day in the capital and largest city of Barbados.
This very British Caribbean island is a favourite with tourists; the city's streets are lined with shops, boutiques, street vendors, bars and places to eat – there is always something to do. Broad Street, the main street of Bridgetown is often packed with welcoming locals. It's easy to see why Barbados is known as Little England given Bridgetown's Georgian houses, the horse-racing track, Parliament Square, and a statue of Nelson.
The entire downtown area of Bridgetown and the 17th century Garrison were named a UNESCO World Heritage site in 2012 in recognition of their historical significance. Near the central National Heroes Square, which fringes Constitution River, the Nidhe Israel Synagogue and museum explore Barbados' Jewish history.
For a change of pace, the shore and the glorious sands offer a haven from the bustling centre. Carlisle Bay is home to six shipwreck dive sites, while a catamaran ride on the Caribbean Sea may offer the chance to swim with the once endangered Hawksbill and Green Turtles. The wonder of the impressive stalactites and stalagmites in Harrison's Cave is another experience that will linger in the memory.
Share Itinerary
Unfortunately, this cruise will not be going ahead as planned.
We are aware that if you are sailing with us, you will have many questions about what these cancellations mean for you and we will be in touch as soon as we can.
We are likely to be very busy in our call centre over the next few days. Please bear with us, there is no rush for you to make a decision. We are working very hard for you and promise that we will deal with each and every one of your questions as soon as we possibly can.