Islands & Cities of Southeast Asia
Departed 18th Jan 2022
15 nights
Sails from Benoa
Boudicca
D2201
This cruise has now set sail.
Visiting a rich variety of destinations, each as immersive and rewarding as the next, provides unmissable opportunities to discover everything from beautiful scenery and native wildlife to modern marvels and spiritual sites, for a full-flavour taste of Asia's remarkable diversity.
You're in diverse, memorable sights and experiences throughout your Far-Eastern adventure, and even before you set sail. You'll meet Boudicca in Benoa and have time to see the best of Bali; untrodden beaches, ancient temples and forests teeming with amazing wildlife – such as Balinese long-tailed monkeys – await discovery. Speaking of amazing wildlife, your smaller ship makes a specially planned maiden visit to the Bornean city of Sandakan for tours to the protected lands of Kabili Sepilok Forest Reserve, where you can see orphaned and confiscated orangutans – as well as other species including Sumatran rhinos and elephants – living freely in their natural habitat.
In Vietnam, you could immerse yourself in tales of infamous war history in Ho Chi Minh City; visit the symbolic Independence Palace and the War Remnants Museum, or even retrace the steps of the Viet Cong and explore the sprawling Củ Chi underground tunnels. Continuing on to Cambodia, there's rich history, culture and spirituality to explore in Phnom Penh; take a tour to the capital from Sihanoukville to seek-out landmarks such as the Royal Palace, Silver Pagoda and National Museum. Finally, in contrast to where it all began in Bali, Singapore boasts soaring man-made marvels and expresses modern Asian life. You've an overnight stay here to experience all the hustle and bustle of city-state's fast-moving districts, from the Financial Quarter with its towering skyscrapers to energetic Chinatown. There's time to visit the gorgeous Gardens by the Bay, with its array of fragrant flora from around the globe; stop by Raffles to enjoy high tea in the opulent surroundings of the world-famous hotel; and much more too.
×
Benoa, Bali
Jan 18 - 19 | Depart - late afternoon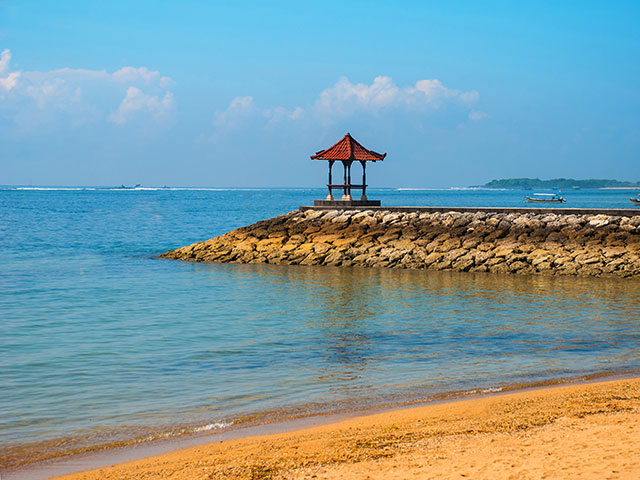 With its beautiful rice fields watered by shallow rivers and forests with many kinds of flora and fauna, Bali is one of Earth's most idyllic places. The friendly locals create a warm, inviting atmosphere, encouraging you to explore the many attractions that the island has to offer including incredible temples, rugged coasts and sandy beaches.
Share Itinerary
Sandakan, Borneo
Jan 22 - 23 | Arrive - early afternoon | Depart - early afternoon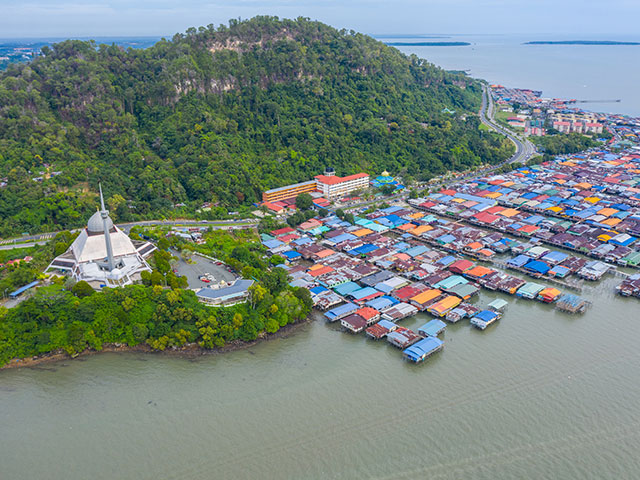 Razed to the ground by bombing raids in World War II, but since revived and developed into one of Borneo's most important and thriving cities, Sandakan – once connected to German, Arab and Indian traders, pearl divers and Chinese planters – is now a buzzing hub of industry and culture once again.
You can really feel the energy of modern Sandakan, as the locals go about their daily lives, making their contribution to the local palm oil, tobacco, coffee, cocoa and numerous other industries, but there are plenty of reminders of the city's fascinating past to discover too. Sandakan Memorial Park and the Heritage Museum offer a wonderful insight into the history here, while visiting the Chinese and Japanese cemeteries is always an emotive experience. Don't miss the magnificent temples of Puu Jih Syh and Sam Sing Kong – the city's oldest building – too.
Beyond the city, Sandakan also serves as a gateway to encountering some of Borneo's most mesmerising natural treasures and wildlife; on tour, it's possible to visit Sepilok and see orphaned orangutans up-close, explore the Gomantong Caves, and visit Turtle Island, to name just a few of the highlights.
Share Itinerary
Ho Chi Minh City, Vietnam
Jan 26 | Arrive - early morning | Depart - late evening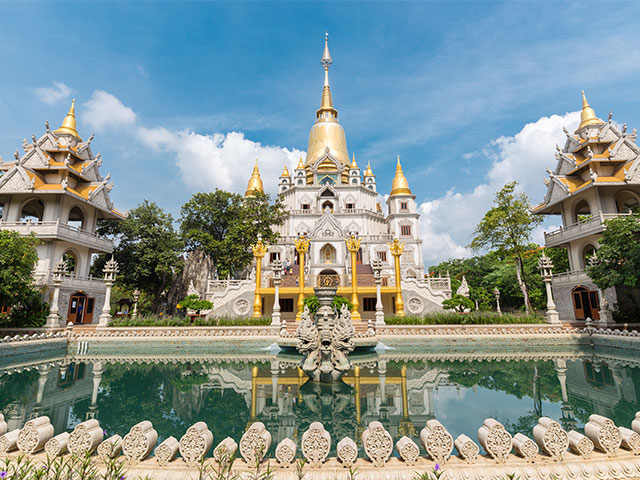 Spanning both sides of the Saigon River, north-east of the tranquil Mekong Delta, Ho Chi Minh City is a vast and cosmopolitan hub. Not far from the hustle and bustle of this central destination are the highlands and rainforests that teem with exotic wildlife where you can discover the Mekong Delta and more rural parts of Vietnam.
The beaches here are famed for being some of the best in Southeast Asia, and the cuisine is universally acknowledged for its range of tastes and dishes, you simply can't leave without indulging in these hand cooked specialities.
Share Itinerary
Sihanoukville, Cambodia
Jan 28 | Arrive - early morning | Depart - late evening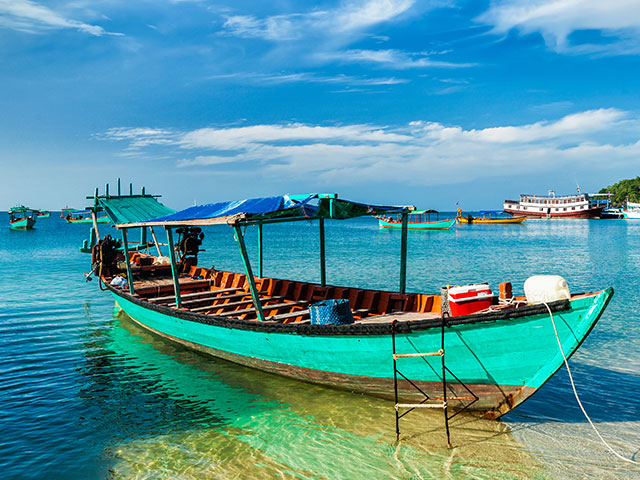 Sihanoukville is the gateway to the eerily impressive Angor Wat, the largest religious monument in the world, one of the main reasons visitors travel to Cambodia. The second reason being that Sihanoukville is surrounded by white-sand beaches of Occheuteal and Serendipity beach, and undeveloped tropical islands. Sihanoukville is a place to unwind by the surf, enjoy the fresh from-the-ocean seafood, and generally slow down and relax.
Sihanoukville has a different look and feel than most Cambodian towns. With an abundance of things to see and do, from snorkelling to scuba diving, your batteries will be recharged in no time at all. There is often a balmy heat that wavers over the palm trees and grass umbrellas, making Sihanoukville the ideal spot to roll out a towel and sip on a refreshing cocktail, or two.
Share Itinerary
Singapore, Singapore
Jan 30 - 31 | Arrive - early afternoon | Depart - early evening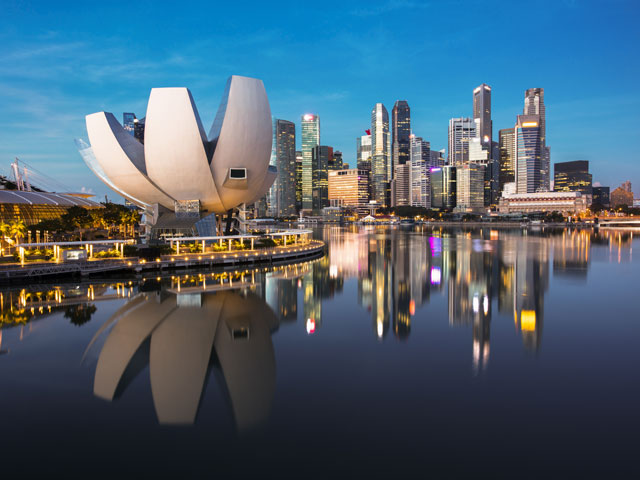 Located at the tip of the Malay Peninsula, this dynamic city-state is the perfect cocktail of culture, cruising, arts and architecture. This global financial centre with a tropical climate and multicultural population is passionately working towards its dream of a 'City in a Garden'.
Getting around Singapore is a fairly rapid affair, thanks to one of the world's most efficient and widespread public transport systems. Its colonial core centres on the Padang, a cricket field since the 1830s and now flanked by grand buildings such as City Hall, and its multitude of Corinthian columns. The 19th century red-and-gold Buddha Tooth Relic Temple in Chinatown, allegedly houses one of Buddha's teeth.
The concrete that once dominated the city skyline is slowly being replaced by 'green skyscrapers', which look more like living ecosystems than office buildings. Visitors stepping out of the centre will find walking trails, treetop bridges, indigenous wildlife and the city's green jewel, the UNESCO-listed World Heritage Singapore Botanic Gardens.
A tantalizing selection of food sold from street markets is dotted around the city. Food is taken very seriously: from cheap street fare to Michelin-starred dining, Singaporean foodies will happily queue for it. Of course, for sheer elegance, nothing beats a Singapore Sling in the Raffles Hotel.
Singapore has always drawn visits from a variety of sea craft. Merchants of every race, colour and faith were quickly drawn to the island, and by 1911, Singapore's population comprised of 48 races, speaking 54 languages. Malay is now the official language.
Share Itinerary
Phuket, Thailand
Feb 02 | Arrive - early morning

The rain-forested, mountainous island of Phuket in the Andaman Sea, has some of Thailand's most spectacular beaches situated along the clear blue waters of its western shore. This idyllic high-end island resort contrasts nicely with the culturally-rich capital, Phuket Town, which offers busy markets and fabulous food.
Thailand's largest island, Phuket, is connected to the southern tip of the country by a couple of short road bridges. The island has wonderful soft white beaches, fringed by shady palm trees and grass huts. Just offshore, many uninhabited outcrops of tall limestone crags rise straight out of the sea and cry out to be explored. Phuket is the ideal spot to truly relax and unwind with incredible views of the surrounding bays.
In Phuket Town, the Thalang National Museum has fascinating displays about the island's indigenous culture. There are a couple of Hindu Temples on the island, as well as a number of Buddhist shrines, including the Wat Chalong Temple, which is the centre for worship on Phuket. High in the Nakkerd Hills, northwest of Chalong Circle, the 45m-high Big Buddha sits in imposing fashion on the island's finest viewpoint.
Share Itinerary