Iconic India
Departed 2nd Feb 2022
15 nights
Sails from Phuket
Boudicca
D2202
This cruise has now set sail.
With Boudicca as your guide, experience India at its most inspirational, authentic and iconic, uncovering contrasting traditional treasures and modern marvels, fascinating spiritual sites and areas of breathtaking natural beauty that present an unforgettable snapshot of this remarkable country.
Kochi, on Kerala State's picturesque coast, makes for an intoxicating introduction to India; you've a day to see the famous Chinese cantilever fishing nets, visit the British Commonwealth's oldest synagogue, taste the spicy flavours of traditional local cuisine, and much more. On to Goa, a visit to Mormugão is a treat to savour. It's your gateway to Old Goa and the UNESCO-listed Latin Quarter, which, with their fine examples of Portuguese colonial architecture, beautiful churches and charming old houses, highlight India's European heritage. Postcard-perfect beaches can be found just a short distance from your ship's docking location too, while there are opportunities to tour to local spice plantations to learn about the creation of ingredients synonymous with Indian food and culture.
Magnificent Mumbai offers an enthralling mix of old and modern India. From admiring the British-style buildings of the historic Colaba quarter and the UNESCO-listed Chhatrapati Shivaji Maharaj Railway Station, to visiting the world's largest open-air laundry district and watching – or even working with – busy Dabbawallas delivering lunches across the city, a plethora of diverse experiences and sights await you here. Stopping overnight in Mumbai affords you time to fully immerse yourself in all the legendary hustle and bustle of the city too. Finally, your time in India will come to an end at Porbandar. As the birthplace of Gandhi – the 'Father of India' – this coastal city is the perfect place conclude your epic Indian exploration. Be sure to visit Kirti Mandir – Gandhi's childhood home – and the Sudama Temple, a Hindu pilgrimage site dedicated to the devotee of Lord Krishna, to capture the spiritual importance of Porbandar.
×
Phuket, Thailand
Feb 02 | Depart - late night

The rain-forested, mountainous island of Phuket in the Andaman Sea, has some of Thailand's most spectacular beaches situated along the clear blue waters of its western shore. This idyllic high-end island resort contrasts nicely with the culturally-rich capital, Phuket Town, which offers busy markets and fabulous food.
Thailand's largest island, Phuket, is connected to the southern tip of the country by a couple of short road bridges. The island has wonderful soft white beaches, fringed by shady palm trees and grass huts. Just offshore, many uninhabited outcrops of tall limestone crags rise straight out of the sea and cry out to be explored. Phuket is the ideal spot to truly relax and unwind with incredible views of the surrounding bays.
In Phuket Town, the Thalang National Museum has fascinating displays about the island's indigenous culture. There are a couple of Hindu Temples on the island, as well as a number of Buddhist shrines, including the Wat Chalong Temple, which is the centre for worship on Phuket. High in the Nakkerd Hills, northwest of Chalong Circle, the 45m-high Big Buddha sits in imposing fashion on the island's finest viewpoint.
Share Itinerary
Colombo, Sri Lanka
Feb 06 | Arrive - early morning | Depart - early evening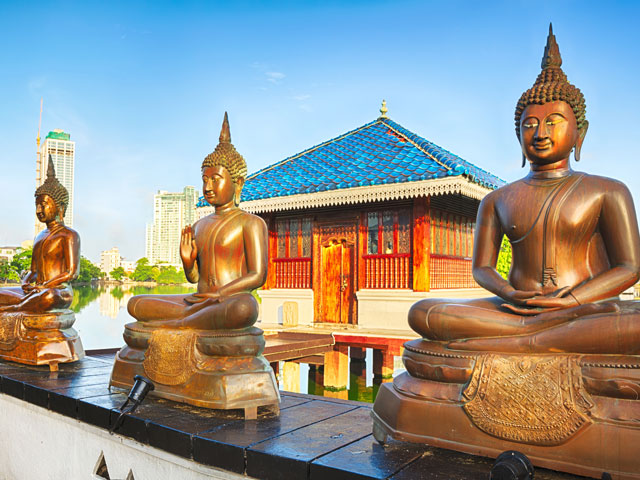 The port city of Colombo is rich with colonial heritage, religions, races and cultures. With a population of over 4.5 million people, Colombo is a bustling, fascinating and noisy city. It combines Dutch and British colonial buildings, with Buddhist temples, Islamic mosques, Christian churches, and modern gleaming skyscrapers. The impressive Colombo National Museum, dedicated to Sri Lankan history, is worth uncovering and it borders the sprawling Viharamahadevi Park, home to a giant Buddha.
The narrow cobbled streets of Pettah, the main bazaar district, are full of shops and street markets selling an amazing array of goods at bargain prices. There are plenty of places to eat, from small shops selling pancakes to coffee shops and upmarket restaurants.
A more rustic, slow-paced Sri Lankan experience can be found in nearby Negombo, with its quaint village streets and lively fish market. Alternatively, sun seekers can venture to the private beach of Mt. Lavinia, located on the breath-taking Golden Mile beachfront.
Share Itinerary
Kochi, India
Feb 08 | Arrive - early morning | Depart - early evening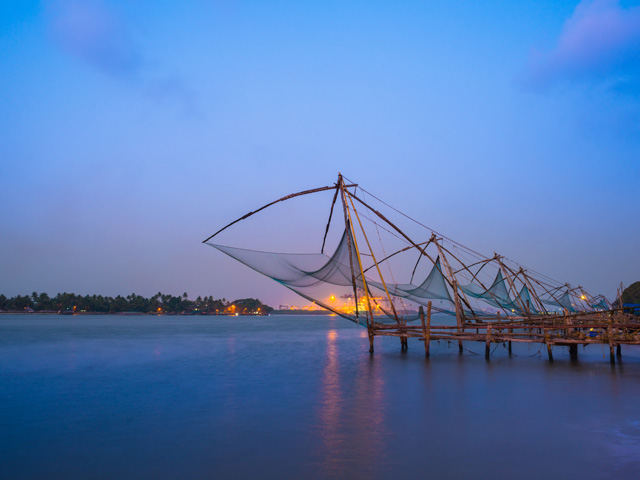 Known as the Queen of the Arabian Sea, serene Kochi on India's south-western coast has been drawing traders, explorers and travellers to its shores for over 600 years.
Formerly the port of Cochin, Kochi grew to prominence as an outlet for the spice trade in the 14th century, and is most famous for the iconic-cantilevered Chinese fishing nets that billow out across its harbour. This ancient trading centre is a melting pot of cultures and religions, evident in the town's buildings, which range from the oldest synagogue in the British Commonwealth to the austere Mattancherry Palace, built by the Dutch but influenced by the Portuguese.
Share Itinerary
Mormugão, Goa, India
Feb 10 | Arrive - early morning | Depart - early evening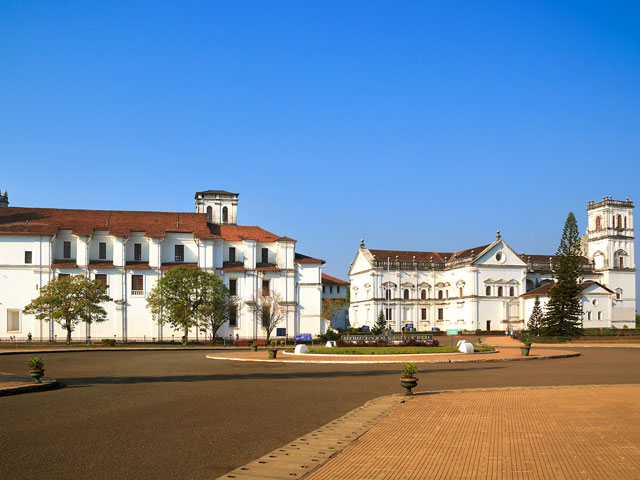 Mormugão is the main port of the tiny State of Goa, renowned for superb beaches and a colonial history that combines the best of Indian and Portuguese culture.
Known as the 'Pearl of the Orient', Goa showcases a mix of scenic beauty and architectural delights, from golden beaches and spice plantations to striking temples and bustling markets.
The Arch of the Viceroys was built in 1597 to commemorate Vasco da Gama's arrival in India, while the nearby Church of St. Cajetan is modelled on St. Peter's in Rome. Opposite the magnificent Se Cathedral at Old Goa – one of the largest churches in Asia, is the Basilica of Bom. Here the remains of Francis Xavier, a founder of the Jesuit order and patron saint of Goa, lie in a silver casket next to the altar.
Yoga is king in Goa, and the crop of spiritual activities available to visitors grows each year. T'ai chi sessions, Reiki healing courses, meditation, and most forms of spiritual exploration are all practised freely. The scents, spices and flavours of Goa's cuisine is the area's other main attraction, and the Indo-Portuguese influence will surprise and tantalise even seasoned travellers.
Share Itinerary
Mumbai, India
Feb 11 - 12 | Arrive - late afternoon | Depart - early evening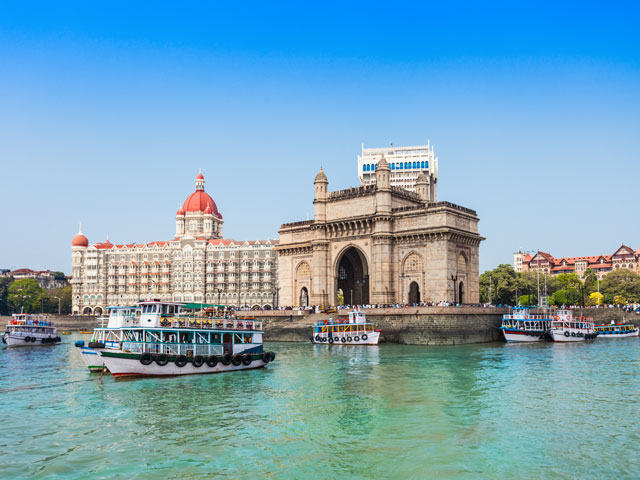 Once a cluster of seven islands covered with coconut palms, Mumbai, formerly Bombay, is a sprawling, vibrant city on India's west coast. It is a busy, densely-populated city, home to India's most prolific film industry, Bollywood, and the largest tropical forest in an urban zone.
Mumbai can prove to be a surprising introduction to India. On its harbour waterfront stands the iconic Gateway of India stone arch; through it is India's centre for finance and fashion, and a fervent religious crossroads. As such the city's furious energy – and often heavy air pollution – can make it a totally different experience for visitors.
But once in Mumbai's heart, some of the most imposing colonial-era architecture on earth is on view, as are its secret bazaars, hidden temples, and India's top restaurants and intense nightlife.
The cultural mix is extraordinary: religious sites like the Jain Temple and the closely guarded Parsi Towers of Silence all exist happily next to the Victoria Railway Terminus, the Royal Bombay Yacht Club and the Ghandi Memorial Museum. The unique and popular bazaars offer souvenir trinkets, traditional shawls and shoes all ready to be bartered over.
Venturing beyond Mumbai, the elusive and lesser known Elephanta Caves are captivating. Set in attractive surroundings of lush green vegetation, vines and towering trees, Elephanta Island offers a stark contrast from the bustling inner city of Mumbai. The eerie Buddhist and Hindu caves, and their honeycomb of halls, shrines and pillars, are a must-see.
Share Itinerary
Porbandar, India
Feb 14 | Arrive - early morning | Depart - late afternoon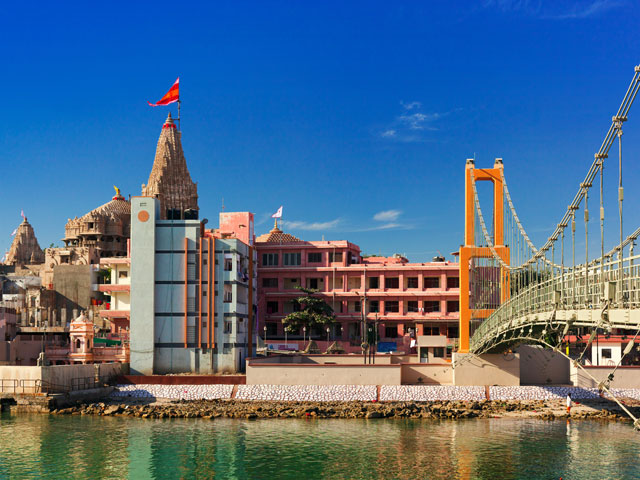 Porbandar, a coastal city in the Indian state of Gujarat, is the birthplace of the 'Father of India' and the loyal friend and devotee of Lord Krishna, Sudama. As a result, Porbandar is of great religious and spiritual importance, and a place of pilgrimage for Hindus across the world.
Porbandar's fascinating history dates back to the Harappan age (1600-1400BC). Its ancient port served as a vital trade link to Arabia and countries in the Persian Gulf, and had close ties to some of India's great religious and spiritual figures.
Best known as the birthplace of Mahatma Gandhi and Sudama, Hindus make the pilgrimage to visit various dedicated temples and museums. The must-see Kirti Mandir, a memorial dedicated to Gandhi, is on the site where ancestral properties of the Gandhi family once were, and contains various pictures and paintings depicting the life and influence of Mahatma.
The Krishna Sudama Temple, dedicated to the friendship between Lord Krishna and Sudama, is another of Porbandar's unmissable attractions, while the beautiful temple of Sir Hari is well worth a visit too.
Share Itinerary
Muscat, Oman
Feb 16 | Arrive - early morning | Depart - early evening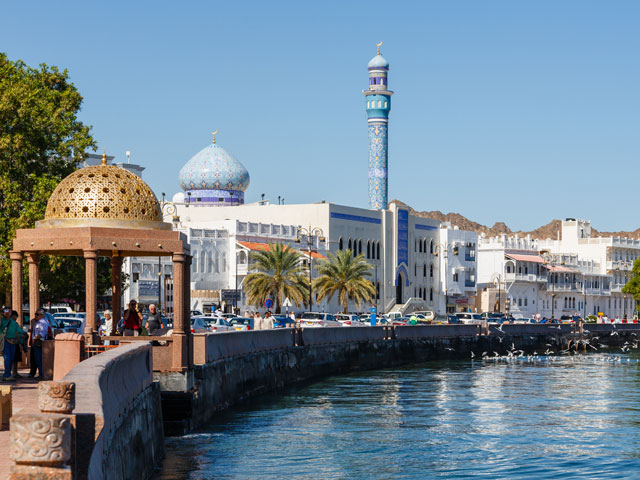 Muscat, Oman's port capital, offers plenty of history, an air of tradition, and a distinctly exotic location, all crammed between the mountains, the sea – laden with fauna-rich lagoons – and the desert.
With history dating back to ancient times, Muscat mixes modern architecture and fashionable shopping malls with souks, Royal Palaces and landmarks like its 16th century Portuguese forts, Al Jalali and Mirani that keep watch over the harbour.
The ornate marble-clad Sultan Qaboos Grand Mosque, with its 50m dome, can accommodate 20,000 people. This most modern of Islamic buildings is also home to the world's second largest hand-woven carpet, which took four years to thread and is made from various vibrant vegetable dyes.
The opening of the Royal Opera House in 2011, and the splendid National Museum which opened six years later, offer additional culture highlights that give the city a personality all of its own.
Share Itinerary
Fujairah, United Arab Emirates
Feb 17 | Arrive - early morning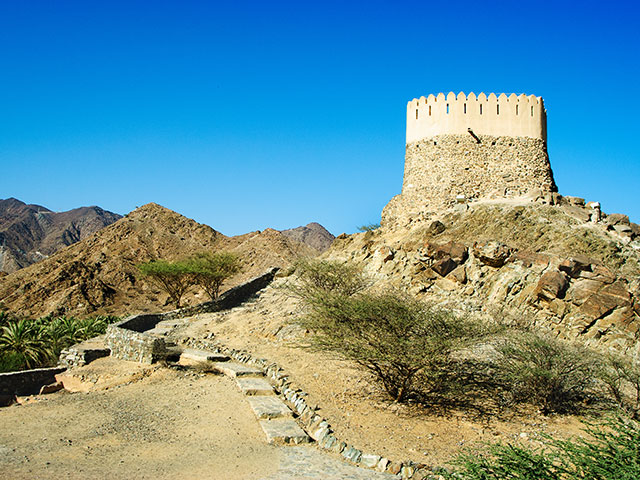 The only one of the seven United Arab Emirates on the Gulf of Oman, Fujairah is mountainous, unlike the desert Emirates on the Persian Gulf, and rife with colourful markets and wonderful buildings. Fujairah boasts a much slower and relaxed pace compared to its UAE counterparts, you will notice its peaceful ambience when visiting its most beautiful of sights, the Al Bithnah Fort and Al Bidyah Mosque.
The local souk sells goods for local residents, such as plants, spices and textiles. Along the Corniche there is a smaller evening souk which sells items such as perfumes, watches and clothing, an ideal opportunity to pick up something unique for your loved ones back home.
Share Itinerary