Historic Sites of India, Jordan & Israel
Departed 29th Mar 2021
29 nights
Sails from Colombo
Black Watch
W2106
This cruise has now set sail.
Spanning 29 nights and a string of incredible destinations across seven countries in Asia, the Middle East and the Mediterranean, this enriching voyage of exploration will leave you captivated throughout with a seemingly endless list of iconic sights and inspirational experiences to discover.
After embarking Black Watch in the stunning Sri Lankan city of Colombo, you'll have to day at sea to settle into life on board your smaller, friendlier ship as you sail to India. [ReadMoreMob]Three enticing Indian destinations feature on your itinerary, each showcasing this remarkable country's fascinating diversity. In Kochi, you can see the famous Chinese cantilever fishing nets dotted along the idyllic coastline and the British Commonwealth's oldest synagogue; or opt for an overland tour to the white-marbled wonder that is the Taj Mahal. Goa – where the historic Old Goa district and UNESCO-listed Latin Quarter tell the story of India's European influences – is a real treat to savour, while an overnight stay in Mumbai will be an undoubted highlight of your holiday. You can really absorb the mix of traditional and modern India in Mumbai: take your time to see the British-style buildings of the Colaba quarter; stop-by the famous Victoria Railway Terminus to marvel at its grand architecture; and visit the unique Dhobi Ghat laundry district and Dadar Flower Market. Watching the dabbawallas in action, delivering lunches to homes and workplaces across the city, is an experience you won't forget. [ReadMoreDesk]
Continuing onward to Jordan, Aqaba is the starting point for discovering the 'Lost City' of Petra, one of the Seven Wonders of the Modern World. Don't miss the chance to uncover the huge tombs and temples of Petra, that were carved into sandstone over 2,000 years ago. Then, after an unforgettable navigation of Egypt's Suez Canal, hallowed sites await you in Israel too: Haifa is your gateway to Jerusalem and Bethlehem. Tour to Jerusalem to follow in the footsteps of Jewish, Muslim and Christian pilgrims among magnificent religious monuments such as Church of the Holy Sepulchre, the Western Wall and Al Haram Ash Sharif; or to Bethlehem – birthplace of Jesus – to visit Manger Square and the Church of the Nativity. En route back to the UK, a triumvirate of sun-splashed Mediterranean destinations will bring your holiday to the perfect conclusion. You'll enjoy a day in Cyprus before sailing to Malta for a chance marvel at Valletta's UNESCO-listed Grand Harbour, St John's Cathedral and impressive Presidential Palace, and to the Spanish city of Malaga, where diverse attractions include the Moorish-style Gibralfaro Castle and the Picasso Museum, a celebration of Pablo Picasso's life and works.
Your Itinerary
Incredible destinations across seven countries in Asia, the Middle East and the Mediterranean will each captivate you in their own unique, unforgettable way on this enriching voyage of exploration.
Three enticing Indian destinations offer diverse highlights: you can marvel at the Taj Mahal on tour from Kochi; explore Goa's European heritage; and absorb the mix of traditional and modern India in bustling Mumbai.
Hallowed sites await in Jordan and Israel, including the 'Lost City' of Petra, Jerusalem and Bethlehem, while you'll also sail Egypt's Suez Canal before discovering the delights of sun-kissed Cypriot, Maltese and Spanish cities.
View Itinerary
Close Itinerary
×
Colombo, Sri Lanka
Mar 29 | Depart - late night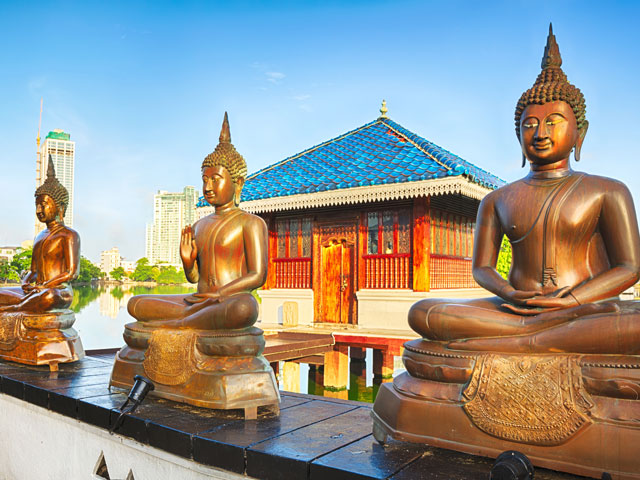 The port city of Colombo is rich with colonial heritage, religions, races and cultures. With a population of over 4.5 million people, Colombo is a bustling, fascinating and noisy city. It combines Dutch and British colonial buildings, with Buddhist temples, Islamic mosques, Christian churches, and modern gleaming skyscrapers. The impressive Colombo National Museum, dedicated to Sri Lankan history, is worth uncovering and it borders the sprawling Viharamahadevi Park, home to a giant Buddha.
The narrow cobbled streets of Pettah, the main bazaar district, are full of shops and street markets selling an amazing array of goods at bargain prices. There are plenty of places to eat, from small shops selling pancakes to coffee shops and upmarket restaurants.
A more rustic, slow-paced Sri Lankan experience can be found in nearby Negombo, with its quaint village streets and lively fish market. Alternatively, sun seekers can venture to the private beach of Mt. Lavinia, located on the breath-taking Golden Mile beachfront.
Share Itinerary
Kochi, India
Mar 31 | Arrive - early morning | Depart - late evening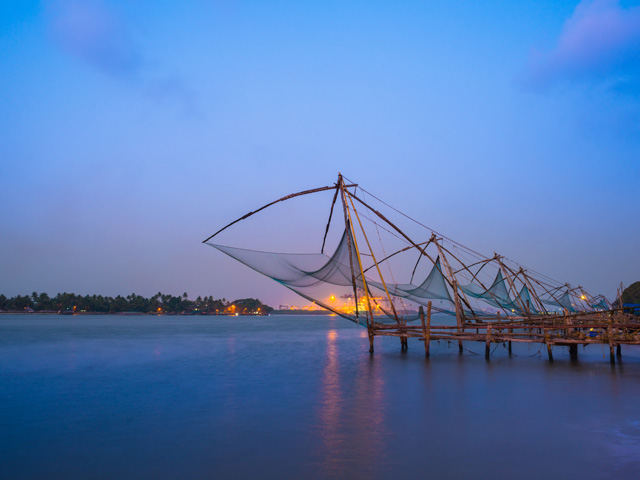 Known as the Queen of the Arabian Sea, serene Kochi on India's south-western coast has been drawing traders, explorers and travellers to its shores for over 600 years.
Formerly the port of Cochin, Kochi grew to prominence as an outlet for the spice trade in the 14th century, and is most famous for the iconic-cantilevered Chinese fishing nets that billow out across its harbour. This ancient trading centre is a melting pot of cultures and religions, evident in the town's buildings, which range from the oldest synagogue in the British Commonwealth to the austere Mattancherry Palace, built by the Dutch but influenced by the Portuguese.
Share Itinerary
Mormugão, Goa, India
Apr 02 | Arrive - early morning | Depart - early evening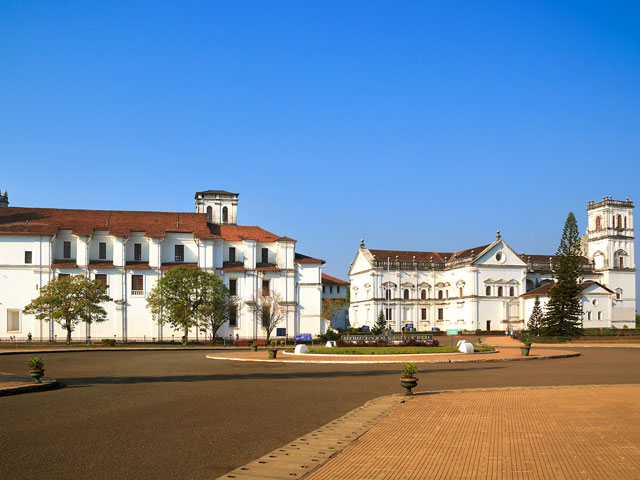 Mormugão is the main port of the tiny State of Goa, renowned for superb beaches and a colonial history that combines the best of Indian and Portuguese culture.
Known as the 'Pearl of the Orient', Goa showcases a mix of scenic beauty and architectural delights, from golden beaches and spice plantations to striking temples and bustling markets.
The Arch of the Viceroys was built in 1597 to commemorate Vasco da Gama's arrival in India, while the nearby Church of St. Cajetan is modelled on St. Peter's in Rome. Opposite the magnificent Se Cathedral at Old Goa – one of the largest churches in Asia, is the Basilica of Bom. Here the remains of Francis Xavier, a founder of the Jesuit order and patron saint of Goa, lie in a silver casket next to the altar.
Yoga is king in Goa, and the crop of spiritual activities available to visitors grows each year. T'ai chi sessions, Reiki healing courses, meditation, and most forms of spiritual exploration are all practised freely. The scents, spices and flavours of Goa's cuisine is the area's other main attraction, and the Indo-Portuguese influence will surprise and tantalise even seasoned travellers.
Share Itinerary
Mumbai, India
Apr 03 - 04 | Arrive - early afternoon | Depart - late afternoon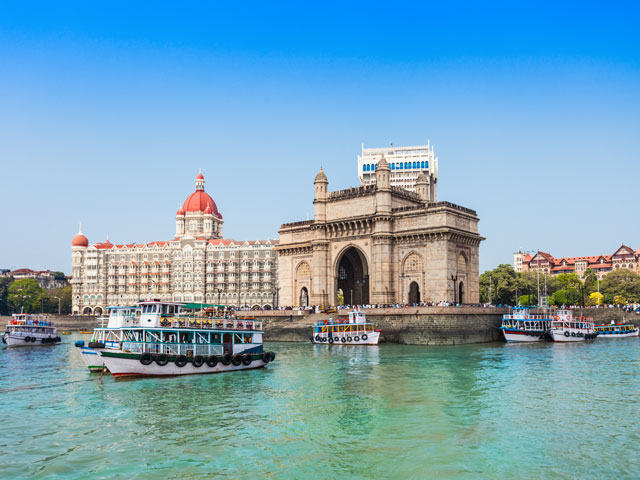 Once a cluster of seven islands covered with coconut palms, Mumbai, formerly Bombay, is a sprawling, vibrant city on India's west coast. It is a busy, densely-populated city, home to India's most prolific film industry, Bollywood, and the largest tropical forest in an urban zone.
Mumbai can prove to be a surprising introduction to India. On its harbour waterfront stands the iconic Gateway of India stone arch; through it is India's centre for finance and fashion, and a fervent religious crossroads. As such the city's furious energy – and often heavy air pollution – can make it a totally different experience for visitors.
But once in Mumbai's heart, some of the most imposing colonial-era architecture on earth is on view, as are its secret bazaars, hidden temples, and India's top restaurants and intense nightlife.
The cultural mix is extraordinary: religious sites like the Jain Temple and the closely guarded Parsi Towers of Silence all exist happily next to the Victoria Railway Terminus, the Royal Bombay Yacht Club and the Ghandi Memorial Museum. The unique and popular bazaars offer souvenir trinkets, traditional shawls and shoes all ready to be bartered over.
Venturing beyond Mumbai, the elusive and lesser known Elephanta Caves are captivating. Set in attractive surroundings of lush green vegetation, vines and towering trees, Elephanta Island offers a stark contrast from the bustling inner city of Mumbai. The eerie Buddhist and Hindu caves, and their honeycomb of halls, shrines and pillars, are a must-see.
Share Itinerary
Aqaba, Jordan
Apr 12 | Arrive - early morning | Depart - late night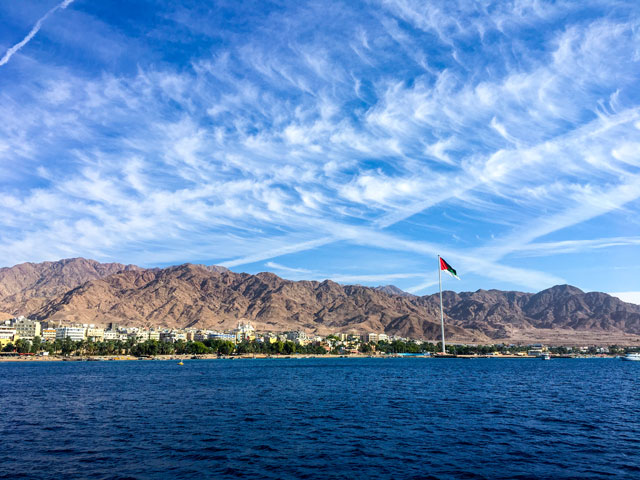 Inhabited since 4000BC, Aqaba is the Jordanian port city on the Red Sea's Gulf of Aqaba, and gateway to the world-famous stone-city of Petra. The Lost City of Petra is the impressive archaeological site carved from the sandstone hills more than 2,000 years ago, and is one of the Seven Wonders of the Modern World. Its breath-taking tombs and ruins remained hidden to the world until their rediscovery in 1812 by a Swiss explorer.
The seaport of Aqaba has been strategically important for traders for centuries. The Crusaders built a fortress here, which was rebuilt by the Mamlukes in the 16th century, and it remains one of the town's most important landmarks. The Aqaba Archaeological Museum houses Rashidun, Umayyad, Abbasid and Fatimid artefacts, an unearthed treasures from the ancient city of Aila, are also within its walls.
The small town of Aqaba itself has a relaxed vibe, and is a regular stopover for visitors heading to the diving and snorkelling clubs of the Yamanieh coral reef.
Share Itinerary
Cruising the Suez Canal, Egypt
Apr 14 | Arrive - early morning | Depart - late evening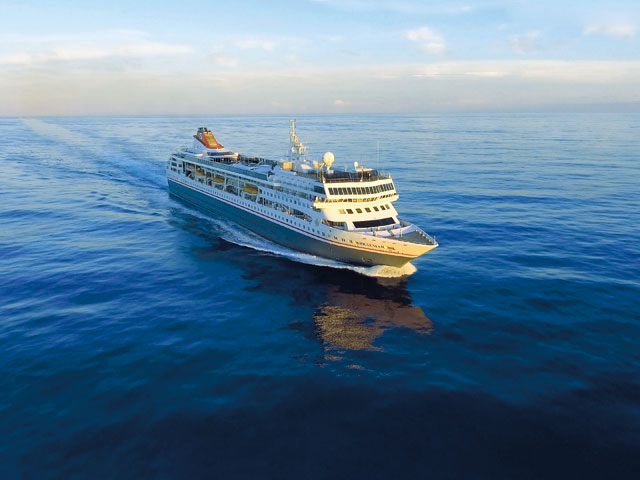 The Canal crosses the Isthmus of Suez dividing the Mediterranean from the Red Sea, and is one of the world's most impressive man made waterways, 101 miles in length. Opened in 1869 it remains one of the world's busiest shipping lanes.
Share Itinerary
Haifa, Israel
Apr 15 - 16 | Arrive - early morning | Depart - early evening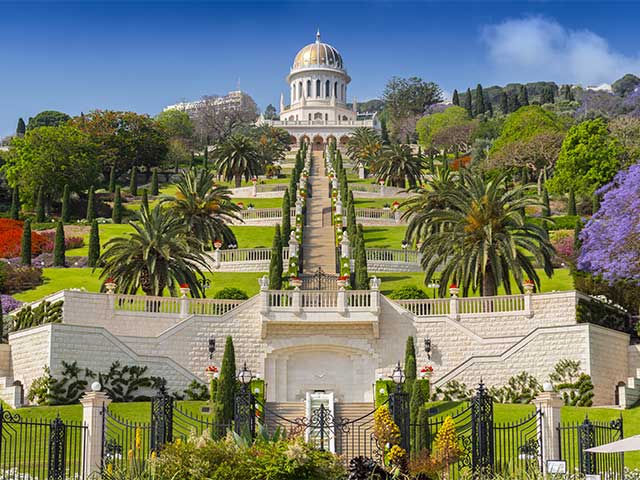 The city of Haifa is said to be one of the prettiest in Israel, and is surrounded by nature sites, churches and mosques, mountains and sea.

The Bahai Gardens here are not to be missed when on your cruise holiday. The site is where members of the Bahai faith have established their shrine – this building is stunning, with a golden dome, marbled walls and nine sides representing the nine major religions in the world. It is surrounded by several other unique buildings, and set amongst some of the most spectacular gardens in the world, which are designed in nine concentric circles and look like waves extending out from the shrine at the centre.

Other interesting places to visit in Haifa include the National Maritime Museum, the Railway Museum and the Khai-Bar Wildlife Preserve.
Share Itinerary
Limassol, Cyprus
Apr 17 | Arrive - early morning | Depart - early evening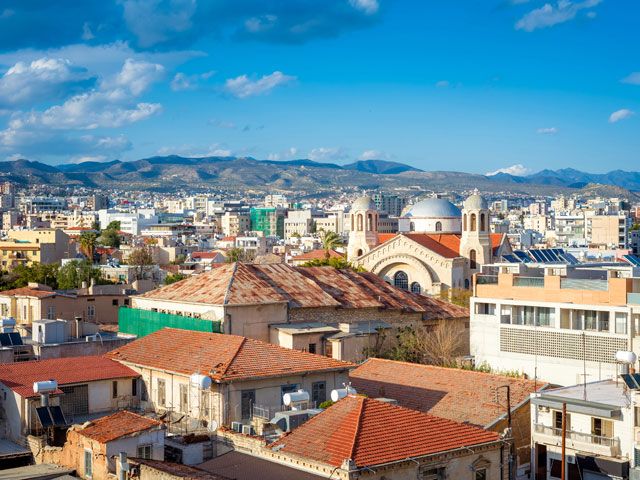 A holiday resort with an excellent family reputation, Limassol has some great beaches and lots of tavernas, cafés and restaurants. But there's plenty else to see and do here. Limassol Castle was built in 1228 by Frederick II of Germany, but largely rebuilt by the Ottoman rulers during the 19th century. It now houses the Cyprus Medieval Museum. The Limassol Archaeological Museum has many fascinating objects from the island's history, especially from the Ottoman period.
Further afield, the Amathus site, about 11km east of the city, has the ruins of a Temple of Aphrodite and tombs from the early Iron Age era. In the other direction is the village of Kolossi; the splendid castle overlooks vineyards where the Cypriot Commandaria wine is produced.
Share Itinerary
Valletta, Malta
Apr 20 | Arrive - early morning | Depart - late afternoon
Malta's 16th century walled capital of Valletta, with its Grand Harbour, is a treasure-chest bristling with Baroque architecture. This most scenic of ancient ports echoes the epic, heroic history of the tiny island it nestles on. Centuries of invasion and siege have brought the influence of Romans, Phoenicians, Greeks, Arabs, Normans, Crusaders and the British – all leaving an enduring mark on Valletta's cultural heritage. Home to The Knights of Malta, an order created in the Middle Ages, the town is known for museums, palaces and grand churches.
Baroque landmarks include the ornate St. John's Co-Cathedral; its opulent interior is crowned by Caravaggio's masterpiece "The Beheading of Saint John". Other noteworthy attractions include the National Museum of Archaeology, the 16th century Casa Rocca Piccola Palace and the military artefacts in the National War Museum.
The cityscape is probably one of the most stunning in the Mediterranean – the city's sun-drenched stone walls have an almost permanent warm, honey hue, while colourful, decorative balconies overlook the worn and tethered streets below. Fine restaurants and shops leap out from side streets or are tucked away in charming courtyards.
Valletta is also well-situated to discover the silent city of Mdina, a fortified city in the Northern Region of Malta and home to the Roman burial complex of St. Paul's Catacombs.
Share Itinerary
Málaga, Spain
Apr 23 | Arrive - early morning | Depart - early evening
Situated on Andalusia's beautiful Mediterranean coast, Málaga offers everything you would expect from a city on the Costa del Sol: seemingly endless stretches of golden sand beaches, fantastic restaurants serving traditional tapas and friendly bars attract locals and holidaymakers alike.
There's much more to the region's captivating capital than busy beach resorts though. Dig a little deeper and a wealth of cultural, historical, artistic and architectural treasures reveal themselves, such as Catedral de Málaga, the statuesque and striking Alcazaba Fortress and Castillo de Gibralfaro. Not-to-be-missed is the Picasso Museum, which exhibits a fantastic collection of masterpieces from arguably Malaga's most famous 'son', Pablo Picasso.
What's more, Málaga is also your gateway to Granada and the glorious Alhambra, where proud 14th century palaces and exotic gardens are Spain's finest expression of Moorish art; as well as the Ronda Valley, where on tour you can explore a charming old town and the picturesque El Tajo gorge.
Share Itinerary
Southampton, England
Apr 27 | Arrive - early morning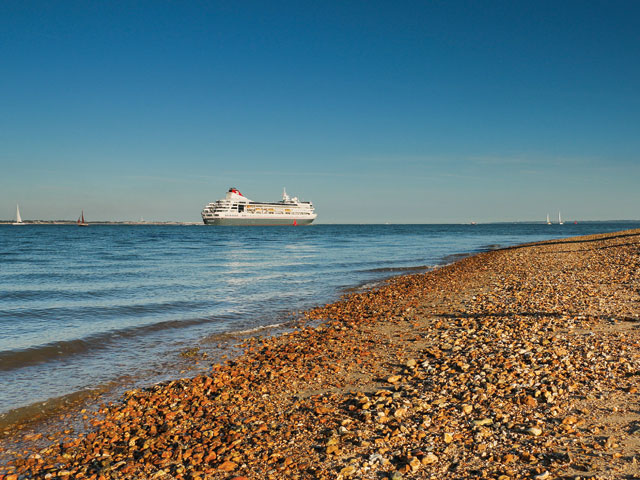 Considered the 'Cruise Capital of the UK', Southampton is the departure port for hundreds for cruise holidays every year, including a number of Fred. Olsen sailings on our smaller sized ships. But beyond being the starting poing for many cruise adventures, you can be assure that this historic city on England's sunny south coast has much to offer as a destination in its own right.
Whether you enjoy a call at Southampton as part of your cruise itinerary, or choose to spend time exploring either before of after your cruise from the city, you'll find there are plenty of attractions, highlights and sights to discover, showcasing fascinating history and local culture. Perhaps see the timber-framed treasures of the Old Town, including the beautiful Tudor House and Gardens, and visit the Sea City Museum to learn of Southampton's links to the Titanic's ill-fated voyage. Other Titanic-related sights include war memorials, the former White Star Line HQ and the Grapes Pub - wander the 'Titanic Trail' to take them in.
There are art galleries and museums aplenty too, as well as an abundance of places to shop, and a number of trendy bars, restaurants and cafés where you can always stop for something delicious. Alternatively, you might opt to explore nature trails and wetlands near to the city, or simply stroll through one of the green spaces or pretty parks.
Share Itinerary