Historic Heritage Sites of the Med
Departed 12th Oct 2021
16 nights
Sails from Newcastle
Balmoral
L2132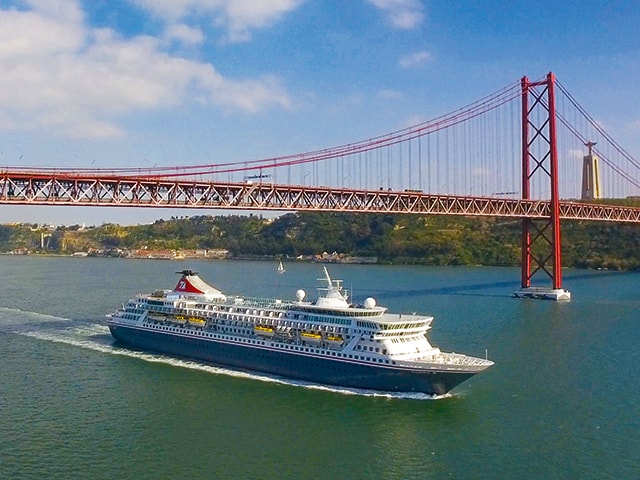 This cruise has now set sail.
Sailing to the western Mediterranean in the autumn, you'll trade the seasonal gloom back home for the sunshine of Spain as you go in search of magnificent historical sites. What's more, you'll also get to be part of the 'Four Ladies in Lisbon' event, joining guests and crew from Fred. Olsen's entire fleet of ocean-going ships for an unforgettable day of celebration. [ReadMoreMob]
For 'Four Ladies in Lisbon', Balmoral, Black Watch, Boudicca and Braemar will dock alongside each other in the Portuguese capital, to create a spectacular occasion similar to those enjoyed at our Bergen and Cádiz events in recent years. On this very special day, you'll get to enjoy fantastic live entertainment from local performers and crews from all four ships; take part in exciting activities; tuck-in to delicious, specially prepared menus; visit the other ships in the fleet, to explore and meet up with guests and crew you may know from previous cruises; and much more. [ReadMoreDesk]Meanwhile, your time in Lisbon is also a chance to delve into the city's rich maritime history – a relaxed walking tour the charming streets, seeking out their iconic monuments and landmarks, is a great way to immerse yourself in the local heritage and culture.
During your time in the Med, an exploration of Spain's beautiful coastline makes for a chance to visit some of the region's most fascinating cities, explore their historical hearts and scenic surrounding for fascinating monuments and landmarks, and immerse yourself in their rich heritage. The diverse attractions of Malaga await; this Andalusian gem is home of highlights such as the magnificent Alhambra Palace. The 9th century mountaintop city of Ronda, and UNESCO-listed Antequera Dolmens archaeological site are within reach on tours too. Also on the sun-kissed shores of Andalusia, you'll get to explore the enchanting Old Town of Cádiz; the cathedral and plazas offer a glimpse of the city's ancient history, while tapas bars serve an authentic taste of local heritage. There's also a visit to Cartagena, where the medieval castle, Roman amphitheatre and Bateria de Castillitos feature high on the 'must-visit' list; Gibraltar, home of the iconic rock and the remarkable Gorham's Caves; and the maritime city of La Coruna. Elsewhere, Braemar takes you to Belgium to, where you're sure to succumb to the charm of Antwerp, while historic Oporto awaits during your time in Portugal too.