Exploring the Far East & Authentic India
Departed 23rd Jan 2020
28 nights
Sails from Benoa
Boudicca
D200203
This cruise has now set sail.
For an unforgettable insight into Asia's remarkable diversity, Boudicca will guide you to a collection of stunning destinations to present you with a taste of the contrasting sights and authentic experiences on offer in spectacular islands and cities across this incredible region.
After meeting your ship in Benoa you'll have a chance to discover the many attractions of Bali, from untrodden beaches and fauna-rich forests to charming villages and beautiful ancient temples, even before you set sail to Singapore, your first port of call. With its soaring skyscrapers and vibrant city life, Singapore is Asia at its most modern. You'll have time to explore the city-state's bustling Financial and Chinatown districts, and even enjoy high tea at the famous Raffles Hotel. For a taste of paradise it's then on to fabulous Phuket. The glistening clear-blue waters and palm-lined beaches here are sure to tempt, though you may wish to choose to seek-out the impressive temples and shrines of Phuket Town. For a once-in-a-lifetime experience, don't miss a speedboat tour to legendary Phang Nga Bay and 'James Bond Island'. In Myanmar, Thilawa is your stopping point for taking in the wonders of this extraordinary country. The awe-inspiring golden and gem-laden spires of the Shwedagon Pagoda, one of Buddhism's most sacred sites, is not-to-be-missed in nearby Yangon, while the spiritual city of Bagan is within reach on a tour from Thilawa too. [ReadMore]
Then, after visiting Colombo, the Sri Lankan capital, an immersive Indian exploration begins in Kochi. During your overnight stay of Kerala State's picturesque coast, you can see the famous Chinese cantilever fishing nets and the British Commonwealth's oldest synagogue, or even opt for an overland tour to the iconic Taj Mahal. Goa is a treat to savour next, with another overnight stay affording time to explore Old Goa and the Latin Quarter or relax at postcard-perfect beaches, before continuing on to magnificent Mumbai for an enthralling mix of old and modern India. Take chances visit the UNESCO-listed Chhatrapati Shivaji Maharaj Railway Station, Dhobi Ghat – the world's largest open-air laundry district – and more. You're sure to spot busy Dabbawallas delivering lunches across the city as you explore. For a memorable end to your time in India, it's on to Porbandar, the birthplace of Gandhi. Be sure to visit Kirti Mandir – Gandhi's childhood home – and the Sudama Temple, a Hindu pilgrimage site dedicated to the devotee of Lord Krishna, to capture Porbandar's spiritual importance.
×
Benoa, Bali
Jan 23 | Depart - late night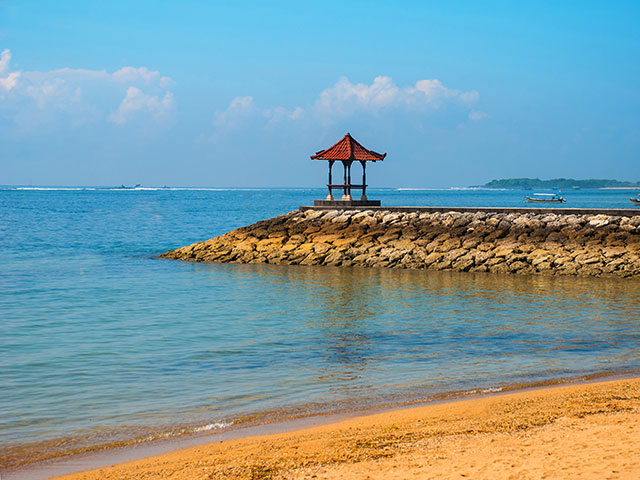 With its beautiful rice fields watered by shallow rivers and forests with many kinds of flora and fauna, Bali is one of Earth's most idyllic places. The friendly locals create a warm, inviting atmosphere, encouraging you to explore the many attractions that the island has to offer including incredible temples, rugged coasts and sandy beaches.
Share Itinerary
Benoa, Bali
Jan 24 | Arrive - late night | Depart - late afternoon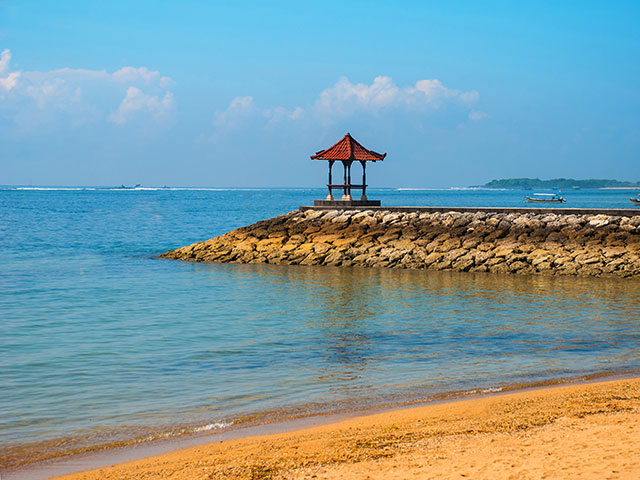 With its beautiful rice fields watered by shallow rivers and forests with many kinds of flora and fauna, Bali is one of Earth's most idyllic places. The friendly locals create a warm, inviting atmosphere, encouraging you to explore the many attractions that the island has to offer including incredible temples, rugged coasts and sandy beaches.
Share Itinerary
Singapore, Singapore
Jan 27 | Arrive - early morning | Depart - early evening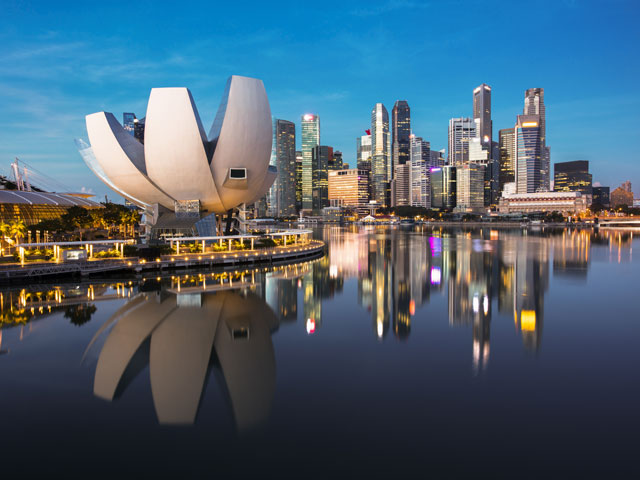 Located at the tip of the Malay Peninsula, this dynamic city-state is the perfect cocktail of culture, cruising, arts and architecture. This global financial centre with a tropical climate and multicultural population is passionately working towards its dream of a 'City in a Garden'.
Getting around Singapore is a fairly rapid affair, thanks to one of the world's most efficient and widespread public transport systems. Its colonial core centres on the Padang, a cricket field since the 1830s and now flanked by grand buildings such as City Hall, and its multitude of Corinthian columns. The 19th century red-and-gold Buddha Tooth Relic Temple in Chinatown, allegedly houses one of Buddha's teeth.
The concrete that once dominated the city skyline is slowly being replaced by 'green skyscrapers', which look more like living ecosystems than office buildings. Visitors stepping out of the centre will find walking trails, treetop bridges, indigenous wildlife and the city's green jewel, the UNESCO-listed World Heritage Singapore Botanic Gardens.
A tantalizing selection of food sold from street markets is dotted around the city. Food is taken very seriously: from cheap street fare to Michelin-starred dining, Singaporean foodies will happily queue for it. Of course, for sheer elegance, nothing beats a Singapore Sling in the Raffles Hotel.
Singapore has always drawn visits from a variety of sea craft. Merchants of every race, colour and faith were quickly drawn to the island, and by 1911, Singapore's population comprised of 48 races, speaking 54 languages. Malay is now the official language.
Share Itinerary
Phuket, Thailand
Jan 29 | Arrive - early morning | Depart - late afternoon

The rain-forested, mountainous island of Phuket in the Andaman Sea, has some of Thailand's most spectacular beaches situated along the clear blue waters of its western shore. This idyllic high-end island resort contrasts nicely with the culturally-rich capital, Phuket Town, which offers busy markets and fabulous food.
Thailand's largest island, Phuket, is connected to the southern tip of the country by a couple of short road bridges. The island has wonderful soft white beaches, fringed by shady palm trees and grass huts. Just offshore, many uninhabited outcrops of tall limestone crags rise straight out of the sea and cry out to be explored. Phuket is the ideal spot to truly relax and unwind with incredible views of the surrounding bays.
In Phuket Town, the Thalang National Museum has fascinating displays about the island's indigenous culture. There are a couple of Hindu Temples on the island, as well as a number of Buddhist shrines, including the Wat Chalong Temple, which is the centre for worship on Phuket. High in the Nakkerd Hills, northwest of Chalong Circle, the 45m-high Big Buddha sits in imposing fashion on the island's finest viewpoint.
Share Itinerary
Yangon, Myanmar
Jan 31 - Feb 01 | Arrive - early morning | Depart - early evening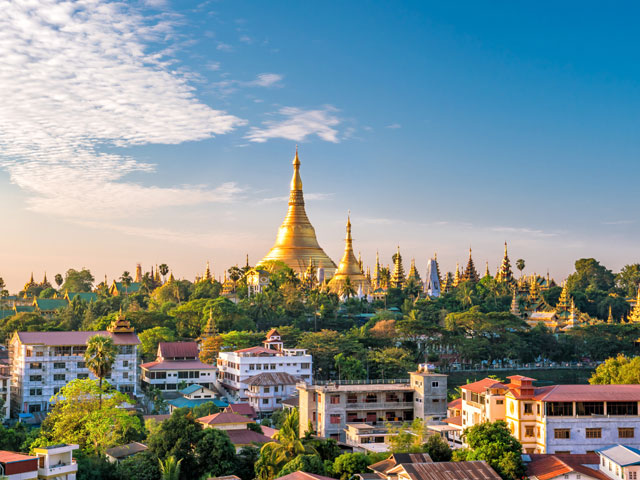 Yangon has earned the nickname 'The Garden City of the East' due its lush green trees, shaded parkland and beautiful lakes. But Yangon (formerly Rangoon) is also the commercial and increasingly cosmopolitan capital of Myanmar.

From the port Thilawa, a visit to Yangon reveals a mix of British colonial architecture, modern high-rises and gilded Buddhist pagodas that define its eclectic skyline. The downtown pavements are one huge open-air market, and feature some of the most impressive colonial architecture in Southeast Asia, alongside a swathe of new shops, restaurants and bars.

The city has barely changed at all, and the Shwedagon Paya, a glistening, awe-inspiring golden Buddhist monument is seemingly the centre of everything. An eye-catching wealth of colour and pigments on its 326ft-high curved exterior gives way to the top of the Pagoda's crown which is encrusted with diamonds, rubies and other gemstones. Locals and monarchs often donate gold to ensure this incredible structure maintains its beauty.

The city's other notable religious sites include the Botataung and Sule Pagodas, both containing Buddhist relics.
Share Itinerary
Colombo, Sri Lanka
Feb 05 - 07 | Arrive - early morning | Depart - early evening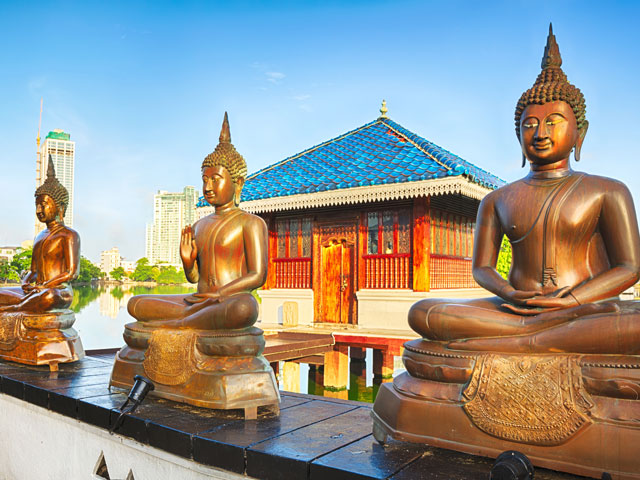 The port city of Colombo is rich with colonial heritage, religions, races and cultures. With a population of over 4.5 million people, Colombo is a bustling, fascinating and noisy city. It combines Dutch and British colonial buildings, with Buddhist temples, Islamic mosques, Christian churches, and modern gleaming skyscrapers. The impressive Colombo National Museum, dedicated to Sri Lankan history, is worth uncovering and it borders the sprawling Viharamahadevi Park, home to a giant Buddha.
The narrow cobbled streets of Pettah, the main bazaar district, are full of shops and street markets selling an amazing array of goods at bargain prices. There are plenty of places to eat, from small shops selling pancakes to coffee shops and upmarket restaurants.
A more rustic, slow-paced Sri Lankan experience can be found in nearby Negombo, with its quaint village streets and lively fish market. Alternatively, sun seekers can venture to the private beach of Mt. Lavinia, located on the breath-taking Golden Mile beachfront.
Share Itinerary
Kochi, India
Feb 10 - 11 | Arrive - early morning | Depart - early evening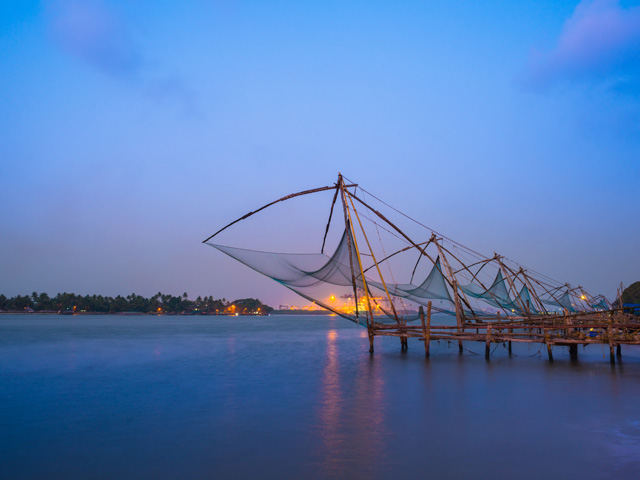 Known as the Queen of the Arabian Sea, serene Kochi on India's south-western coast has been drawing traders, explorers and travellers to its shores for over 600 years.
Formerly the port of Cochin, Kochi grew to prominence as an outlet for the spice trade in the 14th century, and is most famous for the iconic-cantilevered Chinese fishing nets that billow out across its harbour. This ancient trading centre is a melting pot of cultures and religions, evident in the town's buildings, which range from the oldest synagogue in the British Commonwealth to the austere Mattancherry Palace, built by the Dutch but influenced by the Portuguese.
Share Itinerary
Mormugão, Goa, India
Feb 13 - 14 | Arrive - early morning | Depart - late afternoon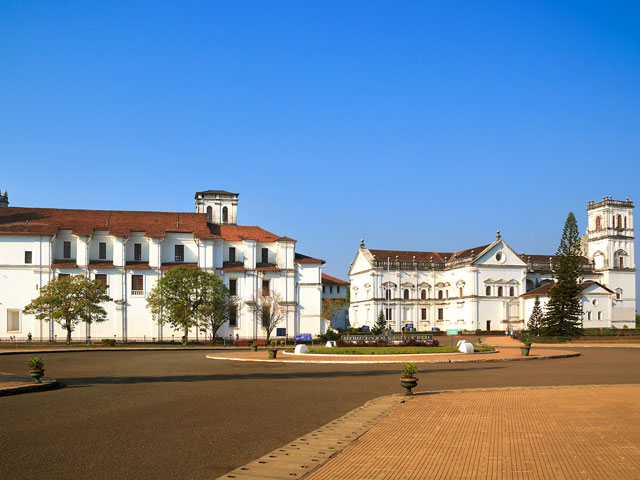 Mormugão is the main port of the tiny State of Goa, renowned for superb beaches and a colonial history that combines the best of Indian and Portuguese culture.
Known as the 'Pearl of the Orient', Goa showcases a mix of scenic beauty and architectural delights, from golden beaches and spice plantations to striking temples and bustling markets.
The Arch of the Viceroys was built in 1597 to commemorate Vasco da Gama's arrival in India, while the nearby Church of St. Cajetan is modelled on St. Peter's in Rome. Opposite the magnificent Se Cathedral at Old Goa – one of the largest churches in Asia, is the Basilica of Bom. Here the remains of Francis Xavier, a founder of the Jesuit order and patron saint of Goa, lie in a silver casket next to the altar.
Yoga is king in Goa, and the crop of spiritual activities available to visitors grows each year. T'ai chi sessions, Reiki healing courses, meditation, and most forms of spiritual exploration are all practised freely. The scents, spices and flavours of Goa's cuisine is the area's other main attraction, and the Indo-Portuguese influence will surprise and tantalise even seasoned travellers.
Share Itinerary
Mumbai, India
Feb 15 - 16 | Arrive - late morning | Depart - late morning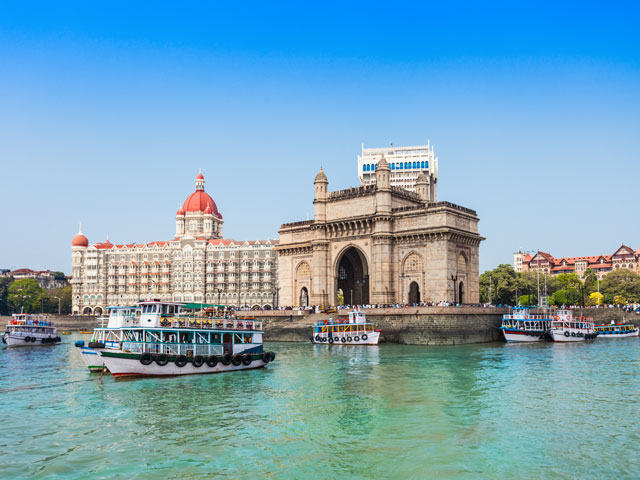 Once a cluster of seven islands covered with coconut palms, Mumbai, formerly Bombay, is a sprawling, vibrant city on India's west coast. It is a busy, densely-populated city, home to India's most prolific film industry, Bollywood, and the largest tropical forest in an urban zone.
Mumbai can prove to be a surprising introduction to India. On its harbour waterfront stands the iconic Gateway of India stone arch; through it is India's centre for finance and fashion, and a fervent religious crossroads. As such the city's furious energy – and often heavy air pollution – can make it a totally different experience for visitors.
But once in Mumbai's heart, some of the most imposing colonial-era architecture on earth is on view, as are its secret bazaars, hidden temples, and India's top restaurants and intense nightlife.
The cultural mix is extraordinary: religious sites like the Jain Temple and the closely guarded Parsi Towers of Silence all exist happily next to the Victoria Railway Terminus, the Royal Bombay Yacht Club and the Ghandi Memorial Museum. The unique and popular bazaars offer souvenir trinkets, traditional shawls and shoes all ready to be bartered over.
Venturing beyond Mumbai, the elusive and lesser known Elephanta Caves are captivating. Set in attractive surroundings of lush green vegetation, vines and towering trees, Elephanta Island offers a stark contrast from the bustling inner city of Mumbai. The eerie Buddhist and Hindu caves, and their honeycomb of halls, shrines and pillars, are a must-see.
Share Itinerary
Porbandar, India
Feb 17 | Arrive - early morning | Depart - late afternoon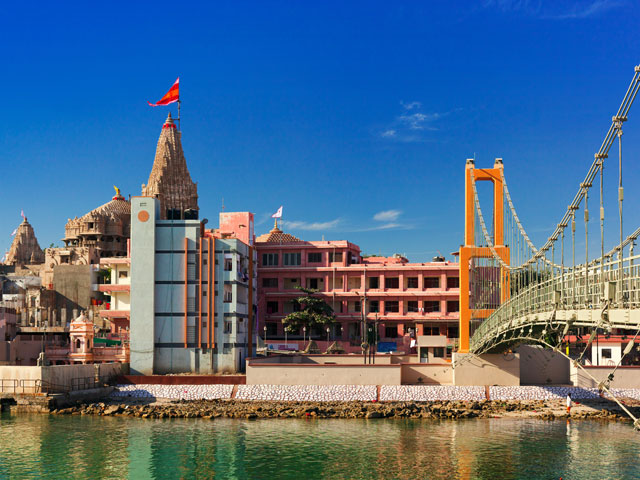 Porbandar, a coastal city in the Indian state of Gujarat, is the birthplace of the 'Father of India' and the loyal friend and devotee of Lord Krishna, Sudama. As a result, Porbandar is of great religious and spiritual importance, and a place of pilgrimage for Hindus across the world.
Porbandar's fascinating history dates back to the Harappan age (1600-1400BC). Its ancient port served as a vital trade link to Arabia and countries in the Persian Gulf, and had close ties to some of India's great religious and spiritual figures.
Best known as the birthplace of Mahatma Gandhi and Sudama, Hindus make the pilgrimage to visit various dedicated temples and museums. The must-see Kirti Mandir, a memorial dedicated to Gandhi, is on the site where ancestral properties of the Gandhi family once were, and contains various pictures and paintings depicting the life and influence of Mahatma.
The Krishna Sudama Temple, dedicated to the friendship between Lord Krishna and Sudama, is another of Porbandar's unmissable attractions, while the beautiful temple of Sir Hari is well worth a visit too.
Share Itinerary
Dubai, United Arab Emirates
Feb 20 | Arrive - early morning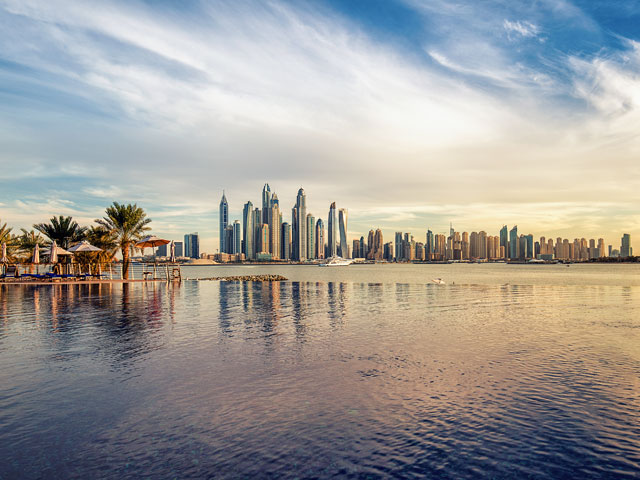 To the south of the Arabian Peninsula, Dubai uniquely blends traditional Arabia with the lure of an ultramodern city. The emirate is a relatively new tourist destination that has gained popularity through its luxury shopping and stunning architecture. It is a world of sharp contrasts: from the contemporary malls, hotels and theme parks to the historic culture of Dubai's Shindagha and Bastakiya districts.

Experience the soaring Burj Khalifa Tower, the world's tallest building, visit the man-made Atlantis Palm Island or take a drive through the Arabian Desert, where the sand dunes display a spectacular sight at sunrise. The beaches stretch as far as the eye can see – the water sports on Kite Beach are a particular attraction – and limitless culinary delights await in award-winning Michelin star restaurants. The city is alive 24/7, and the nightlife is famously upbeat. Some tranquillity, however, can be found at the Al-Mamzar Park.

Dynamic Dubai is constantly developing and evolving, including what can be picked up in the traditional Souks. From the usual spices and delicious local treats to more extravagant items including gold, silver, precious stones and perfumes, the atmospheric lanes of old Dubai are piled high with aromatic and glittering surprises.
Share Itinerary