Exploring the Cultures of Asia
Departed 28th Jan 2021
28 nights
Sails from Hong Kong
Boudicca
D210203
This cruise has now set sail.
×
Hong Kong, China
Jan 28 - 29 | Depart - early evening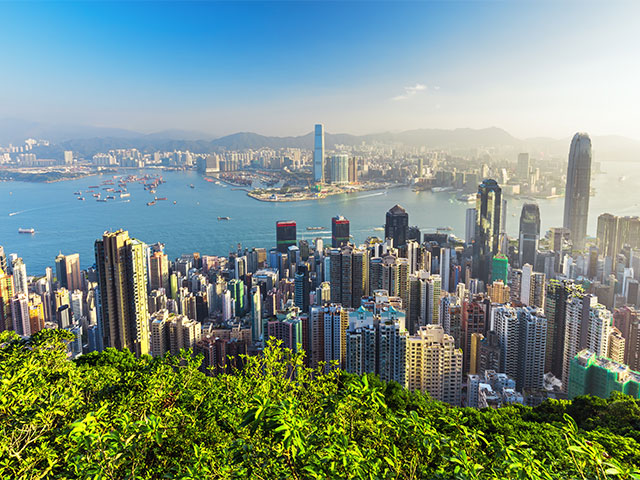 At first sight, Hong Kong is a hectic mix of bright lights, towering skyscrapers and crowded streets. This bustling city is renowned for its incredible skyline where, at night, the skyscrapers attempt to out-do each other with their incredible light shows.
However, upon closer inspection, Hong Kong offers so much more as a cruise holiday destination, with a plethora of shopping malls, restaurants serving delicious local cuisine and incredible traditional architecture to admire. Perhaps take a tram ride to Victoria Peak for a magnificent perspective over this "Fragrant Harbour".
Offering unrivalled shopping amongst a plethora of malls and streets lined with delicious street food and restaurants alike, the city has so much to offer and can show you a traditional and architectural side to its many personalities, the most popular being the beautifully detailed Tian Tin Buddha and Sik Sik Yuen Wong Tai Sin Temple.
Share Itinerary
Da Nang, Vietnam
Jan 31 | Arrive - early morning | Depart - late night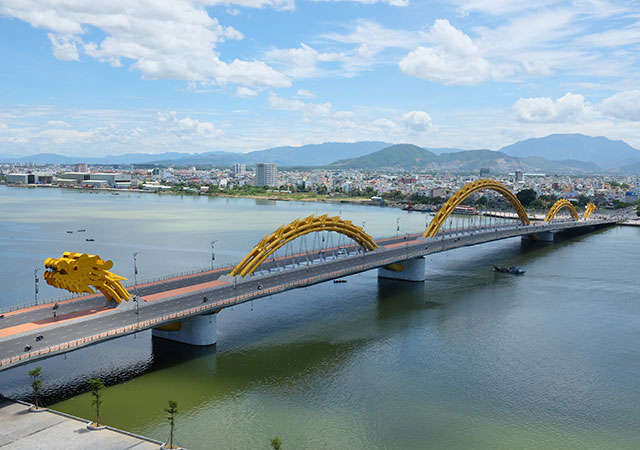 Somewhere between idyllic coastal resort and bustling metropolis, Da Nang – situated on Central Vietnam's beautiful China Sea Coast, midway between Ha Noi and Ho Chi Ming City – is a city of diverse delights, a destination popular with sun-seekers and lovers of rich history and culture alike.
Many visitors to Da Nang are drawn to the city by its 30 Kilometres of breathtaking coastline and its close proximity to some of Vietnam's most spectacular beaches and seaside scenes. My Khe Beach, a glorious stretch of white-sands lapped by warm, crystal-clear waters is a popular spot for sunbathing, water sports and for sampling local food and drink at the bars and restaurants on the promenade, while less developed Long Co Beach nearby makes for a peaceful haven for relaxation.
Head inland away from the coast and Da Nang reveals many cultural and city sightseeing highlights too. Among the hectic streets, you'll find interesting historical sites including the Buddhist Phap Lam Pagoda – a serene escape from the hustle and bustle – and Da Nang Cathedral, one of Vietnam's most unique Catholic churches. Elsewhere, modern architectural gems, such as the iconic Dragon Bridge and remarkable Golden Bridge – an impressive structure 'held up' by imposing concrete hands, overlooking the picturesque Bá Ná Hills – provide unmissable photo opportunities.
Share Itinerary
Ha Long Bay, Vietnam
Feb 02 | Arrive - early morning | Depart - early evening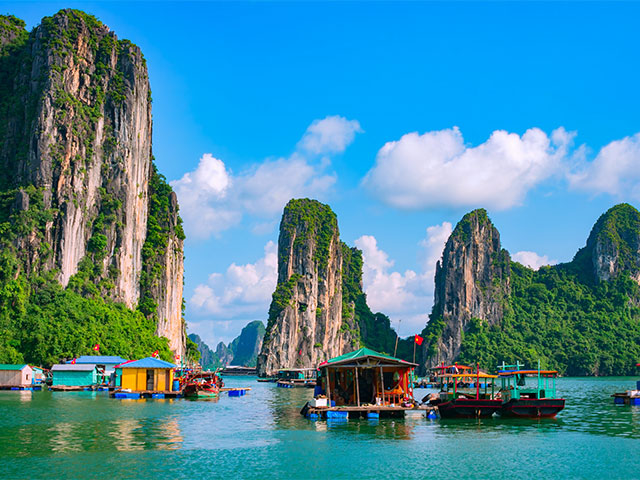 Anchor Port
- A small boat or 'tender' transports guests from ship to shore.
Learn more
Vietnam's legendary Ha Long Bay is one of Asia's most iconic scenes, an UNESCO-listed wonderland showcasing some of Mother Nature's finest work.
Spanning a vast area of over 1,500 square miles, the emerald green and aquamarine waters of the bay are scattered with more than 1,900 mostly uninhabited – and therefore largely unspoilt – limestone isles, islets and karsts of various shapes and sizes, dotted with naturally carved caverns, grottos and lakes, creating a must-be-seen-to-be-believed landscape and unmissable views and photo opportunities.
A visit to Ha Long on a Fred. Olsen cruise presents an opportunity to uncover some of the most spectacular islands, see remarkable rock formations, lush forests, coral reefs and colourful caves up-close, and revel in bay's astonishing tranquillity on a boat tour – a simply unforgettable, once-in-a-lifetime experience.
Share Itinerary
Nha Trang, Vietnam
Feb 04 | Arrive - early morning | Depart - late afternoon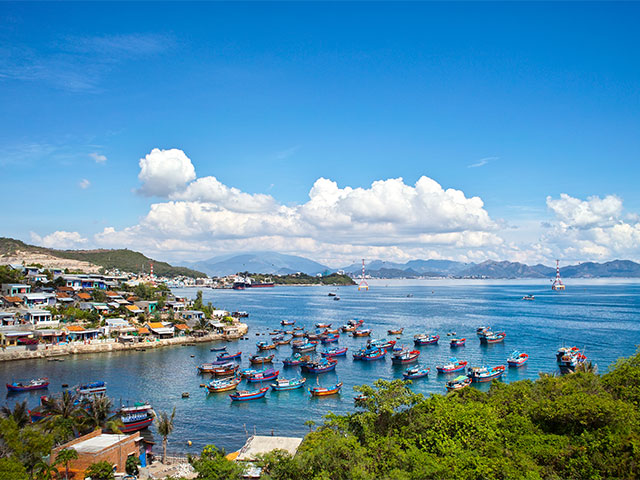 Nha Trang also has a reputation for outstanding scuba diving with its white sandy beaches, hot springs, a vast array of species of fish and a colourful coral reef.
Culture lovers should be sure to visit the Po Nagar Tower, a well preserved Cham temple tower dedicated to Yan Po Nagar, the goddess of the country. Also of note is the Yersin Museum, a museum dedicated to French bacteriologist Alexandre Yersin.
Nha Trang is also home to the renowned Studio & Art Gallery, Long Thanh, a professional Vietnamese black and white photographer who maintains the use of films and developing photographs by hand.
Share Itinerary
Ho Chi Minh City, Vietnam
Feb 05 - 06 | Arrive - late morning | Depart - early evening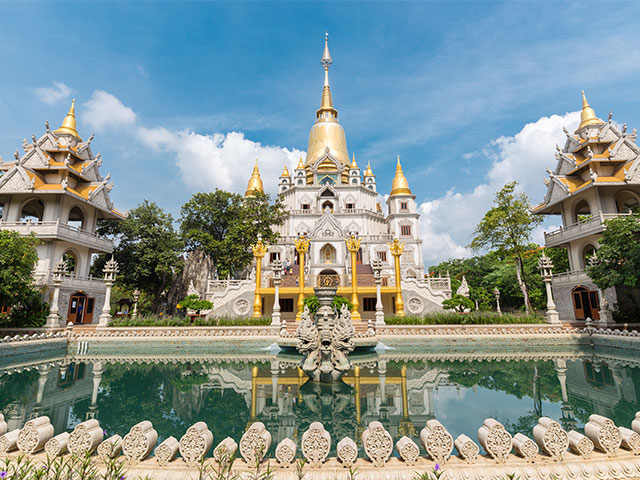 Spanning both sides of the Saigon River, north-east of the tranquil Mekong Delta, Ho Chi Minh City is a vast and cosmopolitan hub. Not far from the hustle and bustle of this central destination are the highlands and rainforests that teem with exotic wildlife where you can discover the Mekong Delta and more rural parts of Vietnam.
The beaches here are famed for being some of the best in Southeast Asia, and the cuisine is universally acknowledged for its range of tastes and dishes, you simply can't leave without indulging in these hand cooked specialities.
Share Itinerary
Singapore, Singapore
Feb 08 - 09 | Arrive - early afternoon | Depart - early evening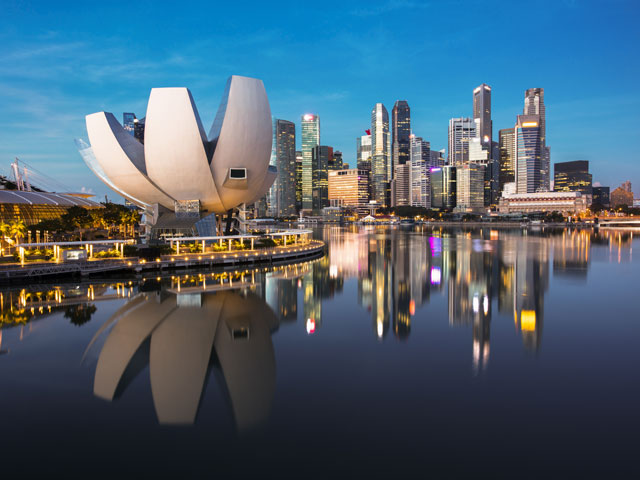 Located at the tip of the Malay Peninsula, this dynamic city-state is the perfect cocktail of culture, cruising, arts and architecture. This global financial centre with a tropical climate and multicultural population is passionately working towards its dream of a 'City in a Garden'.
Getting around Singapore is a fairly rapid affair, thanks to one of the world's most efficient and widespread public transport systems. Its colonial core centres on the Padang, a cricket field since the 1830s and now flanked by grand buildings such as City Hall, and its multitude of Corinthian columns. The 19th century red-and-gold Buddha Tooth Relic Temple in Chinatown, allegedly houses one of Buddha's teeth.
The concrete that once dominated the city skyline is slowly being replaced by 'green skyscrapers', which look more like living ecosystems than office buildings. Visitors stepping out of the centre will find walking trails, treetop bridges, indigenous wildlife and the city's green jewel, the UNESCO-listed World Heritage Singapore Botanic Gardens.
A tantalizing selection of food sold from street markets is dotted around the city. Food is taken very seriously: from cheap street fare to Michelin-starred dining, Singaporean foodies will happily queue for it. Of course, for sheer elegance, nothing beats a Singapore Sling in the Raffles Hotel.
Singapore has always drawn visits from a variety of sea craft. Merchants of every race, colour and faith were quickly drawn to the island, and by 1911, Singapore's population comprised of 48 races, speaking 54 languages. Malay is now the official language.
Share Itinerary
Phuket, Thailand
Feb 11 - 12 | Arrive - early morning | Depart - late afternoon

The rain-forested, mountainous island of Phuket in the Andaman Sea, has some of Thailand's most spectacular beaches situated along the clear blue waters of its western shore. This idyllic high-end island resort contrasts nicely with the culturally-rich capital, Phuket Town, which offers busy markets and fabulous food.
Thailand's largest island, Phuket, is connected to the southern tip of the country by a couple of short road bridges. The island has wonderful soft white beaches, fringed by shady palm trees and grass huts. Just offshore, many uninhabited outcrops of tall limestone crags rise straight out of the sea and cry out to be explored. Phuket is the ideal spot to truly relax and unwind with incredible views of the surrounding bays.
In Phuket Town, the Thalang National Museum has fascinating displays about the island's indigenous culture. There are a couple of Hindu Temples on the island, as well as a number of Buddhist shrines, including the Wat Chalong Temple, which is the centre for worship on Phuket. High in the Nakkerd Hills, northwest of Chalong Circle, the 45m-high Big Buddha sits in imposing fashion on the island's finest viewpoint.
Share Itinerary
Sabang, Weh Island, Indonesia
Feb 13 | Arrive - early morning | Depart - late afternoon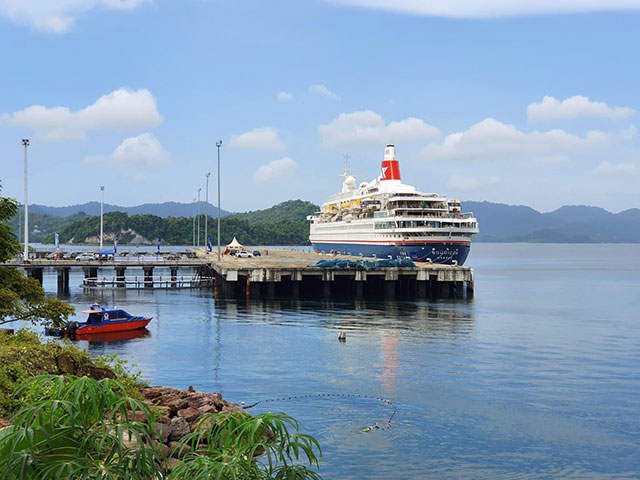 Although it has been a popular destination for in-the-know divers and hikers for decades, remote Weh Island – also known locally as Pulau Weh – has managed to stay off Indonesia's well-trodden beaten track. The island, much of which is part of a National Wildlife Protection Area, is beautifully unspoilt and boasts gorgeous beaches, dense jungle interiors and coral reefs that beg for exploration.
Weh's scuba diving and snorkelling spots are among the very best in Southeast Asia. The island's underwater canyons and rugged rocks are sanctuary's for a diverse array of marine flora and fauna, such as lionfish and clown fish, thorny seahorse, hawksbill turtle, Kuhl's stingray and whale sharks to name just a few. Wonderful wildlife awaits discovery within the depths of the island's lush volcanic landscapes too, including wild monkeys, lizards, boar and colourful butterflies.
Sabang, Weh's capital, is a delight in itself, fronted by breathtaking, wind-swept white sands and surrounded by the rich rainforest of Puerto Princesa Subterranean River National Park. No time here is complete without venturing into Sabang to sample the local traditions and culture; visit the Monument of Kilometre Zero of Indonesia, Indonesia's westernmost point; and to take in historic sites such as the Japanese Fortress.
Share Itinerary
Colombo, Sri Lanka
Feb 16 | Arrive - early morning | Depart - early evening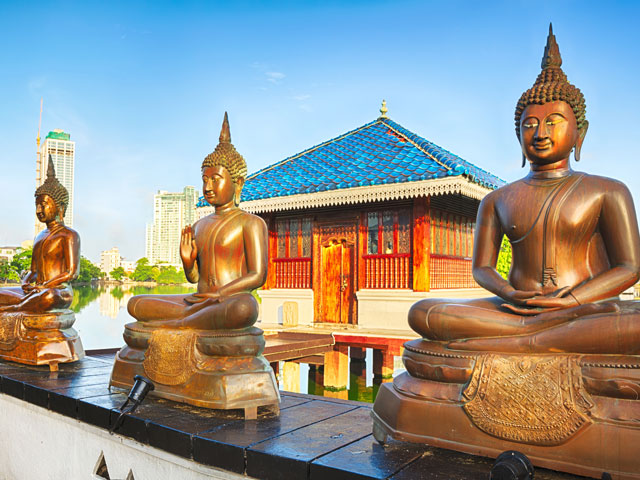 The port city of Colombo is rich with colonial heritage, religions, races and cultures. With a population of over 4.5 million people, Colombo is a bustling, fascinating and noisy city. It combines Dutch and British colonial buildings, with Buddhist temples, Islamic mosques, Christian churches, and modern gleaming skyscrapers. The impressive Colombo National Museum, dedicated to Sri Lankan history, is worth uncovering and it borders the sprawling Viharamahadevi Park, home to a giant Buddha.
The narrow cobbled streets of Pettah, the main bazaar district, are full of shops and street markets selling an amazing array of goods at bargain prices. There are plenty of places to eat, from small shops selling pancakes to coffee shops and upmarket restaurants.
A more rustic, slow-paced Sri Lankan experience can be found in nearby Negombo, with its quaint village streets and lively fish market. Alternatively, sun seekers can venture to the private beach of Mt. Lavinia, located on the breath-taking Golden Mile beachfront.
Share Itinerary
Kochi, India
Feb 18 | Arrive - early morning | Depart - early evening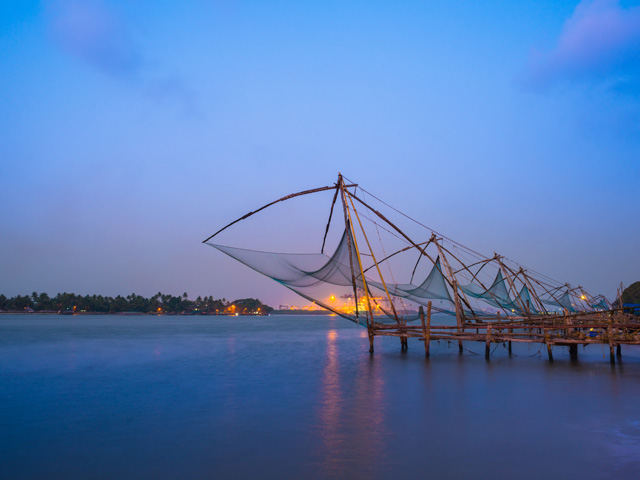 Known as the Queen of the Arabian Sea, serene Kochi on India's south-western coast has been drawing traders, explorers and travellers to its shores for over 600 years.
Formerly the port of Cochin, Kochi grew to prominence as an outlet for the spice trade in the 14th century, and is most famous for the iconic-cantilevered Chinese fishing nets that billow out across its harbour. This ancient trading centre is a melting pot of cultures and religions, evident in the town's buildings, which range from the oldest synagogue in the British Commonwealth to the austere Mattancherry Palace, built by the Dutch but influenced by the Portuguese.
Share Itinerary
Mormugão, Goa, India
Feb 20 | Arrive - early morning | Depart - early evening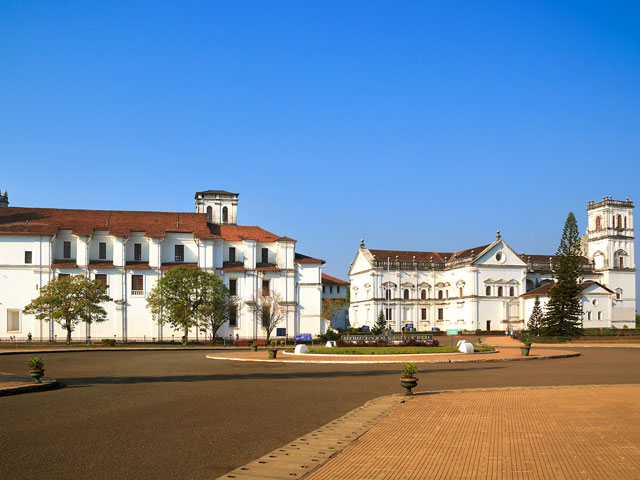 Mormugão is the main port of the tiny State of Goa, renowned for superb beaches and a colonial history that combines the best of Indian and Portuguese culture.
Known as the 'Pearl of the Orient', Goa showcases a mix of scenic beauty and architectural delights, from golden beaches and spice plantations to striking temples and bustling markets.
The Arch of the Viceroys was built in 1597 to commemorate Vasco da Gama's arrival in India, while the nearby Church of St. Cajetan is modelled on St. Peter's in Rome. Opposite the magnificent Se Cathedral at Old Goa – one of the largest churches in Asia, is the Basilica of Bom. Here the remains of Francis Xavier, a founder of the Jesuit order and patron saint of Goa, lie in a silver casket next to the altar.
Yoga is king in Goa, and the crop of spiritual activities available to visitors grows each year. T'ai chi sessions, Reiki healing courses, meditation, and most forms of spiritual exploration are all practised freely. The scents, spices and flavours of Goa's cuisine is the area's other main attraction, and the Indo-Portuguese influence will surprise and tantalise even seasoned travellers.
Share Itinerary
Mumbai, India
Feb 21 - 22 | Arrive - early afternoon | Depart - early evening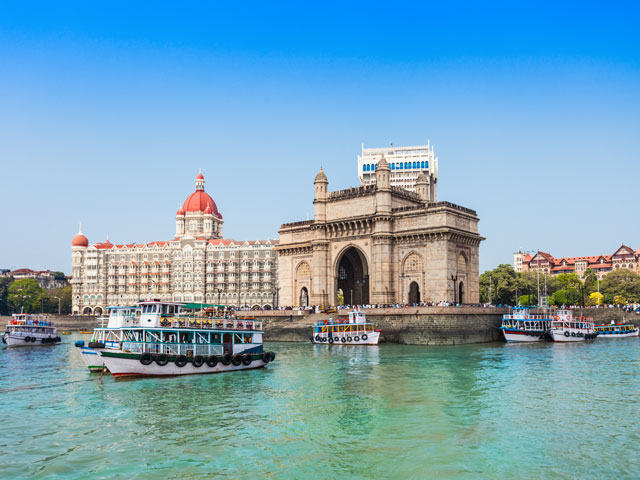 Once a cluster of seven islands covered with coconut palms, Mumbai, formerly Bombay, is a sprawling, vibrant city on India's west coast. It is a busy, densely-populated city, home to India's most prolific film industry, Bollywood, and the largest tropical forest in an urban zone.
Mumbai can prove to be a surprising introduction to India. On its harbour waterfront stands the iconic Gateway of India stone arch; through it is India's centre for finance and fashion, and a fervent religious crossroads. As such the city's furious energy – and often heavy air pollution – can make it a totally different experience for visitors.
But once in Mumbai's heart, some of the most imposing colonial-era architecture on earth is on view, as are its secret bazaars, hidden temples, and India's top restaurants and intense nightlife.
The cultural mix is extraordinary: religious sites like the Jain Temple and the closely guarded Parsi Towers of Silence all exist happily next to the Victoria Railway Terminus, the Royal Bombay Yacht Club and the Ghandi Memorial Museum. The unique and popular bazaars offer souvenir trinkets, traditional shawls and shoes all ready to be bartered over.
Venturing beyond Mumbai, the elusive and lesser known Elephanta Caves are captivating. Set in attractive surroundings of lush green vegetation, vines and towering trees, Elephanta Island offers a stark contrast from the bustling inner city of Mumbai. The eerie Buddhist and Hindu caves, and their honeycomb of halls, shrines and pillars, are a must-see.
Share Itinerary
Muscat, Oman
Feb 25 | Arrive - early morning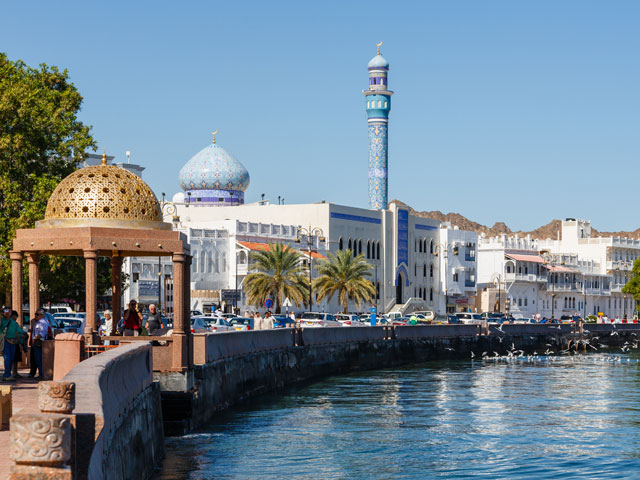 Muscat, Oman's port capital, offers plenty of history, an air of tradition, and a distinctly exotic location, all crammed between the mountains, the sea – laden with fauna-rich lagoons – and the desert.
With history dating back to ancient times, Muscat mixes modern architecture and fashionable shopping malls with souks, Royal Palaces and landmarks like its 16th century Portuguese forts, Al Jalali and Mirani that keep watch over the harbour.
The ornate marble-clad Sultan Qaboos Grand Mosque, with its 50m dome, can accommodate 20,000 people. This most modern of Islamic buildings is also home to the world's second largest hand-woven carpet, which took four years to thread and is made from various vibrant vegetable dyes.
The opening of the Royal Opera House in 2011, and the splendid National Museum which opened six years later, offer additional culture highlights that give the city a personality all of its own.
Share Itinerary
Unfortunately, this cruise will not be going ahead as planned.
We are aware that if you are sailing with us, you will have many questions about what these cancellations mean for you and we will be in touch as soon as we can.
We are likely to be very busy in our call centre over the next few days. Please bear with us, there is no rush for you to make a decision. We are working very hard for you and promise that we will deal with each and every one of your questions as soon as we possibly can.