Discovering Asia with Singapore at New Year
Departed 17th Dec 2020
28 nights
Sails from Victoria
Boudicca
D2030
This cruise has now set sail.
×
Victoria, Seychelles
Dec 17 - 18 | Depart - late afternoon
Surrounded by turquoise swells of the quietly rippling Indian Ocean, and sprinkled with dense forests and tall hills offering breath-taking views, Victoria, on the Seychelles island of Mahé, is the epitome of paradise.

The port is one of the smallest capitals in the world and offers visitors a number of highlights to discover. The colourful Sir Selwyn Clarke Market sells spices, fruit, art and souvenirs. Near the Cathedral of Our Lady of Immaculate Conception is the imposing La Domus, built in 1934 to house Catholic missionaries, while the quaint old courthouse has a clock tower that is a replica of Big Ben.

The island's pristine, golden sands are best seen from the top of Morne Blanc, which delivers breath-taking panoramic views across the lush landscape. Seychelles National Botanical Gardens showcases endemic palms and orchids, as well as giant tortoises and fruit bats, and is worth a visit.
Share Itinerary
Malé, Maldives
Dec 22 | Arrive - early morning | Depart - early evening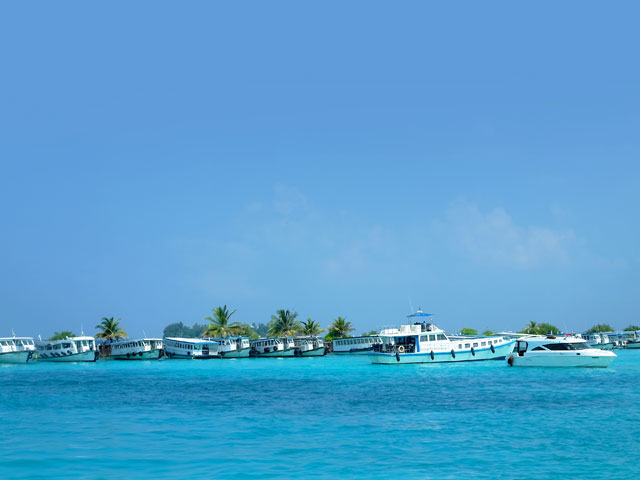 Anchor Port
- A small boat or 'tender' transports guests from ship to shore.
Learn more
Malé is the green and pleasant capital of the Maldives. Part of the stunning Malé Coral Atoll chain, situated some 400 miles south-west of Sri Lanka, the city offers the best chance to see the 'real' Maldivian way of life.

This island nation in the Indian Ocean is, at times, little more than an uninhabited sandbar peeping above the waterline, while a handful have been developed to offer an experience of pure escapism in a world of powdery white sand and underwater treasures.

Malé is a bustling, commercial centre known for its mosques and colourful buildings. The Islamic Centre features a mosque, a library and a distinctive gold dome. This quirky capital has alcohol-free bars and restaurants bunched up against shops and, near the harbour, lively markets offering a delicious variety of fresh fruit and the local catch-of-the-day.
Share Itinerary
Colombo, Sri Lanka
Dec 24 | Arrive - early morning | Depart - late afternoon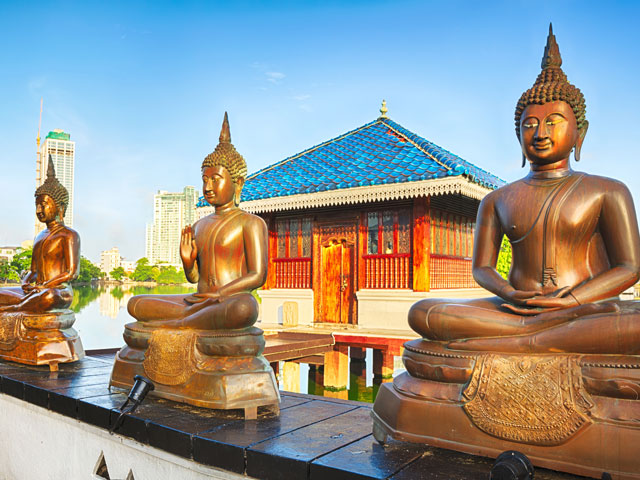 The port city of Colombo is rich with colonial heritage, religions, races and cultures. With a population of over 4.5 million people, Colombo is a bustling, fascinating and noisy city. It combines Dutch and British colonial buildings, with Buddhist temples, Islamic mosques, Christian churches, and modern gleaming skyscrapers. The impressive Colombo National Museum, dedicated to Sri Lankan history, is worth uncovering and it borders the sprawling Viharamahadevi Park, home to a giant Buddha.
The narrow cobbled streets of Pettah, the main bazaar district, are full of shops and street markets selling an amazing array of goods at bargain prices. There are plenty of places to eat, from small shops selling pancakes to coffee shops and upmarket restaurants.
A more rustic, slow-paced Sri Lankan experience can be found in nearby Negombo, with its quaint village streets and lively fish market. Alternatively, sun seekers can venture to the private beach of Mt. Lavinia, located on the breath-taking Golden Mile beachfront.
Share Itinerary
Georgetown, Penang, Malaysia
Dec 28 | Arrive - early morning | Depart - late afternoon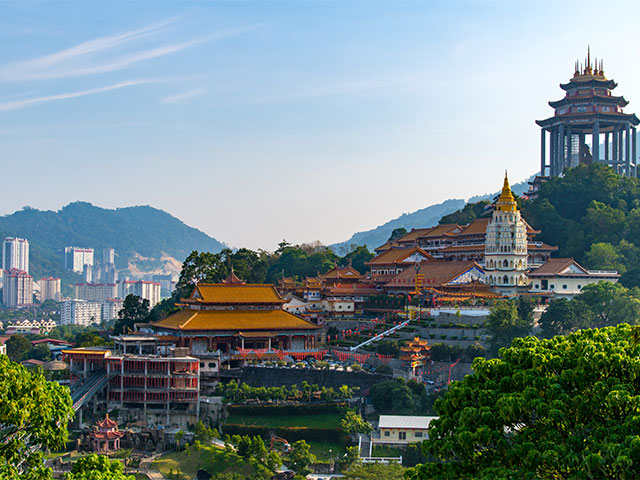 Penang Island, off Malaysia's west coast, is the oldest British settlement in Malaysia and one of the country's major resorts. An UNESCO World Heritage Site, Georgetown boasts an incredible skyline and architecture inspired by traditional Chinese culture. Compact and easy to navigate with plenty to see and do, the city is a joy to explore.
Situated on the northeast coast, this city has lots of Chinese flavour and abounds in 'old world' charm. Georgetown is relatively compact and easy to wander round.
At the centre of the city is Fort Cornwallis, constructed by the British in the 18th century. Within the walls of the fort is a remarkable cannon called Seri Rambai.
Georgetown boasts a beautiful skyline with Kek Lok Si Temple high in the leafy mountains and rolling hills of the island vegetation.
Share Itinerary
Port Klang (Kuala Lumpur), Malaysia
Dec 29 | Arrive - early morning | Depart - late evening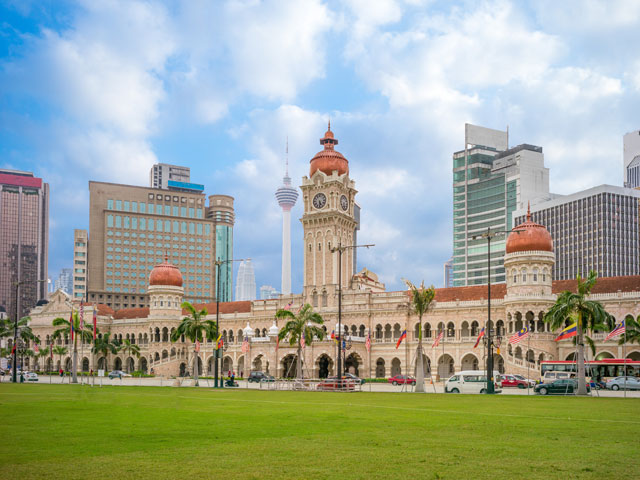 Port Klang is the main gateway to Malaysia. While principally a hopping-off point for Kuala Lumpur, the country's largest seaport does have a fine reputation for excellent seafood.
The skyline of the nearby capital, Kuala Lumpur, is dotted with minarets and Mogul-style domes but dominated by the 451m-tall Petronas Twin Towers: a pair of glass-and-steel-clad skyscrapers with Islamic motifs and connected by a dizzying public skybridge and observation deck. The city also features British colonial-era landmarks such as the Kuala Lumpur Railway Station and the Sultan Abdul Samad Building.
This incredibly diverse city is awash with multicultural character; its colourful streets, shaded by the leafy canopies of banyan trees, are lined with the most delicious food stalls selling local specialities like dim sum and wonton noodles.
On a different level, glitzy air-conditioned malls such as Pavilion Kuala Lumpur and Mid Valley Megamall offer designer fashion and bargains, while Bangsar and Publika are the places to go for goods from offbeat independent designers.
A walk down these streets as they transform from soaring skyscrapers to busy coffee shops and then to lush green parkland with blossoms and ponds, is a truly unforgettable experience.
Share Itinerary
Singapore, Singapore
Dec 30 - Jan 01 | Arrive - early afternoon | Depart - late night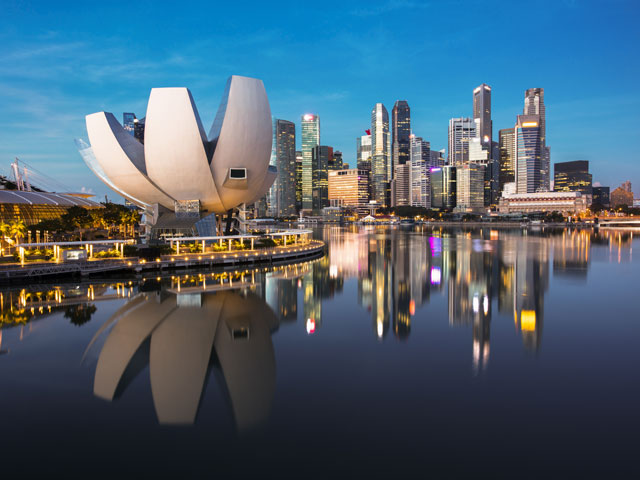 Located at the tip of the Malay Peninsula, this dynamic city-state is the perfect cocktail of culture, cruising, arts and architecture. This global financial centre with a tropical climate and multicultural population is passionately working towards its dream of a 'City in a Garden'.
Getting around Singapore is a fairly rapid affair, thanks to one of the world's most efficient and widespread public transport systems. Its colonial core centres on the Padang, a cricket field since the 1830s and now flanked by grand buildings such as City Hall, and its multitude of Corinthian columns. The 19th century red-and-gold Buddha Tooth Relic Temple in Chinatown, allegedly houses one of Buddha's teeth.
The concrete that once dominated the city skyline is slowly being replaced by 'green skyscrapers', which look more like living ecosystems than office buildings. Visitors stepping out of the centre will find walking trails, treetop bridges, indigenous wildlife and the city's green jewel, the UNESCO-listed World Heritage Singapore Botanic Gardens.
A tantalizing selection of food sold from street markets is dotted around the city. Food is taken very seriously: from cheap street fare to Michelin-starred dining, Singaporean foodies will happily queue for it. Of course, for sheer elegance, nothing beats a Singapore Sling in the Raffles Hotel.
Singapore has always drawn visits from a variety of sea craft. Merchants of every race, colour and faith were quickly drawn to the island, and by 1911, Singapore's population comprised of 48 races, speaking 54 languages. Malay is now the official language.
Share Itinerary
Kota Kinabalu, Borneo, Malaysia
Jan 03 | Arrive - early morning | Depart - late afternoon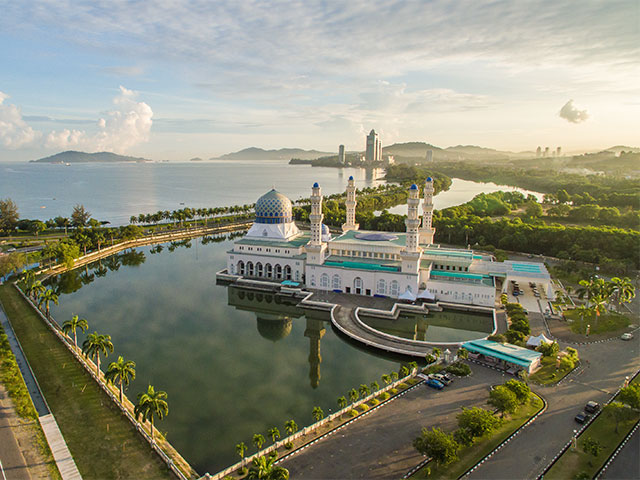 The capital of Sabah province on the island of Borneo, Kota Kinabalu has become increasingly popular in recent years as a base for exploring the lush rain forest and in particular the magnificent Mount Kinabalu. At more than 4,000m, this is highest peak on the island dominating the city skyline. It has over 800 species of orchid and more than 600 different ferns.
The city has some interesting buildings, including the century-old Atkinson Clock Tower, which is built on a hill beside Jalan Tunku Abdul Rahman. It gives great views of all the main sights, including the nearby Sabah State Mosque, with its delicate grey walls and glittering domes.
The State Museum combines a museum, botanical garden, zoo and a recreated Sabah village – all in the one place. Nearby is the Centre for Science and Technology and Sabah Art, with a building inspired by traditional longhouses. The six galleries have rich collections of local tribal artefacts.
Share Itinerary
Manila, Philippines
Jan 05 | Arrive - early morning | Depart - late afternoon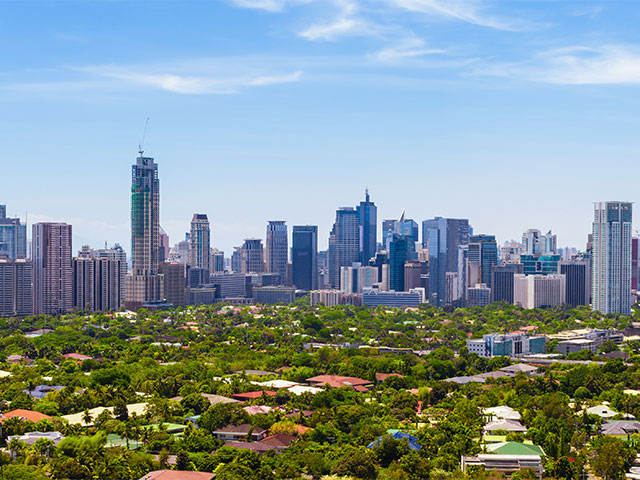 Known as the 'Pearl of the Orient', Manila certainly lives up to its nickname. While the Filipino capital may seem hectic, imposing and rather unappealing on the surface to some, there are plenty of jewels to unearth within, rewarding those who throw themselves into the hustle and bustle and explore the diverse districts of this vast, multicultural metropolis.
An outstanding city for sightseeing, Manila boasts an eclectic mix of architectural styles, thanks in part to its colonial Spanish heritage and the damage caused by World War Two bombing raids and devastating natural disaster. While many impressive colonial monuments remain, such as Fort Santiago, the 16th century San Agustin Church and the walled city of Intramuros, they sit amongst high-end shopping malls and skyscrapers, symbolising Manila's role of one of Asia's modern megacities.
There's much more to this incredible city than its captivating sights though. Dig a little deeper and you'll discover Manila is rich with creativity, culture and diversity, in its multitude of museums and galleries, lively markets and street food stalls, and artisan cafés, bars and restaurants.
Share Itinerary
Naha, Japan
Jan 08 - 09 | Arrive - early morning | Depart - late afternoon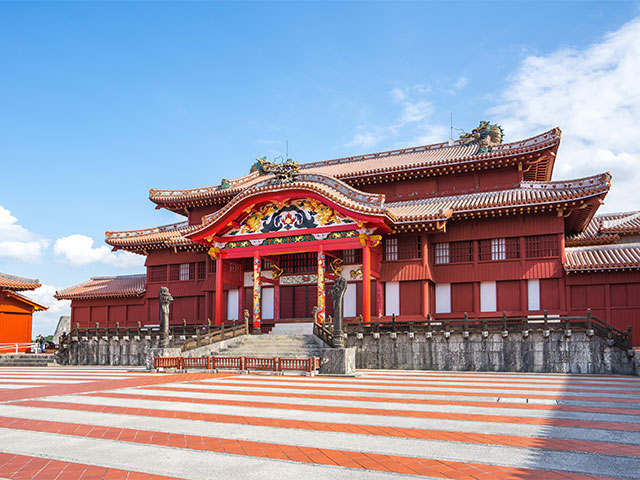 The name Okinama means "rope in the open sea" which is an apt name for the string of islands between mainland Japan and Taiwan. Naha is located on the coast with the East China Sea at the southern part of Okinawa Island. Its single beach is popular with visitors and includes scuba diving and kiteboarding.
Its main street ("International Avenue") boasts a 1.6km stretch of stores, restaurants and bars. The shuri castle has been rebuilt and restored and is now one of the main historic sights in the area and a UNESCO World Heritage site. The palace was used during WorldWar II as a major command post for the Imperial Japanese military.
The Makishi Market is known as the "kitchen of Okinawa" and consists of more than 400 shops on a single floor, selling traditional foods, dried sea snake, and vegetables not available on the mainland.
Share Itinerary
Kochi, Shikoku, Japan
Jan 11 | Arrive - early morning | Depart - early evening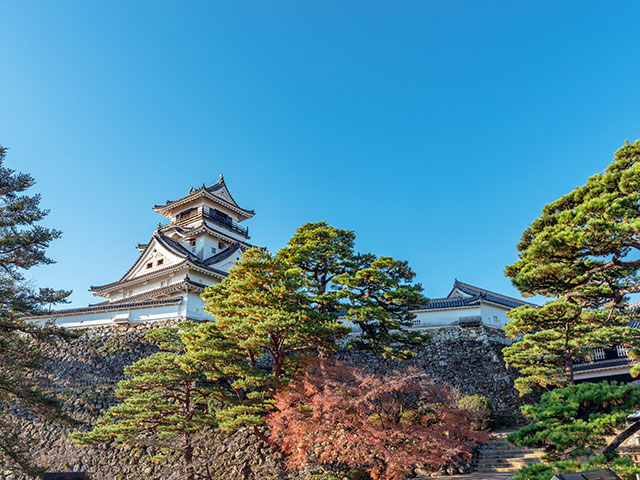 With its stunning seascapes and verdant mountain scenery, mix of modern, historic and authentic cultural highlights, and relatively small population of just over 300,000, it's no wonder that Kochi – situated on the Kagami River on Shikoku Island's scenic south coast – is considered one of Japan's most appealing and liveable cities.
If you're lucky enough to visit on a Japanese cruise, it doesn't take long to realise why Kochi is a so highly regarded. A relaxing few hours of exploration presents opportunities to feel the city's laid-back vibes, enjoy the company of its friendly locals, indulge yourself with the local culinary delights such as katsuo tuna and sake, and uncover an abundance of diverse attractions.
Kochi's 'must-visit' list is extensive, with highlights including the early 17th century Kochi Castle, one of Japan's last remaining 'original castles', overlooking the city from one of its many forested hills; the temple and botanical gardens of Mount Godaisan; and Chikurinji Temple, one of the 88 temples along the Shikoku Pilgrimage. As the birthplace of Sakamoto Ryoma, Kochi is also home to many monuments and sightseeing spots related to one of the key figures in the Meiji Restoration. Such as the Sakamoto Ryoma Memorial Museum and the Ryoma History Museum.
Share Itinerary
Tokyo, Japan
Jan 13 | Arrive - early morning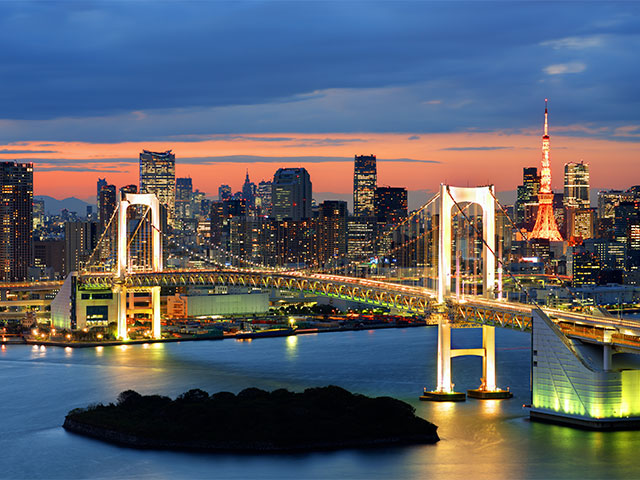 Tokyo is a vast and enticing city - the Tokyo Metropolis spans not just the city itself but encompasses rugged mountains to the west and subtropical islands to the south. The city centre - with its huge skyscrapers and dazzling neon lights, is exciting and vibrant, while the temples and gardens dotted around the capital offer a taste of traditional Japan.
Despite its size, much of the region is covered by forest, with an abundance of Japanese cypress. Considered to be one of the main economic capitals of the world, along with London and New York, Tokyo City has a reputation for being a jungle of concrete, wires and neon lights, but it includes an astonshing array of sights such as the temples of Asakusa and the gardens of the Imperial Palace.
Spot the Tokyo Metropolitan Government building (in effect, Tokyo's City Hall), the highest building in Tokyo. Its twin towers have viewing platforms that offer a great view over Tokyo and beyond.
Share Itinerary
Unfortunately, this cruise will not be going ahead as planned.
We are aware that if you are sailing with us, you will have many questions about what these cancellations mean for you and we will be in touch as soon as we can.
We are likely to be very busy in our call centre over the next few days. Please bear with us, there is no rush for you to make a decision. We are working very hard for you and promise that we will deal with each and every one of your questions as soon as we possibly can.