Cultural Cities & Scenic Islands of the Americas
Departed 22nd Feb 2022
30 nights
Sails from Callao
Bolette
T2204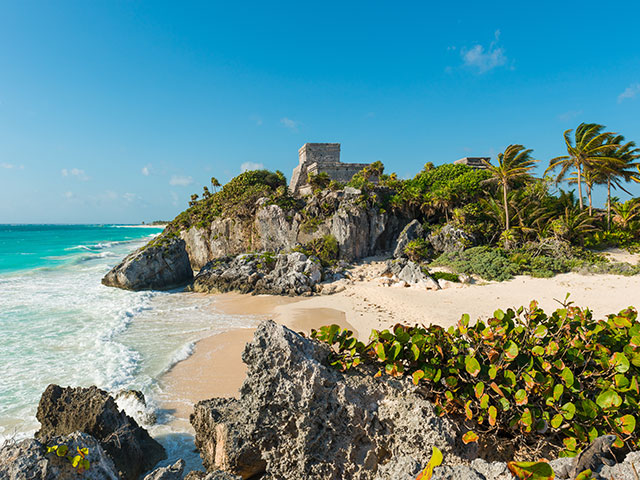 This cruise has now set sail.
Embark Bolette in Peru for a holiday of a lifetime and you'll discover cultural gems, historic highlights and experience scenic wonders galore during a relaxing and memorable journey back to the UK, sailing via a string of captivating cities and beautiful islands in the Americas.[ReadMoreMob]
After joining your smaller ship in Callao, this rewarding cruise adventure begins in memorable fashion, with four days to relax, settle into life on board and experience the magic of ocean cruising, and with a transit of the magnificent Panama Canal – one of the world's greatest engineering feats. Then, as you discover some of Central America's greatest countries and destinations, an abundance of unforgettable experiences are yours to enjoy.[ReadMoreDesk]
Be engrossed in history of Cartagena de Indias in Colombia, with its centuries-old city walls, fortifications and fine colonial Spanish architecture; and uncover ancient sites in Mexico and Belize. Cozumel is home to legendary Mayan ruins and shrines dedicated to Ixchel, while Belize City is the gateway to an abundance of archaeological wonders. Don't miss the chance to embrace nature amongst coral reefs and rainforests within reach on tour from Cozumel, Belize City and the Costa Rican city of Puerto Limon too. Your time in the Americas will then conclude in the Caribbean, stopping in the Bahamas and Bermuda to sample paradise amongst beautiful beaches, warm crystal-clear waters and laid-back cities alive with colourful culture. When you finally head for home, you'll cross the Atlantic – one of the great ocean cruise experiences – and stop at São Miguel in the verdant Azores, and add the Spanish style and culture of La Coruña to the end of your journey too.
×
Callao, Peru
Feb 22 - 23 | Depart - early evening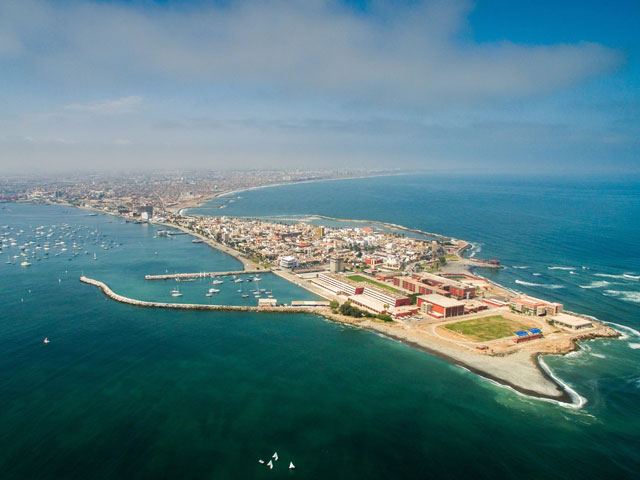 Callao is the Peruvian capital's once-grand port area, which has been brought back to life with culture, cuisine and rich history. An important commercial centre since the colonial era, the city retains many fine colonial mansions and elaborate examples of architecture. The Real Felipe fortress is an impressive building built to defend the city from pirates and was central to Peru's war of independence.
La Punta, the area around the port, was once home to Lima's aristocracy. It has many stately houses and a wonderful seafront promenade lined with delightful cafés. The Military Museum has many fascinating artefacts, including old weaponry, while the Navy Museum is devoted to the country's naval heritage.
Visitors can take easy transport links from Callao to explore the Peruvian capital, Lima, and learn about the country's dramatic history, from the Inca Empire to the Spanish conquistadors.
Share Itinerary
Panama Canal Transit, Central America
Feb 28 | Arrive - late morning | Depart - late afternoon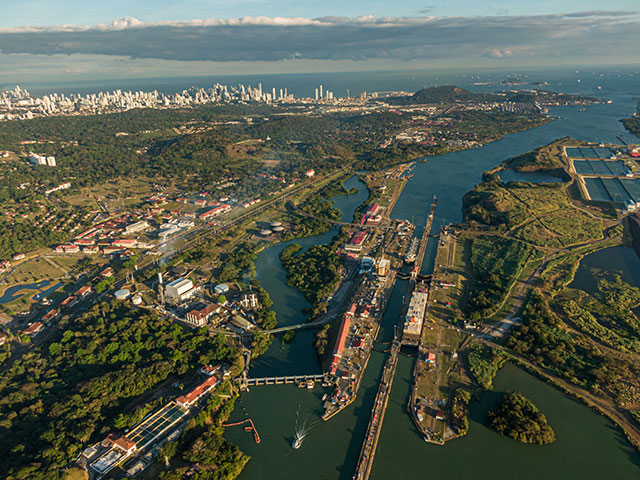 The Panama Canal is one of the world's greatest feats of engineering, stretching 48 miles across the continental divide, from Panama City on the Pacific side to Colón on the Atlantic side. The canal transit takes approximately 8 hours which will give you time to relax on deck and witness the amazing mix of manmade construction and beautiful unspoilt scenery.
Referred to by many as the 'eighth wonder of the world', your ship will pass through three locks, being lifted and lowered in excess of 170 feet in the process. Between these locks is a 21-mile transit through Gatun Lake, which was once the largest artificial lake in the world, and is still surrounded by untouched, dense rainforest which plays host to a vast array of Central American animal and plant species.
The lake forms a major part of the Panama Canal transit across the Isthmus of Panama. The Panama Canal cruise experience is unlike any other, which is why it is one of the 'must do' cruising experiences.
Share Itinerary
Puerto Limon, Costa Rica
Mar 01 | Arrive - early morning | Depart - early evening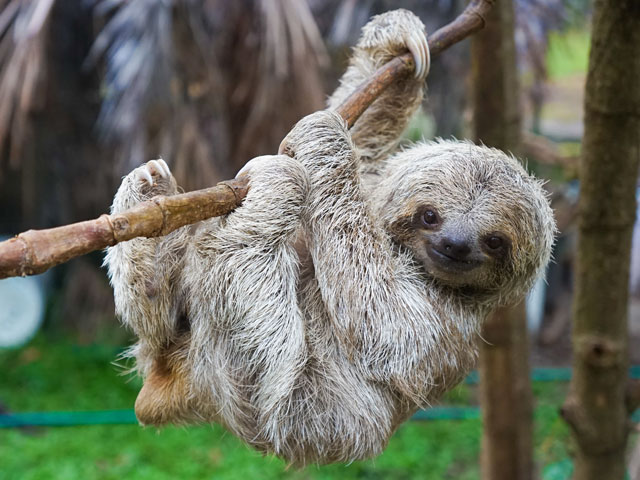 Although the harbour was not built until 1870 – to export Costa Rican bananas and grain – Puerto Limon is one of the oldest cities in Latin America. It was established in 1502 by Christopher Columbus and that long history has given the place some fascinating architecture and a vibrant atmosphere. The open-air market in the centre of town is a must-see, the place to buy anything from local handicrafts to clothes and household goods. In the side streets are interesting little bars and cafés: cashew nuts are an important crop locally, and the cashew wine is a speciality.
With enough time, it is fun to take a trip in a panga – a motorboat – along the Tortuguero Canal, which runs parallel with the coast for about 200km. Even during a short trip it is possible to see many unusual birds, as well as alligators, turtles and bats.

Share Itinerary
Cartagena de Indias, Colombia
Mar 03 | Arrive - early morning | Depart - early evening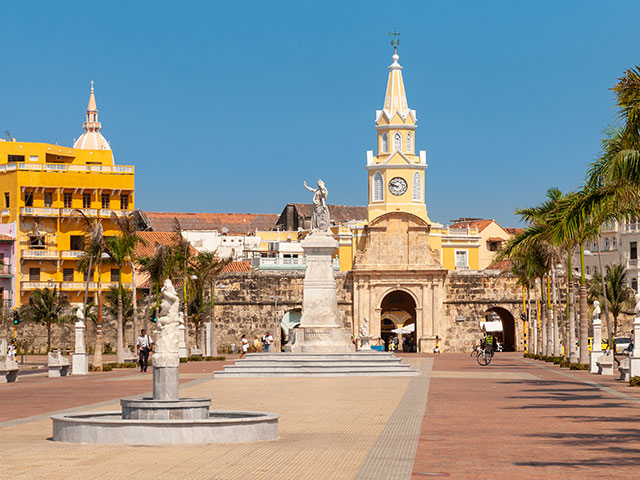 An enthralling and staggeringly beautiful city, Cartagena is one of Colombia's true gems bursting with Spanish heritage. Dominated by the Castillo de San Felipe de Barajas, the captivating city of Cartagena is also home to the wonderful Santo Domingo Plaza, Palacio de la Inquisicion and its 16th century cathedral.
Taking time out to relax at one of Cartagena's many open-air cafés is a popular pastime; perfect for watching the parade of horse-drawn carriages, fashionable locals and romantic street life. From one of its many beaches, many take the opportunity to mingle with the sea life on a Cartegena snorkelling trip, passing San Jose and San Ferna en route.
Share Itinerary
Belize City, Belize
Mar 06 | Arrive - early morning | Depart - early evening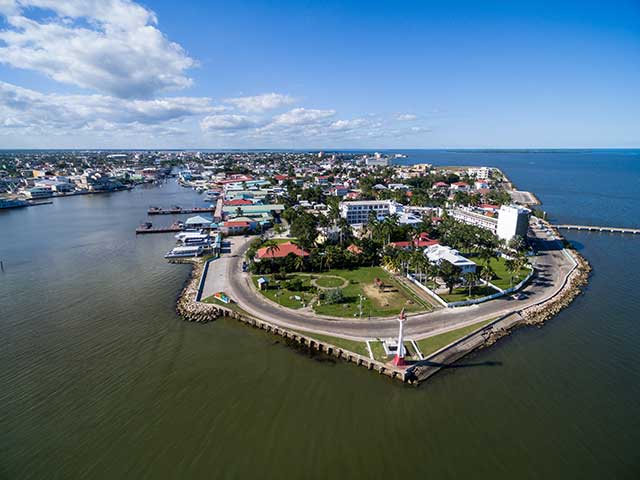 Belize City is an intriguingly beautiful jumble of narrow streets and canals to explore, the perfect destination for those who love a little adventure. Largely surrounded by water, the city has a vast maritime history and was formerly a pirate base before the British turned Belize into an important timber city.
Among the paths and water ways you will find beautiful architecture that harks back to Belize City's past. Old Belize is a living museum with entertaining and interesting exhibits that showcase the history of the nation, while the Museum of Belize, a former prison, is filled with a vast collection of archaeological finds and documents. The Eco-museum - a living museum that showcases some of Belize's finest treasures is also well worth a visit.
Share Itinerary
Costa Maya, Mexico
Mar 07 | Arrive - early morning | Depart - early evening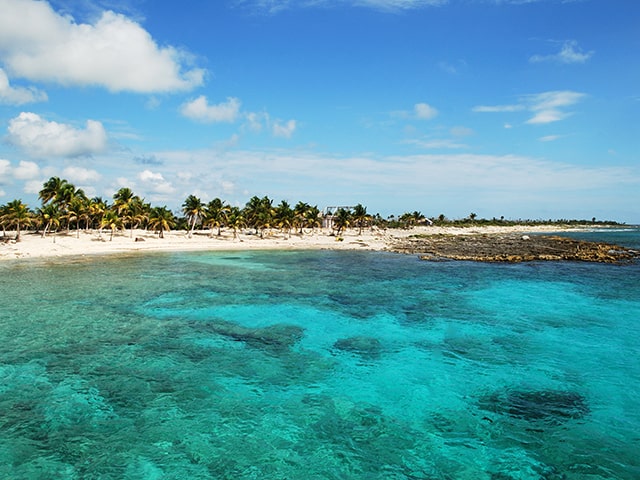 Badly damaged by a hurricane in 2007, the Mexican resort of Costa Maya has now grown to and beyond its former glory. With its modern shopping malls, grand central plaza complete with swimming pools, bars and trendy cafés and an impressive beach promenade, it makes for the perfect holiday escape for Mexicans and visitors from around the world alike.
Away from Costa Maya's modern heart though are plenty of historical delights that made this particular region such a popular destination in the first place. The region around the village is famous for its magnificent Mayan ruins, such as the ancient city of Chacchoben, built in the fourth century. Nearby, the former fishing village of Mahahual, once an important part of the region's commerce, is now a popular spot thanks to its soft white-sand beaches with grass-thatched open-air stalls selling freshly grilled fish and seafood.
Share Itinerary
Cozumel, Mexico
Mar 08 | Arrive - early morning | Depart - early evening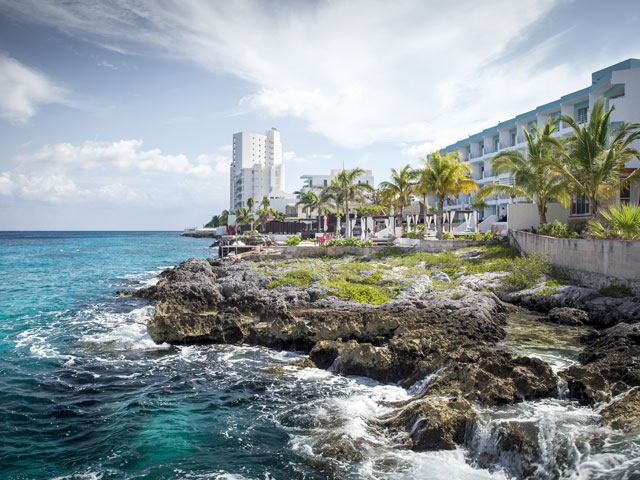 Cozumel, is famed for its Mayan history, coral reefs and scuba diving. Lying off the Yucatan coast, the island has over 40 shrines to Ixchel, the Mayan goddess of the moon, the sea and fertility. Many are carved from coral – the island is part of the Great Maya Barrier Reef – and archaeologists regularly find the small clay dolls, which were offerings to the goddess.
The eco-park, Chankanaab, is the number one attraction in Cozumel; a lagoon with underwater caverns, and home to dolphins, manatees, iguanas and sea turtles. The relaxing haven of the National Marine Park boasts stunning beaches and beautiful botanical gardens. The popular diving spot around a section of the Mesoamerican Reef is the location of the amazing submerged sculptures of Museo Subacuático de Arte.
Museo de la Isla de Cozumel, in the small town of San Miguel, has interesting exhibits about the island, its flora and fauna, and the formation of the coral reef. There are also Mayan artefacts and various items from its time as a Spanish colony, including cannons, swords and armour.
Share Itinerary
Nassau, Bahamas
Mar 10 | Arrive - early morning | Depart - early evening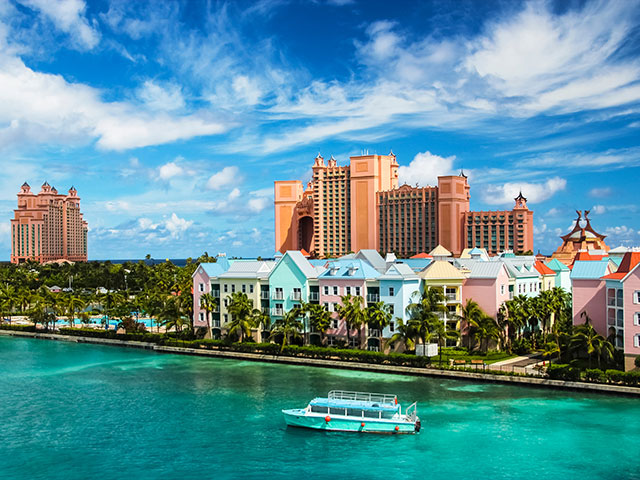 The beauty of Nassau, other than its incredible sandy beaches, is that the city has something to suit all tastes. It's white sands stretch over five miles and are accompanied by some incredible historic architecture, such as Fort Fincastle.
With their soft sand and warm, pure water, the beaches are the epitome of paradise. In fact, they are so breathtaking that movies such as Thunderball and Casino Royale were filmed here.
In the city centre there are many museums, galleries and exhibitions, where visitors can feast their eyes on a collection of Bahamian artefacts, documents, drawings and more. There is even a small museum dedicated to the history of Blackbeard and other famous pirates to explore, a unique Nassau experience. No matter what your idea of a perfect holiday is, a visit to this Bahamian paradise will be truly unforgettable.
Share Itinerary
King's Wharf, Bermuda
Mar 13 | Arrive - early morning | Depart - late afternoon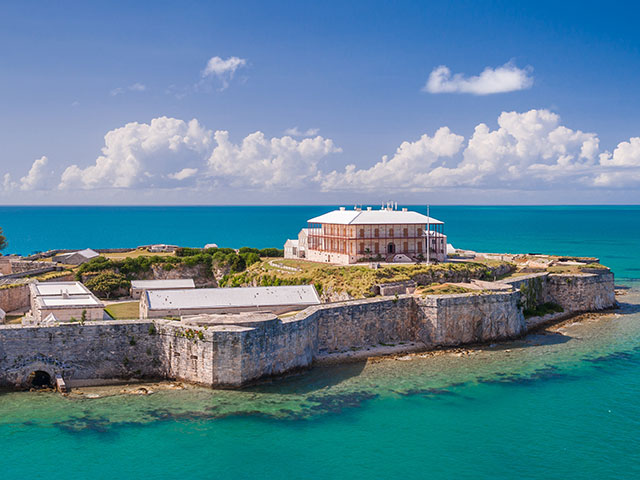 King's Wharf is one of two ports in Bermuda, a British Overseas Territory in the North Atlantic. Situated on Ireland Island in the country's West End, King's Wharf is also known as the Royal Naval Dockyard. This historic area has plenty to offer, yet is only a 20-minute drive from the capital of Hamilton.
Used by the Royal Navy until 1995, the Dockyard has since been transformed into a popular tourist hub with restaurants, bars, shops and water sports available in the area. Remnants of its use as a naval base are still evident across the sprawling site, including stone buildings and fortifications.
The National Museum of Bermuda, in the grounds of the Dockyard, tells the story of the island's history and contains numerous artefacts, from shipwrecked treasure to cannons to art. Hamilton is one of the smallest capitals in the world, and can be reached easily via road or ferry. This pretty harbour city has some lovely beaches as well as a picturesque harbour front lined with pastel-coloured buildings.
Share Itinerary
Ponta Delgada, Portugal
Mar 19 | Arrive - early morning | Depart - early evening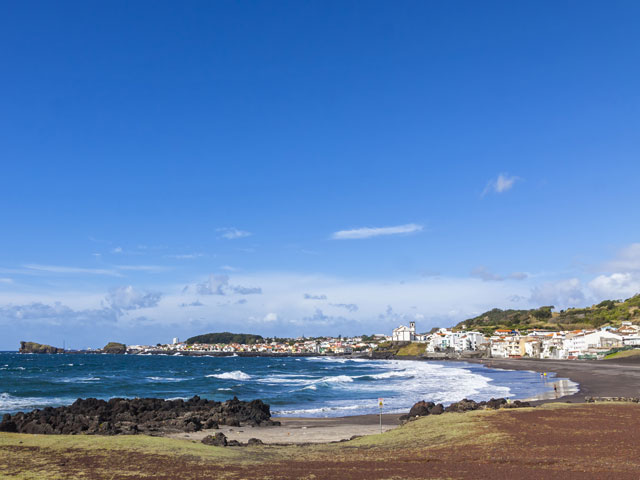 Ponta Delgada, the main town on the island of São Miguel, is the capital of the Azores archipelago of Portugal. The town's cosmopolitan atmosphere belies its 500 year history, and the surrounding island boasts beautiful lakes, mountains, sandy beaches and the stunning crater lakes of the extinct Sete Cidades volcano.
A fine collection of buildings, narrow cobbled streets and squares, are a firm reminder that this was once a key staging post between Europe and the Americas. Intermingled are cool parks, enchanting squares, a modern marina, restaurants and waterside cafés. Its lakeside, whitewashed houses with terracotta roofs look out to enchanting mountain plains.
The striking, three-arched city gates, Portas da Cidade – which once stood in the harbour and now reside in Gonçalo Velho Cabral Square, were dedicated to the Portuguese navigator who discovered the Azores. The Gothic Church of St. Sebastian and The Convent and Chapel of Our Lady of Hope, which is home to a revered image of Christ, are both worth uncovering. The Carlos Machado Museum offers diverse artefacts of Azorean culture, while Igreja Matriz Church, with its splendid clock tower, is one of many beautifully ornate towers to be found.
The 'Green Island' also offers canoeing and other sports activities on lakes located in the craters of its dormant volcanoes. The island's beauty can also be enjoyed by horse riding or cycling.
Share Itinerary
La Coruña, Spain
Mar 22 | Arrive - early morning | Depart - late afternoon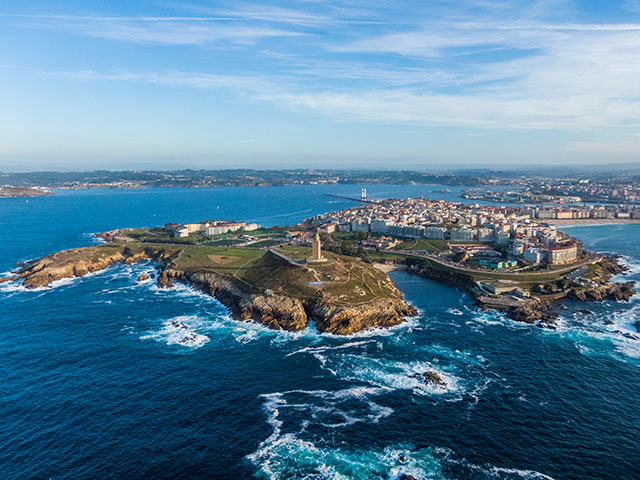 The city of La Coruña is the capital of the province and a busy seaport situated in the Galicia region of northwest Spain. Most famous for its Roman lighthouse, the diverse architectural styles of La Coruña make the city an absolute delight for sightseeing.
La Coruña boasts an impressive seafront promenade, beautiful beaches and a host of attractions such as the Domus Museum, the Casa del Hombre and Torre De Hercules – said to be the only Roman lighthouse in existence – which offers sweeping coastal views from the top of its 60 metre high tower. The Paseo Marítimo, a lovely 13km walkway and bike path, runs from the port, around the peninsula, and along the ocean beaches.
The compact Ciudad Vieja – La Coruña's old quarter – is a must-visit area. Often referred to as "the city" by the locals, the medieval centre contains remains of the centuries-old Roman wall that once protected it. The arcaded Plaza de María Pita, surrounded by narrow pedestrianized lanes, is a popular spot, and features the Estatua de María Pita, a statue of a 16th century woman who warned the town of an invasion by Sir Francis Drake. The medieval Church of Santiago, the Museum of Sacred Art and the Military Museum are all fine places of interest.
Beyond the historic city is a proud, modern metropolis, which boasts a superb food scene and a buzzing nightlife. The world's best picnic food, empanadas, and the locally produced beer, Estrella, both demand trying.
Share Itinerary
Southampton, England
Mar 24 | Arrive - late night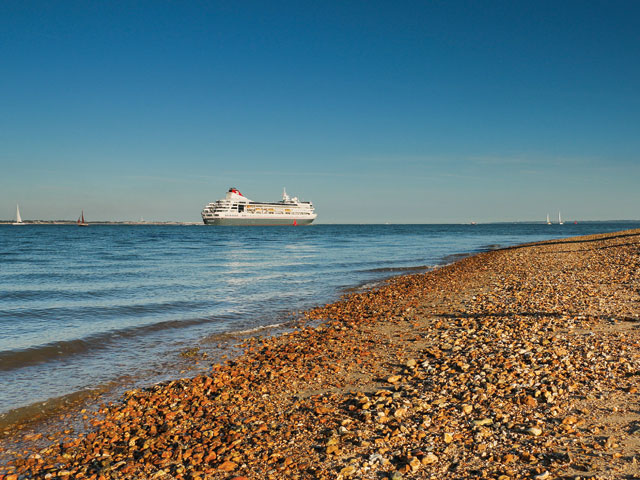 Considered the 'Cruise Capital of the UK', Southampton is the departure port for hundreds for cruise holidays every year, including a number of Fred. Olsen sailings on our smaller sized ships. But beyond being the starting poing for many cruise adventures, you can be assure that this historic city on England's sunny south coast has much to offer as a destination in its own right.
Whether you enjoy a call at Southampton as part of your cruise itinerary, or choose to spend time exploring either before of after your cruise from the city, you'll find there are plenty of attractions, highlights and sights to discover, showcasing fascinating history and local culture. Perhaps see the timber-framed treasures of the Old Town, including the beautiful Tudor House and Gardens, and visit the Sea City Museum to learn of Southampton's links to the Titanic's ill-fated voyage. Other Titanic-related sights include war memorials, the former White Star Line HQ and the Grapes Pub - wander the 'Titanic Trail' to take them in.
There are art galleries and museums aplenty too, as well as an abundance of places to shop, and a number of trendy bars, restaurants and cafés where you can always stop for something delicious. Alternatively, you might opt to explore nature trails and wetlands near to the city, or simply stroll through one of the green spaces or pretty parks.
Share Itinerary