Classic Caribbean & Havana Highlights
Departed 10th Dec 2020
13 nights
Sails from Bridgetown
Braemar
M2032
This cruise has now set sail.
×
Bridgetown, Barbados
Dec 10 | Depart - late night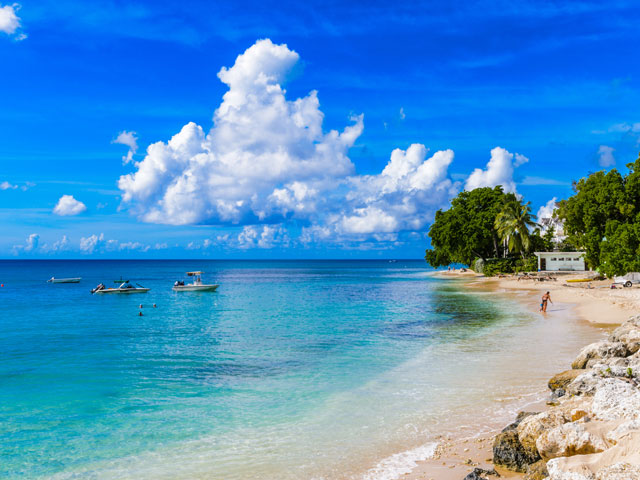 With its balmy climate, buzzing atmosphere, glorious azure waters and incredible beaches, Bridgetown is a tropical city that epitomises paradise. There is rarely a dull day in the capital and largest city of Barbados.
This very British Caribbean island is a favourite with tourists; the city's streets are lined with shops, boutiques, street vendors, bars and places to eat – there is always something to do. Broad Street, the main street of Bridgetown is often packed with welcoming locals. It's easy to see why Barbados is known as Little England given Bridgetown's Georgian houses, the horse-racing track, Parliament Square, and a statue of Nelson.
The entire downtown area of Bridgetown and the 17th century Garrison were named a UNESCO World Heritage site in 2012 in recognition of their historical significance. Near the central National Heroes Square, which fringes Constitution River, the Nidhe Israel Synagogue and museum explore Barbados' Jewish history.
For a change of pace, the shore and the glorious sands offer a haven from the bustling centre. Carlisle Bay is home to six shipwreck dive sites, while a catamaran ride on the Caribbean Sea may offer the chance to swim with the once endangered Hawksbill and Green Turtles. The wonder of the impressive stalactites and stalagmites in Harrison's Cave is another experience that will linger in the memory.
Share Itinerary
Kingstown, St Vincent & The Grenadines
Dec 11 | Arrive - early morning | Depart - early evening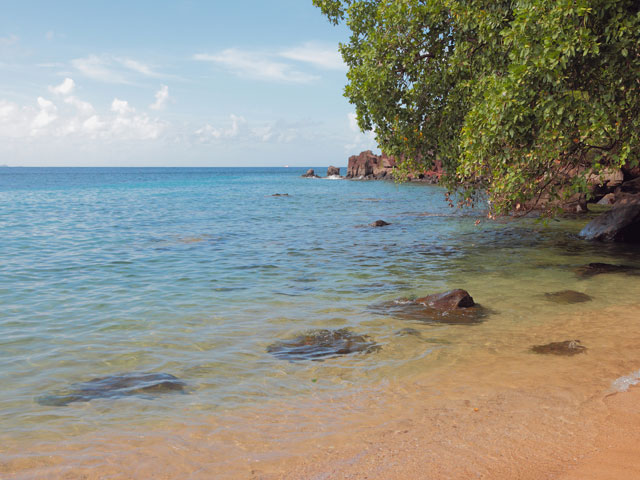 Kingstown, the capital of Saint Vincent and the Grenadines, is famed for its lush Botanical Gardens and aviaries, and is affectionately known by locals as the City of Arches given its intertwining cobbled streets that lead to magnificent churches and historic buildings.

Above the stunning bay, the 1806 Fort Charlotte offers panoramic views of the Windward Islands archipelago. The city centre's fine 19th century architecture includes St. Mary's Cathedral, while the wharf area is a hub of activity, and home to the local fish market. The town's waterfront has dramatic black sand beaches including the popular Villa Beach.

St. Vincent is an idyllic, unspoilt haven just waiting to be explored. Away from Kingstown, there is an abundance of untouched rainforest, beautiful reefs and crashing waterfalls to explore. Deserted beaches go on for miles, interrupted only by the odd quaint town or dormant volcano.
Share Itinerary
Oranjestad, Aruba
Dec 13 | Arrive - early morning | Depart - late afternoon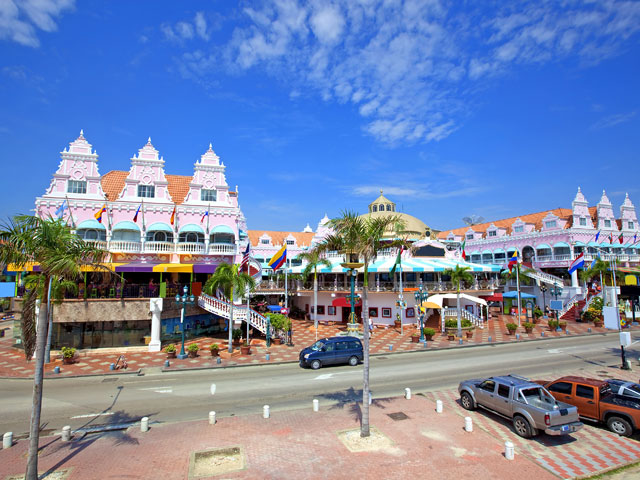 Oranjestad is the capital of the Dutch island of Aruba, in the Caribbean Sea. The vividly coloured colonial buildings that mirror those in Amsterdam, clearly point to Oranjestad's rich Dutch heritage. The city is one of the Caribbean's true gems, combining European-style architecture with glorious white sand beaches, palm trees and flamingos.
Along the waterfront, L.G. Smith Boulevard is dotted with boutiques, shopping malls, restaurants and bars. The harbour, packed with fishing boats and yachts, has stalls selling fresh fruit and fish, and the open-air cafés are to perfect spot to enjoy the sights and sounds of this busy port.
The 18th century Fort Zoutman and the Willem III Tower, formerly a lighthouse, is now the Historical Museum, while The Archaeological Museum displays indigenous artefacts - ceramics, ancient tools, burial urns and other relics, dating back as far as 2500 BC. The Numismatic Museum has almost 50,000 coins, collected by three generations of a single local family.
Queen Wilhelmina Park is a peaceful place to walk, with formal lawns and tropical plants, and other sights include the island's Butterfly Farm and the Natural Bridge of Aruba. Of course, visitors can simply relax on the glorious beaches, where flamingos are occasionally spotted balancing on the pristine sands.
Share Itinerary
Santiago de Cuba, Cuba
Dec 15 | Arrive - early morning | Depart - early evening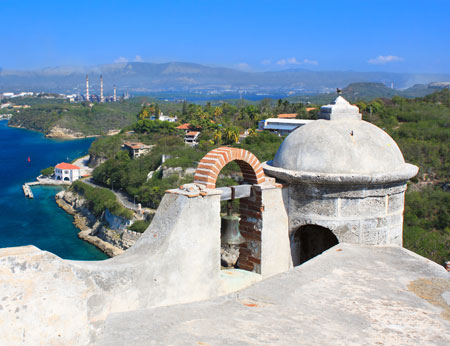 Nestling in the Sierra Maestra Mountains, Santiago is Cuba's second largest city and heralded for its cultural and artistic influence. The birthplace of many well-known Cuban musicians, artists and poets, the city is home to various galleries, museums and monuments, each celebrating the country's prominent cultural background.
Santiago de Cuba is a passionate, noisy delight beauty with a unique identity steeped in Afro-Caribbean history – the drum-beating July Carnaval is testament to this. The city's architecture stretches across many different periods from Baroque to Neoclassical, and the style varies noticeably from one alley way to the next. The steeped streets with their colonial buildings, beautiful parks and impressive cathedrals just beg to be explored.
Velasquez Palace, the oldest building in Cuba, is a gem to discover. So too is the storied 17th century coastal fortress, Castillo de san Pedro, and the lavish Basilica Santaurio de Nacional. The Baconao Reserve presents a host of giant dinosaur sculptures, while some real wildlife can be tracked down in the tropical forest of Turquino National Park.
Away from the city centre, there are over 300 beaches within easy reach, if a spot of relaxing is the order of the day.
Share Itinerary
Havana, Cuba
Dec 17 - 18 | Arrive - early evening | Depart - late afternoon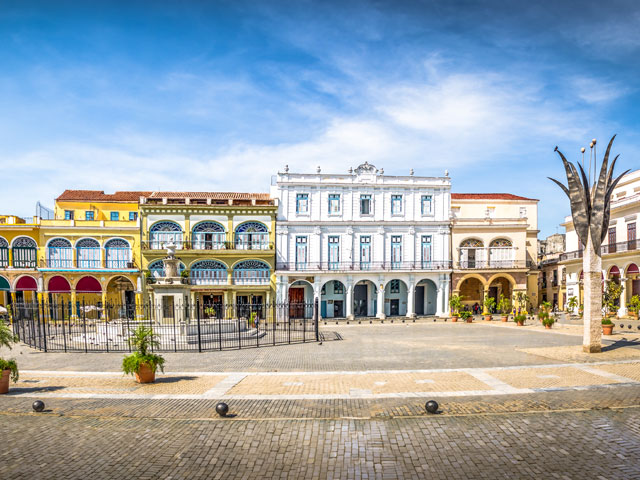 Havana, the capital city, major port, and leading commercial centre of Cuba, is famed for its colonial history and vibrant culture.The city is home to exquisite Spanish colonial architecture, classic American cars, irresistible rhythms of mambo and a confusing jigsaw of grand avenues and cobbled streets.
A stroll around Habana Vieja, Old Havana, quickly reveals the audacious Latin atmosphere within the imposing coastal fortifications and intimate, traffic-free squares. At its centre, the buildings reflect the city's vivacious architectural mix: the Castillo de la Real Fuerza, the iconic National Capitol Building, the Baroque Catedral de San Cristóbal, and the Plaza Vieja are all worth the effort to uncover.
The art culture is one of the city's biggest revelations, and Cuban creativity is accessible through the Museo Nacional de Bellas Artes, the Fusterlandia public art project and the Fábrica de Arte Cubano, which champions the movement of Havana's more contemporary art scene. The city is awash with experimentation, exemplified by the explosion of uber cool cafes and Bohemian bars.

Columbus believed this was the most beautiful land he'd ever seen, and it's hard not to agree given Cuba's 2,000 miles of tropical coastline, lush mountains and some 300 beaches that melt into azure seas.
Share Itinerary
Falmouth, Jamaica
Dec 20 | Arrive - early afternoon | Depart - late evening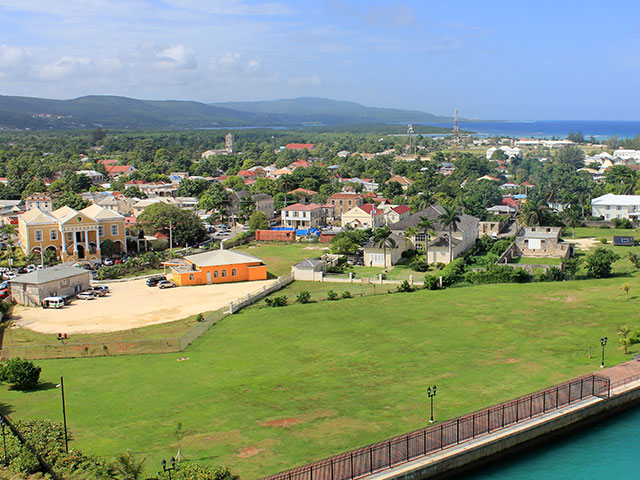 The beautiful town of Falmouth, Jamaica – much like its English namesake – has gorgeous sandy beaches, lush fields, dense woodland areas and rolling hills to explore along the length of its golden shores. But, unlike Cornwall's gorgeous coastal town, the Trelawny parish's capital boasts a glorious Caribbean climate and soothing sunshine all-year-round.
Regarded as one of the Caribbean's best-preserved Georgian towns, Falmouth attracts lovers of architecture and heritage as well as sun-seekers, and the array of Georgian structures and monuments within the town are said to be the largest and finest collection in the West Indies. The solid mahogany beams and intricate floors of St. Peter's Anglican Church – one of the oldest in Jamaica – are not-to-be-missed, as are the old colonial buildings of the historic Market Street, where traders still sell rum, food, clothing and other locally produced goods in the same place where sugar was traded in the late 18th and early 19th centuries.
Share Itinerary
Santo Domingo, Dominican Republic
Dec 22 - 23 | Arrive - early morning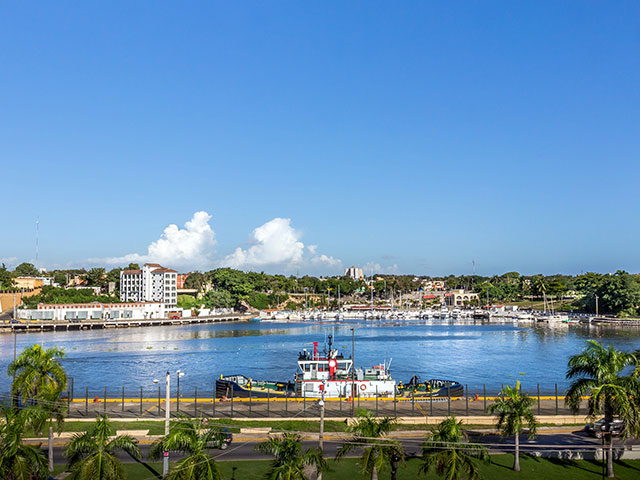 Discovered by Columbus in 1496, Santo Domingo is the New World's oldest colonial city. A beautiful place to simply walk around, the cobbled streets of Santo Domingo are lined with 15th & 16th century buildings that remind you of the city's unique history.
Among the historic buildings you will also find modern creature comforts such as shopping malls, restaurants, bars and cafes. Events and festivals often take place and visitors are encouraged to get involved and experience the Dominican's exciting, vibrant atmosphere. Be sure to explore the Colonial Zone and the Malecon. These are the most pedestrian friendly areas in the city and are home to the finest architecture, the best places to visit and finest cuisine.
For those who wish to simply lie back, relax and soak up incredible weather, there are several beautiful beaches within easy reach.
Share Itinerary
Unfortunately, this cruise will not be going ahead as planned.
We are aware that if you are sailing with us, you will have many questions about what these cancellations mean for you and we will be in touch as soon as we can.
We are likely to be very busy in our call centre over the next few days. Please bear with us, there is no rush for you to make a decision. We are working very hard for you and promise that we will deal with each and every one of your questions as soon as we possibly can.