Brazilian Discovery
Departed 6th Jan 2020
23 nights
Sails from Southampton
Balmoral
L2001A
This cruise has now set sail.
Under the guidance of Balmoral, you'll discover some of South America's most iconic sights and attractions as you sail to inspirational destinations in Brazil and Uruguay. The world-famous landmarks and cultural highlights of intoxicating cities await, while there are lush rainforests and stunning beaches to uncover too, all on this captivating voyage.
After departing from Southampton and stopping-off in Lisbon to marvel at the maritime monuments of the Portuguese capital, the excitement will build as you sail across the Atlantic – one of the great ocean cruise experiences. [ReadMoreMob]Stopping at two gorgeous islands en route, you'll have chances to revel in the sweet-smelling gardens of Madeira and São Vicente's typically Cape Verdean volcanic landscapes. Your time in South America will then begin in Brazil. [ReadMoreDesk]A visit to Salvador will present you with an opportunity to immerse yourself in the sights and sounds of the enchanting 'Capital of Happiness' as you explore its picturesque UNESCO-listed Historic Centre, a living museum of Portuguese colonial architecture, lavish cobbled streets and squares, and over 300 churches of various eras and architectural styles. Meanwhile, Ilhabela – situated amongst verdant Atlantic Rainforest – is your gateway to paradise. Around 85% of this incredible destination is classed as Brazilian National Park, and you'll be close to glorious golden-sand beaches, spectacular waterfalls and dense jungle, natural habitat for over 300 bird species.
In between Salvador and Ilhabela comes the crowning moment of this unforgettable voyage, an overnight stay in legendary Rio de Janeiro. You'll have plenty of time to see the iconic Christ the Redeemer, towering over the city from atop mighty Corcovado Mountain; revel in breathtaking views from the peak of Sugarloaf Mountain; and shake your hips to the unmistakable, carnival-like sounds of samba beats reverberating thought the streets. Watching the sunset from the famous sands of Copacabana Beach is an unmissable experience. Onwards to Uruguay, South America's southernmost capital is then yours to explore. Take a leisurely wander into Montevideo's delightful Ciudad Vieja old town district and you'll uncover historical highlights aplenty, including the 26-storey-high Palacio Salvo, one of Uruguay's most famous sights; the 19th century Teatro Solis and the impressive Metropolitan Cathedral. After 23 unforgettable nights on board, it's finally time to disembark in Argentina's cosmopolitan capital, Buenos Aires.
Your Itinerary
Under the guidance of Balmoral, you'll discover some of South America's most iconic sights and attractions – from world-famous landmarks to breathtaking beaches – in Brazil and Uruguay.
Visit Salvador, home to an enchanting UNESCO-listed Historic Centre; uncover gorgeous golden sands, waterfalls and lush rainforest at Ilhabela; and explore the attraction-packed Uruguayan capital, Montevideo.
The pinnacle is an overnight stay in intoxicating Rio de Janeiro, plenty of time to take in Christ the Redeemer, Sugarloaf Mountain, Copacabana Beach, traditional samba beats and much more.
View Itinerary
Close Itinerary
×
Southampton, England
Jan 06 | Depart - late afternoon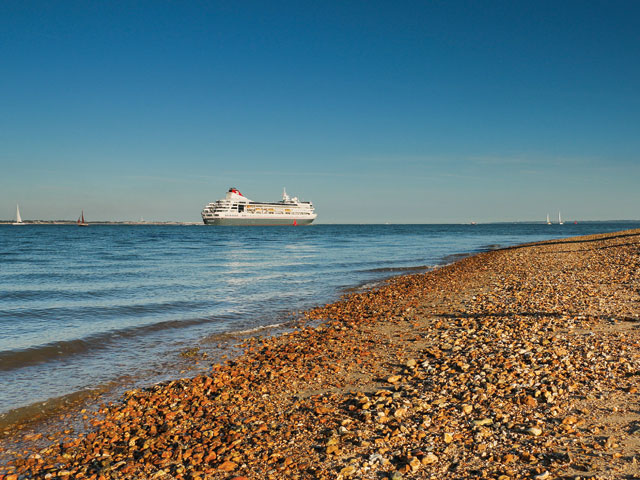 Considered the 'Cruise Capital of the UK', Southampton is the departure port for hundreds for cruise holidays every year, including a number of Fred. Olsen sailings on our smaller sized ships. But beyond being the starting poing for many cruise adventures, you can be assure that this historic city on England's sunny south coast has much to offer as a destination in its own right.
Whether you enjoy a call at Southampton as part of your cruise itinerary, or choose to spend time exploring either before of after your cruise from the city, you'll find there are plenty of attractions, highlights and sights to discover, showcasing fascinating history and local culture. Perhaps see the timber-framed treasures of the Old Town, including the beautiful Tudor House and Gardens, and visit the Sea City Museum to learn of Southampton's links to the Titanic's ill-fated voyage. Other Titanic-related sights include war memorials, the former White Star Line HQ and the Grapes Pub - wander the 'Titanic Trail' to take them in.
There are art galleries and museums aplenty too, as well as an abundance of places to shop, and a number of trendy bars, restaurants and cafés where you can always stop for something delicious. Alternatively, you might opt to explore nature trails and wetlands near to the city, or simply stroll through one of the green spaces or pretty parks.
Share Itinerary
Lisbon, Portugal
Jan 09 | Arrive - early morning | Depart - early evening

Stretched across its seven trademark hills overlooking the River Tagus estuary, Portugal's hilly, coastal capital city of Lisbon, is a cinematic collection of cobbled alleyways, pastel-coloured buildings, ancient ruins and white-domed cathedrals. The city was decimated by an earthquake in 1755, and modern Lisbon has been shaped by that eventful day. The Pombaline architecture that now defines the city represents some of the first seismically-protected buildings in Europe.
The city's bridges include the Ponte 25 de Abril – similar to the Golden Gate in San Francisco – and the Ponte Vasco da Gama, which includes over 11km of viaducts. Lisbon's many fascinating museums, include the Calouste Gulbenkian Museum, the National Museum of Contemporary Art, the National Coach Museum and the Carmo Archaeological Museum.
Lisbon is also a shopper's paradise, with the Centro Commercial Colombo – the biggest shopping mall on the Iberian peninsula – and the elegant Avenidas Novas, full of upmarket shops. Alternatively, there bargains to be had in the local flea market, Campo de Santa Clara. Don't miss the chance to sample iconic egg tarts at Pasteis de Belém too.
Share Itinerary
Funchal, Madeira, Portugal
Jan 11 | Arrive - early morning | Depart - late afternoon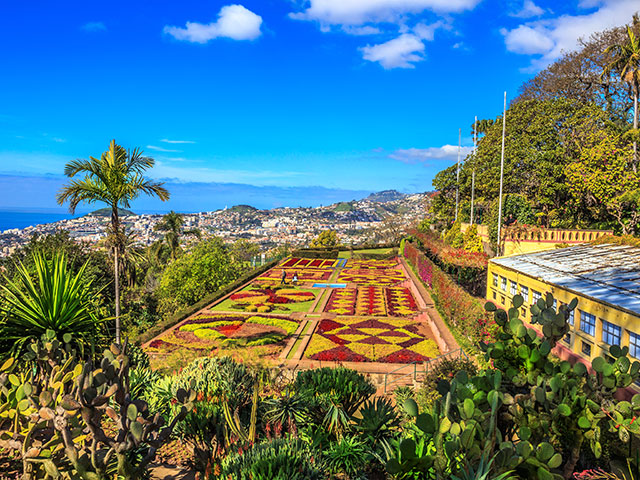 Funchal, the capital of Portugal's Madeiran archipelago, has a timeless old-world charm. Enhanced by a subtropical climate that fills this 'floating garden' with the year-round colours and perfumes of flowers and fruit, Funchal was a favourite of Sir Winston Churchill. His praise of the city has ensured British visitors always receive a warm welcome from locals.
Backed by rolling hills, the town is famous for its harbour, the 17th century São Tiago Fortress (now the Contemporary Art Museum) and world renowned Madeiran wine cellars. Funchal's parks and gardens are a delight, and a hike through the Laurel Forest nearby is highly recommended. The ancient Funchal Cathedral mixes Gothic and Romanesque architecture, and is noted for its impressive carved wooden ceiling.
Share Itinerary
Mindelo, Cape Verde
Jan 14 | Arrive - early afternoon | Depart - late evening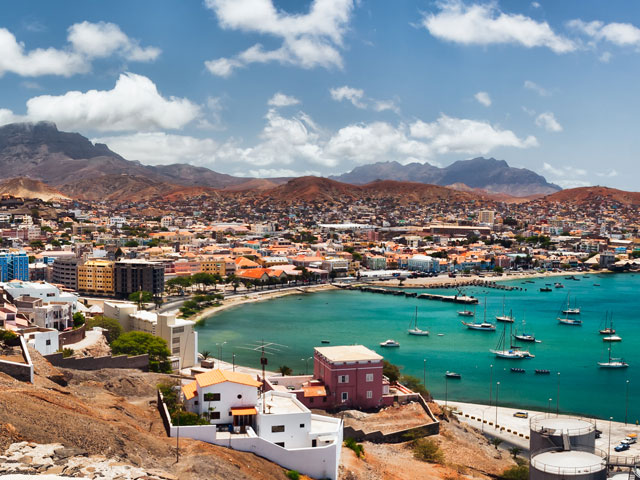 The port city of Mindelo in the volcanic archipelago of Cape Verde, retains many features of its colonial past, and is known for its music, carnival atmosphere and blend of Portuguese traditions and Brazilian style.
Situated in Porto Grande Bay, Mindelo is surrounded by low mountains and boasts some of the best sea views and scenery in the region. The coastline is awash with natural points of interest, while the man-made Fortim d'El Rei – an abandoned fort that sits on top of a hill above Mindelo port – is well worth a visit.
The Municipal Market, with its vast fish market, is fascinating, as are the well-preserved Governor's Palace and City Hall – both attractive examples of Portuguese-style architecture. The Torre de Belém is a scaled-down replica of the ancient tower in Lisbon. The fine, wide esplanades around the harbour offer a host of interesting little cafés and tiny shops.
Share Itinerary
Salvador, Brazil
Jan 20 | Arrive - early morning | Depart - early evening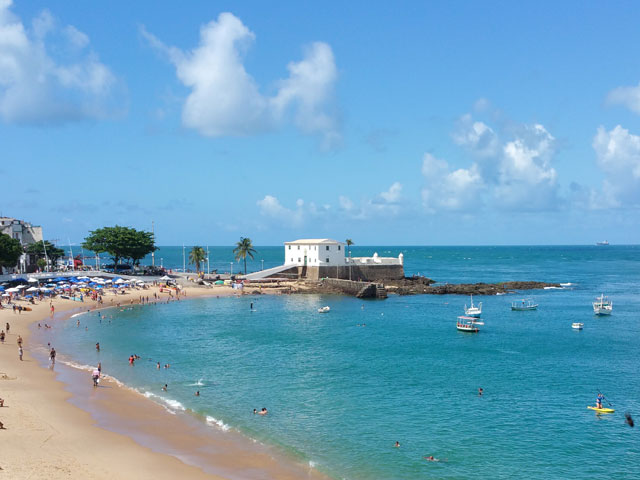 The festival city of Salvador has an energy and an austere beauty that rivals any Latin city. Originally the capital of Portugal's New World colony, Brazil's 'Capital of Happiness' is a living museum of 17th and 18th century architecture and gold-laden churches.
Salvador's Afro-Brazilian culture comes alive in the endless carnivals, parties and celebrations that make any visit a joy to behold. This vibrant atmosphere takes over the city regularly and visitors are encouraged to join in and soak up the immersive sights and sounds. Alternatively, the city's beautiful beaches like Porto de Barra, are the perfect place to relax, soak up the sunshine and get away from it all.
Clinging to the hills above a sparkling island-dotted bay, the city's Portuguese colonial architecture is on full show in the Pelourinho neighbourhood. This historic heart with cobblestone alleys opening onto large squares and baroque churches, is home to the lavishly-decorated São Francisco Church and Convent.
Divided into an upper and lower section, the city is easy to navigate and the imposing public buildings in the cliff top Cidade Alta (Upper City) – monuments to the wealth generated by sugar-cane and tobacco, demand discovery. Elsewhere in the UNESCO-listed historic centre, the multi-coloured homes with red-tiled roofs, great market, and some 300 churches make this photogenic city irresistible.
Share Itinerary
Rio de Janeiro, Brazil
Jan 23 - 24 | Arrive - early morning | Depart - early evening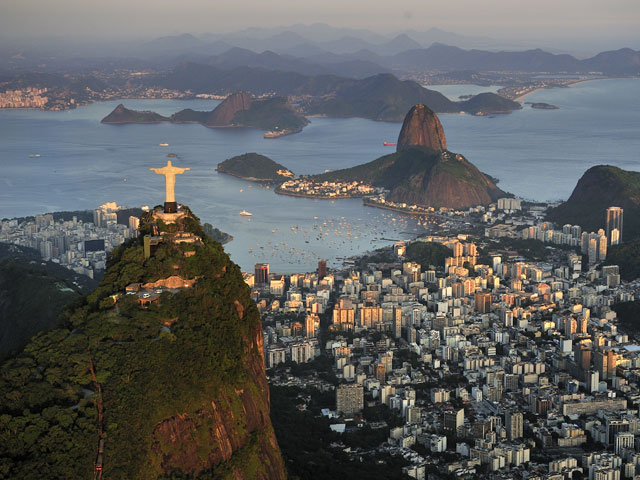 Planted between lush, forest-covered mountains and breath-taking beaches, Rio de Janeiro – the Cidade Maravilhosa (Marvellous City) – has many charms at her disposal, and is a rich melting pot of cultures.
Famed for its Carnival and Copacabana and Ipanema beaches, the samba-fuelled nightlife and raucous football matches of this huge, iconic Brazilian seaside city more than delivers on its romantic promise.
Home to the glorious 38-metre Christ the Redeemer statue atop Mount Corcovado and the stunning Sugarloaf Mountain, a remarkable granite peak with cable cars to its summit, truly make Rio a place like no other. Music is the city's heartbeat; a soundtrack that blends rock, bossa nova, funk and, of course, samba – the African influenced beat that's synonymous with Rio.
Carnival means parade floats, flamboyant costumes and samba dancers, and Rio's festival is considered the world's largest. Other occasions for partying around town include funk parties in the favelas (shanty towns) and boat parties on the bay. Food is a treasured part of local life, with its dishes roots deep in African and European traditions. Cuisine options vary from meaty churrascarias, tasty feijoadas, vibrant street food and gourmet restaurant selections.
Rio is far more than just a frantic seaside resort, and the area offers access to some outstanding outdoor adventures: hiking in the Tijuca rainforest, cycling alongside the lake and beaches and sailing across Baía de Guanabara.
Share Itinerary
Ilhabela, Brazil
Jan 25 | Arrive - early morning | Depart - late afternoon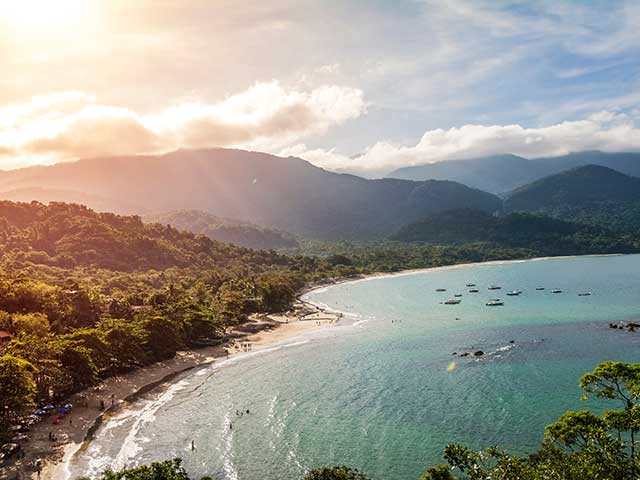 Anchor Port
- A small boat or 'tender' transports guests from ship to shore.
Learn more
Ilhabela is one of the last untouched areas of the Atlantic Rainforest, with around 85% of it classed as a Brazilian National Park. A true paradise, Ilhabela has more than 40 incredible beaches, over 350 tumbling waterfalls and large forests, providing the perfect habitat for 300 bird species.
A mountainous island, Ilhabela is perfect for those who love an adventure, with vast areas of dense forest and tall peaks of up to 1400 metres to explore. Hiking trails are clearly signposted and are designed to guide you to the most picturesque beauty spots on the island.
Share Itinerary
Montevideo, Uruguay
Jan 28 | Arrive - early morning | Depart - early evening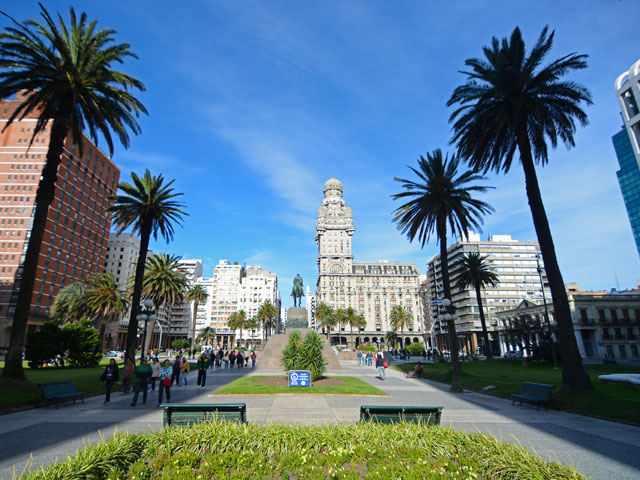 Stretched along the banks of the beautiful Rio de la Plata, Montevideo – South America's southernmost capital city – is a remarkable place to visit. With stunning natural landscapes to explore, an exciting city centre and a vibrant culture to discover, Uruguay's lively capital caters to all.

The city revolves around the Plaza de la Independencia, once the site of a Spanish citadel. The Ciudad Vieja (the Old City) is home to many of Montevideo's most beautiful historic buildings, including the 26-storey Palacio Salvo – once the tallest building in South America, the neoclassical performance hall, Solís Theatre, and the Metropolitan Cathedral. A number of these iconic buildings have recently been converted into stylish cafes, bars, fashionable shops and art galleries.

Mercado del Puerto is an old port market located by the city's harbour and has also been refurbished to create one of the city's most exciting spots. An array of charming shops and mouth-watering steakhouses can be uncovered, while the street entertainers and artists build a real buzz of excitement.
Share Itinerary
Buenos Aires, Argentina
Jan 29 | Arrive - early morning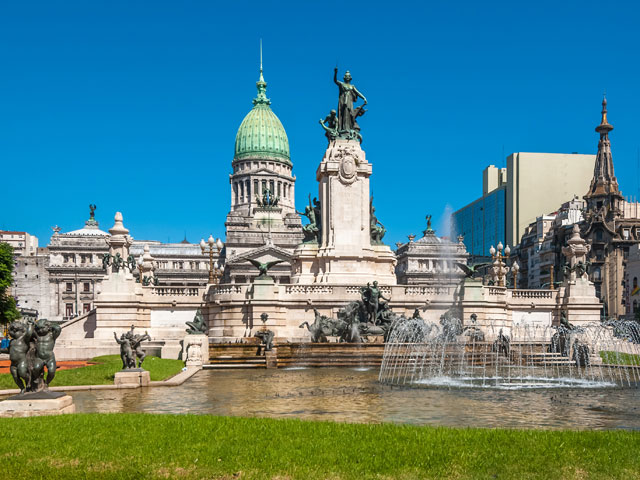 Stretched out along the Rio de la Plata, the nation's capital, Buenos Aires, is a rich mix of European splendour and Latino passion. Its centre, Plaza de Mayo, is lined with impressive 19th century buildings including Casa Rosada, the iconic, balconied presidential palace. It's also the location of the Pirámide de Mayo, built to celebrate Argentina's independence in 1810.
French and Italian-style palaces grace the Avenida de Mayo, while other attractions include the Teatro Colón opera house, and the modern MALBA museum, which exhibits Latin American art. The city's complexity is exemplified by the diverse architecture, unique urban landscape and boulevards lined with cafes, shops and galleries.
The food scene is increasingly dynamic, and satisfying the craving for one of the region's famously-juicy steaks is easy given Parrillas (steakhouses) sit on virtually every corner. A late-night cone of the local caramel ice-cream is a popular favourite, and an evening in this energetic city can be finished off with music and dancing in one of the many jazz clubs and tango bars.
Share Itinerary