Authentic Japan
Departed 14th Jan 2021
14 nights
Sails from Tokyo
Boudicca
D2101
This cruise has now set sail.
×
Tokyo, Japan
Jan 14 - 15 | Depart - late afternoon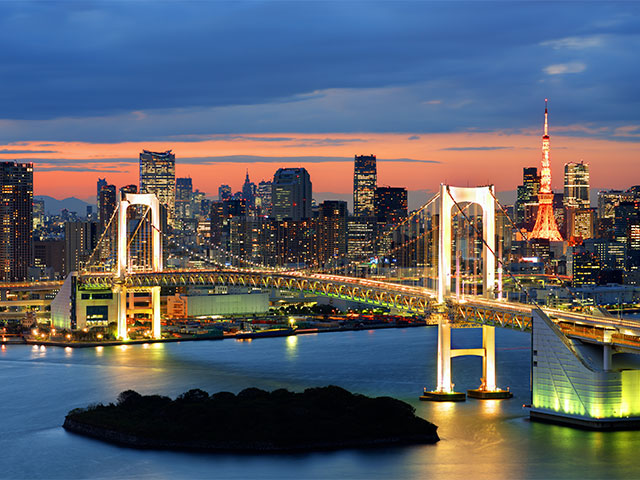 Tokyo is a vast and enticing city - the Tokyo Metropolis spans not just the city itself but encompasses rugged mountains to the west and subtropical islands to the south. The city centre - with its huge skyscrapers and dazzling neon lights, is exciting and vibrant, while the temples and gardens dotted around the capital offer a taste of traditional Japan.
Despite its size, much of the region is covered by forest, with an abundance of Japanese cypress. Considered to be one of the main economic capitals of the world, along with London and New York, Tokyo City has a reputation for being a jungle of concrete, wires and neon lights, but it includes an astonshing array of sights such as the temples of Asakusa and the gardens of the Imperial Palace.
Spot the Tokyo Metropolitan Government building (in effect, Tokyo's City Hall), the highest building in Tokyo. Its twin towers have viewing platforms that offer a great view over Tokyo and beyond.
Share Itinerary
Nagoya, Japan
Jan 16 | Arrive - late morning | Depart - late afternoon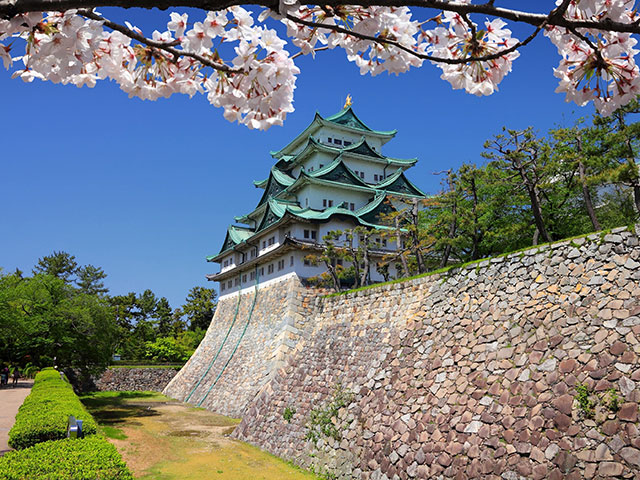 Originally developed as the Castle Town of the Owari during the Edo Period, Nagoya played a major role in Japanese governance under the rule of great leaders such as Toyotomi Hideyoshi, Oda Nobunaga and Tokugawa Ieyasu – three legendary samurai – and the emperor Meiji, until World War II bombing raids destroyed much of the city in 1945.
Since rebuilt, Nagoya today is once again one of Japan's most important cities and its third largest. An industrial and manufacturing powerhouse, it is home to global companies such as Toyota and NGK, and boasts wide, urban streets overlooked by towering office blocks and skyscrapers, such as the impressive Twin Towers of Nagoya Station – the largest railway station, by building area, on earth.
There are cosmopolitan aspects to Nagoya; you'll find fantastic shops, malls and restaurants serving delicious local cuisine; interesting museums, including the Toyota Automobile Museum and futuristic City Science Museum; and beautiful parks and green spaces too. Amongst the modern marvels, it is still possible to enjoy a taste of the city's historical importance and samurai heritage though. Don't miss the stunning Nagoya Castle, Atsuta Shrine – one of Japan's three most important Shinto shrines – and Osu Kannon Temple.
Share Itinerary
Kobe (for Osaka), Japan
Jan 17 - 18 | Arrive - early afternoon | Depart - late afternoon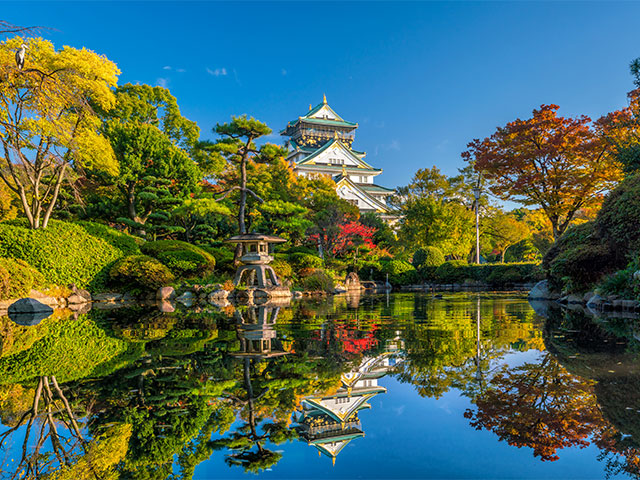 Virtually flattened during World War II, Osaka has rebuilt itself with modernistic buildings such as the Umeda Sky Building and Imperial Hotel, but has ensured traditional Japanese buildings, such as the Shitennoji Temple, hold a place in the city.
A visit to Osaka, on tour from Kobe, wouldn't be complete without a visit to Osaka Castle. Originally built in 1583 the castle has suffered several destructions throughout its history. The current Osaka Castle was built in 1931 and was restored in 1997 the Japanese Government.
Osaka comes alive at night and is lit by thousands of Neon lights. Known as 'the kitchen of Japan', there are hundreds of restaurants located around the city that offer traditional Japanese cuisine. Osaka also offers a superb shopping district. Huge departmental stores, shopping malls and vast underground shopping maze are sure to enthral you.
Share Itinerary
Hiroshima, Japan
Jan 20 | Arrive - early morning | Depart - late evening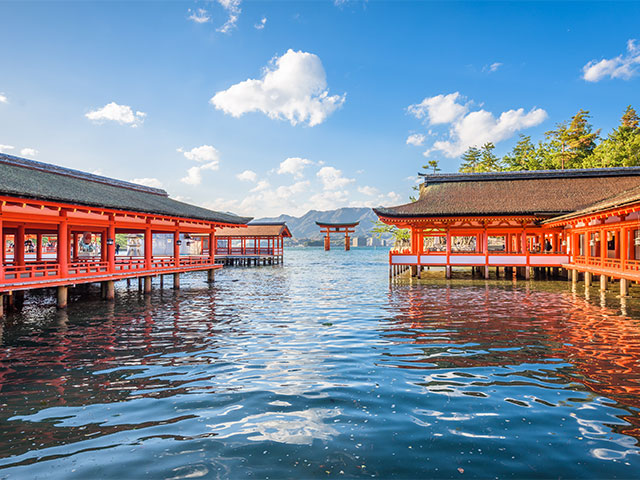 There are beautiful castles and gardens that are well worth visiting, like the Shukkeien Garden and the Hiroshima Castle. Other must see attractions in Hiroshima include the Hiroshima Museum of Art, the Hiroshima Prefectural Museum of Art, the Mazda Museum.
Hiroshima Castle was built in 1591 by Terumoto Mori and houses a display of Hiroshima's history as well as various cultural exhibits. The exceptionally designed City Museum of Contemporary Art, located on Hiji Mountain, is the first Japanese public art museum to promote contemporary art.
When sightseeing in Hiroshima, a must is a visit to Itsukushima Shrine on the scenic Miyajima Island. A National Treasure and UNESCO World Heritage site, it was built in AD593. The island also has numerous temples which are well worth exploring.
Share Itinerary
Beppu, Japan
Jan 21 | Arrive - early morning | Depart - late afternoon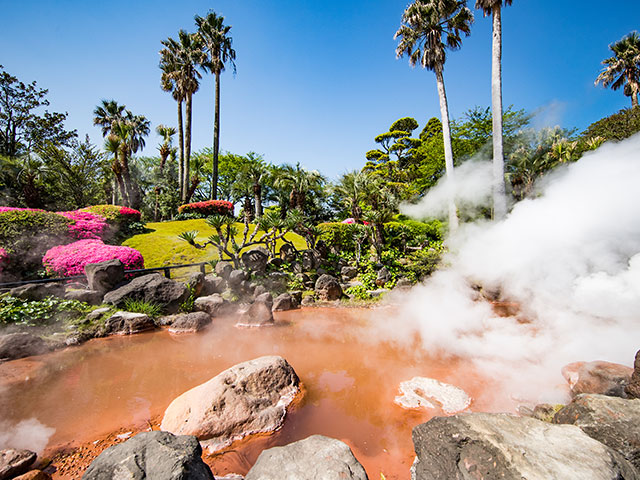 On the 'Japanese Riviera' – a gorgeous stretch along the northeast coast of Kyushu Island – lies Beppu, one of Asia's most famous hot spring resorts. Sat between a beautiful, beach-laden bay and imposing volcanic mountains, Beppu is home to more than 2,000 onsen hot springs that bathe the city's streets and fill the air with warm, volcanic steam, a phenomena that is particularly visible during the colder winter months.
There are hundreds of baths to enjoy here, including hot water baths, mud baths, hot sand baths and steam baths, as well as spectacular springs for viewing only. The 'Hells of Beppu', which include the cobalt blue springs of Umi Jigoku (Sea Hell) and the blood-red Chi-no-ike Jigoku (Blood Hell), provide incredible views and simply unmissable photo opportunities.
Even the local cuisine is influenced by Beppu's remarkable natural wonders, and no visit to the city is complete without learning of, and sampling, onsen food. Ingredients such as eggs, seafood, pork and various kinds of vegetables are cooked using the natural heat of the boiling springs, a process that is renowned for producing fresh flavoured, healthy dishes.
Share Itinerary
Nagasaki, Japan
Jan 23 | Arrive - early morning | Depart - late afternoon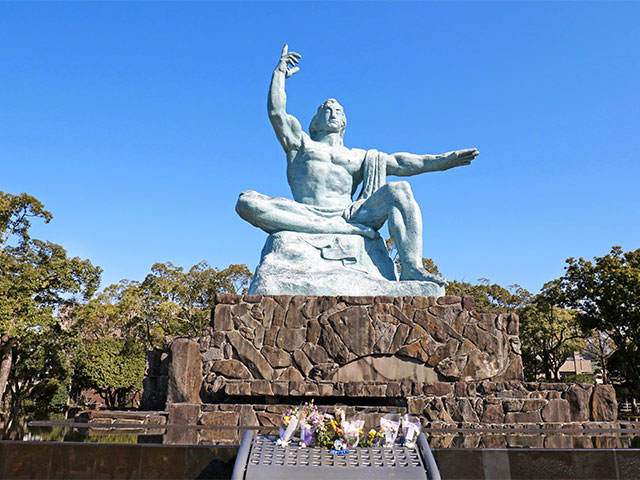 Nagasaki, and its harbour, nestle in the foot of Mount Inasa from which there are stunning views, especially at night - the so-called "Million-Dollar View".
From the mid-1800's, Nagasaki was a centre for heavy industry, especially ship-building, making it a major target in World War II.
After the war the city was rebuilt including new temples, several museums, the Christian Urakami Cathedral and even a penguin aquarium. The Nagasaki Peace Park has a Peace Symbols zone, established in 1978, which contains monuments donated by other countries, including Portugal, Cuba and Poland.
15 km off the coast of Nagasaki is Gunkanjima (literally "Battleship Island") which is a small island with the ruins of a mining town abandoned in 1974. Now a ghost town, it has been used in several movies, including the recent James Bond movie "Skyfall".
Share Itinerary
Keelung, Taipei, Taiwan
Jan 25 | Arrive - early morning | Depart - early evening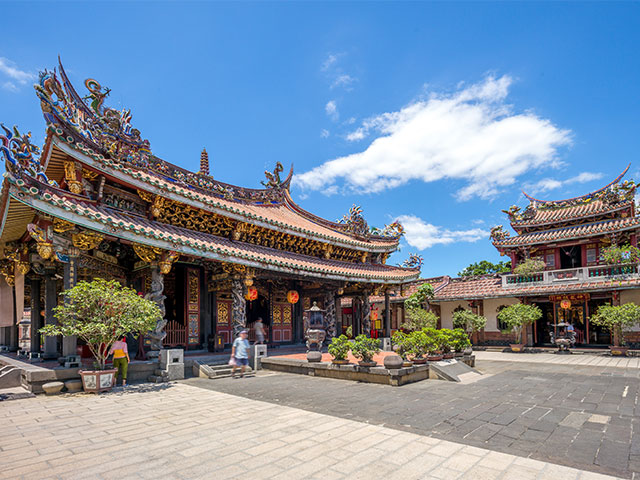 Almost destroyed as a result of Allied bombers during the Second World War, Keelung has developed into a major port city in the Far East. With a number of historic sites and lovely coastlines to explore, you'll be hard pushed to fit them all in. The Ershawan Gun Emplacement was chosen to be a military base during the Ching dynasty, and is now a very peaceful place. There are many beautiful old temples and old forts to discover, and as it is a coastal town, you will also find ocean parks and copious amounts of seafood to sample.
Share Itinerary
Hong Kong, China
Jan 27 | Arrive - early morning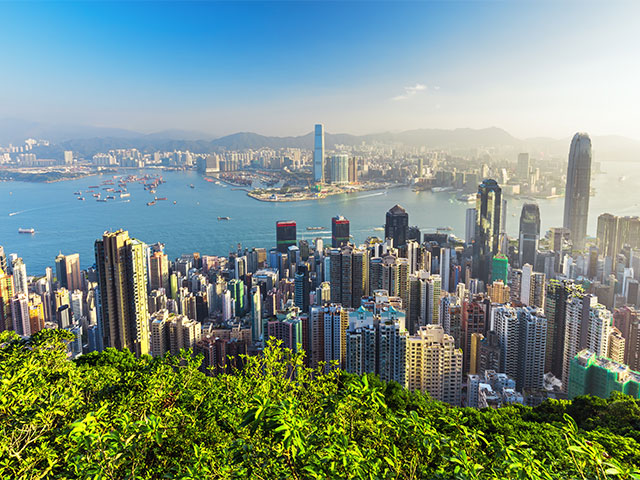 At first sight, Hong Kong is a hectic mix of bright lights, towering skyscrapers and crowded streets. This bustling city is renowned for its incredible skyline where, at night, the skyscrapers attempt to out-do each other with their incredible light shows.
However, upon closer inspection, Hong Kong offers so much more as a cruise holiday destination, with a plethora of shopping malls, restaurants serving delicious local cuisine and incredible traditional architecture to admire. Perhaps take a tram ride to Victoria Peak for a magnificent perspective over this "Fragrant Harbour".
Offering unrivalled shopping amongst a plethora of malls and streets lined with delicious street food and restaurants alike, the city has so much to offer and can show you a traditional and architectural side to its many personalities, the most popular being the beautifully detailed Tian Tin Buddha and Sik Sik Yuen Wong Tai Sin Temple.
Share Itinerary
Unfortunately, this cruise will not be going ahead as planned.
We are aware that if you are sailing with us, you will have many questions about what these cancellations mean for you and we will be in touch as soon as we can.
We are likely to be very busy in our call centre over the next few days. Please bear with us, there is no rush for you to make a decision. We are working very hard for you and promise that we will deal with each and every one of your questions as soon as we possibly can.