African Wildlife & Indian Ocean Islands
Departed 31st Oct 2019
28 nights
Sails from Cape Town
Boudicca
D192627
This cruise has now set sail.
From going in search of the 'Big Five' on exhilarating safari adventures and discovering colourful coral reefs rich in fauna and flora to exploring unspoilt island landscapes and indulging in pure relaxation at picture-perfect, paradise beaches, this enthralling cruise aboard Boudicca packs in memorable, once-in-a-lifetime experiences throughout.
A memorable journey of discovery along South Africa's stunning coastline begins in Cape Town, [ReadMoreMob] with time to explore the 'Mother City' in-depth and take in iconic sights such as Cape Point, Boulders Beach and Table Mountain, before heading on to Port Elizabeth and Richards Bay for unmissable opportunities to indulge in ultimate safari experiences. Seek-out the 'Big Five' at on tours to breathtaking game reserves; or even join a 4x4 tour of Addo Elephant Park. [ReadMoreDesk] Then, off the coast of east Africa, visits to three idyllic islands will offer astonishing landscapes and wonderful wildlife too. At Mayotte, you can take a glass bottom boat tour of the Indian Ocean's largest lagoon, with its colourful fish and vibrant coral reefs, while the famous plant and animal life of Madagascar also awaits. Hell-Ville is perfectly-placed for tours Nosy Be's tropical, 740-hectare Lokobe National Park, where lemurs, chameleons, geckos, boa constrictors and much more can be seen in their unspoilt natural habitat. At Mahé, the largest of the Seychelles' spectacular islands, uninhabited Moyenne Island – where giant land tortoises roam freely amongst rich forest and idyllic beaches – is just a short catamaran ride away.
Elsewhere in the Seychelles you'll visit Praslin Island for quintessential beaches such as postcard-perfect Anse Lazio and tours to UNESCO-listed Vallée de Mai, with its huge Coco de Mer nuts and rare Black Parrots. Your island-hopping adventures also offer a taste of authentic Maldivian and Sri Lankan life with calls at Malé, where gorgeous tropical atolls are within reach on short boat trips, and Colombo, boasting an impressive collection of Buddhist and Hindu temples, mosques, busy bazaars and interesting museums. After a week of Indian Ocean exploration, Boudicca finally guides you into the Andaman Sea to bask in the breathtaking natural beauty of the Andaman Islands and the Thai island of Phuket. At Port Blair, you'll be ideally placed to take tours to Mahatma Gandhi National Marine Park, where a variety of wildlife such as exotic fish, turtles, starfish and even crocodiles live among the lush vegetation, white-sand beaches and coral reefs, or to beautiful neighbouring islands such as Ross Island and Havelock Island. Epitomising paradise, the palm-lined white sand beaches of Phuket are the perfect place to enjoy the sunshine one last time before heading home. Alternatively, you could take the chance to sign-off your exotic holiday in style with a speedboat tour to legendary Phang Nga Bay and 'James Bond Island'.
×
Cape Town, South Africa
Oct 31 - Nov 01 | Depart - early evening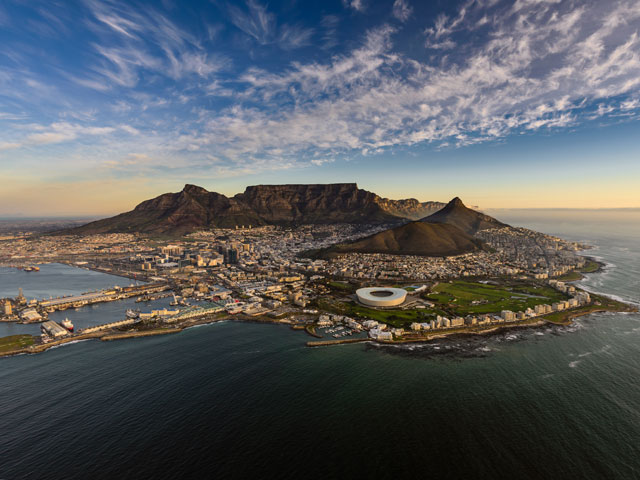 Cape Town brings together cultures, cuisines, and magnificent views: a stunning city crowned by the magnificent Table Mountain National Park. A city that is defined by the flat-topped mountain it sits beneath, Cape Town is known for its lively Victoria & Alfred Waterfront and harbour, serene vineyards and impressive landscapes. This picturesque 'city bowl' on the shores of Table Bay, is best seen from the top of Table Mountain – accessible via cable car.
Cape Town is a rich melting pot of people, and a proudly multicultural centre. Given it was World Design Capital in 2014, creative art and design is unsurprisingly never too far way. Exploring the city is a pleasure, and the attractions include the historic Company's Gardens, Kirstenbosch Botanical Gardens and Green Point Park.
Away from the urban centre, winelands such as Stellenbosch and Franschhoek offer a distraction of a different kind, while at Cape Point National Park boasts breathtaking coastlines and whale watching opportunities. Visitors can also learn of Nelson Mandela's inspirational life and legacy at Robben Island, or perhaps spend a memorable evening watching the sunset at Signal Hill.
Share Itinerary
Gqeberha (Port Elizabeth), South Africa
Nov 03 | Arrive - early morning | Depart - early evening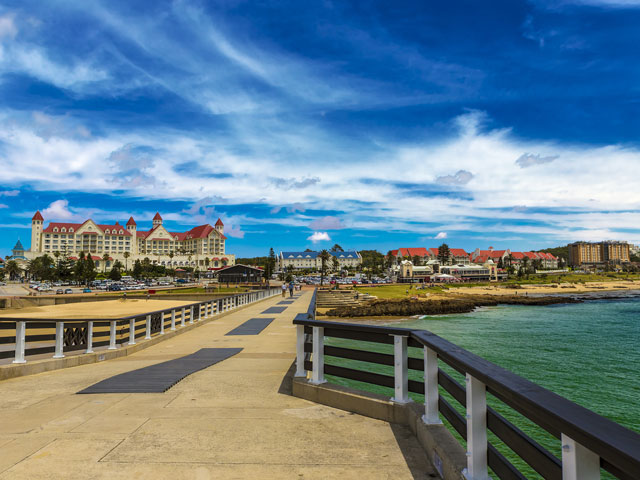 Steeped in history and known for its incredible weather, Gqeberha provides the complete South African experience. On the fringes of Algoa Bay at the western end of the Sunshine Coast, the area is renowned for its diverse marine life, sublime beaches and top water sports.
Founded in 1820, much of the city's history is evident today in the architecture of Fort Frederick and the Campanile Bell Tower – both part of the Donkin Heritage Trail that allows visitors to follow in the footsteps of the original 1820 Settlers on their journey of discovery and settlement.
From its darker past, Gqeberha is now the place to meet people and easily lives up to its nickname, the 'friendly city'. Most things in the centre are on tap: bars, music, art and photographic spaces – all part of constant clash of cultures. The Nelson Mandela Metropolitan Art Museum at the entrance to St George's Park has a small gallery of paintings and sculpture by contemporary South African artists, and is a real treat to view.
Nearby, the Addo Elephant Park offers the chance to encounter the rare Addo Elephant, among a variety of other game, while a safari experience at the Kariega Game Reserve takes visitors in search of the 'Big Five'. The 54 hectare Settler's Park in the city centre is a nature lover's paradise, boasting the most beautiful flora and fauna.
Share Itinerary
Richards Bay, South Africa
Nov 05 | Arrive - early morning | Depart - early evening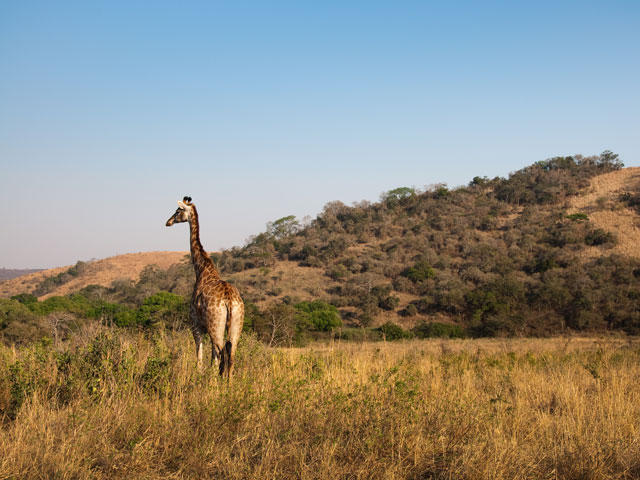 Situated on a huge lagoon off the Mhlatuze River, Richards Bay is a town in KwaZulu-Natal, South Africa, and has the deepest natural harbour in the Southern hemisphere.
The modern, thriving port town is surrounded by vast expanses of untouched indigenous scenery, natural lakes and marshes. Its unspoilt wetlands are teeming with wildlife including hippos, crocodiles and over 300 species of bird, which makes this natural paradise a much-sought-after destination.
Named after a British naval commander who landed troops on the Zululand coast in 1879, Richards Bay was a small fishing village until the port opened in 1976. The town offers excellent recreational activities and visitors enjoy art galleries, fishing, beachcombing, bird watching, swimming, canoeing and some classic drives around the bay.
Share Itinerary
Mamoudzou, Mayotte
Nov 09 | Arrive - early morning | Depart - late afternoon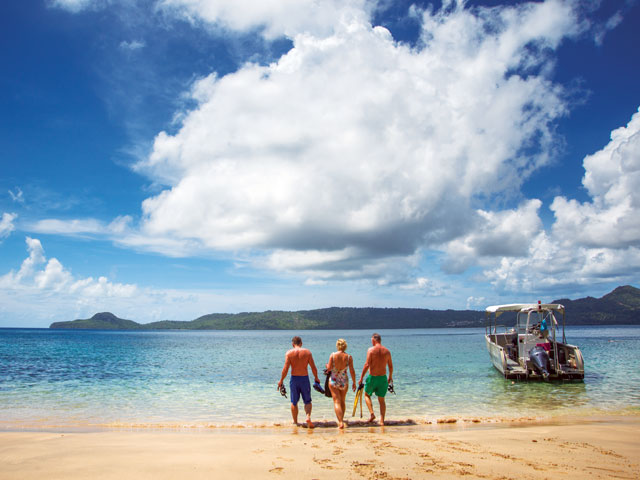 Mamoudzou is the capital of Mayotte, a beautiful French overseas department in the Comoros Islands archipelago. Located on Grand-Terre, the main island of Mayotte, the city is a gateway to the region's spectacular sights and cultural delights.
Boats dot Mamoudzou's charming harbour, and the nearby Marché Couvert market sells fresh, local produce and handicrafts. Landmarks include the white minaret of Mtsapéré Mosque, and Notre-Dame de Fatima church, while the nearby beaches of Trévani and Plage du Phare are perfect spots to relax.
Situated in the Mozambique Channel of the western Indian Ocean, some 190 miles northwest of Madagascar, Mayotte is comprised of two beautiful islands: Grand-Terre and Petit-Terre. A natural paradise, the island is home to the largest lagoon in the Indian Ocean, boasting over 250 different species of hard coral, schools of tropical fish, while turtles, dolphins and whales – all ripe for an unforgettable snorkelling or scuba diving adventure.
The wondrous landscape of Mayotte includes an amazing network of lush mangroves and humid rainforests. Grand-Terre features stunning volcanic landscapes, marked by deep ravines and soaring ancient peaks, and many hikers scale the spectacular heights of Mount Benara, Mount Mtsapere and Mount Combani.
Share Itinerary
Hell-Ville, Andoany, Madagascar
Nov 10 | Arrive - early morning | Depart - early evening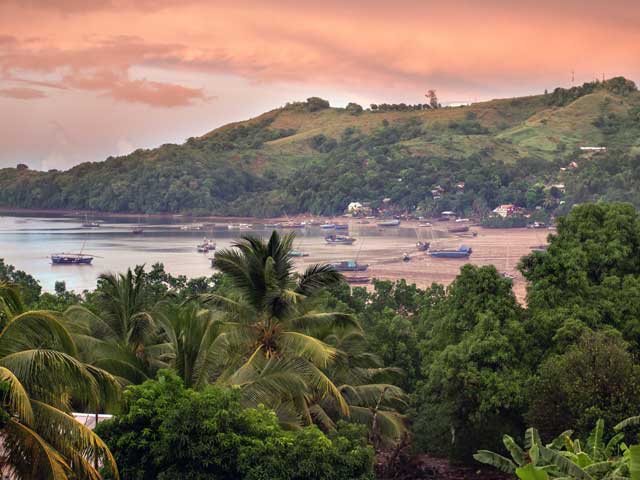 Formerly, and more commonly, known as Hell-Ville, Andoany is the capital of the beautiful Madagascan island of Nosy Be. Andoany is anything but hellish; the name actually derived from Admiral de Hell's former governorship. Warm and welcoming, the city boasts fine colonial architecture, busy markets and a pretty harbour. It's also a gateway to the island's stunning rainforests, fascinating wildlife and sun-kissed beaches.

Bordered by mile-upon-mile of glorious golden sands, Andoany is one of the most popular beach resorts in the Indian Ocean. In the town, fragrant frangipani and bougainvillea appear to prop up the ruins of its old colonial buildings, and the upbeat pavement cafes bustle with tourists. The Société de Rhum Arrangé offers local rum in 20 flavours, and Le Jardin des Sens is a beautiful old house selling locally-produced honey, spices, soaps and skin creams.

A stroll around the historic city also reveals the Russian Monument, erected in the memory of Russian soldiers that drowned off the coast of Nosy Be in 1904, and the Oceanographic Museum, where the island's native sea creatures can be viewed up close.

Smothered with dense tropical rainforest, Nosy Be is ideal for watching diverse wildlife in its natural environment. The sprawling Lokobe National Park is home to an abundance of endemic fauna and flora, and is an unmissable gem. The unmistakable calls of Grey-backed and Mouse Lemurs echo through the tree canopies, chameleons merge seamlessly into the unspoilt environment, and boa constrictors snake along the leafy forest floor.
Share Itinerary
Victoria, Seychelles
Nov 13 - 15 | Arrive - early morning | Depart - late night
Surrounded by turquoise swells of the quietly rippling Indian Ocean, and sprinkled with dense forests and tall hills offering breath-taking views, Victoria, on the Seychelles island of Mahé, is the epitome of paradise.

The port is one of the smallest capitals in the world and offers visitors a number of highlights to discover. The colourful Sir Selwyn Clarke Market sells spices, fruit, art and souvenirs. Near the Cathedral of Our Lady of Immaculate Conception is the imposing La Domus, built in 1934 to house Catholic missionaries, while the quaint old courthouse has a clock tower that is a replica of Big Ben.

The island's pristine, golden sands are best seen from the top of Morne Blanc, which delivers breath-taking panoramic views across the lush landscape. Seychelles National Botanical Gardens showcases endemic palms and orchids, as well as giant tortoises and fruit bats, and is worth a visit.
Share Itinerary
Praslin Island, Seychelles
Nov 15 | Arrive - early morning | Depart - early evening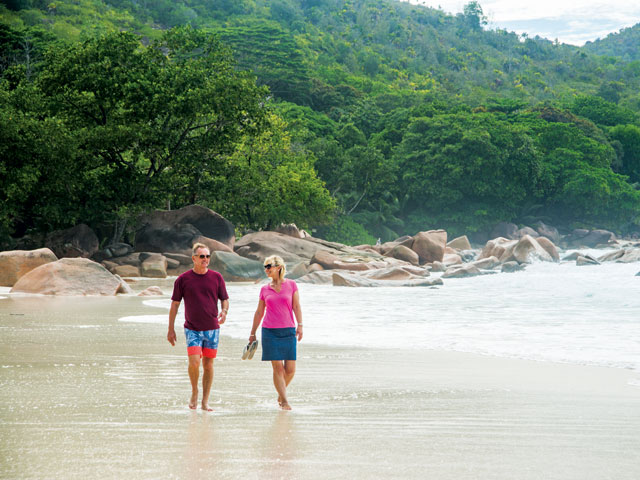 Total relaxation is on offer on the white sandy beaches of Praslin Island in the Seychelles. Originally the perfect hideaway for pirates, it is now the epitome of a tropical paradise, with crystal blue seas and tropical forests.

Home to beautiful beaches (which frequently make the top ten lists of best beaches) and rare bird species, Praslin Island is everything you would expect of a tropical experience. The UNESCO-protected palm forest of Vallée de Mai located in Praslin National Park to the south of the island, and the ancient coral reefs just off-shore that are popular with divers, combine to make this a truly special place.
Share Itinerary
Malé, Maldives
Nov 19 | Arrive - early morning | Depart - early evening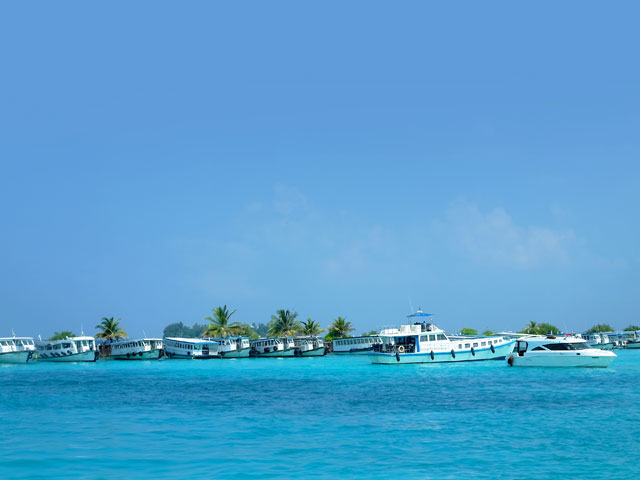 Malé is the green and pleasant capital of the Maldives. Part of the stunning Malé Coral Atoll chain, situated some 400 miles south-west of Sri Lanka, the city offers the best chance to see the 'real' Maldivian way of life.

This island nation in the Indian Ocean is, at times, little more than an uninhabited sandbar peeping above the waterline, while a handful have been developed to offer an experience of pure escapism in a world of powdery white sand and underwater treasures.

Malé is a bustling, commercial centre known for its mosques and colourful buildings. The Islamic Centre features a mosque, a library and a distinctive gold dome. This quirky capital has alcohol-free bars and restaurants bunched up against shops and, near the harbour, lively markets offering a delicious variety of fresh fruit and the local catch-of-the-day.
Share Itinerary
Colombo, Sri Lanka
Nov 21 | Arrive - early morning | Depart - late afternoon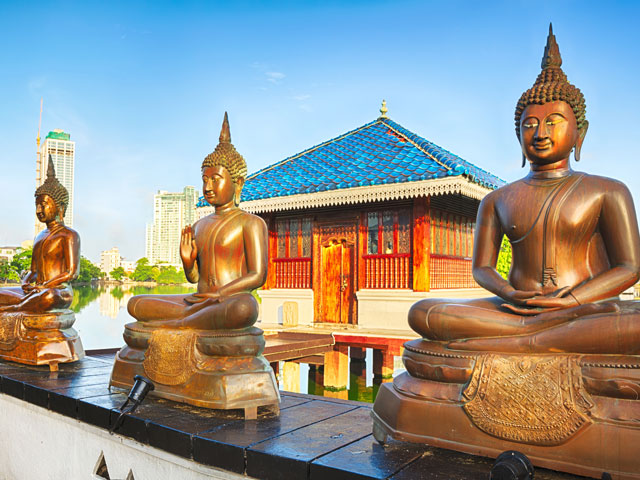 The port city of Colombo is rich with colonial heritage, religions, races and cultures. With a population of over 4.5 million people, Colombo is a bustling, fascinating and noisy city. It combines Dutch and British colonial buildings, with Buddhist temples, Islamic mosques, Christian churches, and modern gleaming skyscrapers. The impressive Colombo National Museum, dedicated to Sri Lankan history, is worth uncovering and it borders the sprawling Viharamahadevi Park, home to a giant Buddha.
The narrow cobbled streets of Pettah, the main bazaar district, are full of shops and street markets selling an amazing array of goods at bargain prices. There are plenty of places to eat, from small shops selling pancakes to coffee shops and upmarket restaurants.
A more rustic, slow-paced Sri Lankan experience can be found in nearby Negombo, with its quaint village streets and lively fish market. Alternatively, sun seekers can venture to the private beach of Mt. Lavinia, located on the breath-taking Golden Mile beachfront.
Share Itinerary
Port Blair, India
Nov 24 - 25 | Arrive - early morning | Depart - early evening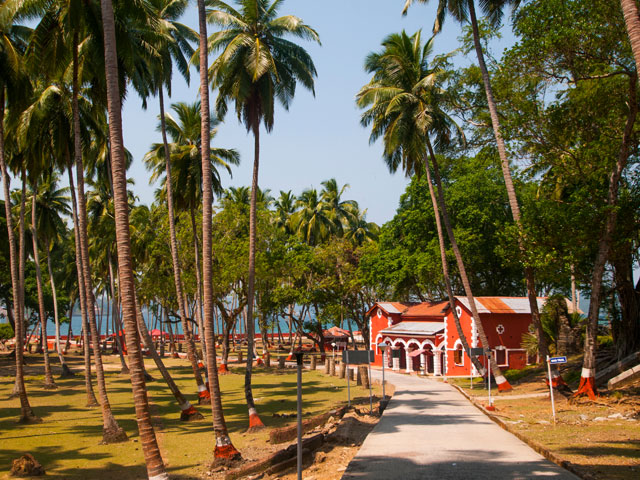 Surrounded by tropical forest and rugged Indian coastline, lively Port Blair is the largest city of the Andaman and Nicobar Islands group. The city is an eclectic mix of Indian Ocean people – Tamils, Bengalis, Nicobarese and Burmese, and while most visitors don't hang around for long, Port Blair's absorbing history demands further exploration.
Port Blair is busy, cosmopolitan and friendly, with plenty to do and see from the Tuk Tuk's that ride around the city. The Aberdeen Bazaar forms the centre of the town, where most of the restaurants and bars can be found.
The Museums of Anthropology, Fishery and Naval Marine are all small but interesting, while the Mini Zoo, recently moved to a new location, has species that are unique to these islands. The Cellular Jail completed in 1906, is now a pristine national monument with a peaceful garden. This is in contrast to its use as a brutal British penal colony, and is now a memorial to Indian independence activists.
There self-contained nirvana of Havelock Island, which can be reached by catamaran, is a place for peace and tranquillity, as well as a snorkelling paradise. Nearby Ross Island, which has many ruins from the island's notorious past, also makes for a rewarding trip.
Share Itinerary
Phuket, Thailand
Nov 27 - 28 | Arrive - early morning

The rain-forested, mountainous island of Phuket in the Andaman Sea, has some of Thailand's most spectacular beaches situated along the clear blue waters of its western shore. This idyllic high-end island resort contrasts nicely with the culturally-rich capital, Phuket Town, which offers busy markets and fabulous food.
Thailand's largest island, Phuket, is connected to the southern tip of the country by a couple of short road bridges. The island has wonderful soft white beaches, fringed by shady palm trees and grass huts. Just offshore, many uninhabited outcrops of tall limestone crags rise straight out of the sea and cry out to be explored. Phuket is the ideal spot to truly relax and unwind with incredible views of the surrounding bays.
In Phuket Town, the Thalang National Museum has fascinating displays about the island's indigenous culture. There are a couple of Hindu Temples on the island, as well as a number of Buddhist shrines, including the Wat Chalong Temple, which is the centre for worship on Phuket. High in the Nakkerd Hills, northwest of Chalong Circle, the 45m-high Big Buddha sits in imposing fashion on the island's finest viewpoint.
Share Itinerary